How often should you change your bedsheets? Experts explain when it's time for fresh bedding
Your sleep style, the season, and how old your bedding is all affect how often you should change your bed sheets – here's when need bedding is needed, according to the experts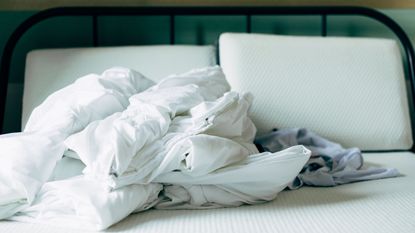 (Image credit: Credit: Photographer, Basak Gurbuz Derman Creative #: 1387103573)
There's more to changing your bedsheets when they're due for a wash. If you're sleeping under the same sheets all year long, it's likely you're overheating in the summer and too cold in the winter. Aside from hygiene, it's important to switch out your sheets for bedding that is most appropriate for the season. The same bed set won't do you any favors as the weather changes.
Key to getting a great night's sleep, the best bed sheets have benefits that go beyond a place to rest at the end of the day. Your sheets should be cozy, comfortable, and clean. When the hot weather comes, it's important your bedding doesn't cause you to overheat, and during the cold months, forget layering all the blankets you have, your bedding should keep you at the optimal temperature night after night.
Find out when it's best to switch your bedding, according to the experts below, and browse a few of our best bed sheets based on the season.
How often should you change your bed sheets?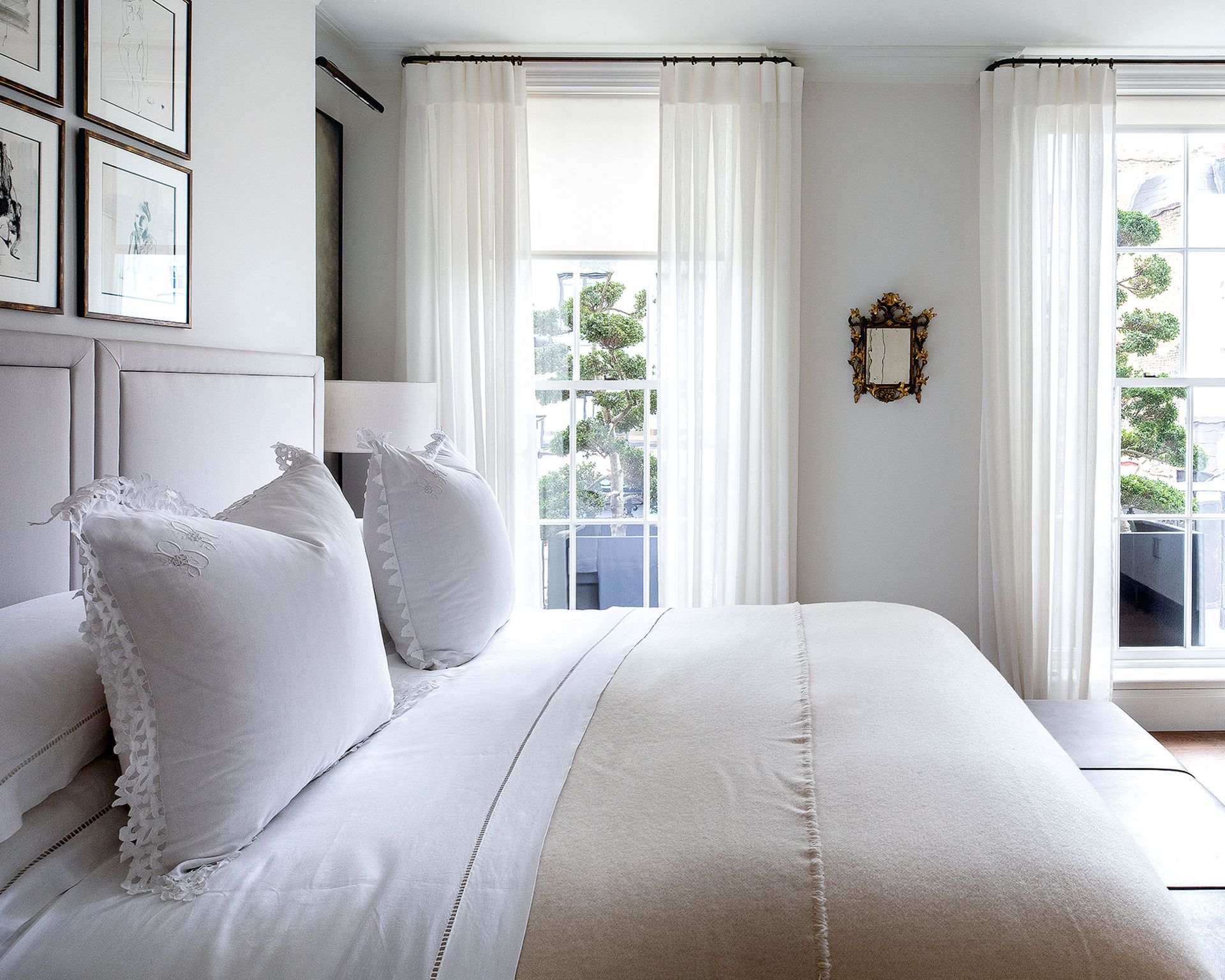 Experts explain you should wash your bed sheets every week, or every two weeks depending on your sleep setup. Katie Elks, Brooklinen's director of design and product development, suggests you should alternate between different sets to help save on drying time. But when it comes to switching your sheets from a linen set to cotton covers, for example, you should consider how hot you're sleeping at night, the bedroom look you're going for, and the quality of your current set. Here are the main times you should change your bedding:
When to switch your sheets
The change of the season: Switching out your cozy cottons for some breezy summer sheets will help you sweat less and stay cool at night. Bed Threads founder Genevieve Rosen Biller says bedding made from natural materials like linen is moisture-wicking, lightweight, and cooling'. If you have polyester bedding that's prone to oil and bacteria 'you'll have to wash your sheets more frequently in the summer when you are more likely to perspire,' add Danielle Mason, head of product development at The Fine Bedding Company. Washing sheets less often, and on a lower temperature however 'is better for the environment, and on your bank account.'
When you're wanting a new bedroom scheme: Changing your bed sheets is one of the simplest ways you can switch up the scheme in your room. Swap out a neutral bedding set for one of bright color and you've transformed your bedroom. You can double the effect by changing material at the same time. A velvet bedspread, for example, gives depth and elegance, yet change it for a lightweight linen option and you've got a chic, Scandi look instead.
If your bed sheets are old: Having only one set of bed sheets may mean they wear quicker. To maintain good quality sheets, you should replace them every 2-3 years. To prevent your bedding from deteriorating as quickly, Elks advises having two sets you can 'alternate' between washes.
Katie is the director of design and product development at Brooklinen
She has worked in design and product development in New York City for Everlane, MM LaFleur, Tracy Reese, J.Crew, Calvin Klein, and The Row.
She is a graduate of the Apparel Design program at Cornell University.
Switch to these sheets
If you only have one sheet set, it's worth investing in another. These are the best sheets for winter, summer, and all seasons, so you can change your bedding when the weather turns or have a few options to alternate between. Recommended by me, H&G's sleep expert, these bedsheets wash well, and will keep your bed looking and feeling fresh:
Best bed sheets for summer
Ettitude Signature Sateen Sheet Set
Sizes: Twin, twin XL, full, queen, king, California king
Material: Bamboo lyocell
OEKO-TEK certified: No
+ Great eco-credentials
+ Luxurious sateen finish
- Silky look isn't for everyone
Naturally cooling, temperature regulating, and of course eco-friendly, the ettitude's sheet set is my favorite for summer. Cool to the touch, and moisture-wicking they actively kept me (a sweaty sleeper) cool at night. And most of all, I love how luxurious the silky finish looks draped over the bed – though this might not be for everyone.
Best all-season sheet set
Cozy Earth bamboo Sheet Set
Sizes: Twin, twin XL, full, queen, king, California king
Material: 100% bamboo viscose
OEKO-TEK certified: No
+ Great quality
+ Eco-friendly
- Expensive
Bamboo bed sheets are great for keeping your temperature regulated. They're cool to the touch (which you can imagine is great for slipping into in summer), while their buttery softness makes them warm enough for winter. This fresh white bedding set may be expensive, but it washes well and is sure to last you all year round.
Best bed sheets for winter
Beddable Silver Gray Core Bedding Set
Sizes: Twin, queen, king
Material: 100% long-staple cotton
OEKO-TEK certified: Yes
+ Soft to the touch
+ Washes well
- More expensive
If you've tried beddable bedding sets, you'll know how cozy they are. The washed cotton option is by far the softest sheet set I've tried, and it's the one I reach for in the colder months. Made from breathable cotton, with a brushed finish, you won't sweat with this set, but you're sure to stay warm, even on the coldest of nights.
FAQs
How often does the average person change their sheets?
The average number of days Americans go before changing their sheets is around 24 – in other words, a little less often than once every three weeks, according to a survey by Mattress Advisor. But this will vary by routine, lifestyle, and even gender. Attitudes differ between sexes, with some men not changing their sheets after four weeks, while women say three weeks.
How many pairs of sheets should you have?
We would recommend having at least three sets of bedsheets per bed. One all-season set, one cool set for summer, and a cozy set for winter. This is so that when one is being washed, an extra set is clean and ready to be used. Having a single all-season set you can use all year round will mean you never have to get too hot, or too cold at night. If you're prone to eating in bed, sweat no matter the temperature, or have pets, or kids in bed, it may be useful to have a few cheap bed sheets, like one of these under $25 sets from Amazon, to hand where they are prone to spills and stains.
---
Changing your bedsheets for the season will work wonders for getting a great night's sleep – but unless you have an all-season comforter, you should also swap your duvet insert from a lightweight summer option to a thicker tog type for winter, and vice versa.
Louise is your eCommerce Editor and sleep specialist to help you wind down well. A connoisseur of the mattress world, Louise previously covered sleep and wellness (as well as the occasional organizational buy) at Real Homes, and has tried, tested, and reviewed some of the buys for your bedroom. With an MA in International Journalism and PR experience, Louise brings bags of bedding expertise and enjoys nothing more than helping readers find solutions and products that best suit their sleep needs.