10 entryway rug ideas that will guarantee you a warm welcome home
From elegant runners to eco-friendly antiques, don't underestimate the power of a stylish rug for elevating your entryway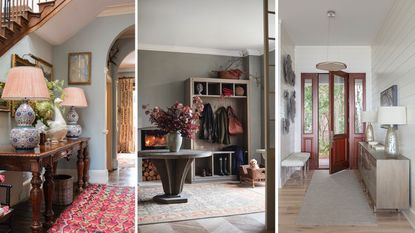 (Image credit: Penny Morrison/Mike Garlick; OKA; MDI Interior Design/Julia Lynn)
An entryway without a rug is like a window without curtains. It can be done, but it's not pretty, or practical, not least because most hallways today are fitted with hard flooring. Brilliant for longevity and ease-to-clean, but not cozy or inviting. This is where our entryway rug ideas step in.
'A rug adds personality, impact, and warmth to an entryway,' says designer, Penny Morrison. 'A multi-colored rug, for example, can bring another layer of color to the space – I prefer one that emphasizes warmer tones like pink and red to create an inviting place to welcome guests inside.'
A good rug will also provide softness underfoot, which can be a real luxury after a long busy day on your feet. So, if you're planning an entryway revamp or a complete hallway overhaul, don't do a thing before you've checked out our inspiring entryway rug ideas.
10 inspiring entryway rug ideas
Whether you're desperately seeking a quick and easy update for your entryway (that's both stylish and practical) a perfectly placed rug is always a good plan. It might be OTT to say a decent rug is what makes an entryway worth coming home to, but it will certainly help to create that cozy, homely vibe you want regardless of your personal aesthetic.
1. Pick out accent colors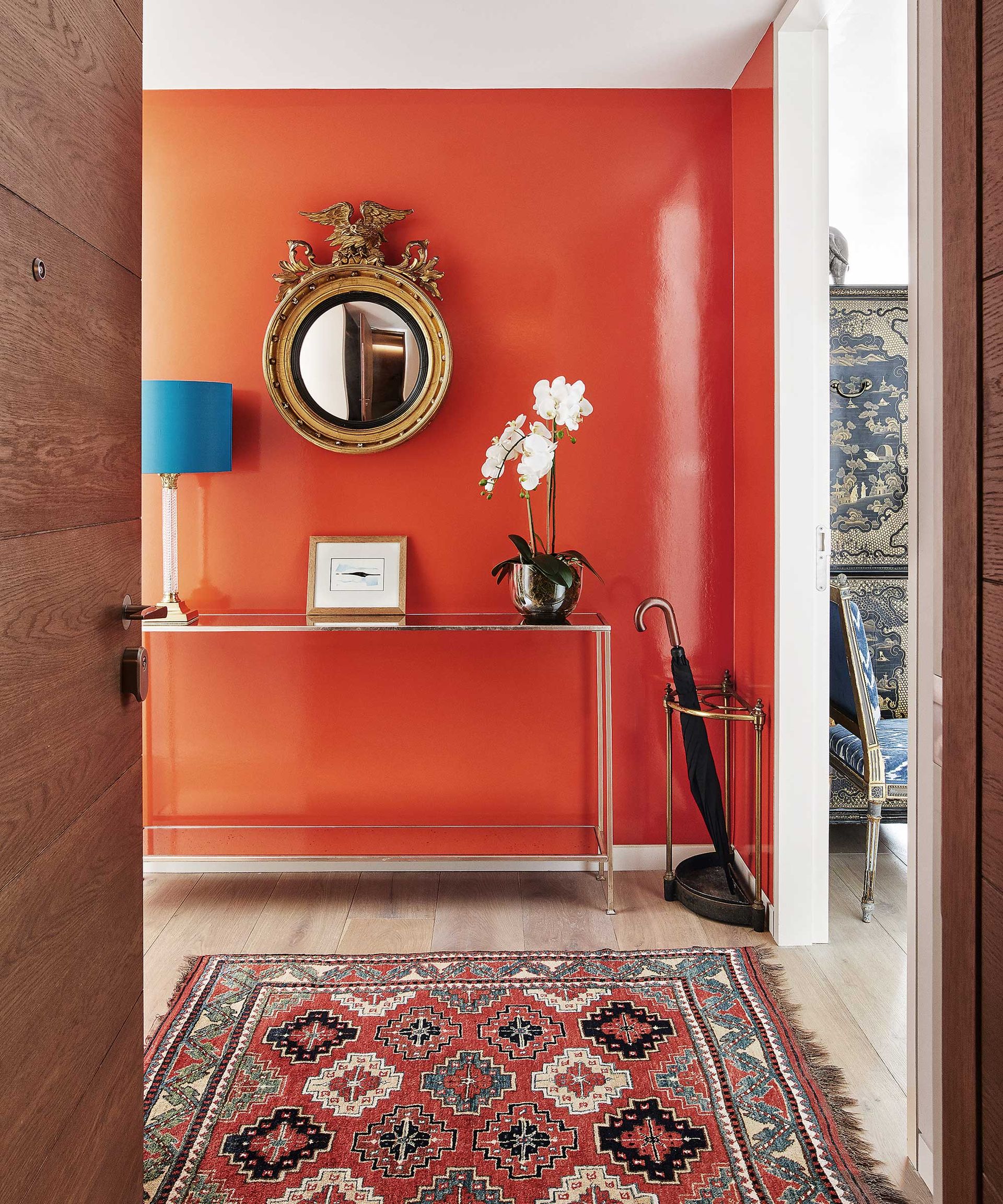 Use the colors in your rug to inform the paint palette in your entryway, or vice-versa! 'A rug is a wonderful way to draw out and complement the wall color. Being on the floor it literally pulls the room together and is the perfect way of uniting the many different elements that surround it,' says rug designer, Amy Kent.
Whether you buy the paint to match the rug, or the rug to match the paint is entirely up to you and what works for your entryway color scheme. 'If it's a very bold statement color on the wall I tend to use it just as highlights in the rug, otherwise it would be too overwhelming. I wouldn't use it as the main body, just more as little pattern accents to mirror it,' she adds.
2. Invest in vintage
Ethical shoppers will appreciate the sustainable benefits of buying vintage instead of new. When it comes to entryway rug ideas, taking this route can also result in a higher quality product than you might otherwise achieve for your budget.
Choosing an antique wool rug for this project was a deliberate design choice for Studio Gutow's co-founders, Melissa Rohani and Lisa Berman. 'We really value their enduring charm and durability,' Melissa explains. 'Wool, known for its natural resilience, thrives in high-traffic areas like entryways, lending warmth and timeless appeal.'
To strike the perfect balance, the duo like to leave at least 6" of visible flooring around the perimeter of the space to ensure proportion and balance within the room. 'This plainer border of flooring around prevents the rug from overwhelming the overall aesthetic,' explains Lisa.
Melissa Rohani & Lisa Berman
Co-founded by Melissa Rohani and Lisa Berman, California-based Studio Gutow was born from a mutual love of textiles, contemporary art, and modern and antique furniture; their latest discoveries deliver an elevated richness to every project. Fusing a modern approach with traditional design, Studio Gutow creates living spaces that are collected, personal, and above all, beautiful.
3. Create an anchor point
Larger, open-plan entryways can feel like cavernous thoroughfares, but a judiciously placed rug will anchor the space and lend a sense of personality. This was exactly the role played by the House of Hackney rug in this generous entryway by interior designer, Fiona Duke.
'The curved archway really draws you in, and then to the open plan space beyond. However, we still wanted people to 'linger' in this area as it's such a wonderful large entryway,' she recalls. 'The beautiful, over-sized chandelier was chosen to create a real statement and the rug really helps to balance this.' Note how the autumnal tones in the rug perfectly complement the colored glass chandelier and the wooden staircase banister beyond.
4. Go for a luxurious feel under foot
A plush thick-pile rug will promote a luxe aesthetic and give a promising hint of the splendor to come. Ideally reserved for more grown-up homes with a polite 'shoes off' policy, guests will happily go barefoot to enjoy that soft sinking feeling under their toes.
High-end design firm Hill House Interiors have a penchant for using exquisite, custom rugs in entryways, typically featuring opulent loop pile designs with intricate carving details. 'The striking rug used in this entryway, crafted in hand-tufted polished cotton, exudes a luxurious sheen for that opulent touch,' says creative director, Helen Bygraves. 'Mindful of durability, we always advocate rug protection treatments to withstand foot traffic while preserving their beauty.'
5. Go wide
The natural inclination to choose a runner for a narrow entryway is entirely understandable, but according to OKA's co-founder and creative director, Sue Jones, there's a better way.
'Runners can make a narrow entryway seem narrower than it actually is,' she argues. 'Instead, try bringing in a larger rug that goes right up to the edges of the room and sits underneath your furniture rather than alongside it; it will open up the space by creating fewer vertical lines, giving a more seamless look. This also makes it much easier to layer in a console or side table, as you're not restricted to the narrow space between the rug and the wall.'
6. Inset into the floor
If you're installing a new floor in your entryway, take the opportunity to build in a recess that will allow the rug to fit flush with the floor level. This simple but smart move will prevent the door from catching on your rug and also keep it firmly in position.
'Incorporating a rug into a tiled floor is a design choice that offers both style and functionality. A properly fitted rug not only adds warmth and personality to your entrance space, blends seamlessly into your interior design but also safeguards your precious tiles,' says interior designer Victoria-Maria Geyer.
For extra design points, frame the recess in a contrasting material or metal trim, which will also help create a neat edge finish. To ensure a perfect fit, source a thick rug such as natural coir, which can be trimmed to size and easily replaced when required.
Self-taught, with an unparalleled holistic vision, Victoria-Maria Geyer has been passionate about decoration and design since her early childhood. Based in Brussels, this German interior designer founded her agency in 2008. Victoria-Maria has always had a passion for beautiful objects and stylish, eclectic decors. She enjoys combining patterns, materials and eras, creating colorful interiors that are a source of infinite joy.
7. Look outside
In a busy entryway, the rug you choose must be durable enough to withstand lots of heavy foot traffic. Unfortunately, practical rarely means pretty. One way to swerve boring heavy-duty rugs in dirt-concealing colors is to shop in the 'outdoor rugs' aisle.
'Look for an outdoor rug that is suitable for use both indoors and out, is resistant to the elements and durable enough to withstand busy footfall,' advises Tasha Green, founder of Weaver Green. The Weaver Green rug shown here ticks the boxes of being extremely hard-wearing, water and mould-resistant and also machine-washable – plus it is colorful and characterful and beautifully brightens up this entryway.
8. Pick up the colors of your door in your entryway rug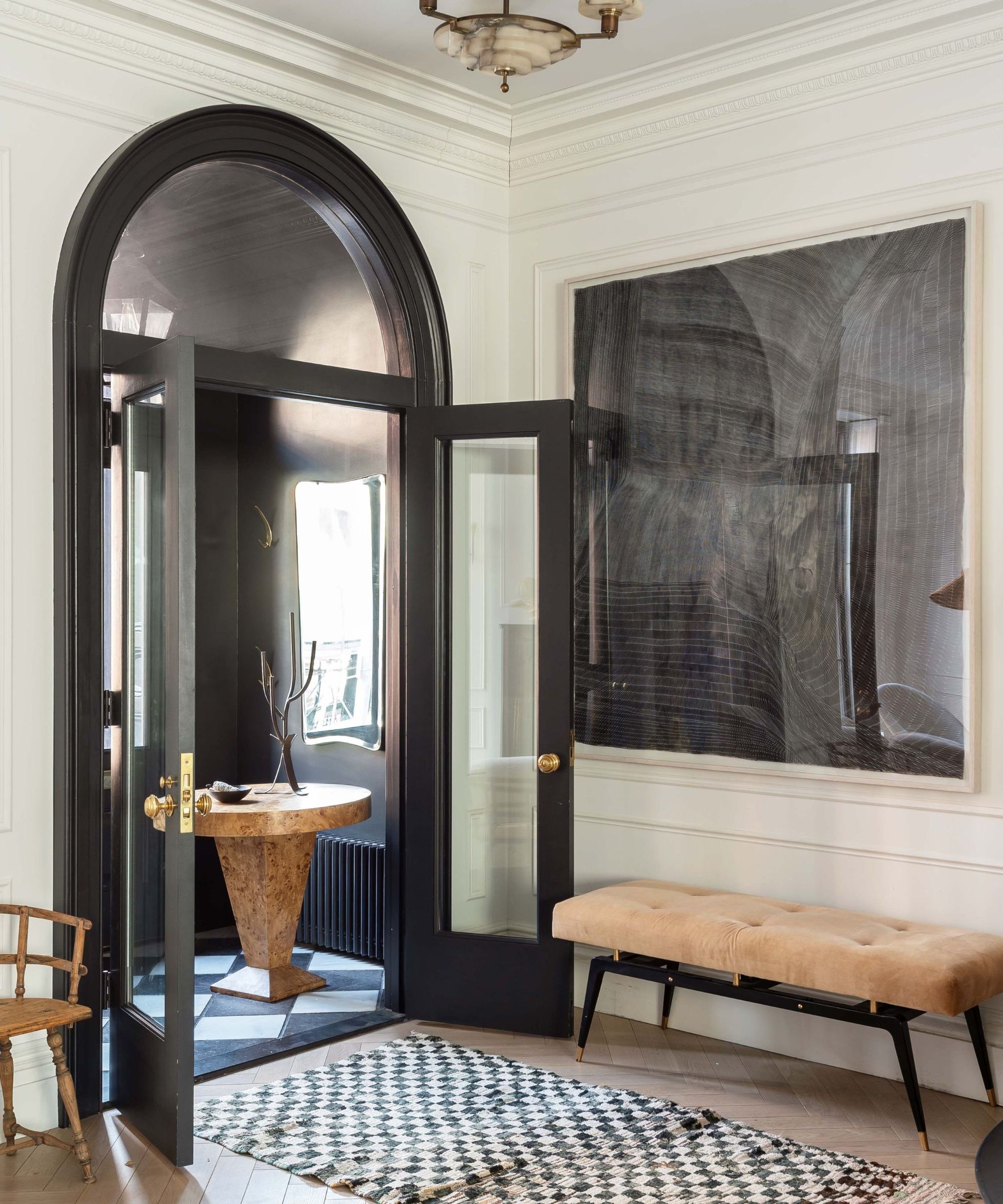 Use a beautiful runner to lead the way to your door and soften the hard surfaces in your hallway. 'Color coordinating your rug and front door creates a colorful and inviting entryway and brings character and depth to the room whilst creating a sense of space,' says Yogesh Chaudhary, director of Jaipur Rugs, who recommends a wool rug or runner with close tufting or high knot count in a busy entryway.
9. Allude to more space with diagonal lines
As a general trick of the trade, diagonally aligned floor tiles are known to have a widening effect on a narrow room. A similar illusion can be achieved by choosing entryway rug ideas in diagonal striped designs, which will help square-up an elongated room. Also consider rugs with stripes that run width-ways, rather than parallel to the longest wall, which will again help balance out narrow dimensions.
For this striking period home, interior designer Kate Guinness also chose a striped runner for its geometric pattern. 'The diagonal lines in the rug picks up on the angled lines in the triangular design of the mirror frame and those of the pentagons in the lantern above, without being too matchy-matchy,' she explains. 'In addition, its slightly fluffy texture makes it an inviting choice for a hallway which is otherwise composed of hard surfaces.'
Kate Guinness started her working life as a set and costume designer in theatre, which has undoubtedly influenced her style. In 2016 she launched Kate Guinness Design, working internationally on residential and commercial projects. The studio specialises in creating interiors with an authentic sense of accumulation through combining antiques, fabrics, colour and art that have the appearance of being gradually developed over time.
10. Supersize it
Forget diddly doormats, savvy interior designers recommend going big, when you get home! Look to the living room for rug inspiration and select the biggest size you can comfortably accommodate in your entryway to achieve maximum impact, color, and comfort underfoot.
'The entryway should be the visual preface for the rest of the home, so choosing a larger rug not only functionally protects floors, but also serves as an anchor for the home's design - establishing the palette, patterns, and style that will flow throughout,' explains Ashley Macuga, principle designer, Collected Interiors.
What type of rug is best for an entryway?
It's important to understand that an entryway rug is not the same as a doormat. The latter is for wiping dirt from outdoor footwear, whereas the former is about adding comfort, color and decorative interest once you're safely inside and, ideally, muddy shoes are removed. An entryway rug of decent thickness can also help reduce noise and echo in these spaces, which are otherwise dominated by hard surfaces.
'Wool in the entryway is easy to clean and resistant to wear in high-traffic areas. In humid climates, wool is a great choice as it helps absorb moisture. When sourcing, consider the amount of traffic, size of the space, and care of the rug. Ensure it's the proper width of your door and allows space on both sides,' advises Margaret Donaldson, Principal Designer and Founder of MDI Interior Design.
---
An entryway rug is nothing short of essential, both in terms of style and practicality. Entryways can be tricky spaces to decorate, because even if square footage isn't tight, it's still hard to know how and where to add in those more decorative pieces that will give the room a softness and character. An entryway rug will do just that, without taking up space.
Sign up to the Homes & Gardens newsletter
Decor Ideas. Project Inspiration. Expert Advice. Delivered to your inbox.
Linda graduated from university with a First in Journalism, Film and Broadcasting. Her career began on a trade title for the kitchen and bathroom industry, and she has worked for Homes & Gardens, and sister-brands Livingetc, Country Homes & Interiors and Ideal Home, since 2006, covering interiors topics, though kitchens and bathrooms are her specialism.