6 simple furniture ideas that make your home look more expensive – and stylish
Looking to add some instant elegance to your rooms? These are the pieces to pick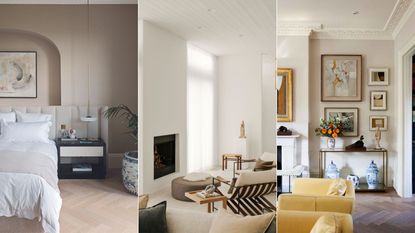 (Image credit: Future/Lance Gerber)
Sign up to the Homes & Gardens newsletter
Decor Ideas. Project Inspiration. Expert Advice. Delivered to your inbox.
Thank you for signing up to Homes & Gardens. You will receive a verification email shortly.
There was a problem. Please refresh the page and try again.
Without stating the obvious, the furniture you choose for your home has a huge impact on the overall look and feel of your home. The colors and prints and decorative accessories you decide on may add to the aesthetics of the space, but it's the furniture that adds the visual bulk. It's those pieces that make a room a room.
Therefore, adding a new piece of beautiful furniture to a room, is always going to have an impact, it can instantly make the space feel more elevated and expensive.
But what should you choose? What single piece of furniture will have these transformative effects? We asked designers for their advice on what we should all be looking to bring into our homes to add some sophistication. From elegant antiques to a stylish new house plant (yes they count as furniture), here's what they suggested.
The 6 pieces of furniture that will instantly elevate your home
Picking out furniture that will make your home look more expensive of course mostly comes down to the quality of the piece. Our advice when it comes to any interior design decision is quality over quantity. Don't fill your rooms with trend-led pieces that will look dated in a few years and need to be switched out; instead invest in a few statement pieces that are classic, beautifully made, and will last throughout the ever-changing world of interior design trends.
That's not to say you have to splurge to elevate your home. As we said less is more, so buy one statement piece that's really going to become the focus of your room; or make small switches such as adding in some shelving for display and bringing in greenery with indoor plants. This could be all you need to give your home a sophisticated refresh.
1. Sculptural pieces
More often than not it's statement furniture designs that are going to make your home look more chic and expensive. So pick out pieces that almost double as artwork. Furniture that has a unique silhouette or unexpected frame adds character to a room – and this is especially true when it comes to living room furniture. A pair of statement accent chairs, for example, or a curved sofa would do the trick.
Designer Joshua Smith recommends that: 'Visually interesting furniture can act as sculptures in your space. Look for pieces that have unique silhouettes, like a sleek chair or a blocky coffee table. Inject texture into the room by selecting pieces made of varying materials as opposed to a box store set. Texture provides added interest to a room and engages our sense of touch.
'And well-curated pieces of art will always make your home look thoughtful and put together. The art brings additional visual interest and acts as the finishing touch to a space.' he adds.
2. Bespoke, fitted furniture
Furniture that fits perfectly within a space is guaranteed to make a room look more expensive than a piece that doesn't quite work. So going bespoke or built-in with just a few key pieces in your room will make a huge difference. The obvious choice is storage, as that fulfils a practical function too, and makes the most of a dead space, such as an alcove or under the stairs, as seen with this dreamy home bar set up.
'As a studio we favor bespoke, tailored furniture where possible. Whether it is custom-made, built-in storage units and cupboards in your hallway, TV consoles, bedside shelving, or a home bar, something that has been crafted precisely for your space always looks more considered and therefore ultimately looks more aesthetically luxurious. An expensive piece of furniture that doesn't fit a space because it is too big or too small will make the space appear to be poorly designed,' explains Tom Rutt, founder of TR Studios.
3. Antiques
This is one of the easiest ways to find furniture that's going to make your home look chic and expensive – shop second-hand for antiques. Decorating with antiques will always make your home feel more characterful and reflective of your personal style rather than a trend-led piece.
'Antiques are a great way to elevate the overall look of any room,' says designer Megan Evans. 'The age and patina of antiquity, especially pieces with gold or silver leaf, instantly dress up your home. Layering in older pieces with new gives a more curated look, as opposed to everything feeling new and fresh out of a catalog.'
In terms of what style to look for, let your own tastes decide on that, but we will say you can't go wrong with a rustic French piece that will work with almost any style to give a chic but rustic edge – a dresser, a console table, a collection of mismatching dining chairs.
Designer Kathy Kuo agrees that 'furniture in the French country and Hollywood Regency styles often have a distinct sense of moneyed sophistication to them'.
4. Pieces in quality materials
'Any furniture made from high-quality, natural materials will automatically elevate a home. Look for natural wood finishes, marble, and rich fabrics like velvet, boucle, or silk,' is the advice from Bethany Adams of Bethany Adams Interiors. Remember quality not quantity, one stand-out piece is going to make your home look far more expensive than a collection of lesser-made pieces.
Kathy Kuo agrees that 'When it comes to achieving a super-luxurious look, I would focus on materials. Materials like velvet, linen, hair-on-hide, and cashmere are going to instantly add an air of sophistication to any room when you use them in furniture upholstery, decorative pillows, rugs, and throw blankets.'
In terms of actual pieces to look out for, anything solid wood. The beautiful circular coffee table used in this modern living room designed by Urbanology is the perfect example of how a simple, well-made, piece can complete a room. Boucle is having a bit of a moment right now too, if you are after a piece that's 'trendy', but also looks like it's going to become a classic, opt for a couple of accent chairs upholstered in this beautifully texture fabric – or go with velvet, you can never go wrong with velvet.
5. Oversized, sculptural houseplants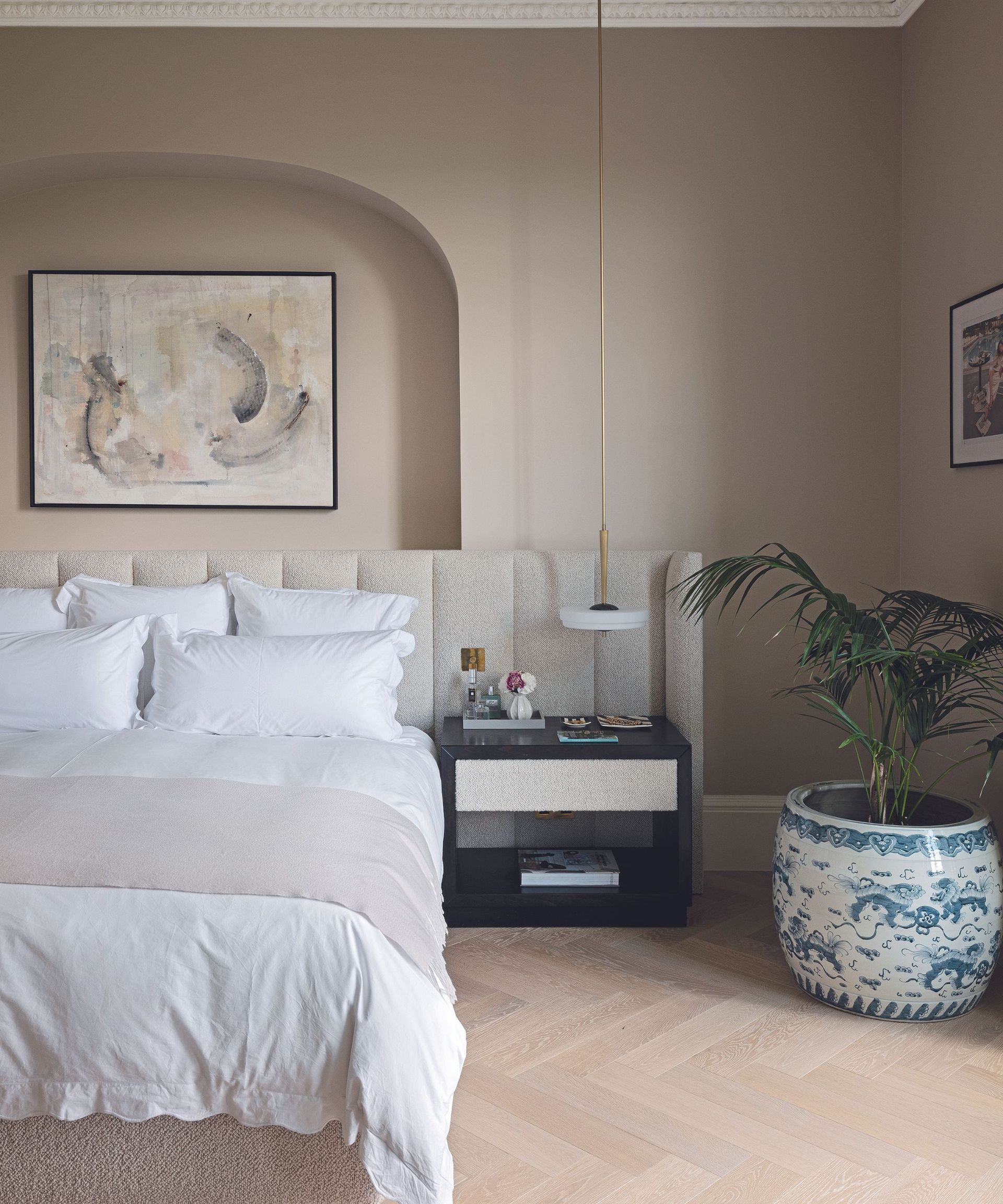 We questioned whether house plants actually count as furniture, but came to the unanimous decision that, since they can have as much impact as a couch or a side table, they do. And if you are looking for a way to make your rooms look more elegant and expensive, nothing does it as instantly as a parlor palm.
It's been a decorative indoor tree for decades, gracing Victorian homes as a sign of wealth and taste. And in 2024 they can make a very similar impression. We love the look of them in a bedroom, they are unexpected in this soft space and add a different texture amongst all the other tactile finishes.
'Many people underestimate the beauty of houseplants, perhaps because they fear they lack the necessary green thumb to keep them alive or because they select the wrong plants for their home,' says designer Irene Gunter.
'However, I believe that plants are an excellent way to add life to neglected corners of the house or spaces that are difficult to decorate. Additionally, they bring the outdoors inside and can provide a mood-boosting connection to nature. Don't limit your plants to the edges of the room; a display of plants grouped together can create a beautiful focal point.'
6. Furniture that distracts from tech
Televisions really bring down the look of a room. And we know you can get some very aesthetically pleasing TVs now, but unless you have made the switch, you are tasked with making a huge black screen part of your living room – not the chicest. So in order to ensure a TV doesn't add too much visually to your room, pick furniture that's going to make it look less... obvious.
There are plenty of stylish ways to hide a TV, but a simple one is to incorporate it into your living room shelving. Pick out a shelving design that can house your TV, and then style up the shelves around to make the screen less of a focus. Opt for slimline but sturdy shelving so you don't add too many bulky lines around the TV, which could end up drawing attention to it.
Then you have clever options that disguise your tech behind artwork or a mirror so it's never in sight unless in use as you can see with this living room TV idea designed by Gunter & Co.
'If you have only one living space, I recommend hiding the TV from view to create a more aesthetically pleasing environment. There are several options available. You can conceal it behind an automated wall panel that moves aside when you turn the TV on, or a sliding painting. Alternatively, you can incorporate the TV into a shelving unit that is dark in color to prevent it from standing out,' suggests the studio's founder Irene Gunter.
FAQs
How to make my house look like a 5 star hotel?
Another way to make your house look more expensive is to dress your furniture beautifully. Invest in the best bed sheets, and the odd beautiful pillow to sit amongst more budget-friendly, plainer buys. Anything on show, from toiletries to artwork should be well-chosen. Less is always better than more if you have budget restrictions.
---
Not all furniture that makes a house look more expensive needs to be new, as we've discussed above. You can reupholster existing pieces in fabulous fabric or update old pieces with inspiring painted furniture ideas. Both can transform a space very quickly.
Sign up to the Homes & Gardens newsletter
Decor Ideas. Project Inspiration. Expert Advice. Delivered to your inbox.