Velvet decor ideas – 10 ways to use this luxurious material
Bring elegance, color and texture to interiors with these velvet decor ideas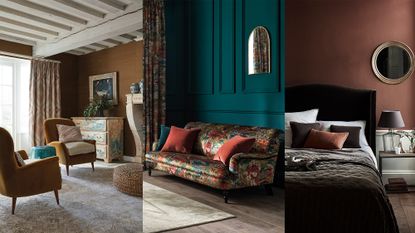 (Image credit: James Hare / Osborne & Little / Neptune)
Velvet decor ideas are perfect for bringing warmth, texture and luxury into a room.
Prized for its silky, tufted texture, velvet actually takes its name from the weaving technique used to create it, in which two fabrics are woven on a loom face-to-face and simultaneously, with their loops then cut through the middle to create a cloth with a soft dense pile.
Boasting a luminous sheen and an ability to carry color like no other fabric, velvet is a brilliant material for giving interiors an opulent, glamorous appearance. Velvet can be introduced through all sorts of decorating ideas, from window treatments to throws and cushions, however, being tightly woven and inherently durable and soft, velvet makes a popular and practical choice for upholstery.
If you're thinking of decorating with velvet then you're in the right place as we've rounded up an array of velvet decor ideas to help get you inspired along with some tips from the experts about how and where to use it.
Velvet decor ideas – 10 ways to use this luxurious material
Velvet decor ideas have enduring appeal. While velvet has been bringing luxury and glamor to interiors for centuries – and was particularly popular during the Italian renaissance – this sumptuous fabric can look just as good in contemporary spaces as traditional homes, plus there's so many ways to use it say experts.
'Velvet remains a firm favourite with everyone who is looking to bring some warmth and softness into their home. It isn't the most practical fabric, especially if you have pets or children, but it displays a depth of color that no other fabric can achieve,' says Simon Temprell, interior design manager at Neptune.
'The great thing about velvet is that you can use it anywhere, you can have a little bit through cushions or cover a whole sofa in it and it will always look sophisticated yet relaxed,' adds Hayley McAfee head of Villa Nova.
'It looks fantastic in a living room ideas on a sofa or chairs to create a sophisticated look, while in a bedroom it can create a cozy relaxed feel. The only area that velvet doesn't work so well is the kitchen; velvet can be notoriously hard to clean up.'
Velvet can be made in an array of different fibres all of which can impact the sheen and feel of the fabric. Historically it was made from silk and cotton and this, along with its complex manufacturing process, made it a luxury only afforded by the rich. However, 'with an increase in hard-wearing man-made velvets such as poly-cotton, today velvet has become much more affordable,' explains Hayley McAfee. 'Absolutely anyone can use velvet; with more affordable velvets it is much more attainable to create a luxe look at a good price.'
1. Use velvet for to bring color and comfort to the living room
If you're looking to add a luxurious dose of color to your living room you can't go wrong with velvet living room seating. 'It is the perfect color carrier as it looks good in almost any shade, it is particularly stunning in jewel bright tones. Try using it boldly, it's ideal for an accent chair or sofa,' suggests Saffron Hare, creative director of James Hare.
Covered in James Hare's Beauchamp cotton velvet in the rich earthy Ochre shade, these statement armchairs help create a warm and inviting feel in this living space and are perfect for curling up in on a fresh fall day.
2. Make a statement with patterned velvet
For a luxury living room with wow-factor, try walls in rich jewel tones and a living room sofa in an ornate, patterned velvet. Sumptuous velvets are a perfect pairing with walls in saturated tones as their rich texture provides a perfect balance for intense color.
Featuring echinacea, wild grasses, daisies and poppies this Trebah velvet from Osborne & Little, ideal for use on curtains or upholstery, is a lovely way to bring the beauty of nature into the home.
3. Use velvet to bring warmth to cool spaces
Velvet upholstery in rich spice tones are a wonderful way to bring warmth and life to dark living room ideas and black room ideas.
'I use velvet to create a feeling of warmth, particularly needed in our country: it is cozy and comfortable to sit on. Miraculously velvet feels and looks more luxurious than most textiles and what's more… just like leather (or fine wine) it only gets better with age. It has inherent jewel like colors and can really lift whole room,' says fabric designer Vanessa Arbuthnott.
4. Create a cozy space with velvet drapes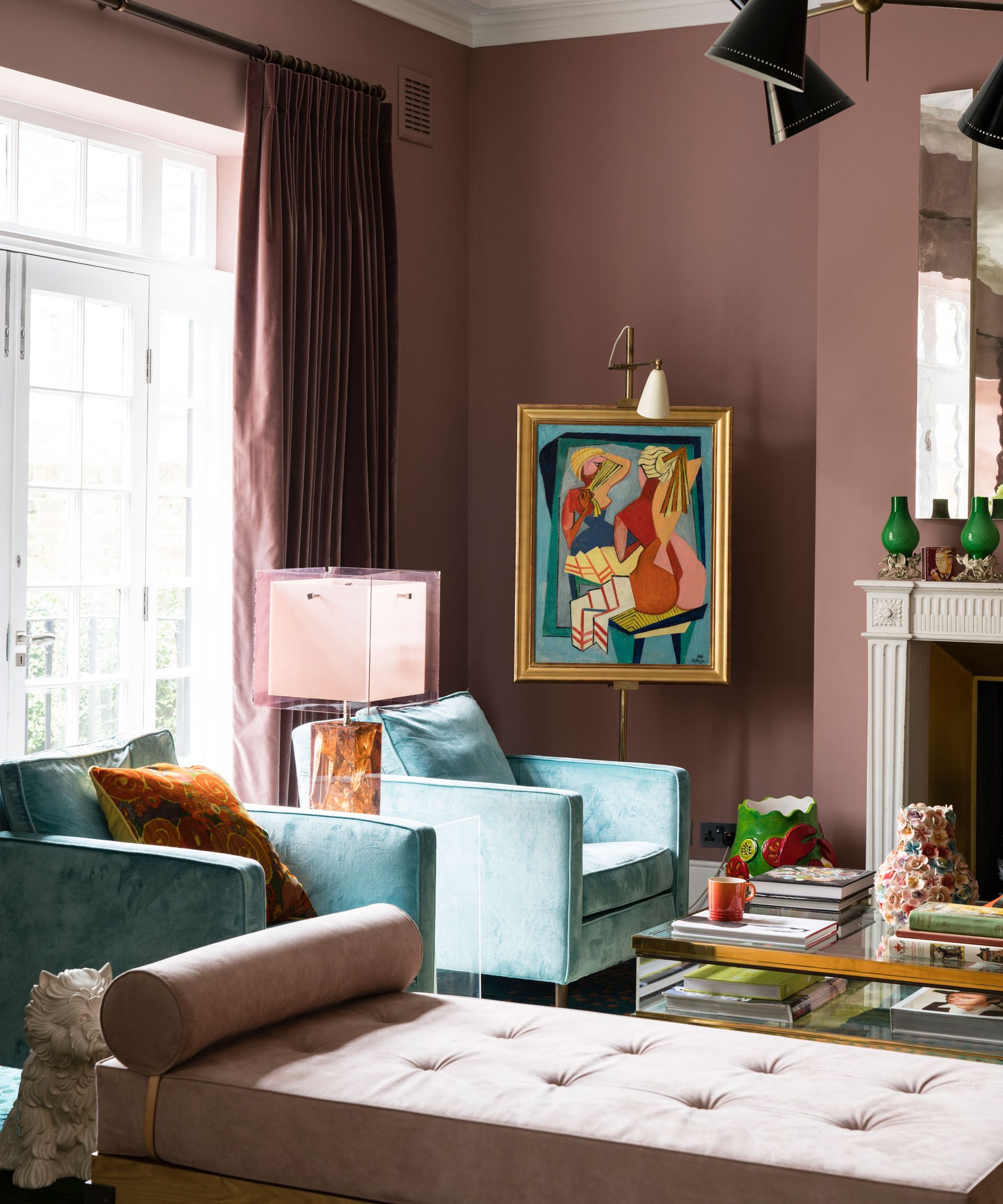 'For the ultimate in fall/winter cosiness consider using velvet curtains as a way to cocoon yourself from the outside world,' suggests Simon Temprell, interior design manager at Neptune.
'Luxurious dark shades work especially well with velvet and because of the pile the fabric never registers as one flat color, instead it allows shadow and light to play across the textural surface.'
Just a few tones deeper than the wall color of this space, these velvet curtains help bring subtle depth and coziness to this stunning pink living room.
5. Use velvet to bring life to neutral rooms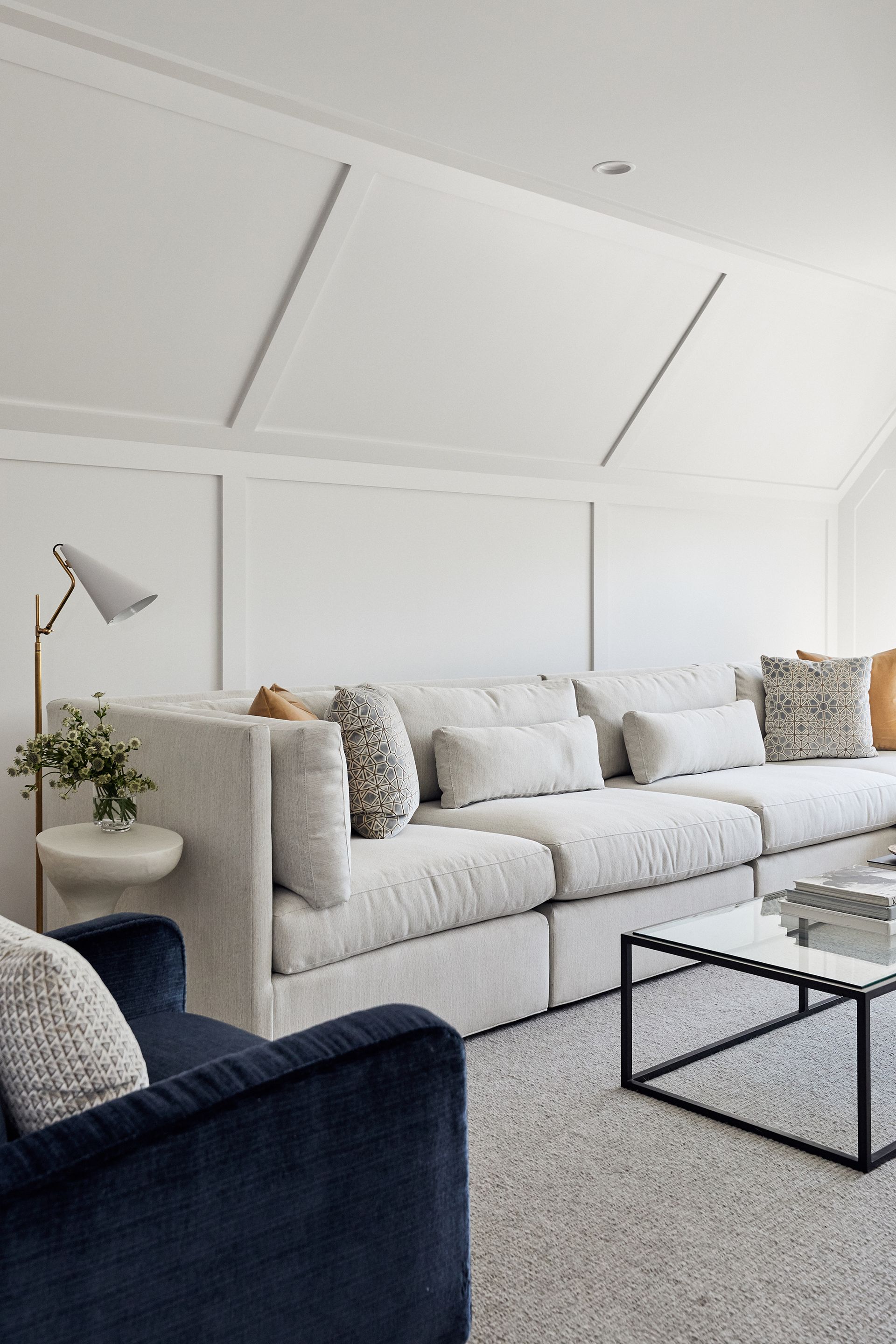 When decorating with neutrals it's essential to introduce plenty of texture to prevent schemes feeling flat and lifeless. In this white living room interior designer Tara Cain chose a sumptuous white velvet for the sofas to help bring coziness to the colorless space.
'This is an "adult retreat" that was completed as an above garage build out in response to the pandemic. This client wanted a sophisticated space to work from, as well as, a space where she could unwind at the end of the day!' Says Tara Cain.
'The mix of cut velvets offered an assortment of materials that felt luxe and interesting, all at the same time.'
6. Bring luxury to a dining room
For those that love to entertain, velvet dining chairs can be a brilliant way to bring a sense of occasion and glamour to a dining room, plus, will provide wonderful comfort for guests.
In this dining room designed by Anne Pulliam the cobalt blue dining chairs co-ordinate beautifully with the hints of blue in the statement dining room wallpaper to create a room full of color and personality.
7. Create a cozy focal point
If there's any room that deserves to feel cozy and luxurious it's the bedroom. As private spaces where we unwind, its essential that bedrooms feel relaxing but also reflect our personal taste. Not only will a velvet headboard provide a lovely soft backdrop to sit up and lounge against on lazy mornings, it can make a beautiful focal point in a bedroom, especially when introduced in a bold color as in this scheme by Kitesgrove.
'Velvet can be used in any room to add texture and depth. In this guest room, we used Soane's 'Coral, Green' wallpaper to provide a fresh and calming backdrop, creating a beautiful neutral base for the rich, jewel-toned and contrasting Forest Green Pierre Frey velvet which accentuates the soft scalloped form of the headboard,' says Clara Ewart, head of design at Kitesgrove.
8. Add warmth and softness with velvet accessories
If you're new to decorating with velvet then try starting small – just a few hints of velvet are enough to elevate a space.
'There is a place for velvet, even if it is just a cushion or a footstool, in every home, and its tactile properties are perfect for hunkering-down on cold winter evenings,' says Simon Temprell of Neptune.
Switching a summer bedcover and cushions for designs in warm, earthy velvets is an easy way to style with the seasons and transform your bedroom into a cozy retreat as colder weather approaches.
9. Don't be afraid to mix velvet with other materials
Whilst velvet is an a luxurious and tactile fabric often used to make a statement, there's no need to use it in isolation, explains Hayley McAfee, head of Villa Nova.
'Velvet is a universal material and works with most others. When paired with Linen for example it creates a wonderful contrast between luxe and relaxed. It is also a great way to soften up any harder materials around the house such as woods and marbles.'
10. Pair velvet with trimming for a grand, traditional feel
If you love velvet but are cautious about using it over upholstery why not try it as a table cloth?
In this traditional dining room by VSP Interiors a velvet tablecloth complete with trimming is placed center stage to create a luxurious space to entertain guests, however, it can easily be switched with a more subtle design for a more relaxed occasion.
'I'm not one to mix together too many patterns but I like to introduce detail with passementerie; I find that it adds another layer without shouting too much,' says Henriette von Stockhausen, founder of VSP Interiors.
What complements velvet?
Velvet works particularly well with jewel colors as its luminous sheen makes colors come to life like no other fabric.
'The richness of color you can achieve through velvet is second to none. Bold colors are something you can easily get away with – the opulent feel velvet demands strong tones such as Chutney or Papavar from our recolored Forenza collection to emphasise the luxurious nature of the fabric,' suggests Hayley McAfee.
However, the soft, tactile and lustrous qualities of velvet can equally make it a brilliant material for bringing life to neutral room ideas. 'On the other hand pale hues evoke warmth and comfort,' she adds.
'Velvet is also perfect for digital printing, it can deliver intricate hand-drawn artwork in fine detail and in a host of colors, perfectly translating the design.'
As a luxurious and lustrous fabric velvet can work well with contrasting rustic textures like wood and stone bringing balance and a touch of glamor to rustic spaces and country homes, yet it would equally pair well with silks, glass and metallics as part of a luxurious and sophisticated space.
What furniture goes with velvet
Velvet is a popular fabric choice for sofas, armchairs, dining chairs, ottomans and footstools as it adds texture and softness, but is also hardwearing. 'Velvets are ideal upholstery fabrics, as they are heavy, tightly woven and durable,' advises Lee Clarke, director of Warner House.
Displaying different tones depending on which way the cut-pile texture catches the light, velvet is a brilliant fabric for bringing texture to furniture. This makes velvet a particularly useful fabric for large pieces of furniture like sofas as it will help soften the space, whereas fabric in a flat color may leave the piece feeling solid and bulky.
'Velvet is the obvious choice for a media room, due to its sound-deadening properties, and it brings an element of glamor to any room in the home,' says Simon Temprell. 'Printed or tooled velvet can be a great way to disguise the 'delicacy', making it more practical for busy family homes, and there are some beautiful 'aged' velvets too,' adds Neptune's interior design manager.
Another benefit of velvet is that it works well over many different shapes and styles of furniture. 'Its luminous sheen makes it especially fitting for a glamorous retro style chair, but it can feel equally at home on relaxed shapes,' says Hayley McAfee.
Sign up to the Homes & Gardens newsletter
Decor Ideas. Project Inspiration. Expert Advice. Delivered to your inbox.
Pippa is Content Editor on Homes & Gardens online contributing to Period Living and Country Homes & Interiors print issues. A graduate of Art History and formerly Style Editor at Period Living, she is passionate about architecture, creating decorating content, interior styling and writing about craft and historic homes. She enjoys searching out beautiful images and the latest trends to share with the Homes & Gardens audience. A keen gardener, when she's not writing you'll find her growing flowers on her village allotment for styling projects.