How to hang curtains without drilling – 5 fiendishly clever solutions for renters
Whether you rent or need a temporary solution, this is how to hang curtains without drilling into a wall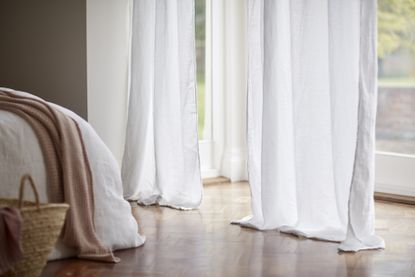 (Image credit: Secret Linen Store)
Need to know how to hang curtains without drilling? It will keep walls free of holes as well as speeding up the task, and it can also be useful knowhow if you require a window covering for the short term or if you're renting and need a treatment you can take with you when you move out.
The good news is that you can hang curtains and skip drilling in a variety of ways that all are super simple to achieve. The best method? That will depend on where you're hanging the curtains and how heavy they are.
Our guide has a selection of methods for hanging curtains without drilling so you can pick the solution that suits your curtain ideas.
How to hang curtains without drilling
Knowing how to hang curtains without drilling can be a necessity for renters, for those who don't own drills, or if you want to avoid creating dust. But it might also be essential if the window's position means there isn't space to fix the hardware. Equally, it could be your preference to save time when hanging sheers and other very light curtains.
1. Use a tension rod to hang curtains without drilling
A tension rod is a great solution for awkwardly positioned windows as well as when you don't want to, or aren't permitted to, drill into a wall. The reason? It fits into the window frame.
The rod has built-in springs which holds it in place when it's fitted between the sides of the trim, but be sure to measure the window to get a rod that will fit the frame – a particular design will be sized for a specific range of widths.
To check the rod's fit, put one end of it against the side of the frame, then compress the rod to position the other end, and let it expand so the rod is held in place.
Once you've tested the fit, remove the rod, thread the curtain onto the rod, then put in place, making sure the rod is level.
'Tension rods are often used for lightweight sheers which do not need to be raised and where the (sash) windows are set within a recess,' explains Sarah Barclay, founder of Barclay Interiors. 'Rods should be taut and the fabric relatively lightweight to stop the rod bowing in the middle.'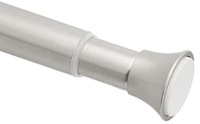 Amazon Basics Curtain Tension Rod, $26.23, Amazon
This multi-purpose tension curtain rod for shower stalls, bathtubs, closets, windows, and changing areas has a 7/8in diameter rod and 1.4in finials with rubber end caps for traction and a sturdy hold; adjustable from 24 to 36 inches.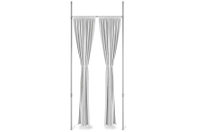 Umbra Anywhere Expandable Room Divider, Tension Curtain Rod, $60.00, Amazon
We love this product – you can see the video on Amazon, but the floor-standing Anywhere Rod's height (7-10ft) and width (35-66 inches) can be adjusted to fit any window and even used as a room divider. The vertical poles will be hidden by the curtains. Clever.
2. Opt for tap-in curtain rod brackets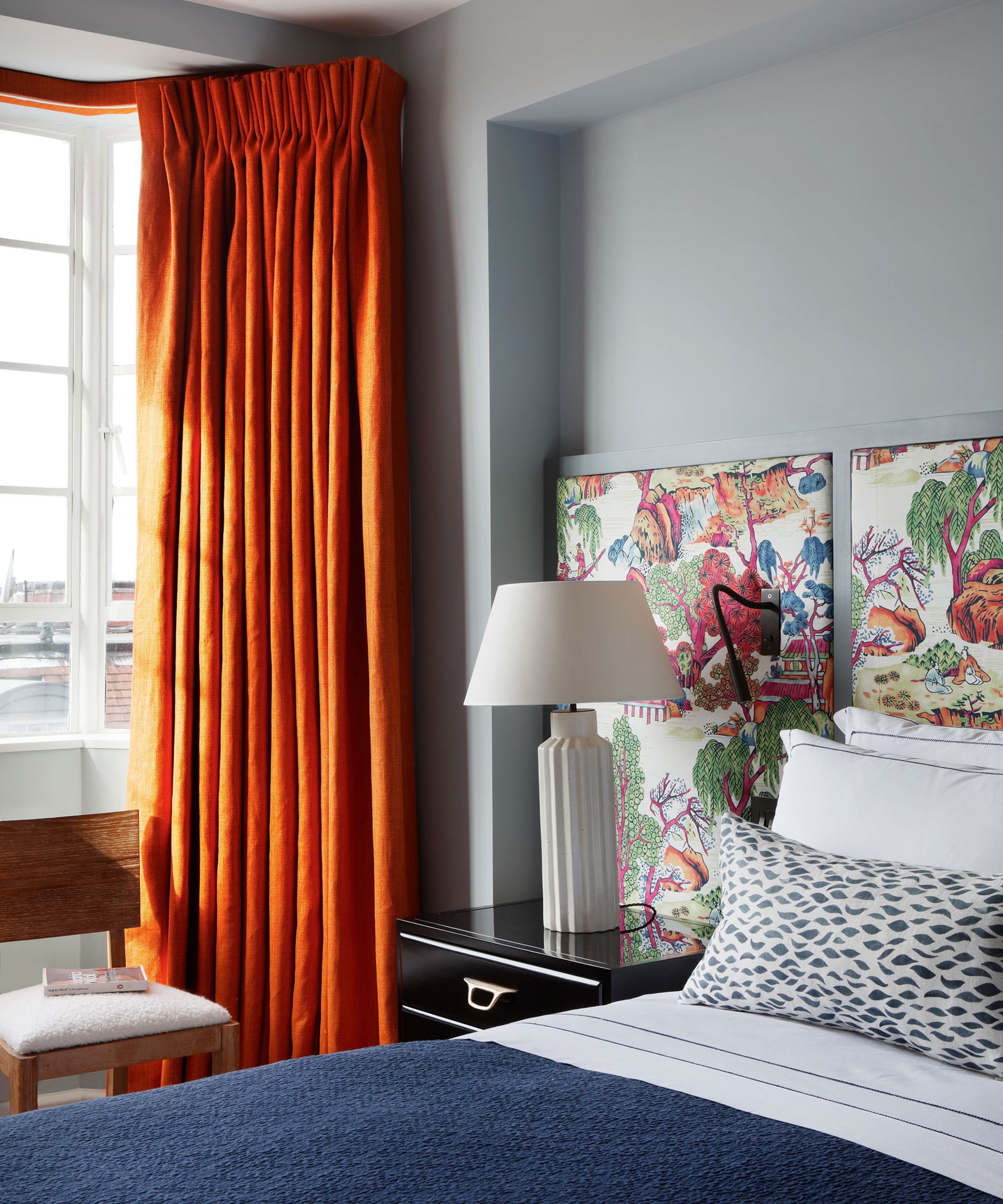 If you've ruled out using a drill and the screws and drywall anchors that you'll need to fix a curtain rod, but you can use a hammer and the window has wooden trim, tap-in brackets can be an excellent solution for hanging curtains.
These brackets – available from Kwik Hang or Spark Innovators at Amazon – have pins that fix into the top of the window trim, which hold them securely in place. Be mindful that you would still be left with holes if you ever took them down, but these will be very small, and they're hidden by their location.
Fitting tap-in brackets is quick and easy. Simply tap them into the top of the window frame using a hammer, then fit a rod into them.
For smaller windows, a bracket for each side is sufficient, while for wider windows, you'll need a center bracket or even two additional brackets for very wide windows.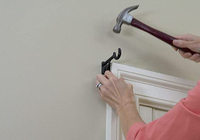 Spark Innovators Black Tap Bracket, $14.99, Amazon.
These no drill curtain rod bracket installs in seconds on any window size and fit all standard size curtain rods. You can expect no damage to your walls with these tap in curtain brackets.
3. Hang curtains with a magnetic curtain rod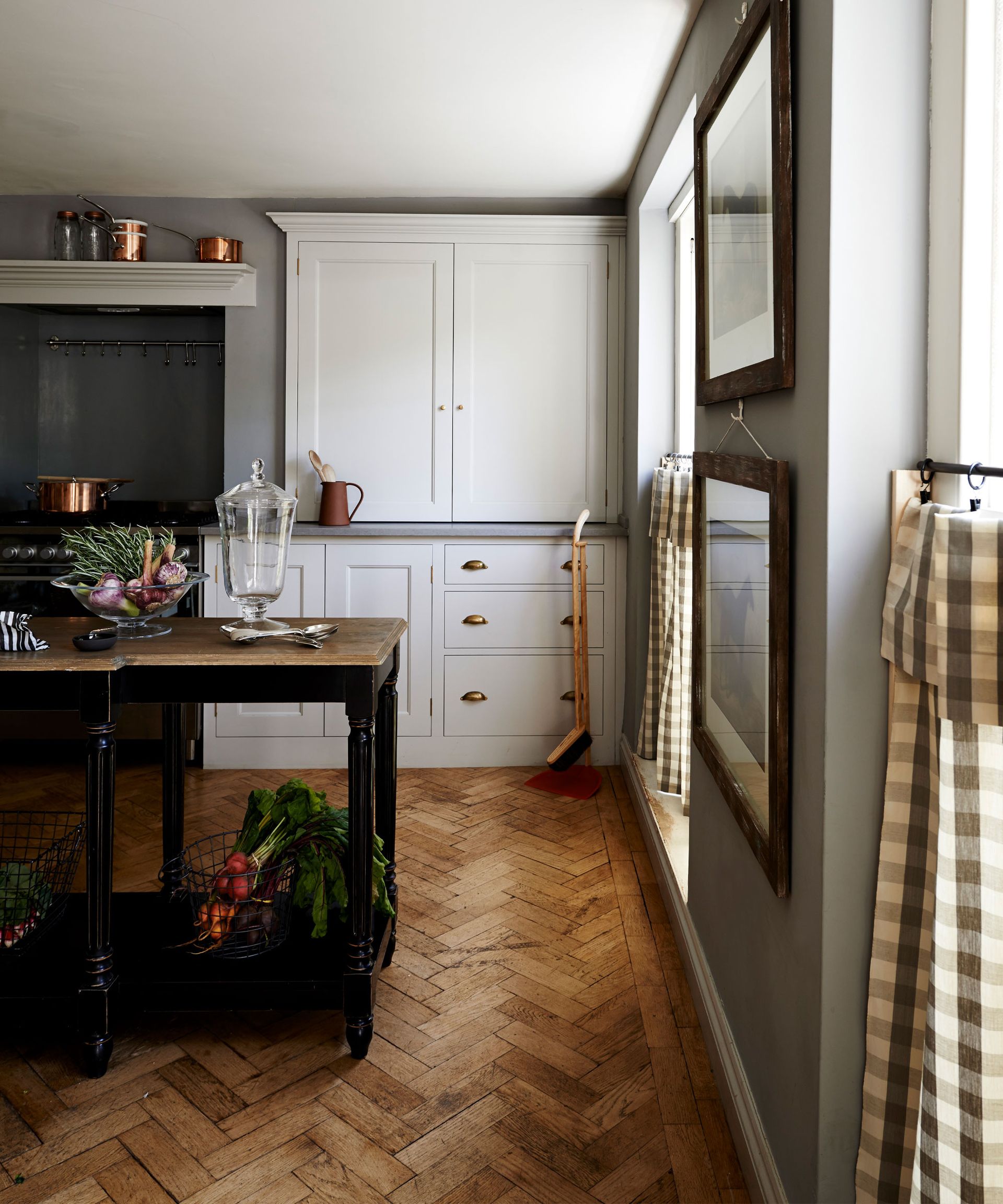 A magnetic curtain rod provides an easy way to hang curtains without drilling. The downside? It needs to be fitted to metal trim or, the more likely scenario, a metal door with a window that needs to be coverable.
To fit, first measure up. Magnetic curtain rods are extendable to cover a range of sizes, with individual rods fitting a specified size range.
Slide the curtain onto the rod, adjust the rod to the width required, then apply to the door above the window, checking it is level.
Note that magnetic curtain rods cannot support heavy curtains, and you may want one to fit one above a window in a door plus one below it to keep a curtain in place as the door is opened and closed.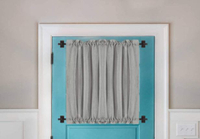 H.Versailtex 2 pack magnetic curtain rods, $19.99 Amazon
Use these 1/2in diameter magnetic curtain rods for metal doors, small windows, cafe sidelight and iron steel places. Adjust from 16 to 28in.
4. Consider self-adhesive hooks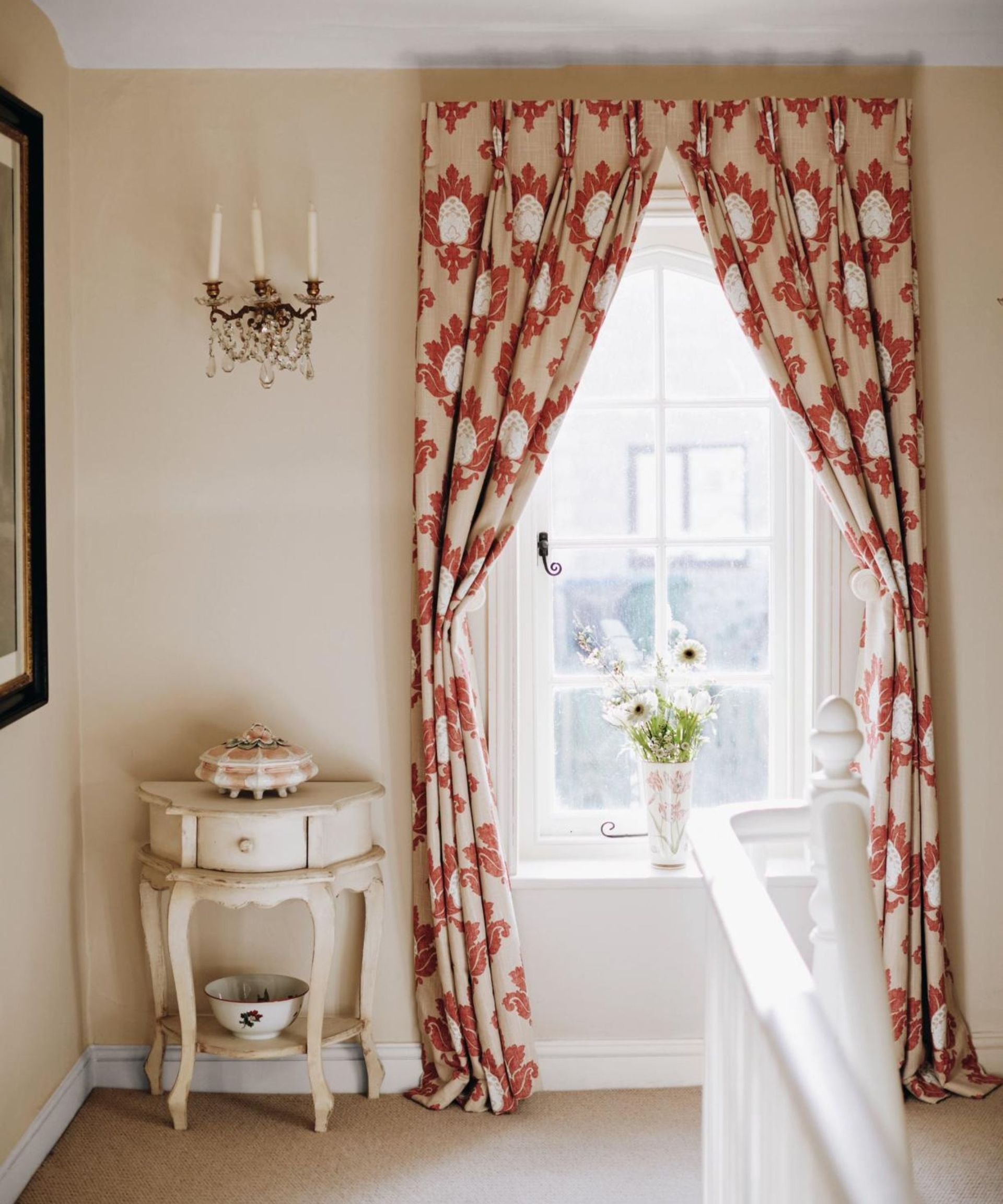 Self-adhesive hooks could provide a place to position a rod so you can hang curtains without drilling.
'These small hooks can be stuck on and peeled off easily and are incredibly versatile,' says John Doran, head fitter of soft furnishings at Andrew Henry Interiors and Thread & Dandy. 'Although you may be limited in terms of weight of fabric, the hooks are a fantastic solution for a semi-permanent and adaptable way to hang your curtains.'
Other caveats with this method? These hooks can only be used for curtain rods of very narrow diameter. Secondly, skip the white plastic versions for a more pleasing finish. We like Command Curtain Rod Holders in Oil Rubbed Bronze. Thirdly, don't use them on wallpaper; a painted wall is fine, though.
To put them in place, first measure where they need to go and clean the wall to remove dust and grime. Peel off the backing to stick each into place, following the manufacturer's instructions before hanging the curtain on a rod.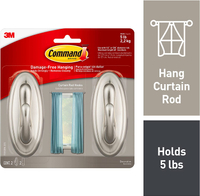 Command Curtain Rod Hooks for 1/2 or 5/8in diameter rods, $17.22, Amazon
Two packs of two hooks in brushed nickel, these come in different finishes. Strong and versatile, no hooks are needed, and they remove cleanly.
5. Try Velcro for a lightweight curtain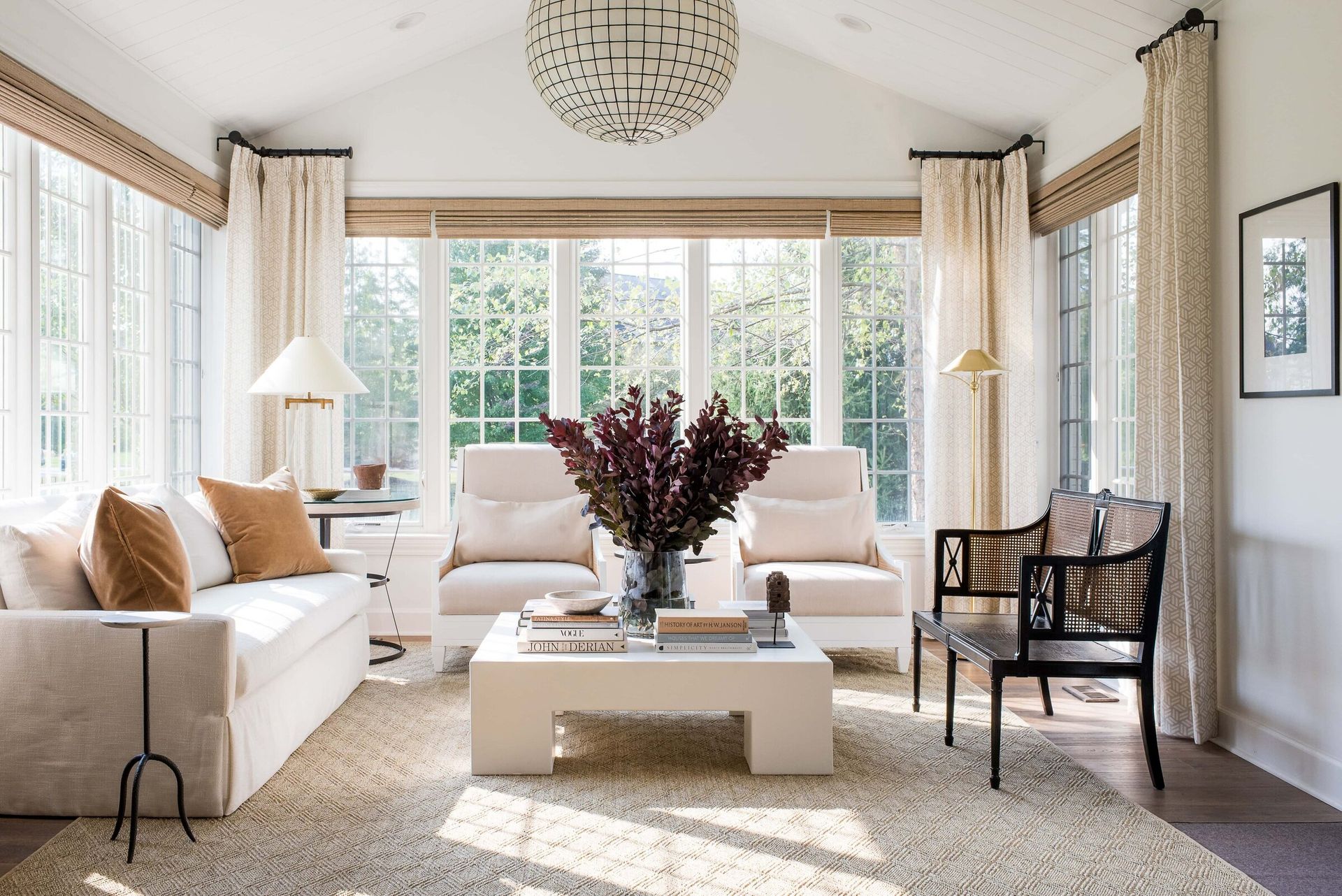 Velcro isn't a solution that will cover a whole lot of situations, but it might be the one you need. 'I have occasionally fitted tented curtains in sunrooms using Velcro,' says John Doran.
'As the ceiling is normally high and customers often opt for lightweight fabric, this is the perfect way to hang beautiful window dressings which can easily be altered and can be safely fixed to the conservatory's structure.'
It can also, obviously, be used to fit blinds. Professional grade Velcro (sold on Amazon) will give you the best adhesion.
How do you hang heavy curtains without a rod?
Heavy curtains will need a rod to support them adequately. Medium-weight curtains might be supported by a good quality tension rod with a maximum capacity of 15lbs, while Kwik-Hang's tap-in curtain rod brackets hold up to 20lbs. Other solutions such as self-adhesive hooks and magnetic curtain rods will only support very light curtains.
John Doran, head fitter of soft furnishings at Andrew Henry Interiors and Thread & Dandy advises that you should think about a window's shape, size, location and what you are using the window treatment for when deciding how to hang curtains:
'For example, if the window is in a bedroom where you would like black-out curtains, the material may be too heavy for non-drilling methods.'
What rod to use for curtains without drilling?
The rods you can use for curtains without drilling include tension rods, which have internal springs that brace them against window trim, and magnetic rods. The latter are suitable for metal doors.
If you opt for self-adhesive hooks such as those from Command, you can choose a rod with a diameter compatible with the hooks, and for tap-in brackets, check the manufacturer's specification for curtain rod sizing.
Sign up to the Homes & Gardens newsletter
Decor Ideas. Project Inspiration. Expert Advice. Delivered to your inbox.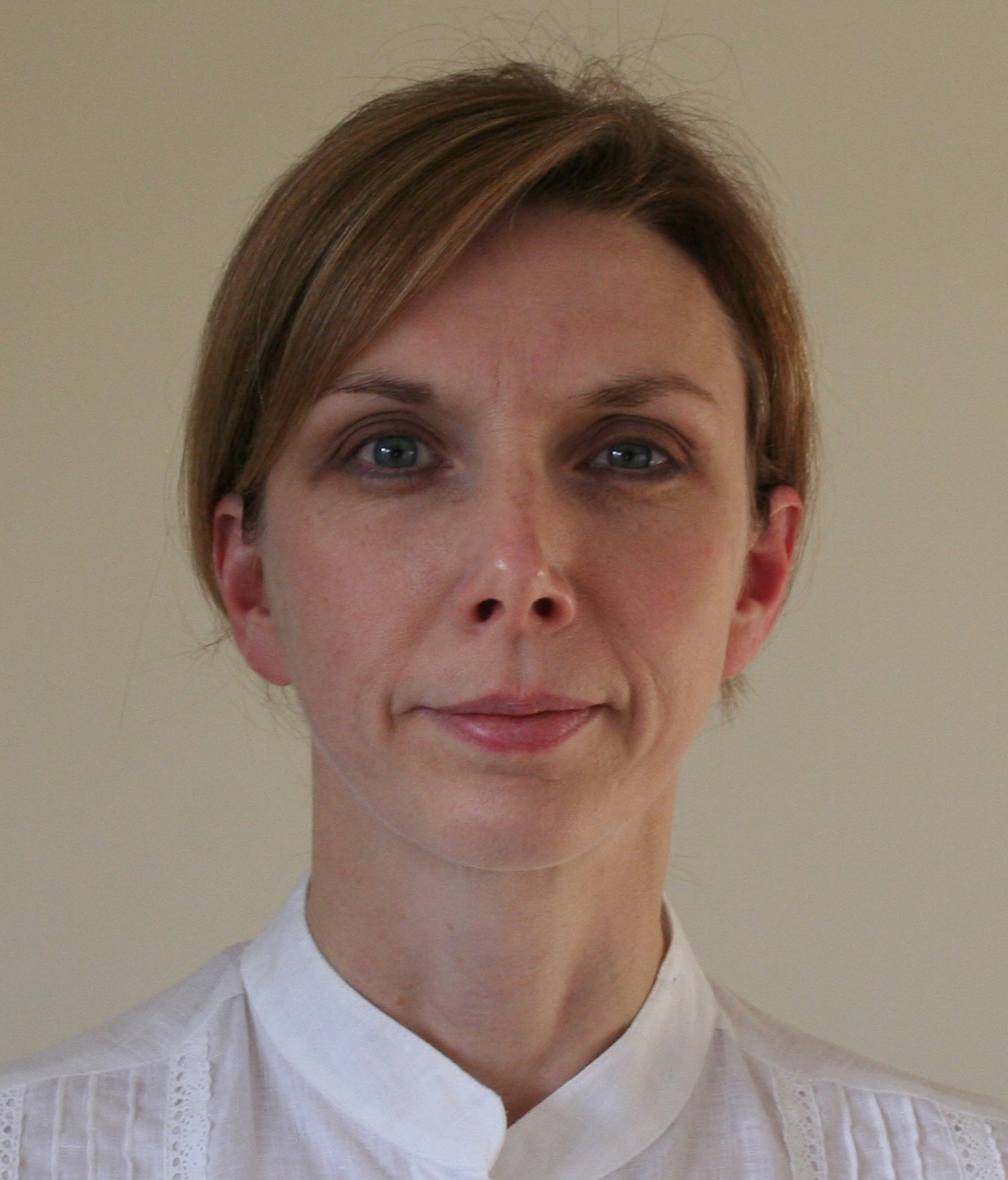 Sarah is a freelance journalist and editor. Previously executive editor of Ideal Home, she's specialized in interiors, property and gardens for over 20 years, and covers interior design, house design, gardens, and cleaning and organizing a home for H&G. She's written for websites, including Houzz, Channel 4's flagship website, 4Homes, and Future's T3; national newspapers, including The Guardian; and magazines including Future's Country Homes & Interiors, Homebuilding & Renovating, Period Living, and Style at Home, as well as House Beautiful, Good Homes, Grand Designs, Homes & Antiques, LandLove and The English Home among others. It's no big surprise that she likes to put what she writes about into practice, and is a serial house renovator.