What's the difference between a sleeper sofa and a sofa bed?
The answer to whether a sleeper sofa or a sofa bed is the solution for your home? Right here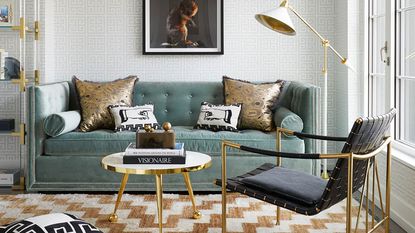 (Image credit: Jonathan Adler)
The terms sleeper sofa and sofa bed are often used interchangeably – but there are differences between the two that it pays to know about before buying. That way, you can choose an option that creates sufficient comfort, fits its location, and works with your budget.
Either one of the best sleeper sofas or the top sofa beds could be the solution if you need an extra bed in your home but don't have the space to dedicate to a guest room. It's a neat dual-purpose design that can complement a living room beautifully, transforming it into a comfortable bed as needed.
Here, we examine the difference between a sleeper sofa and a sofa bed, as well as the best mattress options, to enable you to make the correct choice when you purchase this useful piece of furniture.
What's the difference between a sleeper sofa and a sofa bed?
If you want to provide a space for guests to sleep – or even a bed for yourself when you live in a tiny apartment – knowing the difference between a sleeper sofa and a sofa bed is worthwhile.
While both are sofas that convert into beds, there are actually a host of differences, including how they're constructed, their size, the level of comfort they can provide, how long they might last, and the cost.
In other words, it's worth understanding what the two terms mean before you invest, so you know the advantages of each and why they might not suit you. We do have a word of caution, though. Since the categories aren't always used strictly, be sure to check the details of your proposed purchase using our guide to features, below, so you can be sure of exactly what you're getting.
Sleeper sofa and sofa bed design differences
While both sleeper sofas and sofa beds convert from couch to bed quickly and easily, there are important differences in their designs.
A sleeper sofa has a mattress and frame concealed inside it. The mattress can be pulled out via its mechanism, and its legs allow it to be raised off the floor like a conventional bed.
A sofa bed does not have a mattress inside it. Instead, its surface needs to be laid flat for sleeping. A futon, for example, is a type of sofa bed. However, you don't necessarily have to sleep at floor level on a sofa bed. Other models have fold-down backs and sometimes fold-down arms to provide a level surface to sleep on that keeps the sleeper at sofa seat height.
The design that's preferable may depend on the room's dimensions. 'If you have a tight space (depth wise), it might make more sense to have a sofa bed since they are more shallow than sleepers,' says interior designer Sarah Kruse, founder of Storie (opens in new tab). 'Also, if you plan on people sleeping on it for short periods of time, then it might be the right fit since it is a space saver.'
Compare mattresses
Sleeper sofas have a mattress built into them and it is this that supports a sleeper at night. Although a sleeper sofa mattress does have to be foldable so that it can be put away inside the sofa when it's being used for seating, there are still a variety of different types of mattresses – such as memory foam, innerspring, and latex – to choose from and you can thus select the type you think will make your guests (or you) most comfortable.
Since sofa beds don't have separate mattresses, the sofa cushions are the sleep surface, and while these can be sufficient for a single night's sleep, they're not purpose-made for supporting a sleeping body in the same way as a mattress is.
Mattress size is also key for night-time comfort. Investigate sleeper sofas and you'll see mattresses in standard sizes such as full (54 x 75 inches) or even queen (60 x 80 inches).
Shop for sofa beds instead, though, and you'll need to check what size sleeping surface is created when the sofa is converted to a bed. Compare these to standard mattress sizes to see how many people can sleep comfortably on the particular model.
'The greatest challenge with sofa beds is finding ones that are comfortable,' says interior designer Sarah Kruse. 'A lot of times, sofa beds have a prop-down mechanism that makes the piece the size of a full or queen-size bed. However, the actual cushion you are sleeping on is not a mattress, and therefore much firmer and less supportive than a pull-out sofa that will have an actual mattress.'
Mattress sizes:
Focus on your sleeper sofa set up
There are also clear differences between a sleeper sofa and a sofa bed when it comes to setting one or other up as a bed.
The mechanism of a sleeper sofa should make setting up the bed easy, and it's worth investing in a high quality design to get the best mechanism. Some sleeper sofas, meanwhile, allow the bed to be set up even more easily via a remote.
Opt for a sofa bed, on the other hand, and converting to a bed is definitely a manual task. How much hard work this is will depend on the design. A futon can be quite awkward to move to its flat position, while other types of sofa bed are simple to convert by changing the angle of the back cushions.
Consider durability
If you want your buy to last for longer, a sleeper sofa is likely to prove the better investment. The reason is that its components are designed for specific purposes. The mattress of a sleeper sofa is made to support someone lying down, while its seat cushions are filled with a material that creates comfort for a sitting body.
On a sofa bed, by contrast, the seat and back cushions are the sleeping surfaces, doing double duty, which means they're likely to wear faster than the two separate elements of a sleeper sofa design.
With either design, trying it out is a good strategy. 'Lay down on it, test it out for yourself,' says Sarah Kruse.
The other vital task before buying? 'Confirm your measurements in your room,' she says.
Look at cost
Cost is a further difference between sleeper sofas and sofa beds. Sleeper sofas typically cost more than sofa beds, and futons are likely to prove the most budget conscious version of a sofa bed.
Be aware that what you pay varies widely, though, so it's not an entirely straightforward matter. What is likely to be the case is that within a particular supplier's range, the sofa beds will be at the least expensive end of that price range and the sleeper sofas higher in cost.
FAQs
Can you sleep on a sleeper sofa every night?
You can sleep on a sleeper sofa every night – but it's not ideal. For adequate support and long term durability, a bed frame and mattress, along with a box spring if the bed frame requires it, is always the preferable option.
However, if you live in a small apartment or need a short term solution as circumstances demand, then a sleeper sofa can be a comfortable stand-in for a period of time. If that's the case be sure to purchase a sleeper sofa with a deep mattress in the type you prefer and sized to fit the appropriate number of sleepers.
You can also add a mattress topper to boost the comfort level of a sleeper sofa you're using nightly.
Can you use a sleeper sofa without the mattress?
A sleeper sofa should not be used without the mattress. That's because it's designed with the sleeper mechanism and mattress inside, which act together to support the cushions when it's being used for seating. Remove the mattress and there won't be adequate support for the seat cushions and sagging and discomfort will be the result.
Sarah is a freelance journalist and editor. Previously executive editor of Ideal Home, she's specialized in interiors, property and gardens for over 20 years, and covers interior design, house design, gardens, and cleaning and organizing a home for H&G. She's written for websites, including Houzz, Channel 4's flagship website, 4Homes, and Future's T3; national newspapers, including The Guardian; and magazines including Future's Country Homes & Interiors, Homebuilding & Renovating, Period Living, and Style at Home, as well as House Beautiful, Good Homes, Grand Designs, Homes & Antiques, LandLove and The English Home among others. It's no big surprise that she likes to put what she writes about into practice, and is a serial house renovator.