5 'quiet luxury' entryways that designers say will transform your space and make it look more expensive
'Quiet luxury' has seeped into interiors, and designers say the entryway is where you should be embracing this trend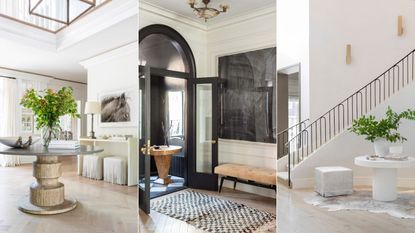 (Image credit: Julie Soefer/Future)
Sign up to the Homes & Gardens newsletter
Decor Ideas. Project Inspiration. Expert Advice. Delivered to your inbox.
Thank you for signing up to Homes & Gardens. You will receive a verification email shortly.
There was a problem. Please refresh the page and try again.
The term 'quiet luxury' is not a new phenomenon. However, it's been getting more and more traction in the fashion world, headed up by the Kendall Roy's of the world, and we have also seen it start to seep into interior trends too. It's become the new way to do minimalism – soft, warm, and quietly luxurious.
And if there's any room we think would benefit from some quiet luxury, it's the entryway, and designers agree. Because even if the home that lies beyond is quietly chaotic, at least the entrance to your home gives off the right vibes.
Entryways can be such quick and easy spaces to transform too. Unlike a living room or a bedroom, these smaller spaces can be overhauled over in a weekend, and you'll notice a difference with just a few switches. We asked designers for their advice on how to embrace the quiet luxury aesthetic in your entryway ideas.
5 ways to bring the quiet luxury trend into your home
The quiet luxury trend is a simple one to bring into your home. It's like minimalism, but warmer, softer, and more welcoming. It's all about neutral colors and a lot of layers to create rooms that are both cozy and sophisticated. The interior design trend term 'quiet luxury' might not go on forever, but the classic aesthetic it stands for certainly will.
'Quiet luxury to me is calming and timeless, easy and nonchalant. Spaces feel collected, textural, and with a play of tonal neutrals. For fun, maybe one pop of color and something unexpected to discover.' explains Justine MacFee of Macfee Design.
'When we talk about quiet luxury we're talking about a timeless and elegant understated aesthetic that isn't trend-driven. It focuses on high-quality textures, classic silhouettes, pared-back prints and patterns, and neutral palettes,' explains Tom Rutt, founder of TR Studios.
'In an entryway, think about a rich timber floor, layered with a sisal or neutral wool rug or a beautiful oak console propped tastefully with neural colored coffee table books, multiple hurricane candle holders in varying sizes or and an oversized clay vase full of hydrangeas. Add a large abstract piece of artwork and sleek brass picture light and you have quiet luxury.'
1. Introduce table lamps for softer lighting
Quiet luxury in interior design is all about the mood lighting. Soft, diffused, and never overhead. So a simple way to create a more quietly luxurious entryway is to ditch stark overhead entryway lighting that's so often the go-to in these practical spaces and add a table lamp. Or if you don't have the surface space for lamp, a standing lamp will have the same effect.
Designer Benji Lewis says, 'Do an edit on your overhead lighting – a single pendant will look sad and a ceiling peppered with recessed spots creates a terrifying first impression. Explore using lamps or if that's not an option, just a few strategically placed dimmable spots.'
Joanna Plant agrees that, 'The entryway is the introduction to the house and therefore should be welcoming whilst at the same time offering some practicality. A lamp here gives a nice, cozy light that can stay on for when you come home.'
2. Take a minimalist approach
Minimalism will always be on trend in some form or another, and right now the way to do is to take a softer, warmer approach. Quiet luxury is exactly this, a more layered, liveable version of minimalism, that still has a pared-back, simple style but is more layered and welcoming.
'An entryway sets the tone for the entire home and is the first impression visitors receive; thus, it should be calm, inviting, and free of clutter, explains designer Kati Curtis. 'A minimalist approach often works best – a console table with just a few curated items, perhaps a sculptural bowl or a statement lamp, can instill a sense of order.'
'Think about incorporating an entryway mirror, which can create an illusion of space and reflect natural light. A visually light shoe cabinet or a bench with hidden storage can minimize clutter, reinforcing serenity. Lastly, consider gentle, neutral color palettes that exude sophistication and calmness.'
Kati Curtis is the founder of Kati Curtis Design, an design firm based in New York City specializing in classic design with a global influence. Kati founded the studio in 2005 after 12 years of working with international architecture and engineering firms.
3. Give the space a focal point with a central table
A table in the center of an entryway is such a luxurious addition. It's so elegant to have a piece of furniture in the center of the space, rather than have all the entryway furniture pushed to the edge of the room. So if you have the space, add a beautiful circular table in the middle of your entryway – even if it can work on a slightly smaller scale. It gives the room an unexpected focal point and offers a surface space to add decor.
'In luxurious entryways, I often opt for a beautiful, often bespoke, entryway table,' explains Marie Flanigan. 'Entryways vary greatly in size, making the correct proportions essential. Further, simple styling is always impactful. I love an antique ceramic with beautiful big branches to bring a touch of nature indoors. Lastly, the artwork makes for a perfect focal point, so invest in a piece that's unique and inspiring.'
Marie Flanigan is an award-winning interior designer whose passion and achievements in design have positioned her as one of the nation's best. As a classically trained and practiced architect, Marie unlocks a unique level of depth through her mutual consideration of interior and structure.
4. Upgrade the flooring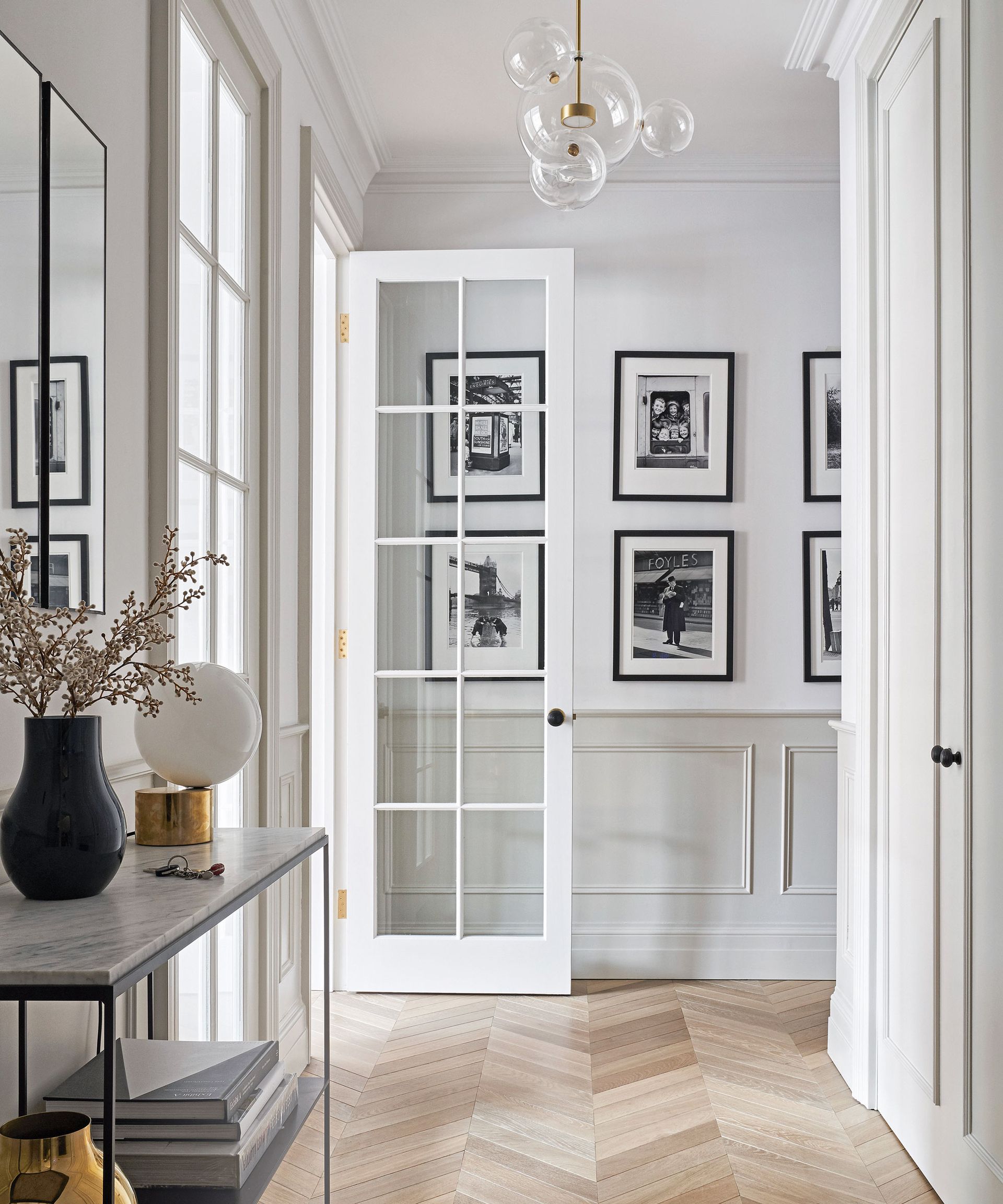 Since entryways tend to be one of the smallest rooms in the home, and need to be practical spaces too, when it comes to adding in any purely aesthetical decor it can be tricky. This is why elements like the entryway wall colors and the flooring can have such a big impact as there is often little else in the room to distract from the walls and floors.
So pay a lot of attention to the flooring as it can become a beautiful focal point of the room adding subtle pattern, texture, and layers – all of which are key to the quiet luxury style.
'Entryways are the perfect spot to showcase quiet luxury. To successfully execute a space that is big on design, but minimal in adornment, the devil is always in the details.' explains Marie.
'As the entryway is typically a first impression, the finishes will make the biggest impact. I love to change up entryway flooring patterns for an entryway, often creating a beautiful checkerboard pattern with tumbled stone or a wood herringbone pattern. A change in flooring and/or its pattern can instantly elevate this space.'
5. Create softness underfoot with a rug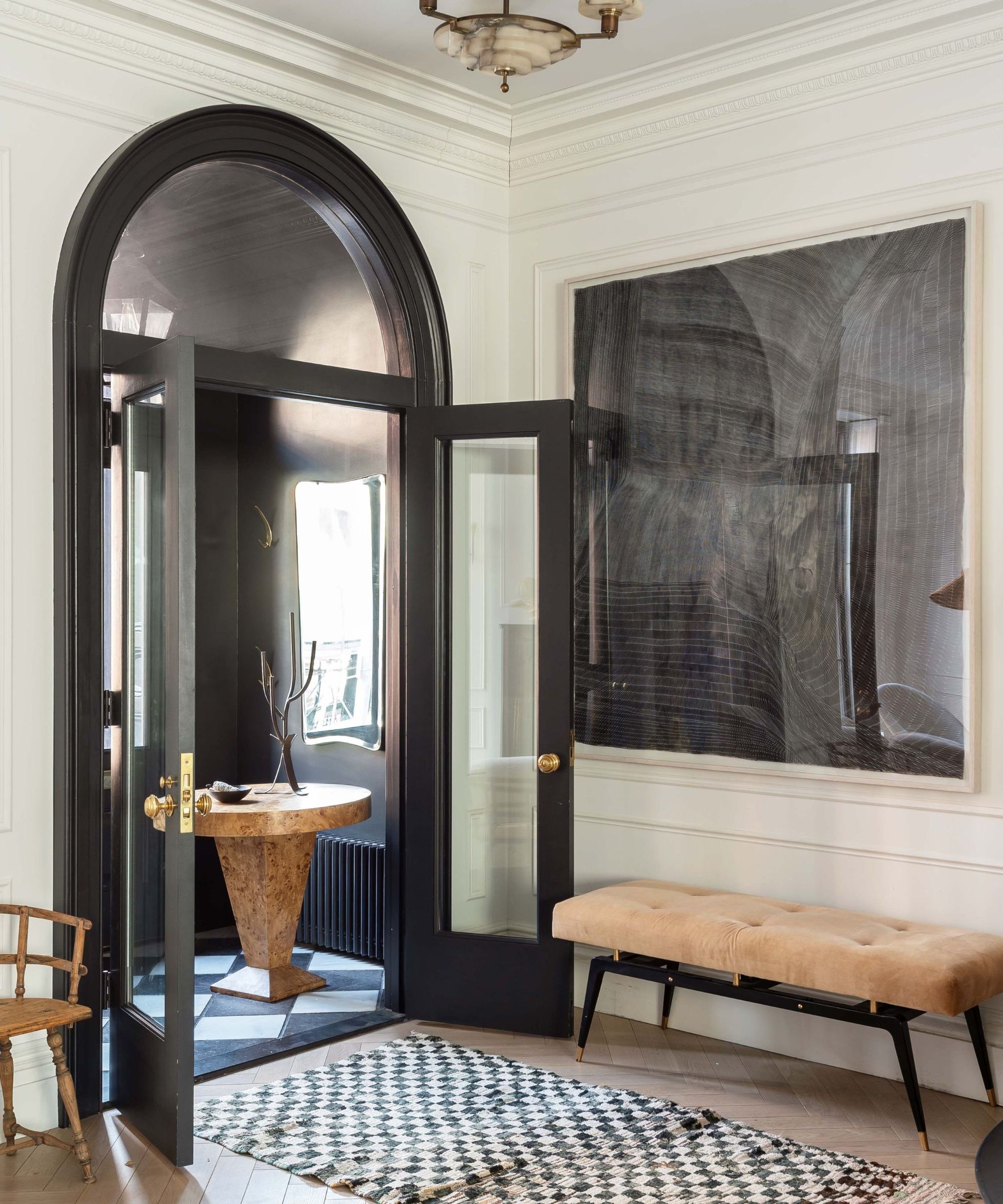 This is a really simple way to add some quiet luxury to your entryway. Throwing down a rug will add softness, extra texture, and those all-important layers.
'If you've chosen a hard floor finish like stone, soften the acoustics by including a rug, or consider using a fully fitted floor covering – I love a fully fitted natural texture like sisal with a wool rug on top,' explains Benji Lewis.
A rug is also a nice opportunity to introduce some subtle patterns into the space. Quiet luxury might be more on the minimalist side but at the core of the look is to feel inviting, as well as sophisticated. Bringing in just a touch of neutral-toned pattern will stop the hallway from feeling like an overtly opulent, characterless space.
FAQs
What is quiet luxury?
Quiet luxury began in the fashion world and it refers to the look that's subtly high-quality and timeless. It's minimal and just effortlessly chic, nothing stands out as being particularly opulent but the whole look feels sophisticated and considered.
It's much the same in the world of interiors. Soft, minimalist spaces that feel both effortless and highly curated. The color schemes are often neutral and it's the textures and materials that add the depth and tactile nature of the trend.
Sign up to the Homes & Gardens newsletter
Decor Ideas. Project Inspiration. Expert Advice. Delivered to your inbox.