Style Icons: Rubelli
Italian company Rubelli is celebrated for its luxurious, textural and colorful furnishing fabrics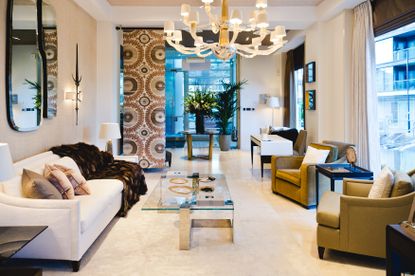 (Image credit: Rubelli)
Rubelli is a family-run globally recognized Italian company known for its luxurious furnishing fabrics. They come in a range of rich colors and textures, and are the antidote to minimalist and homogenous decorating.
The company's designs can be found around the world, and here we look at the beginnings of this interior design icon and what it creates today.
A family business
Interior decorators have a plethora of textiles to select from when building up a scheme. From cotton plains and wool checks to linens and bouclé, the choice is seemingly endless. However, when it comes to luxury silk, damask and velvet – fabrics that the eyes can 'touch' which add instant glamour and warmth to a room – there's one house that many will turn to: Rubelli.
Rubelli has been designing and producing fine fabrics from Venice for over five generations. Steeped in history and unswervingly committed to design excellence, it is known worldwide for its silk velvets and damasks. Illustrating how they straddle the divide between tradition and modernity, their mill in Cucciago near Como is home to four late 18th century handlooms which are used to meet demand for sophisticated hand-made velvet. These sit alongside latest-generation electronic jacquard looms which produce fabrics with natural and synthetic fibres which are high-performing, flame-retardant and for indoor or outdoor use.
Rubelli has a strong presence in all key global markets and is found also in a number of showrooms across the USA from New York to Seattle. Today, a number of brands sit under Rubelli Group's portfolio, including Rubelli, Kieffer by Rubelli, Armani Casa Fabric Collection by Rubelli, and Rubelli Casa (furniture collection). Five generations later, what was started by Lorenzo Rubelli in 1889 is now a globally recognized luxury brand.
The early days
The founder of the firm, Lorenzo Rubelli, was born in Venice in 1847. A scion of an ancient Venetian family, his ancestor Cesare Rubelli, at the beginning of 18th century, dyed the sails of the fleet of La Serenissima red—which may be where the name came from. Fast forward to the late 19th century and Lorenzo Rubelli picked up the thread again when he bought the weaving business of Giobatta Trapolin in 1889.
Venice has long specialized in luxury products, silk being among the most precious. The company, initially known as Trapolin Rubelli, renewed and reinterpreted antique fabrics including two-pile velvet, soprarizzo (a type of hand-woven velvet unique for its combination of cut and uncut pile), lampas (woven silk) and brocade. It was a supplier to the Royal House of Savoy, among other prestigious clients, moreover it took part in the international exhibitions.
The name of the company changed to Lorenzo Rubelli & Figlio, when Lorenzo's son, Dante Zeno, joined in 1910. It was during this period that the company expanded. Rubelli opened its first shop outside of Venice in the via Tornabuoni in Florence in 1922. In the following years, the firm opened another shop in Rome and, later, in Milan.
In 1955 Alessandro Favaretto Rubelli took over from his grandfather, Dante Zeno, and started to put together a Rubelli collection, introducing a distinctive style that remains at the core of the brand today. By now, its hand-loomed velvet had established a reputation and was used by fashion designers including Roberta di Camerino. When Princess Grace of Monaco visited Rome in 1959, she carried a Roberta di Camerino handbag made from handwoven Rubelli soprarizzo velvets.
An international brand
From its headquarters in Venice, Rubelli started to build a reputation worldwide for the quality of its damask, silk and velvet. In 1976, Rubelli opened its first overseas showroom in Paris. In 2001 it took over the French company Dominique Kieffer and eight years later the Rubelli group signed a license with Giorgio Armani for the Armani Casa fabric collection by Rubelli. Later on Rubelli has expanded to offer furniture, wall coverings and acoustic panels.
Living history
Alongside growing the brand, Rubelli has put its expertise to work by supporting the living heritage of Venice, and key buildings across Europe such as La Scala in Milan, the Albertina Museum in Vienna and the Bolshoi in Moscow. In 1996, when Venice's La Fenice opera house was almost destroyed by fire, the company offered to help with the restoration, donating silk damasks and velvets for the auditorium. These were reproduced from remnants of the fabric that Rubelli had originally supplied to the opera house in the 1930s.
The company is still actively involved in the arts scene. Rubelli supplied fabrics for the Stephen Frears film Dangerous Liaisons and Sofia Coppola's Marie Antoinette. In the Harry Potter movies, wizards are dressed in classic Rubelli cloaks, as well as characters of the American TV series Games of Thrones.
Rubelli today
In 2015, the company ventured beyond the textile sector into furniture with Rubelli Casa to inspire customers with other ways to use fabrics. Since then, they have signed co-marketing agreements with different companies including Santoni, to produce footwear and bags, and established joint projects with emerging artists.
While the flagship store is in Milan, the beating heart of Rubelli, including the sales showroom and the Rubelli Foundation (hosting the historical archive) are all housed in Ca' Pisani Rubelli in Venice, a 15th-century palazzo belonging to the Rubelli family. Most of the fabrics are made in Cucciago, Lake Como.
Arabella is a freelance journalist writing for national newspapers, magazines and websites including Homes & Gardens, Country Life, The Telegraph and The Times. For many years she has specialized in writing about property and interiors, but she began her career in the early 2000s working on the newly launched Country Life website, covering anything from competitions to find the nation's prettiest vicarage to the plight of rural post offices.