What color is graphite? How to use it in your decor
A dark shade that can add drama and sophistication to a room, we ask the question, what color is graphite?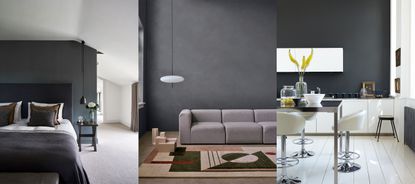 (Image credit: Davide Lovati, Crown Paints, Little Greene, )
The color graphite can often be confused for a charcoal or soft black shade, leading to many of us asking the question, what color is graphite?
Named after the natural material that is formed from carbon, the color graphite embodies a deep, dark gray shade that can be a versatile and grounding choice for decorating ideas in the home.
Graphite sits within a spectrum of other gray shades, created through a mix of black, white and blue. A unique neutral that can connect a space with the natural world, using dark shades such as graphite in interior design can create an atmosphere rich with character and contemporary edge.
What color is graphite?
Graphite can be considered a shade of gray, created through a mix of blue, white and black. Neutral shades such as graphite do not appear on a traditional color wheel, rather, they sit independently with other 'non-colors' such as black and white.
When planning your decorating ideas and room color ideas, graphite can create a truly sophisticated space.
Justyna Korczynska, Senior Designer at Crown Paints states, 'darker tones can be used to add drama anywhere in the home, from a living room to a bedroom or even a small hallway - with clever lighting and mirrors you can create a look that is both strong and atmospheric.
We feel colors such as graphite can add drama, strength and solidity to a space, used to create a bold feature wall, or if that isn't your style, it can be incorporated in more subtle ways via accessories and furniture.'
Decorating with gray and using dark shades such as graphite should not feel oppressive or somber, when used in the right way, they can create elegant and refined designs with subtle hits of drama and luxury.
Is graphite gray or black?
As discussed, graphite is a gray shade that sits within a family of neutrals. Created through a mix of black, white and blue, there can be many varying graphite shades created through this mix.
Patrick O'Donnell, Farrow & Ball Brand Ambassador states, 'graphite is a true dark gray, so there is no perception of blue through it - our Tar from the California Collection has a lovely smoky quality to it which would fit the bill.'
As there are many shades available, ranging from light to dark, you will be able to find a graphite shade that can integrate into your design scheme seamlessly.
Is graphite a neutral color?
As graphite is part of the gray color family, it is considered a neutral color, other examples of neutral colors are black, brown, white, taupe and khaki.
Graphite can be a versatile option for neutral room ideas, whether you want to make a subtle statement with a dark painted feature wall, or create a grounded, restful environment with dark cushions and soft furnishings, graphite can integrate into both classic and contemporary schemes.
What colors go with graphite?
When planning accent colors for gray, graphite is a truly versatile choice. Ideal for pairing with other relaxed shades such as black, white and cream, it can also create harmonious color combinations with bright, bold shades such as yellow and blue.
Sue Wadden, Director of Color Marketing at Sherwin-Williams states, 'because graphite is considered neutral, the hue can easily be warmed up with accents or complimented by shades in the blue family to pick up on its undertones, like mid-toned Breezy or a light, muted pastel such as Lullaby.'
Justyna Korczynska also states, 'dark greys work wonderfully with white woodwork and bedlinen - for the ultimate smart bedroom. But they also look fantastic with areas of a sharp tone like leaf green or burnt orange.'
Depending on your style and the plan for your interior space, graphite can both blend in and stand out, making it a timeless choice for your home.
Sign up to the Homes & Gardens newsletter
Decor Ideas. Project Inspiration. Expert Advice. Delivered to your inbox.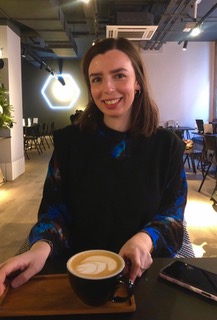 Zara joined Homes & Gardens in February 2022 as a Content Editor. After studying English Literature at University, she worked as an Ecommerce Website Editor, Content Writer and Buying Intern at multiple independent businesses within the luxury retail and lifestyle sectors. Her role at Homes & Gardens unites her love, experience and passion for the world of design and desire to create inspiring written content. She enjoys nothing more than discovering new trends, brands and products, whether that be in fashion, interior design or lifestyle.