Best kitchen countertops for cooking – expert advice to help you choose
Durable, heat-resistant kitchen surfaces for people who like to cook, as recommended by interior designers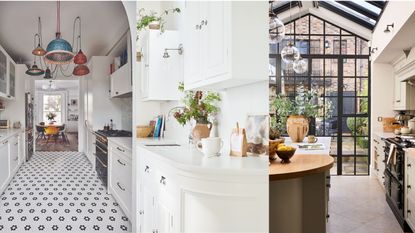 (Image credit: Ca Pietra/Neptune/Darren Chung)
Choosing the best kitchen countertops for cooking is not as simple as it might sound. There are a lot of choices out there. The best decision is an informed decision, however, so we've asked design experts for their advice on the best kitchen countertops for people who like to cook. They've picked out some of the best practical options, but also some of the most aesthetically pleasing choices of a countertop, as well as the most durable and some more budget-friendly options, plus some good ideas for countertop combos, where two different materials are used.
If you're looking for new kitchen ideas because you're thinking of replacing a whole kitchen then your choices for kitchen countertop ideas may have to fall in line with the budget for the room as a whole. If you're looking to replace the countertops on their own, well it's worth looking at top-of-the-range options that will give the whole space a wow factor, all the while being mindful that your choice will need to look good alongside your existing kitchen cabinet colors and kitchen backsplash ideas.
What are the best countertops for people who like to cook?
If you like to cook, not only will you be looking for a practical, hardwearing countertop, but chances are you spend a lot of time in the kitchen so it's a good idea to choose a surface you'll be happy to look at and work with. Designing a kitchen for someone who likes to cook means creating a calm, harmonious workspace, so try to find a countertop that complements the existing kitchen design. And on a practical note, keen cooks – and many more of us besides – will be looking for something that's not only easy on the eye but easy to keep clean and hygienic.
1. Opt for a heat-resistant kitchen countertop
What is the most heat-resistant kitchen countertop? To answer this, look to restaurant kitchens, where the chef's countertop choice is almost always stainless steel. You can slide a hot pan straight off the stove onto a stainless steel countertop with no damage done. Not only is stainless steel the most heat-resistant kitchen countertop material, but it is hygienic and hardwearing, too.
Boston-based interior designer Sashya Thind is a fan. 'Stainless steel is probably my favorite,' she says. 'I love the ability to wipe down and disinfect, plus it is 100 percent recyclable and makes a big visual impact in a space.'
If however, you feel that stainless steel is just a little too clinical or industrial for a home kitchen, how about a copper or a brass countertop, as in the bespoke kitchen from Sustainable Kitchens, pictured above? Like stainless steel, these surfaces have antimicrobial properties but offer a warmer, more stylish look. Both copper and brass will develop a patina over time, so you will need to invest some time and a little effort in keeping them clean and shining brightly.
One further, and very popular, choice of supremely heat-resistant countertop is granite, which will withstand just about anything you throw at it. It will, however, require resealing every ten years or so.
2. Choose a durable kitchen countertop
We've already touched on the durability of stainless steel, brass, copper and granite, but are there other surfaces that deserve to be on our list? What is the most durable material for a kitchen countertop? While stainless steel probably deserves the title of all-round most durable material, there are other options that come close.
Anna-Jaël Hotzel, principal of Kollective, suggests considering soapstone, as in the image above, for its durability, 'Soapstone offers the beauty of natural stone while requiring less maintenance than marble, making it a practical choice,' she says. 'There are three key benefits to using soapstone in a kitchen. Firstly, soapstone is heat resistant, which means you can set a hot pan right on it without causing any damage to the material. Secondly, unlike marble, it is acid resistant. This means wine spills or forgotten lemon halves won't leave a stain on the surface. Lastly, soapstone is incredibly dense and contains hydrophobic talc, which means it repels water. This feature is great for stain resistance but also makes soapstone resistant to harboring bacteria, making it an excellent choice for food preparation surfaces.'
Katie Browning of Lucas Browning Design suggests engineered quartz as another durable option and a cheaper alternative to marble. 'It is stain and heat-resistant so is a great option for high-traffic areas,' she says. 'And is the most low-maintenance option. However, it has a more uniform look than natural quartzite, giving it a little less character.'
Designer Ruchi Agrawal Mohan also recommends engineered quartz. "The most durable kitchen countertops are manmade materials like engineered quartz and porcelain. I also like to use natural quartzites. They are denser than marble and hence more durable, they come in a wide variety of beautiful colors from the depths of earth,' she says. 'The veining and color of every individual slab are unique and one of a kind while giving the stone the durability of almost granite. It's a tough surface and a statement piece.'
3. Find a scratch-resistant kitchen countertop
What is the most scratch-resistant kitchen countertop? Natural and engineered granite, quartz and natural quartzites are not only durable (see above) but are also scratch-resistant options, too. But now let's add crushed or recycled glass and concrete countertops into the mix. Both are scratch resistant, but since concrete is porous it may stain so will need to be sealed before use and resealed from time to time. Concrete can make a striking choice for more contemporary kitchens, as pictured above.
While we're on the subject, natural wood and stainless steel countertops will both show scratches if misused. Use a chopping board to protect them, and make sure you lift rather than drag pans onto wood or stainless steel surfaces.
4. Go seamless with a solid surface countertop
Solid-surface countertops are often referred to by their brand names Corian, Staron, Swanstone, Maia, and many others. Solid surfaces are made from a mix of approximately two parts mineral dust (usually marble) and one part binding resins. They are popular choices for well-used kitchens and are admired for their almost seamless finish. These made-to-measure options can be molded to incorporate sinks, backsplashes and counters in one piece. They are hygienic, mold resistant and don't stain easily, but they aren't heat or scratch-resistant, so trivets and chopping boards are musts with solid surface countertops.
5. Try a combination of different countertops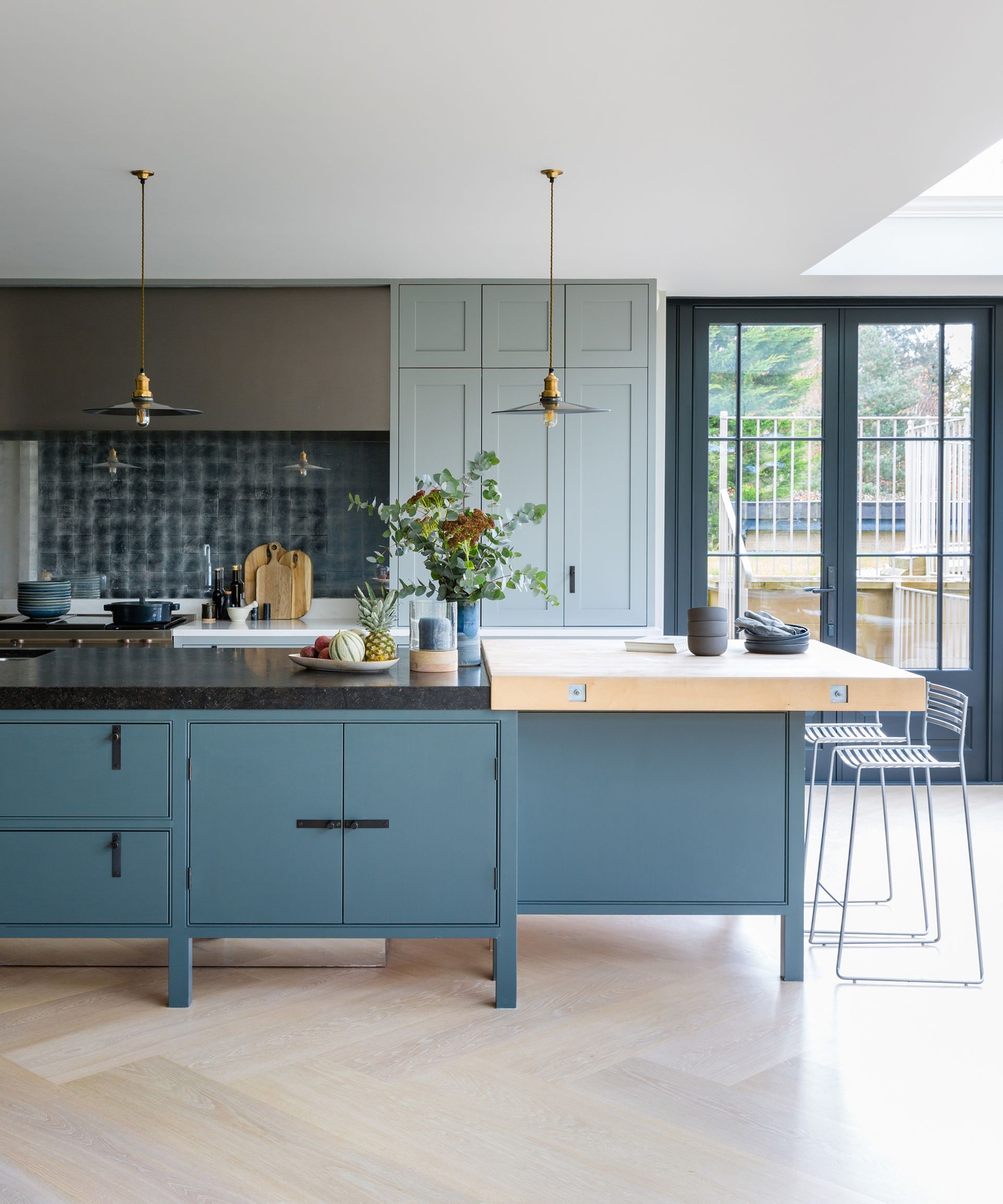 Mixing two or more countertop materials to visually zone the kitchen can lead to a more creative look. Plus, you can tailor your choices around the usage they'll get in that particular part of the kitchen.
Designer Allison Ruda agrees, 'There are no rules saying you have to have all the same countertops, it really depends on the goals of your kitchen and what your preferences are. Mixing and matching different countertop materials in your kitchen can create a unique and interesting look, but it's important to choose materials that complement each other both aesthetically and functionally. For example, you may want to choose a more durable and stain-resistant material for areas that are prone to spills and stains, such as near the sink or stove.'
If this is your chosen approach, you'll need to think about the space as a whole advises Allison Ruda. 'When choosing different countertop materials, consider the overall style and color scheme of your kitchen,' she says. 'A good guideline would be to choose no more than two or three different materials and to make sure they all work well together. For example, you could pair a butcher block top with a solid surface or quartz countertop for a mix of warmth and durability.'
FAQs
What countertop can you not put hot stuff on?
Wood or butcher block countertops are the least heat-resistant surfaces and will scorch or burn if you put a hot pan directly onto them. Even a mug of hot coffee can leave a telltale ring of damage behind. And it's not only heat that will damage wood countertops. The area around the sink is prone to water damage and, unless you use a chopping board for your food prep, wooden countertops will scratch badly.
Despite all this, wood is still a popular and appealing choice for kitchen countertops, nothing else compares when it comes to creating a warm and homey look in your kitchen. Plus, there's a nostalgia about wood too – oak, maple, walnut, these were the surfaces our grandmothers, and theirs before them, would have prepared food on. So if you find wood countertops hard to resist, take care to provide a more durable surface around the stovetop, and always, always use a chopping board!
One last point on heat damage, just to say that wood countertops aren't the only culprits. Laminate and solid surface countertops will also scorch or burn if a hot pan is placed on them, so we would not recommend these materials be used near a stove unless a trivet is used to protect the surface from hot cookware.
What is the cheapest heat-resistant countertop?
The cheapest heat-resistant countertop is a ceramic or porcelain tiled surface. Tiles can withstand high temperatures so you can place hot cookware directly onto them. A tiled countertop costs as little as $15 to $20 per square foot, so is a great budget option, and further savings can be made if you're prepared to lay the tiles yourself. There are some disadvantages to tiled countertops, however, particularly for people who like to cook. Although tiles are stain resistant and easy to wipe down, the grouting is not so easy to keep clean and stain-free and may need sealing or replacing on a fairly regular basis, particularly around sinks.
Granite, quartzite, or engineered quartz countertops are all highly heat-resistant and are your next best cost-effective options, costing anything from $20 to $270 per square foot as there are so many variables in color and origin that will affect the price.
In third place as a cost-saver, and every bit as heat-resistant, stainless steel countertops can be sourced from around $60 per square foot, which sounds like good value for the chefs' top choice.
Sign up to the Homes & Gardens newsletter
Decor Ideas. Project Inspiration. Expert Advice. Delivered to your inbox.
Karen is the houses editor for homesandgardens.com and homes editor for the brand's sister titles, Period Living and Country Homes & Interiors, and an experienced writer on interiors and gardens. She loves visiting historic houses for Period Living and writing about rural properties for Country Homes & Interiors, and working with photographers to capture all shapes and sizes of properties. Karen began her career as a sub editor at Hi-Fi News and Record Review magazine. Her move to women's magazines came soon after, in the shape of Living magazine, which covered cookery, fashion, beauty, homes and gardening. From Living Karen moved to Ideal Home magazine, where as deputy chief sub, then chief sub, she started to really take an interest in properties, architecture, interior design and gardening.