Should a kitchen island be the same height as the counters?
Kitchen island height matters. Here's what you need to know to get it right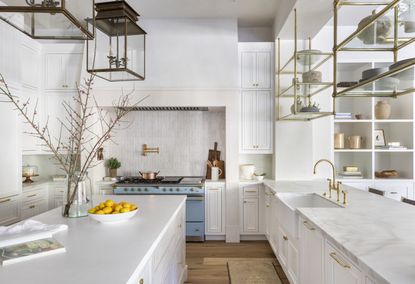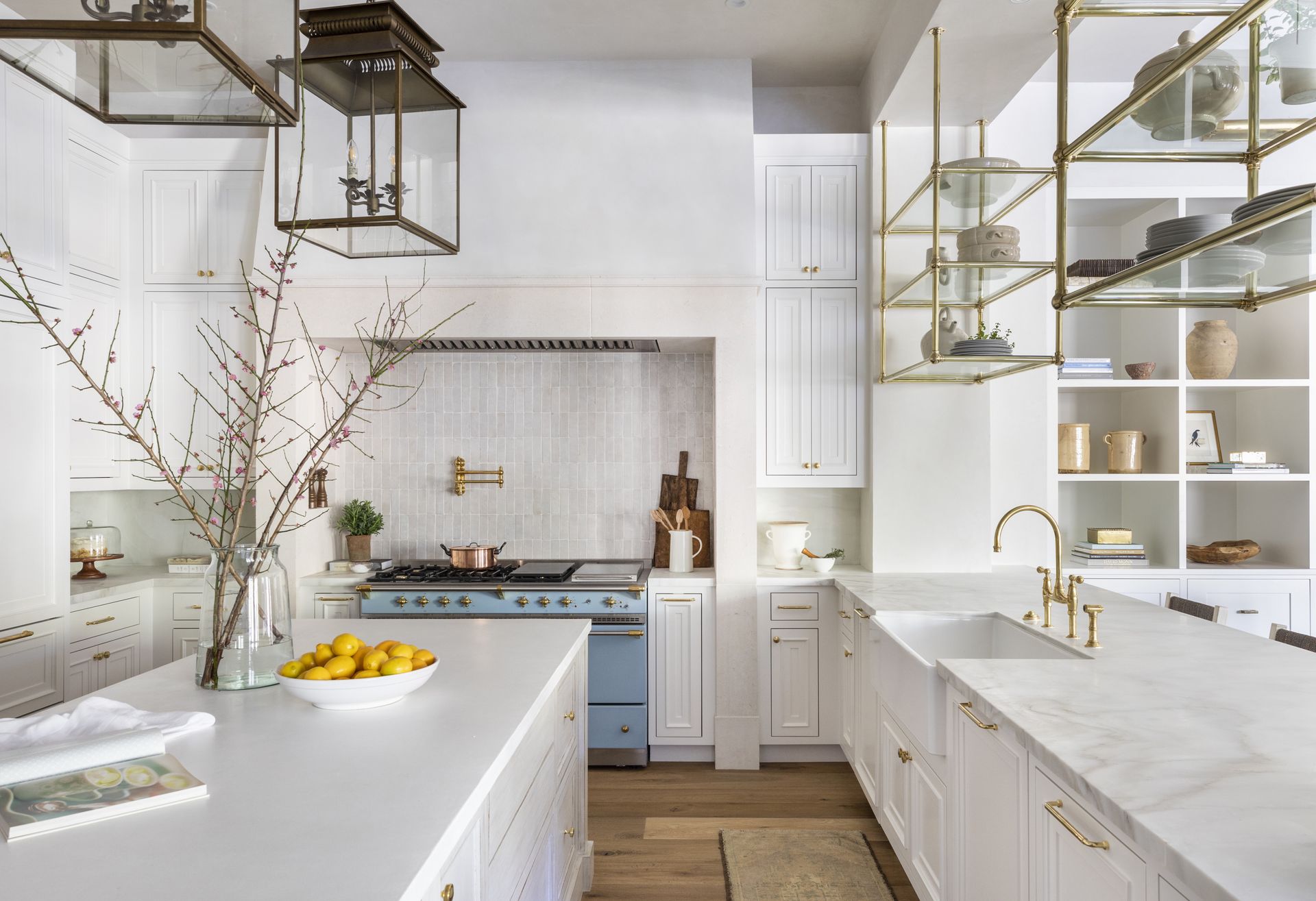 (Image credit: Julie Soefer)
Sign up to the Homes & Gardens newsletter
Decor Ideas. Project Inspiration. Expert Advice. Delivered to your inbox.
Thank you for signing up to Homes & Gardens. You will receive a verification email shortly.
There was a problem. Please refresh the page and try again.
If there's sufficient space to accommodate one, a kitchen island is a must-have for an enormous proportion of people investing in a room remodel. And one of the factors you'll need to consider when you're including this feature is the kitchen island's height.
The island creates a separate zone within the room and your kitchen ideas might envisage it as preparation and/or cooking space, and perhaps a place to sit, so a height that suits these activities is vital.
But does this mean the kitchen island should be the same height as the counters? This is what the experts say.
Should a kitchen island be the same height as the counters?
Typically a kitchen island is the same height as the counters, and there are a number of reasons why this is the case, including ergonomics and the aesthetics of the room.
Of course, there's no reason why you can't deviate from this scenario, and here we explain why kitchen islands are frequently the same height as the counters, and what could make you take a different path.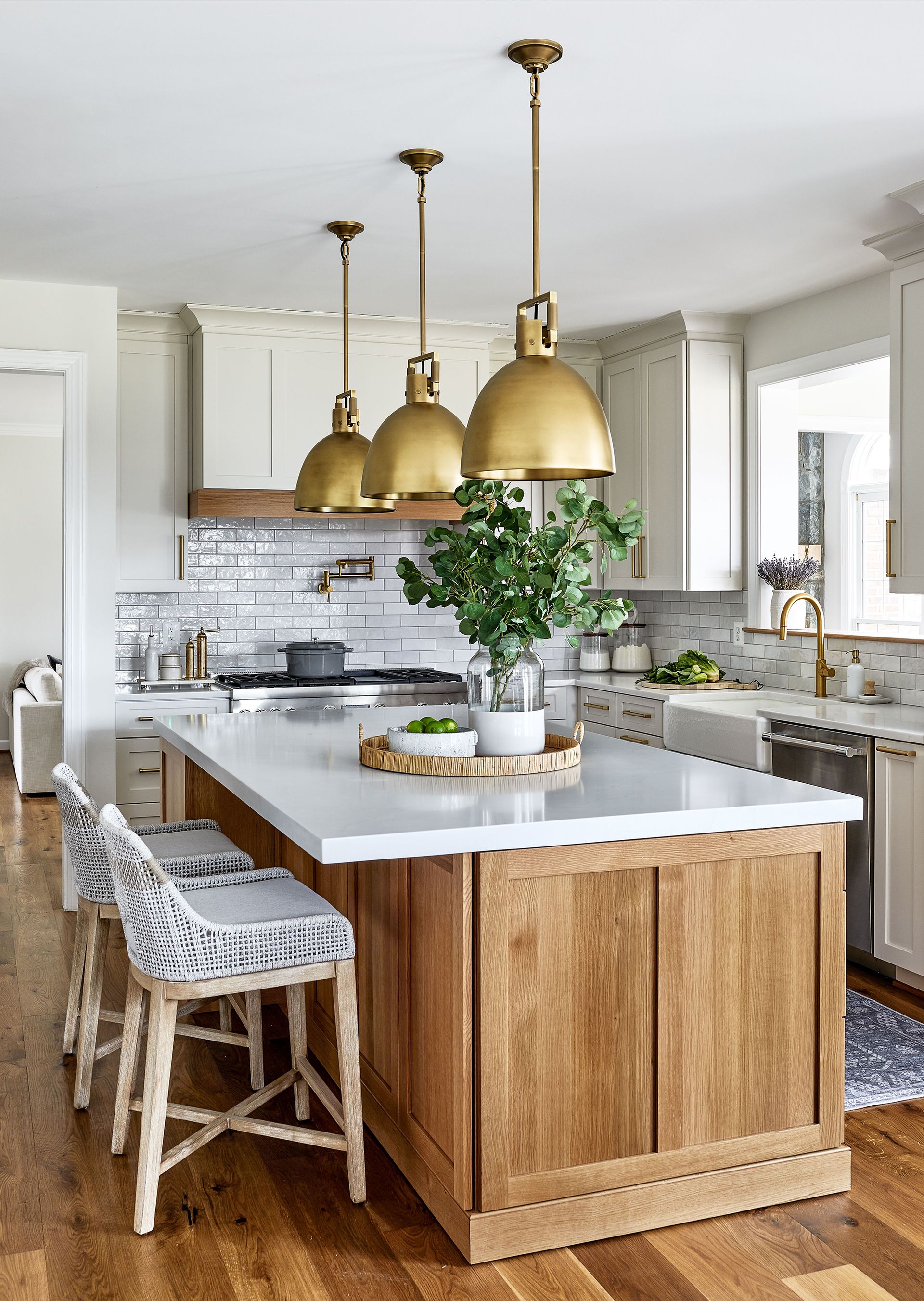 Typical height for counters and islands
The standard height for countertops is 36 inches, and that's also the typical height for an island. The reason? 'Standard height countertops are the ideal height for both prep and comfortable seating,' says Erika Jayne, a DC designer, general contractor and owner of Erika Jayne Design.
In other words, it's a height that suits the average kitchen user whether they're getting ingredients ready, washing veggies in the sink, or using a cooktop.
Additionally, permanent kitchen islands (as opposed to kitchen island types such as rolling carts) use base cabinets plus a countertop just like in the rest of the room, so the kitchen island and the counters will be the same height unless a design detail is changed so they are at different heights.
Aesthetic benefits of the same island and counter height
The final appearance of the kitchen is a reason why you might prefer the island to be the same height as the counters.
'Our studio wouldn't say there's a hard and fast rule about what you should do, but we certainly try to keep all of the counter surfaces at one height: 36 inches AFF (above finished floor),' says Dustin Gerken of Dustin Gerken Design of Columbus, OH.
'It does help with working in the spaces, but it's also admittedly an aesthetic choice. We prefer the cleaner look with fewer visual hiccups you can run into when there are partial tiers and sections of counters at bar height.'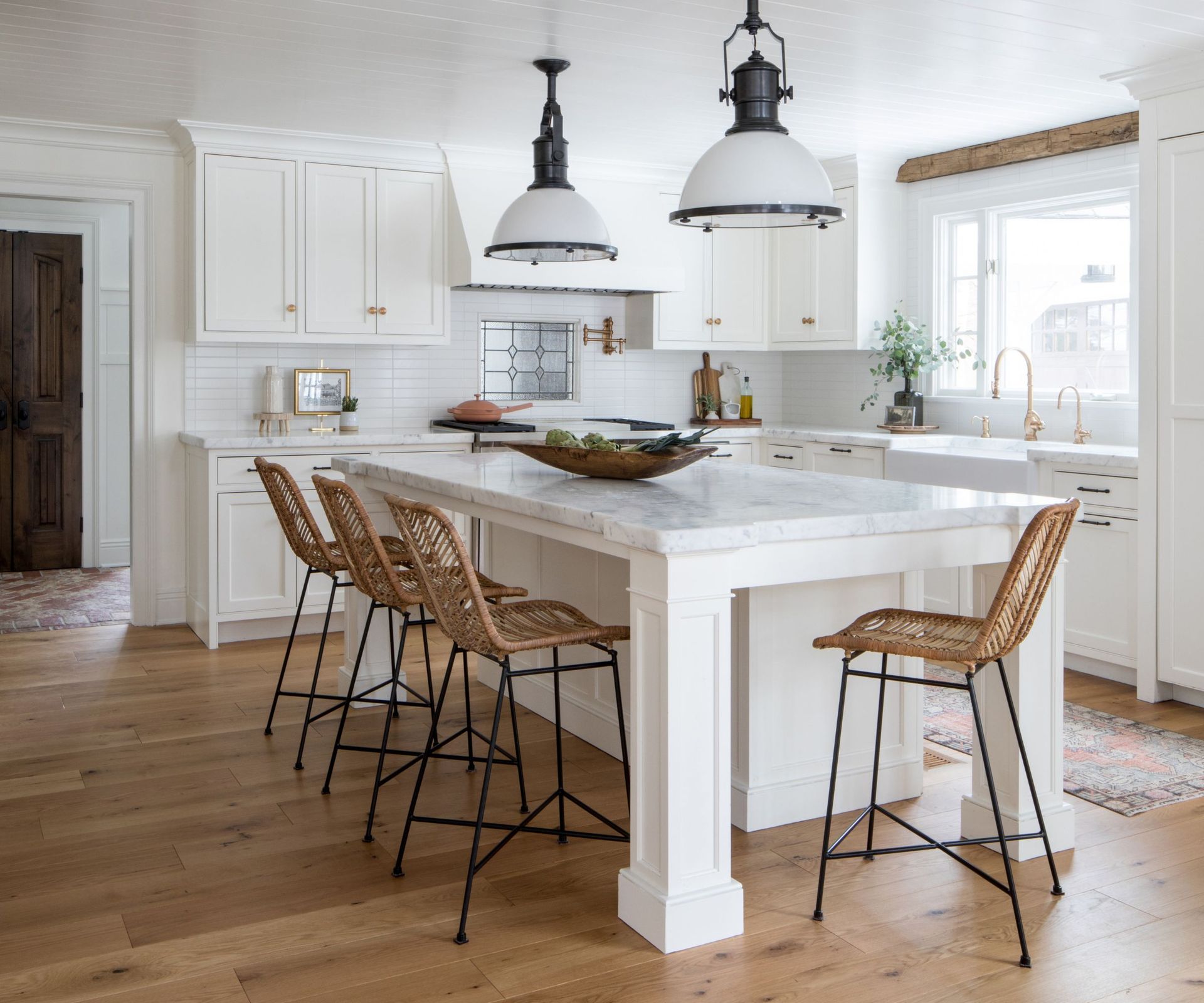 Island seating and height
Another reason for keeping the kitchen island the same height as the counters is that it's designed with an overhang that accommodates seating as well as provides a workspace.
'Counter-height stools are just slightly higher than dining chairs, providing the perfect balance of casual comfort without the feet-dangling-numbness that can sometimes happen with true bar stools,' says Erika Jayne.
Choosing an island of a different height
The visual appeal of consistency and the needs of both those cooking and those seated on a stool might mean you decide to opt for a kitchen island the same height as the counters. But when might a different island height be preferable?
One occasion when it's worth considering is when the kitchen's users are of different heights. In this case, making the island higher can ensure a tall person is able to use the counter, sink, or cooktop here without uncomfortable stooping; other average-height occupants of the room, meanwhile, can work on the countertops of standard height.
'An easy way to make the island higher and therefore ergonomic for someone taller is to choose a countertop that's thicker,' says Lucy Searle, global editor-in-chief of Homes & Gardens. 'It won't be an enormous change in height but it will make all the difference to their comfort.'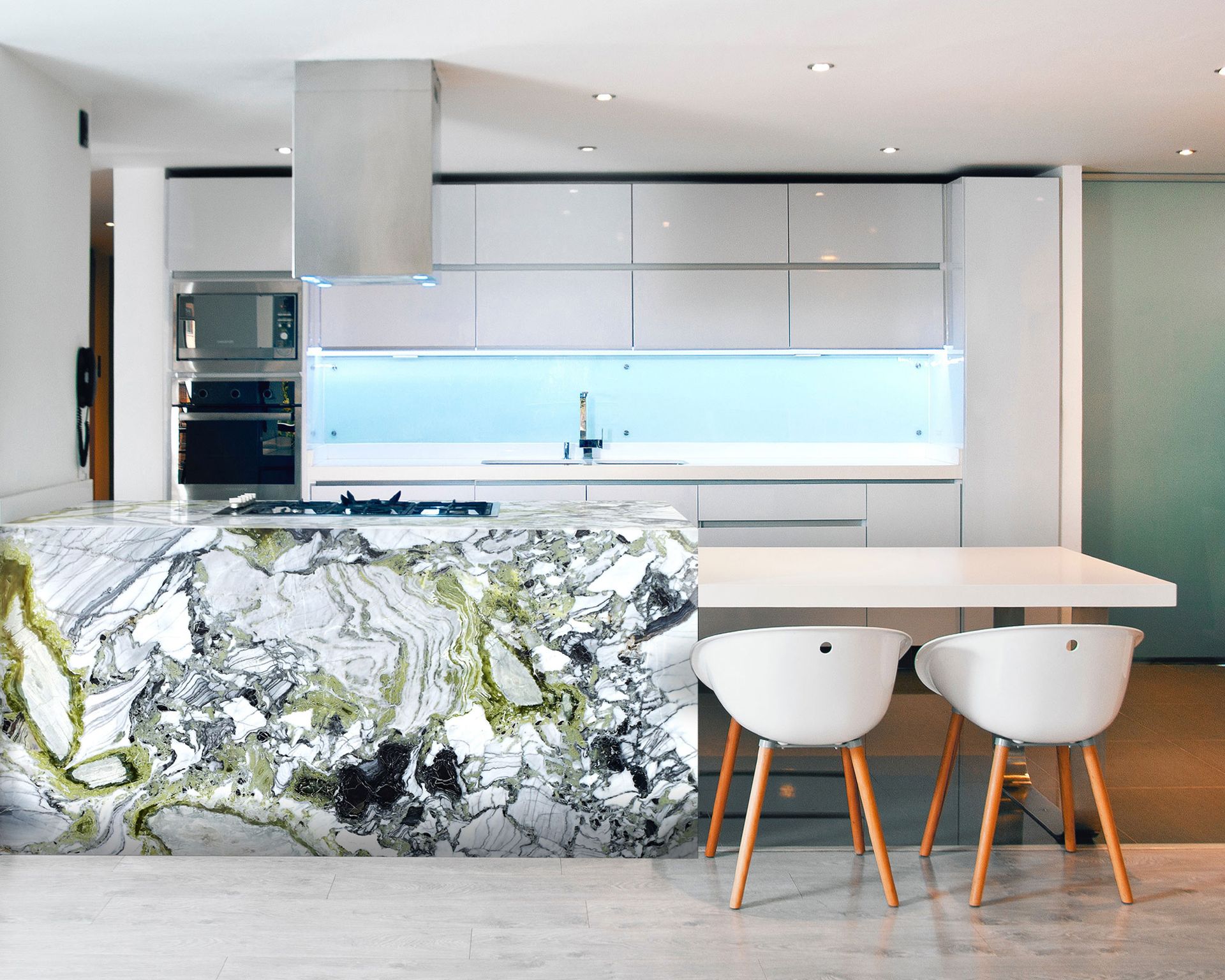 Consider a multi-tier island
Another occasion on which you might deviate from the formula of matching kitchen island and countertop height is in the case of a multi-tier island. In this case, while part of the island will be the same height as the counters, a section of it is at a different height.
If there's room for a large island in the room, you might prefer an island that offers workspace at the standard countertop height and is adjoined by a dining table section which is lower and around which dining chairs can be used. This can be an efficient use of space when remodeling a kitchen entirely and provides supportive seating that's more accessible for family members who aren't able to climb up onto a stool.
Alternatively, a breakfast bar section that's higher than the rest of the island – at a height of up to 42 inches – could be incorporated into the design and combined with bar stools at the appropriate height. This visually separates the seating area and also keeps the items used during food preparation physically separate from the counter used by those seated.
How many inches should an island be from a counter?
As well as making sure its height makes it ergonomic and aesthetically pleasing, an island needs to abide by kitchen space distance rules so it's not too close to counters.
You can understand this by thinking about how the kitchen functions. 'The size of the island should be dictated entirely by the usable walking space around the island,' says Dustin Gerken of Dustin Gerken Design of Columbus, OH. 'Take care to look at your refrigerator and freezer door swings, dishwasher panels and how far they drop down, and any other appliance or implement that may impede or block a person or pet as they walk around the island. You need enough floor space to make living easy. We always say that floor space is the most valuable commodity in a home.'
What is the best height for a kitchen counter?
The standard height for a kitchen counter is 36 inches above the finished floor level. Accessibility is crucial so lower countertops will be necessary for wheelchair users. Meanwhile, for kitchen users who are taller as well as shorter than average, it can be worth investing in a custom kitchen design with a counter height that is chosen to complement those who aren't of average height.
Bear in mind that custom cabinets will increase the costs of a new kitchen. If you are planning to sell your home in the near future, you might also want to think about whether a custom countertop height might put off prospective buyers.
Sign up to the Homes & Gardens newsletter
Decor Ideas. Project Inspiration. Expert Advice. Delivered to your inbox.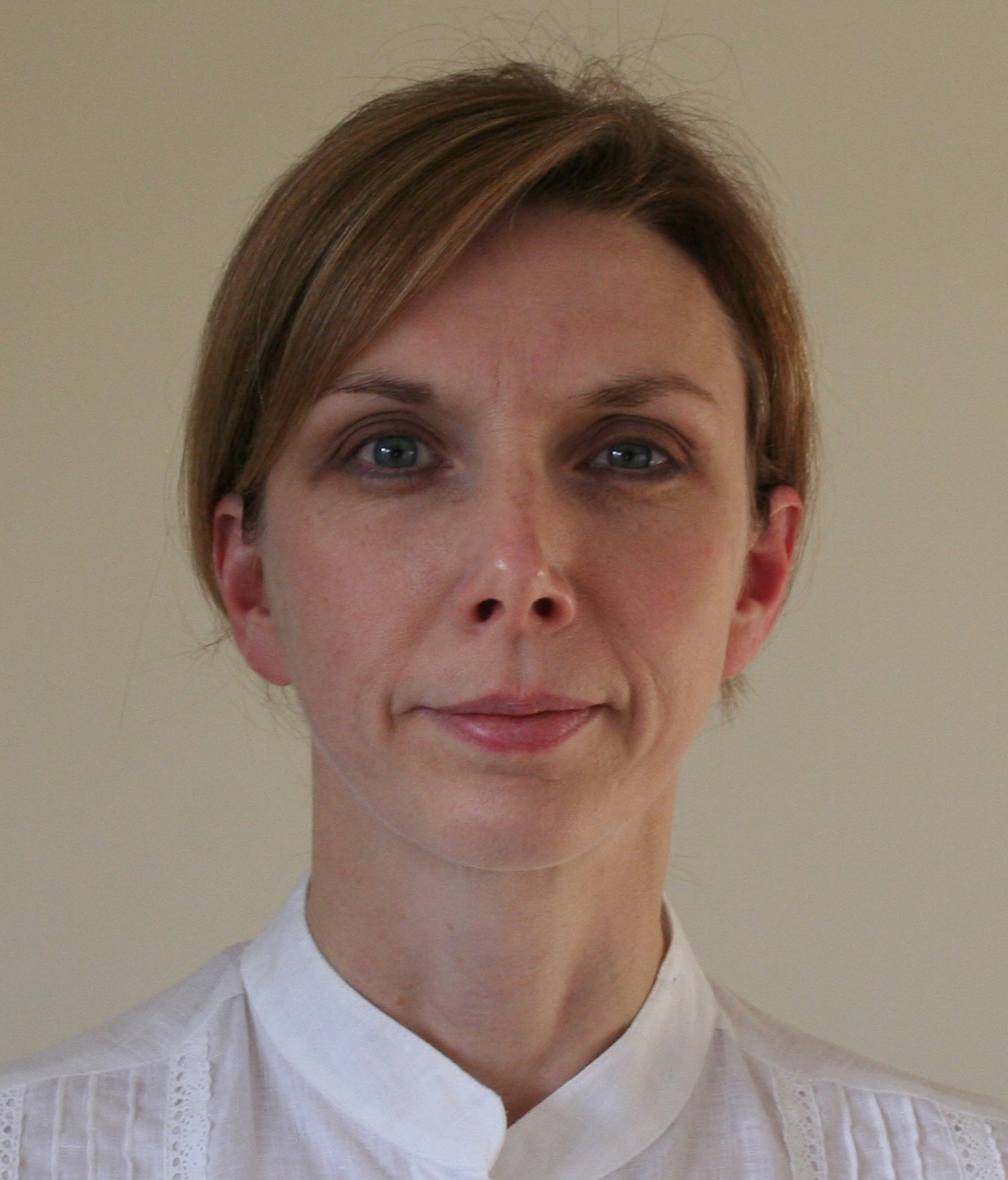 Sarah is a freelance journalist and editor. Previously executive editor of Ideal Home, she's specialized in interiors, property and gardens for over 20 years, and covers interior design, house design, gardens, and cleaning and organizing a home for H&G. She's written for websites, including Houzz, Channel 4's flagship website, 4Homes, and Future's T3; national newspapers, including The Guardian; and magazines including Future's Country Homes & Interiors, Homebuilding & Renovating, Period Living, and Style at Home, as well as House Beautiful, Good Homes, Grand Designs, Homes & Antiques, LandLove and The English Home among others. It's no big surprise that she likes to put what she writes about into practice, and is a serial house renovator.