Which kitchen floor tiles are best? Your flooring could be ruining your space – here's all the designer know-how you'll need
Get the lowdown on the best kitchen floor tiles from the professionals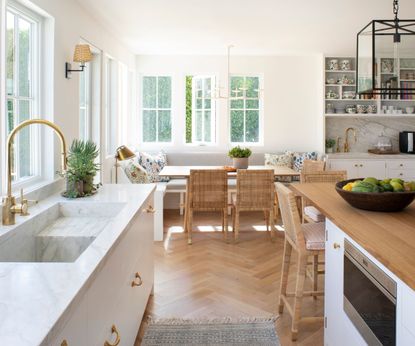 (Image credit: Hub House/Meghan Bob)
Sign up to the Homes & Gardens newsletter
Decor Ideas. Project Inspiration. Expert Advice. Delivered to your inbox.
Thank you for signing up to Homes & Gardens. You will receive a verification email shortly.
There was a problem. Please refresh the page and try again.
Tiles can be an excellent choice for a kitchen floor. They're durable, won't be compromised by splashes of water from the sink or pets' bowls, and they can provide a neutral canvas, subtle detail, or lively pattern for the room.
If they're among your kitchen flooring ideas, you can pick from ceramic, porcelain or natural stone, and so you might be wondering which is the best option in terms of both their looks and their qualities.
To give you the know-how you need in making a selection, we asked the experts to explain the advantages and possible downsides of each kitchen floor tile idea, and this is what they had to say.
Which kitchen floor tiles are best?
There isn't a single answer to the question of which kitchen floor tiles are best. Why? 'Like the rest of kitchen finish selections, the appropriate flooring for a space depends on the desired aesthetic and maintenance needs of the homeowner,' explains Erika Jayne, a DC designer, general contractor and owner of Erika Jayne Design.
To assist in your choice whether you're tempted by natural stone, porcelain, or ceramic tile, we detail their attributes along with the reasons that might mean they aren't the best choice for your kitchen.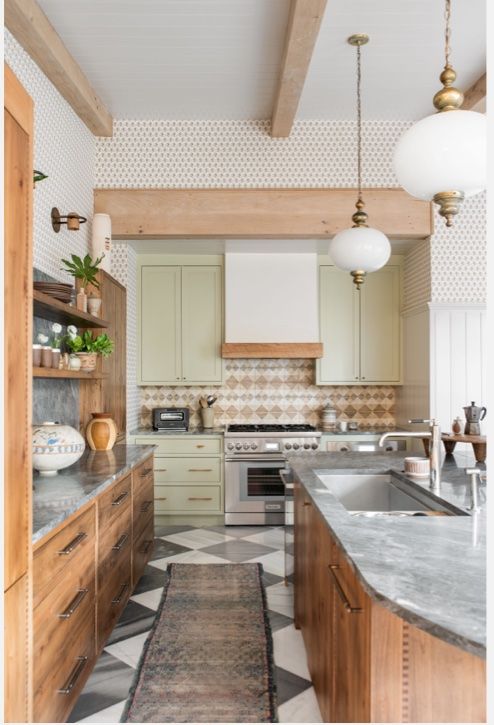 Natural stone kitchen floor tiles
The best kitchen floor tile according to interior designer Meg Lavalette of Manhattan design studio LAVA interiors? Natural stone. 'When choosing kitchen floor tiles stick with a natural stone, like limestone, slate, marble, or travertine,' she recommends.
And they're also a must-have for Blair Burton of Blair Burton Interiors in Austin, TX. 'I always use natural stone in the kitchen,' she says, explaining that they create the most elevated look of all the tile choices.
If you're considering natural stone tiles, these are the benefits and downsides you need to know about.
Pros
'Natural stone is beautiful and durable,' says Erika Jayne. Add to that the fact that natural stone will create a unique look in your kitchen since no two slabs and therefore tiles are the same.
As Meg Lavalette points out above, there is a huge range of natural stone tiles to choose from, and between them, they offer a fabulous range of neutral shades along with darker tones to complement the remainder of the kitchen color palette. Meanwhile, the veining of the stone can be dramatic or more subtle as you prefer.
Cons
Good quality natural stone will typically cost more than other tile choices, and while it will reward you with its beauty it may impact what you can afford for other elements of a kitchen remodel.
Stone also requires more care than alternative tile materials because it is porous in varying degrees. 'It may require extra attention through annual sealant applications,' says Erika Jayne.
On the other hand, this needn't stop you from choosing it. 'We've come a long way with products to seal and clean natural stone, and the obsession with having things look perfect is a thing of the past,' says Meg Lavalette. 'Beautiful materials age beautifully. If Paris's Charles de Gaulle airport can have Carrara marble floors, so can you!'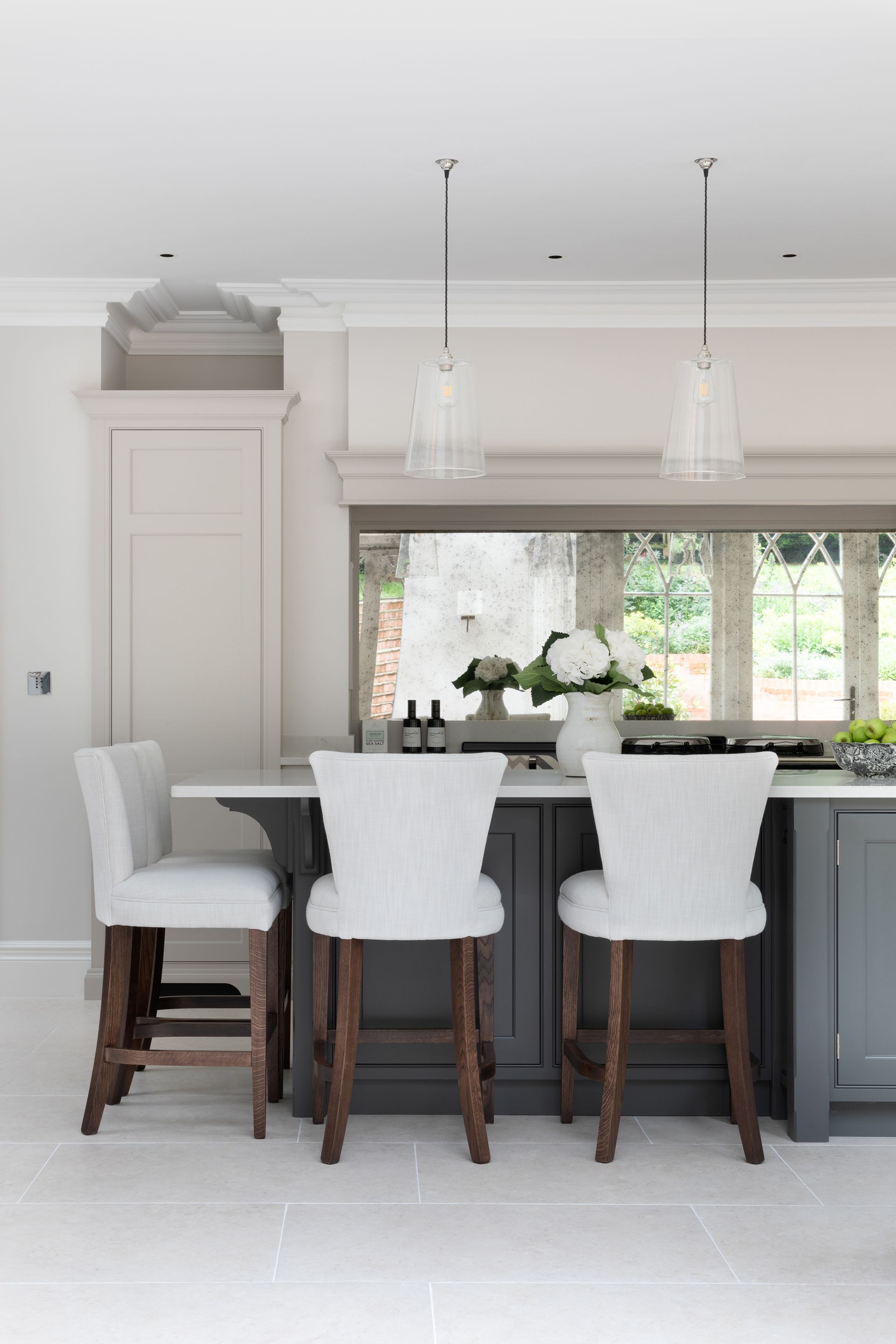 Porcelain kitchen floor tiles
Porcelain tile could be the best option if you like the look of natural stone but prefer less maintenance. These are the characteristics to consider.
Pros
Porcelain tile is extremely hardwearing so perfect for a high-circulation area like a kitchen. It is very dense and therefore highly water resistant, and it's easy to clean.
It's also a versatile choice: it can look like natural stone, but also replicate the appearance of wood, or it can be plain in an enormous range of colors, textured or patterned. 'There are so many different options for design and this is really where we start our scheming for the kitchen,' says Lauren Czarniecki, owner and principal designer at Czar Interiors in Delray Beach, FL.
Porcelain tile is likely to cost less than natural stone allowing a budget to go further.
Cons
The occasions when porcelain won't prove the best kitchen floor tile? Despite the fact that it can be an excellent lookalike, it just isn't natural stone, and the tiles aren't unique.
Another downside is that although they are hardwearing it is possible to chip porcelain tiles. 'Due to their material and manufacturing process, porcelains will expose the naturally white internal material if chipped or cracked,' says Erika Jayne. If you're worried about this, but they're still the preferred option for the kitchen floor, you could consider through-body porcelain tile where the color of the top goes all the way through.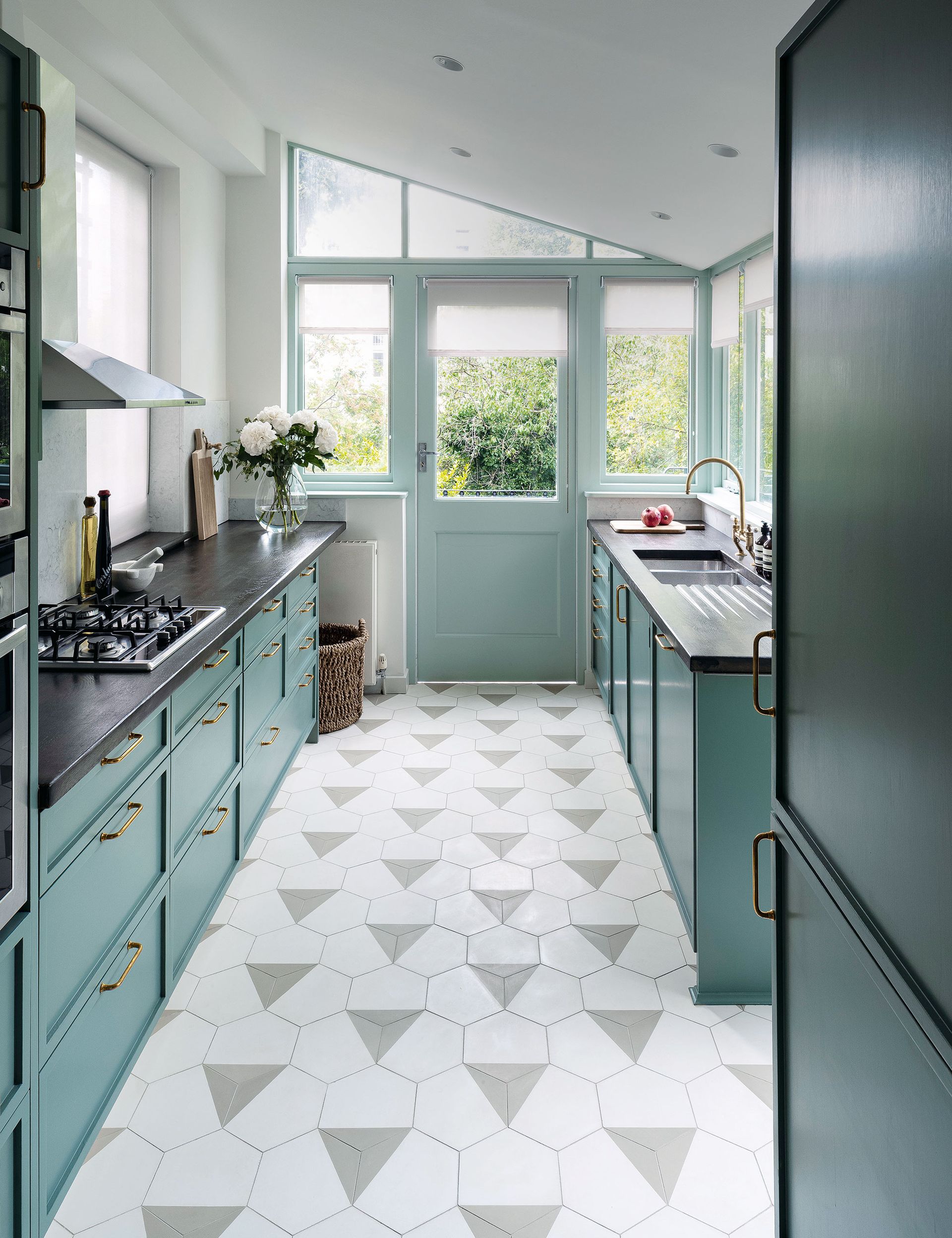 Ceramic kitchen floor tiles
If you want a world of options, ceramic kitchen floor tiles could be the best for you. 'Ceramic tiles offer seemingly endless style choices,' says Erika Jayne. Be mindful of the following to decide if they're the right material for your floor.
Pros
Ceramic tiles are a very budget-friendly choice as kitchen floor tile. They're also easy to look after. 'They're naturally resistant to stains and moisture,' says Erika Jayne.
Opt for ceramic and you can create a kitchen floor that's colorful, subtle, plain or patterned and matte or gloss, too.
As with porcelain, they don't need sealing, and cleaning them is easy.
Cons
Compared to porcelain, ceramic tiles are more porous although this is not so much of an issue for a kitchen as it might be in a bathroom. However, this does mean staining is a greater possibility.
Ceramic, likewise, isn't the most hardwearing choice although this isn't to say it's not a durable option – it just loses out in comparison.
It is also possible to expose the body of the tile if ceramic tiles are chipped.
Which kitchen floor tiles don't show dirt?
If you're looking for kitchen floor tiles that don't show dirt, stay away from extremes. 'I work with my clients and typically suggest material with some movement to hide dust and dirt so you aren't constantly feeling like you need to clean your floors,' says Lauren Czarniecki, owner and principal designer at Czar Interiors in Delray Beach, FL. 'I shy away from extremely dark colored tones and the bright whites for the floor.'
In terms of materials, this leaves the option to invest in natural stone, porcelain or ceramic tile depending on the budget you have available as well as your own preferences for the different kitchen floor tile materials.
What is the most durable tile for a kitchen floor?
For the most durable tile for a kitchen floor, choose between natural stone and porcelain. Good quality stone and porcelain are extremely hardwearing and will look great for many years to come.
What might determine your choice between the two is how much maintenance you are prepared to do. Stone can be porous and therefore more likely to stain if it is not resealed with the necessary regularity.
Sign up to the Homes & Gardens newsletter
Decor Ideas. Project Inspiration. Expert Advice. Delivered to your inbox.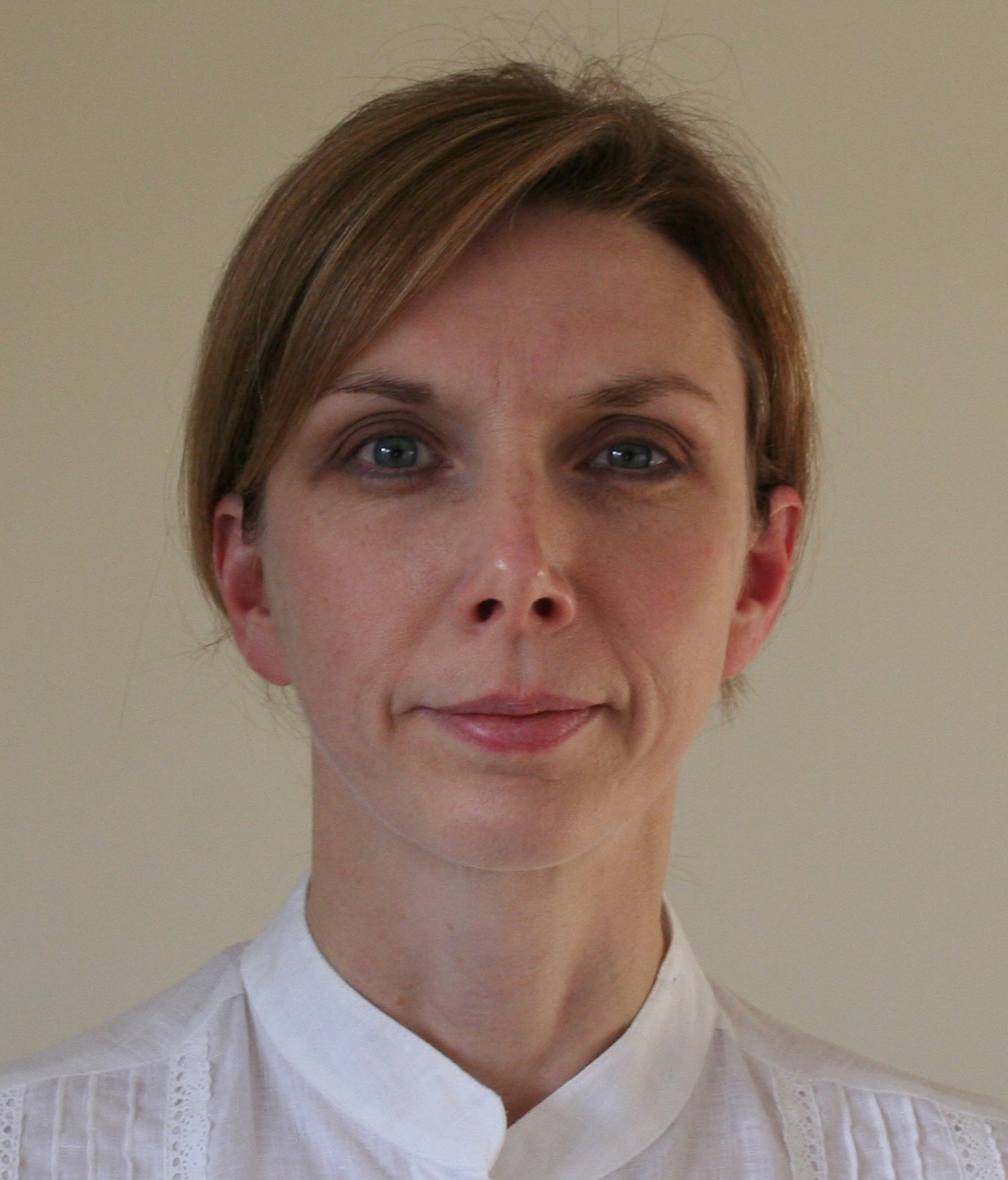 Sarah is a freelance journalist and editor. Previously executive editor of Ideal Home, she's specialized in interiors, property and gardens for over 20 years, and covers interior design, house design, gardens, and cleaning and organizing a home for H&G. She's written for websites, including Houzz, Channel 4's flagship website, 4Homes, and Future's T3; national newspapers, including The Guardian; and magazines including Future's Country Homes & Interiors, Homebuilding & Renovating, Period Living, and Style at Home, as well as House Beautiful, Good Homes, Grand Designs, Homes & Antiques, LandLove and The English Home among others. It's no big surprise that she likes to put what she writes about into practice, and is a serial house renovator.