Moving house checklist – essential tips and timeline for packing to move
Relocating can be stressful, but this moving house checklist – with suggested timeline – will ensure you don't forget anything important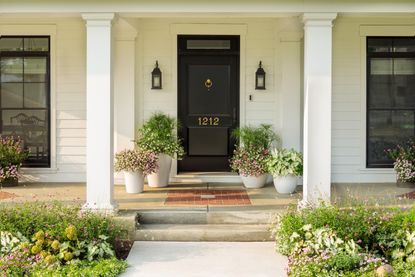 (Image credit: Proven Winners)
Sign up to the Homes & Gardens newsletter
Decor Ideas. Project Inspiration. Expert Advice. Delivered to your inbox.
Thank you for signing up to Homes & Gardens. You will receive a verification email shortly.
There was a problem. Please refresh the page and try again.
We're all aware of the cliché that moving is one of the most stressful life tasks you can do - and unfortunately for many of us, this cliché usually proves to be true. As such, a checklist for moving into a new house can be enormously helpful, signaling the most important tasks to tick off during the entire process and taking the added stress of remembering everything yourself away.
Moving house – whether you're buying, renting, moving across the country, or relocating locally – is a life step full of lots of mini tasks. Not only are you reckoning with the emotional weight of leaving one home for another, but you also have to consider the logistic components of moving too, such as packing, changing your address, cleaning and redirecting your mail.
Enter the ultimate moving house checklist. Ticking these home organizing ideas off of your to-do list in the weeks (and months) leading up to moving day will ensure that you can rest easy knowing that you've covered all the essentials – and on time, too. With tips and guidance from moving and organizing experts, this is your foolproof checklist for moving into a new home.
Checklist for moving into a new house
Though there will be some tasks specific to your move, most of the below items on this moving house checklist are things that every mover will need to complete, meaning they're important to take note of. However, if any don't apply, simply tweak the list to your requirements.
As soon as the move is confirmed
1. Begin to declutter
Though it may seem too early, as soon as contracts have been exchanged and you have your move-in date, it's a great time to get started with your moving house checklist. And the very first step, experts explain, is to begin decluttering your home, for a clean slate in your new property.
'As soon as you know you're going to be moving, start removing anything you don't want or need,' professional organizer Felice Cohen said. 'Take it one section at a time, and as you go through items, ask yourself, 'Do I want this taking up space in my new place?'
Though it may seem overwhelming, it pays to do this now in more ways than one. Mary Jo Contello, owner of Organized by MJ, said, 'You don't want to pay someone to pack and move items you do not want. Consider that you should only plan to move items that you need, want, and that fit, to the next place.' If you struggle with getting rid of things, perhaps these decluttering tips can help – or these insights into how professional organizers declutter to move.
2. Take measurements of your new home
As long as the current tenants/owners don't mind, this is a great time to measure up your new home to make sure that your existing furniture fits into its relevant room. Measure the space for the most essential pieces first, such as beds, wardrobes, sofas and desks.
And if you find that some things don't fit, you should have plenty of time to order new pieces before moving day.
Two months before your move
3. Organize and schedule movers
Two months out from a move is a very reasonable amount of notice to give if you're looking to hire a professional removal company for your relocation. Ian A. Imlach, VP of Business Development at moving company Imlach Group, said, 'Get estimates from a few different moving companies (if you're wondering how much it costs to hire movers, it may not be as pricey as you think).' This is especially important during the summer months, as many movers are booked out a month or more."
Or, if you're keen to move yourself, now is the time to figure out how much van space you will need, and start getting quotes for the necessary moving vehicle.
However, Ryan Carrigan, CEO of MoveBuddha, explained that hiring movers can take a lot of stress off of your plate. 'My biggest tip for people who are looking to move is to be willing to get a professional, especially for a larger job – as they will understand how to make the process quicker.'
When discussing options with moving companies, be sure to give them an accurate picture of the size of your current and future property, as well as the number of items you need to move, to avoid being caught out price-wise.
4. Start packing non-essential items
It might seem too soon to begin packing, but squirreling away any non-essential items now will be something you thank yourself for in the days before your moving date.
Life organizer Debra Baida, founder of Liberated Spaces, suggests tackling 'infrequently used items, and things you don't plan to use before the move.' This might include items such as 'books, special occasion tableware, photographs and memorabilia, seasonal clothing (that will be out of season when you move), and holiday decorations.'
If you want, she even suggests taking down decorative items at this time, to really get ahead of schedule. 'If you are comfortable with visible shelves, and wall space looking a little more spartan than usual, this is a good time to pack decorative household items, tchotchkes, and artwork,' says Debra.
Debra opened her San Francisco-based professional organizing business, Liberated Spaces, in 2007. She aims to help people reclaim and declutter all aspects of their lives, in a sustainable way.
5. Book your annual leave
Many of us will need to take at least some time off to deal with a house move, so now is the time to request that annual leave in order to make sure everyone involved has enough notice. If your move-in date falls in the middle of the week, consider that you may need more than one day away from work, especially if you are moving cross-country.
6. Start planning how to use up opened items
Try to avoid taking any already-open items to your new property, especially when it comes to food or toiletries.
Not only will this give you less 'stuff' to move, but it'll also save you from any accidental spills during the move itself. Felice explained that; 'Toiletries and food can spill, leak or attract insects,' which isn't ideal as you settle into a new home! This might mean finally using up that old facial serum or the packet of lentils that have been sitting in your kitchen for months.
1 month before your move
7. Order any essential moving supplies
If you're wondering how much it costs to move, there's no doubt that it's a pricey process. And part of that cost comes in making sure you have everything you need to actually pack your items. At this point, make sure you have all the essentials to hand, such as packing tape, sturdy moving boxes, sticky labels, permanent markers for writing onto said labels and bubble wrap – and order them in if not.
Emily Speed, professional organizer and owner of The Organized Home Mindset shared one of her top packing tricks, suggesting that you invest in clear bins instead of boxes for regularly used items.
'Clear boxes will enable you to locate items quickly, and it will look and feel less overwhelming in the new space when it comes to unpacking.'
CEO and creator of The Organized Home Mindset, a professional organizing company based in Florida, Emily helps her clients to declutter and organize their homes, whether they're moving or staying put.
8. Make a list of people to notify of your move
With just four weeks until you're out of your current property, it's important to put together a list of people/organizations who need to know that you're moving. This might include your workplace, your bank, household service providers (such as gardeners or cleaners), and any organizations you or your family might be a part of, such as sports clubs.
You don't need to actually 'tell' these people just yet, but putting together a list will be infinitely helpful for you to refer to closer to your moving date. However, you may want to inform any family members and friends you haven't yet told now, to ensure they don't deliver any further posts to you!
9. Start packing more of your items
Three to four weeks before moving is the ideal time to seriously begin your packing process. Sarah Schier, the owner of the home-organizing company Beautiful Life Creative Organizing, admits that while it may feel early, doing so is incredibly helpful when tackling such a big job.
'Starting early gives you sufficient time to sort through your belongings, declutter, and pack efficiently without feeling rushed or stressed. It also allows you to create an inventory and label your boxes properly, making unpacking easier at your new home,' she said.
Go room-by-room, packing less important items first, and more of your daily essentials as your move gets closer.
Sarah Schier is the owner of Beautiful Life Creative Organizing, a Los Angeles-based luxury home-organizing company. She helps busy professionals and families to create beautifully organized homes and specializes in Relocation Management, where she oversees each client's entire move, including unpacking and organizing their new home.
10. Put together a moving binder
Of vital importance in your moving house checklist is arranging all of the relevant documents that moving requires. As such, Ian advises that you should 'definitely keep a binder or digital file of all essential documents – staying organized is a big factor in keeping the stress down.'
Assemble all relevant paperwork, such as insurance papers, contracts, an inventory if you are renting your current property, and any useful receipts. You never know when you might need them all!
This binder can also hold all of your important paperwork for your new home when you get there, such as your first bills, and any mail from the former tenants/owners that you may need to forward.
2 weeks before your move
11. Label boxes according to your new home
With packing well underway, Felice explains that now is the time to make sure your boxes are labeled accurately, so you can easily locate any items before moving and after.
Her top tip? 'Label the box of the room the item is going to, not from. This minimizes confusion, and ensures that heavy items are moved only once.' She also suggests that it pays to be cautious with your labeling, especially if you'll be without your belongings for a time. She said, 'Don't write "valuable" or words like "TV" on boxes – this could invite theft. Just write "fragile", instead.'
12. Pack kitchen items you don't use regularly
Mary Jo explained that 'the kitchen typically takes the most time to pack', so putting away items you don't use as often two weeks ahead of time is a valuable forward-planning tip.
And it's likely that there are plenty of items in this room that you don't use on a day-to-day basis. Sarah elaborated that this may include 'infrequently used appliances, special occasion dishes, and extra kitchenware,' as well as deep cleaning items, or bottles of alcohol.
13. Investigate home insurance
Take a moment to organize your home insurance policy at this point – speak to your current supplier to see whether you can move your policy over to your new property, or whether you'll need to take out a new one with a different supplier for your area.
You'll also want to make sure you are covered in your new home from day one.
14. Move items into storage if necessary
If for any reason your move requires putting items into storage, now is the time to do so!
Not only will moving these items out of your home create more room for packing, but it'll also give you more headspace to consider which items are actually moving along with you, and which can be thrown out/donated beforehand.
One week before your move
15. Pack important items you want to keep an eye on
There are many precious items that you'll want to keep track of as you move between homes, to avoid damages, losses, or even the potential for theft. Because of this, pack these with just a week to go, so you know where they are at all times.
In fact, Sarah even advises, 'Pack important documents, jewelry, and valuable items separately from everything else, and transport them yourself for added security.' If you're planning to move any houseplants, you may also want to keep these separate.
16. Box up those remaining items
The final week before your move is the time to pack away the rest of your household items. To break this down, this means boxing up almost all of your kitchen items, aside from the basics that you'll need to prepare meals – such as saucepans, a range of utensils, a few glasses and mugs, and some cutlery.
This is also the time to focus on your wardrobe, Sarah said. 'With a week to go, except for a few outfits, pack the majority of your wardrobe, keeping in mind the season and weather conditions at your destination.' See our guide for how to fold shirts to ensure yours are kept in tip-top condition during the move.
And when it comes to the bathroom? 'Pack most of your toiletries, leaving out only the essentials for personal hygiene in the days leading up to the move, such as toothpaste, shampoos, and soap,' she advised.
The day before your move
17. Put together a bag of essentials
The days after your big move will probably be slightly chaotic. As such, one brilliant tip for your checklist for moving into a new house is to pack a suitcase containing only the key items you'll need in the days after getting settled into your new home.
'Pack everyone's pajamas, toothbrushes, bed sheets, blankets, pillows and a couple of outfits, to make the first night and next morning less stressful,' Felice said. You might even want to pack things that you'll need in the days following the move, such as laptops, make-up and medications, to ensure that anything important is easily accessible without wading through a mass of boxes!
18. Action your change of address
Remember that list you jotted down weeks ago as part of your moving house checklist? Now is the time to action it, and notify all relevant parties of your change of address.
For example, get in touch with your new doctor's office, optometrists, gym, and your new town council. Notify neighbors of your imminent departure too – not only to say your goodbyes but also so that they can collect any mail you might miss.
19. Clean your new home
With everything packed away in boxes, it's the perfect time to clean what will largely be a clear, open space.
Take a few hours to scrub down what will soon be your former home, in order to ensure everything is in as good a condition as possible for its new tenants or owners. This is especially vital when renting, given that tenants are required to return the property to the original state they received it in.
FAQs
What is the first thing to do when moving?
Though this may be different for lots of people, many of the experts Homes & Gardens spoke to insisted that the first step when a house move is confirmed (aside from signing legal contracts!) is to declutter your current space.
Sarah said, "This is my number one tip for everyone! Take the opportunity to declutter and donate or discard items you no longer need. Moving is a great time to start fresh. Don't waste time and money by moving things you're going to end up getting rid of in the new house."
It's also one of the first things you should do when you know you are moving, as it's likely to be one of the longest processes. Throwing things out can be difficult, so getting started with it as your first job should give you plenty of time to get it done, pre-move.
How early to start packing for a move
It's subjective, but most organization professionals agree that you probably don't need to physically start putting items into boxes until a couple of weeks before your move-in date.
'The perfect move can be planned out about two months before your move-in date, but you don't need to start packing until you are 2-3 weeks out, in my opinion,' Ryan said. However, Sarah suggests getting started 4-6 weeks before your move-in date – so there is no one right answer.
There are pros and cons to both. Packing earlier means there will be no last-minute rush. It may also be a beneficial option if you are generally kept very busy with day-to-day life. However, packing six weeks ahead of your move also means you run the risk of being hindered by boxes as you continue to live in your home. Keeping items in their place until two weeks before your move will mean fewer interruptions like this, but will also require a faster packing process. The choice is yours!
How do I pack my house for moving?
The key to packing your home up in a way that isn't too overwhelming is to take everything a step at a time. It can help to consider packing in this way:
Go room-by-room: This will help to ensure you tackle packing with a measured approach. 'Focusing on one room at a time will help maintain organization, and prevent items from getting mixed up,' Sarah said. Why not start with rooms you use less (such as basements, offices, or guest rooms), moving onto essential rooms like your bedroom and kitchens, last?
Package similar items together: It can also be helpful to ensure your moving boxes contain similar items, to minimize confusion when you get to your new home. Don't be tempted to lump your office supplies in with your clothing, for example! As you'll only be darting from room to room when you move, to unpack everything in the right place.
---
Moving home isn't a quick process, but there are ways to make the entire thing easier on you and your family.
One of our favorite additional tips? Pack items in the container they already live in. Christina Giaquinto, professional organizer and brand ambassador of Modular Closets, suggests for example, "Leave your clothes on hangers! This will help you easily move your clothes from the old house to the new house."
The same applies to other clothes – if they already exist in organizers, for example, don't be afraid to pack them this way. It'll make unpacking much simpler!
Sign up to the Homes & Gardens newsletter
Decor Ideas. Project Inspiration. Expert Advice. Delivered to your inbox.
Amy Hunt is a freelance lifestyle writer and editor primarily covering homes and interiors, wellness, travel and careers. She was previously Lifestyle Editor at woman&home, commissioning and editing the homes, books and features sections of the website,
In 2019, she won the AOP Digital Journalist of the Year Award, for her work on womanandhome.com. Having worked in the industry for over eight years, she has contributed to a range of publications including Ideal Home, Livingetc, T3,Goodto, Woman, Woman's Own, and Red magazine.