10 ways professional organizers declutter to move
Take the stress out of moving by decluttering beforehand – here's how to do it, according to the experts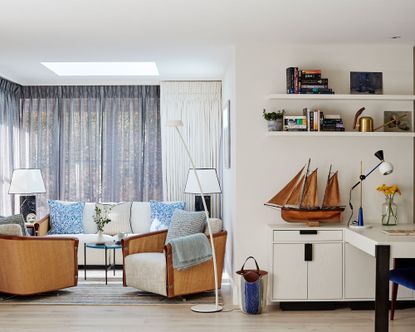 (Image credit: Brent Darby)
Moving house is an exciting time, but it can be stressful too. Let's face it, the prospect of packing up your entire house can feel pretty daunting. But it doesn't have to be. The whole process can be made a lot simpler and easier by decluttering beforehand.
It may feel like unnecessary stress on top of what is already a fairly stressful life event, but decluttering effectively brings with it a whole host of worthwhile benefits. Less stuff means less to move, which saves you time, energy, and money, plus makes for a clutter-free start to life in your new home.
'The biggest piece of advice and decluttering tips we give our clients when they're moving is to only pack what you want, need, and will use at your new house. While decluttering makes for more work during the packing stage, rest assured it makes the unpacking stage significantly easier', says Shannon Krause of Tidy Nest. Start as you mean to go on, that's the best way to approach any home organization plan.
Decluttering to move
Whether you're starting afresh in a bigger home, or you want to declutter to downsize, deciding what to part with can be difficult. We've spoken to the experts to find out their top decluttering tips – as well as a few top decluttering mistakes to avoid – so you can start your new chapter completely clutter-free.
1. Allow yourself plenty of time
There really is no such thing as 'starting too early' when it comes to decluttering to move. As any decluttering expert will tell you, decluttering in haste is likely to end up in declutter regret, and no one wants that, so give yourself the time to make rational, well-informed decisions. As a general rule of thumb, you'd want to start at least three months before you plan to move, but it really is a case of the sooner the better.
If you start decluttering as soon as you start thinking about moving, you'll be comfortable that by the time you actually do it, you're only taking things you want into your new home. And of course, if you're a little late for that, there are always professionals who can step in and help!', says professional organizer Laura Price of The Home Organization.
Carve out regular periods of time for decluttering into your diary, and plan which areas you're going to try and tackle. Set yourself manageable goals and sensible time limits, too.
2. Plan ahead
According to the experts, planning ahead is essential if you want to take the stress out of decluttering to move. Make a list of all the items that you'll need throughout the process (from bin bags and cardboard boxes to labels, elastic bands, and cleaning products) and make sure you've got everything in before you begin.
It's also worth thinking about what you're going to do with unwanted items. If you know you'll be throwing a lot away, consider hiring a skip in advance. When it comes to donating items, particularly larger pieces, and furniture, consider a professional local clearance company. Alternatively, charities will often collect directly from your home. You'll need to book a slot, so get one secured shortly before your move date.
3. Take a 'room-by-room' approach
Taking a systematic approach is your best bet when it comes to decluttering an entire house. There are a few different ways you could do this, but room-by-room arguably makes the most sense. The time it takes to declutter each room will vary, but setting aside roughly one week per room is a good starting point.
While it may feel like a good idea to tackle the biggest decluttering tasks first, it's worth bearing in mind that this can be extremely overwhelming. Starting with easier spaces can be far more productive, and will boost your motivation, too. 'A bathroom is usually one of the easiest rooms to start, as there's less likely to be things of sentimental value in there. It's easy enough to toss out expired toiletries, medicines and make-up you no longer want; once you've done that you're halfway there already,' says life coach Ari Shaffer.
4. Don't put off clutter hotspots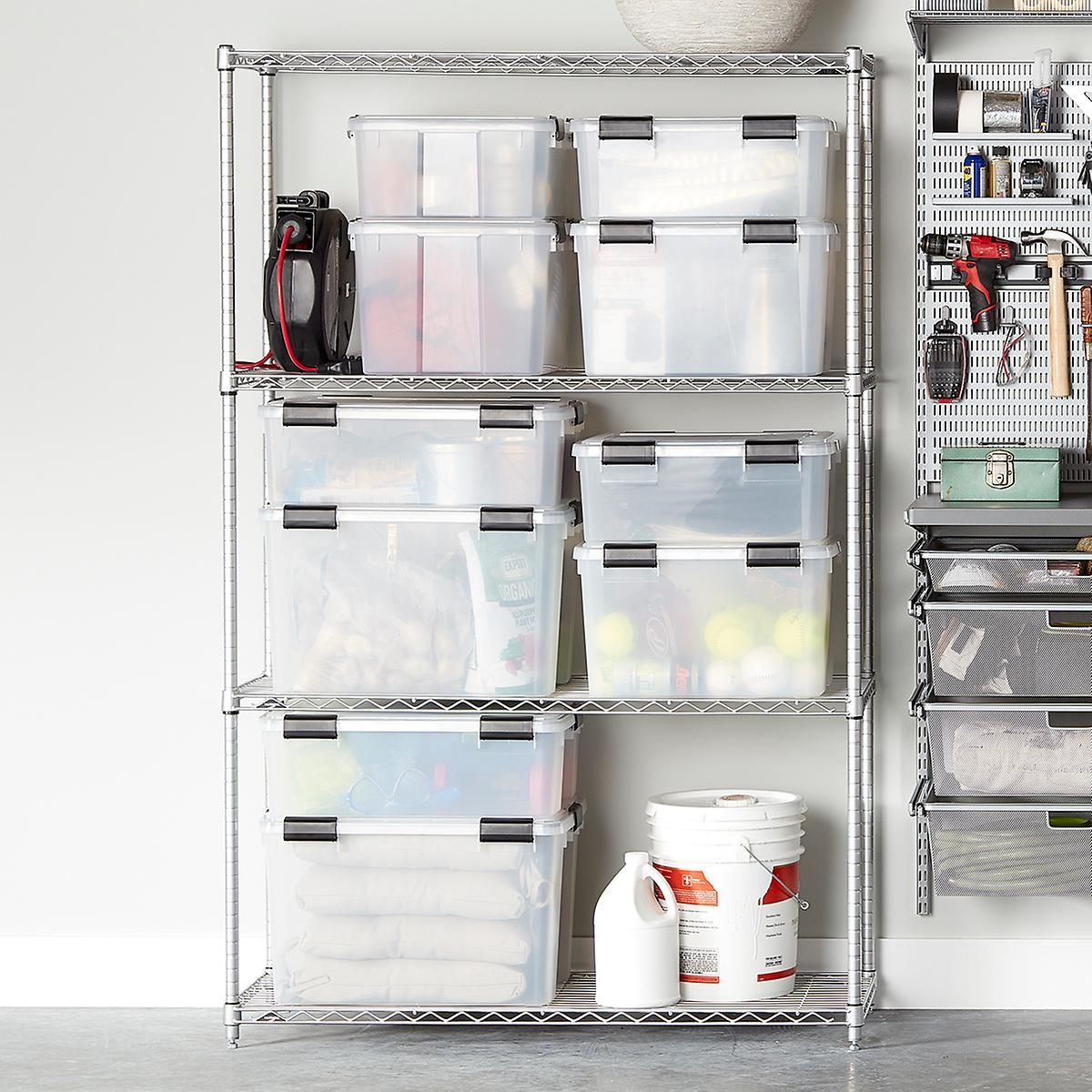 We understand why decluttering and organizing garages, lofts, and outhouses may feel like the stuff of nightmares, but we're here to tell you it's not that bad. In fact, in a lot of ways, they can be quite easy – often items housed here haven't been used in years, which makes it easy to let go of them.
Despite this, they can take a little while to clear, so it's a good idea to tackle them early. In fact, experts highlight the benefits of doing it before you've even sold your house. Clearing these spaces can make your home feel bigger overall, which might increase your home's value, or at the very least, its desirability to potential buyers.
5. Pack up at the same time
Once you've determined your 'keep' items, you can save time by packing some up there and then. This won't be possible for everything (everyday items will need to remain in use until your move date) but there are plenty of non-essentials that won't be missed; think books, home decor, serveware, Christmas decorations, seasonal clothing, and so on.
When it comes to packing up items, opt for smaller boxes and don't overfill them – you want to be able to move them around when you get to your new place without breaking your back in the process. Box similar items together based on which room they'll go into and label everything clearly (on the top, and on the side).
It's a good idea to dedicate a lesser-used room to packed boxes so they're not cluttering up prime living space in the lead-up to moving day.
6. Implement the sticker method
While you may have decided not to take them on to your new home, there are likely to be items you'll want to keep hold of for the time being – you don't want to find yourself without a sofa, bed, or coffee machine for months before your move date! The sticker method is a good way around this. Rather than setting unwanted items aside straight away, label them with a colored sticker. They can remain where they are for now, but you know to put a plan in place for when you're ready to get rid of them.
7. Measure up
Getting hold of specific measurements of your new home in advance of moving can make all the difference to decluttering, particularly when it comes to bulkier items – moving items only to find they don't fit is a waste of time and effort, not to mention costly. If you can't get hold of these, or you haven't decided on a new place yet, start thinking about which items you'd be happy to live without so you'll know what you're happy to discard if necessary nearer the time.
8. Factor in your new lifestyle
For most, moving house is the start of a whole new, exciting chapter, one that doesn't necessarily require a lot of the items we've needed previously.
'Consider your new home as a new phase in life and think about what your hopes and goals are for it. When going through your items, ask yourself if it complements your vision. If not, it's time to move it on,' says professional organizer Katherine Blackler of SortMySpace Ltd.
'It's also worth thinking practically – are you moving to a new geographical area, for example? You might not need that winter bedding or snow blower now. Don't forget that certain countries also have different electrical outlets, so you might need to buy all-new electricals if you're relocating,' she adds.
9. Stop spending
The closer you get to your move date, the less 'stuff' you should be bringing into your home – including food! If you've followed our advice and decluttered room-by-room, chances are you've organized your fridge, chest freezer, and pantry by now, so this is a great opportunity to use up some, if not all, of what you're left with.
Be sure to do a final check a day or two before you move and get rid of anything that's expired, or won't travel well – think frozen food, for example. The same goes for other expendables, such as toiletries and cleaning products.
10. Part with paperwork
Piles of paperwork need to be tackled pre-move – they're the last thing you want cluttering up your new home. Start by gathering everything together in one place, and work your way through one by one, only keeping what's absolutely necessary.
When it comes to instructions, guides, and manuals, bear in mind that most can now be found online, so get rid of paper versions where you can, along with old invites, cards, and magazines you've never gotten around to reading.
Scanning important documents to your computer can be a great space-saver, but be aware that there are some things you'll need to keep hard copies of – birth certificates and driving licenses, for example. Be sure to shred anything that has your name, address, and financial details on it.
How do you declutter before moving house?
Start by working your way through the house room-by-room, sorting items into 'keep', 'donate', 'recycle', or 'throw' piles. To save time, box up any 'keep' items that you won't need between now and your moving day. Get rid of unwanted items where you can, but hold onto those that you'll need to continue using until the last minute – sofas, beds, crockery, kitchenware, etc. Label them with a colored sticker and put a plan in place for when you're ready to get rid of them – book a charity collection for donations, or a skip for waste.
What should I declutter first when moving?
The most time-savvy thing would be to declutter and pack at the same time, so it's a good idea to start with lesser-used rooms first. These are likely to hold fewer 'everyday' items, so you can box them up long before moving. Focus on contained spaces, such as a single drawer, cabinet, or shelf, or tackle categories of smaller items such as books, home decor, non-essential kitchen items, and toiletries.
'I recommend starting with hard-to-reach places because that's where you're most likely to find things that haven't been used since the last time you moved. Be honest about what gets used regularly and discerning about what makes it into a moving box', says professional organizer Sarah Dunn of Ready, Set Organize.
Alternatively, if you're feeling overwhelmed at the prospect of decluttering to move, it might be a good idea to start with an area that's easy to declutter, such as a bathroom or a utility room, for example. These are unlikely to hold much in the way of sentimental items and make for quick and easy progress, which should spur you on to tackle more difficult spaces around the home.
Sign up to the Homes & Gardens newsletter
Decor Ideas. Project Inspiration. Expert Advice. Delivered to your inbox.
For 10 years, Tara King worked as a Content Editor in the magazine industry, before leaving to become freelance, covering interior design, wellbeing, craft and homemaking. As well as writing for Ideal Home, Style at Home, Country Homes & Interiors, Tara's keen eye for styling combined with a passion for creating a happy – and functional – family home has led to a series of organization and cleaning features for H&G.