10 ways professional organizers declutter to downsize
Moving to a new, smaller home is the perfect opportunity for a fresh start – check out the best ways to declutter to downsize, according to the experts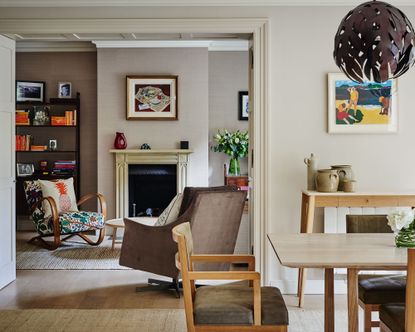 (Image credit: Catherine Gratwicke)
The best time to declutter is before a move, particularly if you're downsizing. Getting rid of items you no longer want or need will save you time, money and effort and effort at both ends – less stuff means less to move, not to mention a clear, clutter-free start to life in your new, smaller home.
It can take a long time to sort through a house full of belongings, particularly if you've not decluttered in a while. It can be an emotional process and take a lot of energy, but with the right home decluttering tips and organization ideas, the whole process becomes a lot more manageable.
'Finding the right decluttering tips to downsize can be difficult. Picturing life in your new, smaller home can be hard and people often move with far more than they'll ever actually use. However, it's not about getting rid of absolutely everything, but rather thinking ahead about what changes there will be in your life; the things you'll really use, appreciate and enjoy in your new home are the things you should take with you', says Laura Price of The Home Organization.
10 ways professional organizers declutter to downsize
It's best to leave yourself plenty of time to declutter to downsize at your own pace. In general, you'd want to start at least three months before you plan to move, but it really is a case of the sooner the better.
Getting started is often the hardest part, so we've compiled a list of ways professional organizers declutter to downsize, to ensure you feel confident and capable. Start as you mean to go on, that's the best way to approach any home organization ideas and tips.
1. Have a vision in mind
It may sound a little cheesy, but creating a vision of your future home can be extremely useful when decluttering to move, and when downsizing in particular. After all, a cluttered house will make your house look cheap.
'When you move into a new home, you want to surround yourself with beautiful items that make you happy. Imagine your ideal setup and consider how that might look and feel, then when decluttering, select only those items that will help you achieve that vision. Focusing on this throughout will take the attention away from what you're letting go of', says professional home and business organizer Sharon McNulty, founder of Joyful Spaces.
2. Focus on one room at a time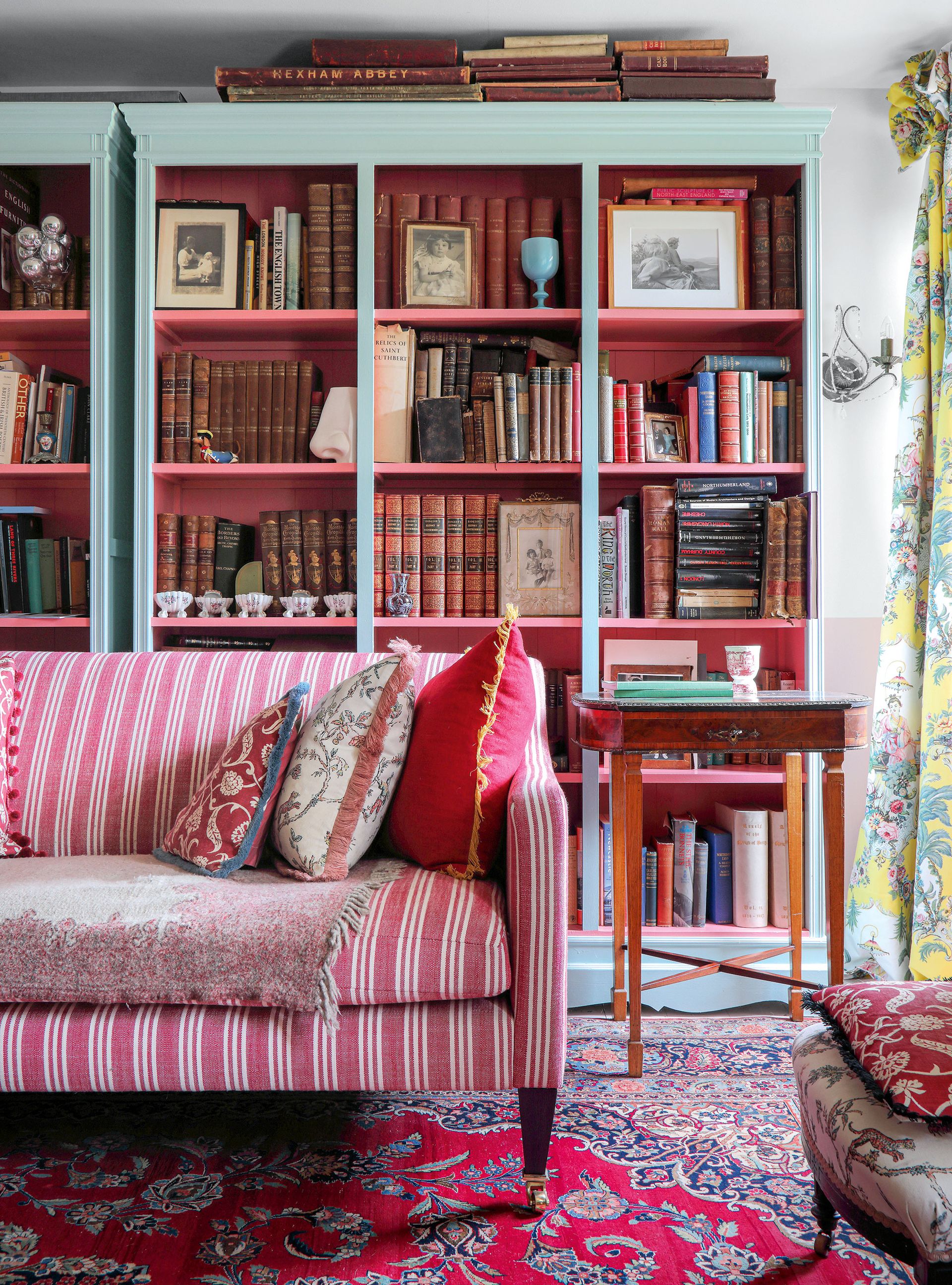 Decluttering your entire house can feel like a daunting task, particularly if it's not something you've tackled in a while. Approaching it room by room can make it feel more manageable.
If you're not sure where to start, bear in mind that larger items tend to be more necessary for day-to-day life, so it's a good idea to start with smaller things. Focus on contained spaces, such as a single drawer, cabinet or shelf, or tackle categories of smaller items such as books, home decor, non-essential kitchen items and toiletries.
'When working through items, we encourage clients to keep color-coordinated labels to hand so they can identify which room they want each item to end up in. In the end, any item that doesn't have an assigned location in their new home is a prime candidate for donation', says professional organizer Shannon Krause of Tidy Nest.
3. Categorize items before making decisions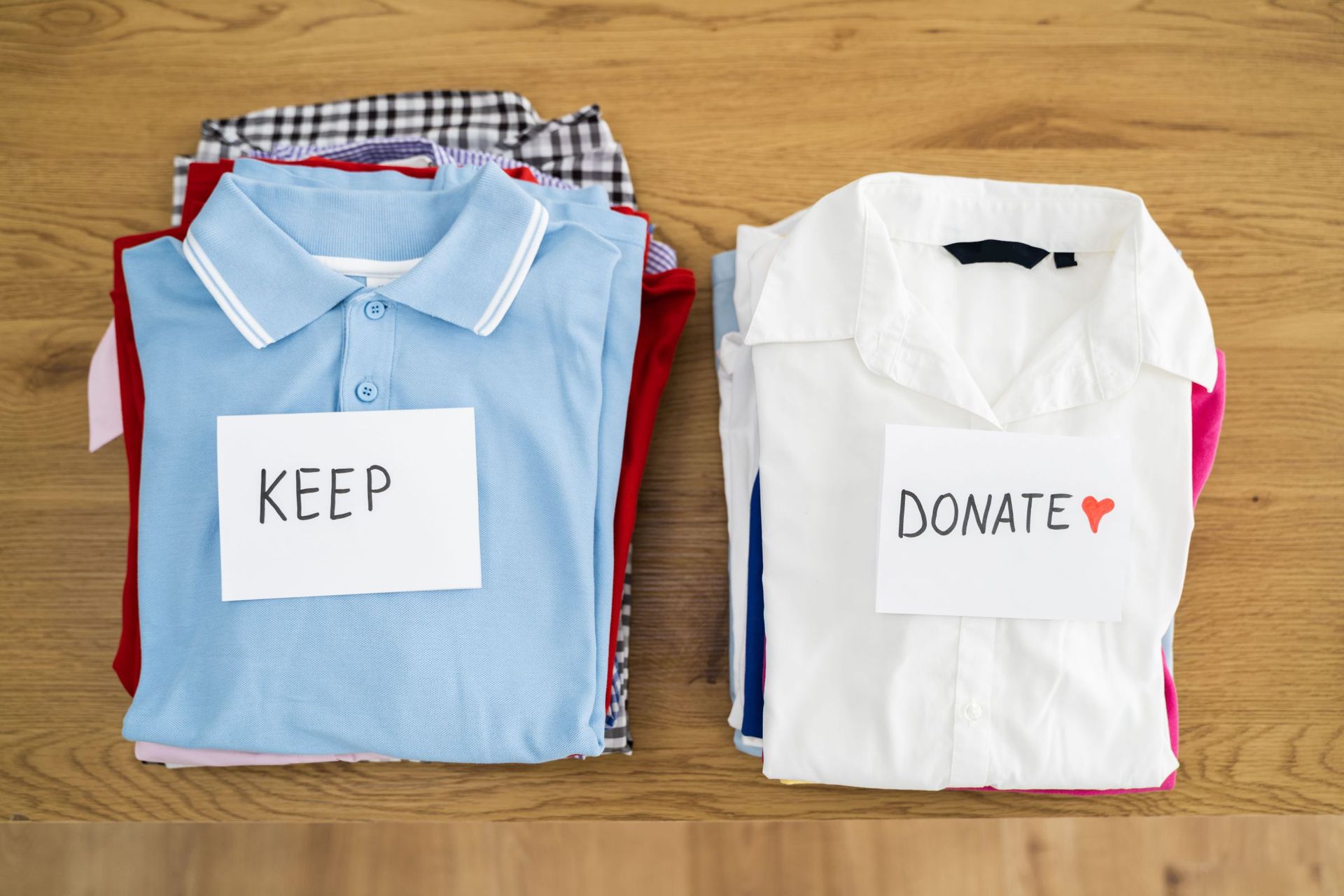 Grouping like-with-like is a general decluttering technique advocated by any professional, but it's particularly useful when it comes to downsizing. Grouping items means you can clearly see how much of everything you have and enables you to make rational decisions about what to take with you.
Professional organizer Julie Onstot of SortWell Organizing Co. discusses the importance of minimizing duplicates: 'Limiting yourself to just one of each item can be hard, but as I tell my clients all the time, the hard work you're putting in today is a gift to yourself – and to your children! Try to keep in mind that neither you or they will need or want four full sets of entertaining dishes at any point! Take only the most important things with you', she says.
Organizing a kitchen is typically a clutter hotspot for duplicate items, so take extra care when decluttering this room.
4. Establish a set of boundaries
Setting clear boundaries ahead of decluttering can make the decision-making process a lot quicker and easier – as long as you stick to them. These can change depending on what area of the home you're tackling. For example, when organizing clothes, don't keep any you haven't worn in the last year; rid yourself of expired or duplicate bath products, cleaning solutions and cosmetics when organizing under a bathroom sink, and so on.
Once you've determined items that you no longer need, remove them and place them into donation, recycle or rubbish piles.
5. Avoid a 'maybe' pile
Whether you're decluttering a closet or decluttering toys, one of the biggest decluttering mistakes to avoid is a 'maybe' pile, particularly when decluttering to downsize as you simply don't have the luxury of excess storage space.
'I ask my clients questions to help them make a firm decision. When was the last time you used it? How much does it cost to replace it? Do you see yourself using it in the future? You may think one or two 'maybes' won't be a problem, but the cost of moving items quickly adds up, so you need to make sure they're worth it', says professional organizer Mary Jo Contello of Organized by MJ.
6. Measure out your new home
Decluttering larger items is best done beforehand when downsizing – there's no point lugging heavy furniture over to your new home, only to find it doesn't fit. Ideally, you'd want room dimensions, as well as a comprehensive floor plan, so you can work out exactly what you have space for. If you can't get hold of these, or you haven't decided on a new place yet, think about what furniture items you can definitely live without, so that when you do get hold of specifics, you'll know quickly what you're happy to discard.
7. Consider your new lifestyle and declutter accordingly
For many, downsizing will result in a completely new lifestyle, one that may or may not require items that you currently own. Thinking about this in advance can help speed up the decision-making process on items, even whole categories in some cases.
''Maybe you won't have a yard in your new home so you can eliminate all outdoor tools, for example, or perhaps you're moving to a different climate so your heavy clothing and snow blower can go too', say Brigid Steiner & Elizabeth Kruefer of luxury lifestyle concierge, The Life with Be.
8. Digitize where you can
Paper clutter can really build up over the years, so it's important to go through old bills, receipts and other paperwork and shred anything you no longer need. There will be some things you'll want to keep hard copies of – birth certificates and driving licenses – but others you can keep as a digital copy. Not only is this more secure, but it rids you of pesky papers to transport – and will also save you a lot of admin in the future, too.
9. Be kind to yourself – particularly when decluttering sentimental items
There are bound to be some sentimental items that you just don't have room for in your new home, particularly if you haven't moved in a long time. Decluttering these can be extremely emotional, so be kind to yourself. If you know you're going to find the process difficult, ask a friend in advance if they can come and help you with the decision-making – an 'outside eye' can help immensely.
If there are pieces you'd like to keep in the family, reach out to loved ones early on so they've got time to make arrangements, particularly if the item is on the larger side. For those pieces that you (or your family) no longer want, but you know you're going to miss, consider taking photographs and creating a treasured memory book to help with the transition.
10. Create a plan for unwanted items
'If you're clearing out a large volume of belongings, consider donating the unused items to a charity that can collect directly from your home for ease. Book a slot in advance, shortly before your move date; it's one less thing to worry about nearer the time. You can also use platforms like Facebook or NextDoor to sell or rehome items locally. You may also want to consider booking a skip beforehand, too', advises Kate Ibbotson, APDO member and founder of A Tidy Mind.
How do you declutter for downsizing?
If you're planning to downsize, the best advice we can give is to start decluttering as soon as possible. Moving can be a stressful process, so you don't want to give yourself any extra pressure. If possible, try and get hold of a floor plan of your new home before you begin. This can be really helpful when deciding what larger items of furniture you have space for.
Start with smaller items such as books, trinkets, jewelry and so on, anything that's not going to impact day-to-day life between now and your move date. If you want to get ahead but aren't ready to pack up boxes yet, use colored labels to determine which items are going and which are staying. Items can remain where they are for now, but put a plan in place for when you're ready to get rid of them – book a charity collection for donations or a skip for waste.
How do you drastically downsize?
If you're looking to drastically downsize, you'll need to be a little ruthless when it comes to decluttering. Go through each item and ask yourself the following questions: is it still functional? Do I still need/use it? Does it bring me joy? If the answer is no to any of these questions, get rid. No exceptions.
Rather than squeezing oversized furniture into a smaller space, accept that it might be time to let go of some of your existing pieces. See it as an opportunity to redesign your living space in line with a new, more minimalist lifestyle.
Once you've made your decisions on what items are going, and where they're going to, make sure you do it – or at least put a plan in place for it to happen when the time to move comes. It may feel drastic, but getting things out of the house quickly is essential if you want to complete the process.
Sign up to the Homes & Gardens newsletter
Decor Ideas. Project Inspiration. Expert Advice. Delivered to your inbox.
For 10 years, Tara King worked as a Content Editor in the magazine industry, before leaving to become freelance, covering interior design, wellbeing, craft and homemaking. As well as writing for Ideal Home, Style at Home, Country Homes & Interiors, Tara's keen eye for styling combined with a passion for creating a happy – and functional – family home has led to a series of organization and cleaning features for H&G.