Cheese recipes: gorgeous dishes that are full of flavor
There's a whole world of wonderful cheeses out there, and this month, Alice Hart lays out a spread of delicious recipes using some of her favorites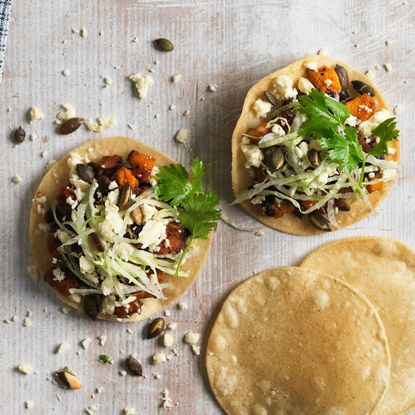 (Image credit: Jonathan Gregson)
Sign up to the Homes & Gardens newsletter
Decor Ideas. Project Inspiration. Expert Advice. Delivered to your inbox.
Thank you for signing up to Homes & Gardens. You will receive a verification email shortly.
There was a problem. Please refresh the page and try again.
Cheese can be the ultimate in indulgence or, in its fresh and sprightly forms, a light and delicate addition to a salad or dessert. Even professed cheese-haters will find something to love here, perhaps in the deeply savory pork and Parmesan meatballs or the roast root and lentil salad with a mild, homemade yogurt labne. Cheese-lovers will be in heaven with the sumptuous baked camembert.
One small point about hard, semi-hard, blue and semi-soft cheeses: if you make any of these recipes for vegetarians, do check beforehand their personal stance on eating cheeses made with animal rennet. It is easier than ever to buy, for example, Cheddar, Stilton and camembert cheeses that are made with a non-animal substitute, so always check the label before buying if this could be an issue.
Other than our original pizza recipes, these are our favorite cheese dishes.
Baked camembert with garlic & white wine
Serves 4 as a shared starter or 2 as an indulgent supper
Baking a whole cheese is the cheat's way to serve fondue. The cheese is the main ingredient, so choose a good one.
Ingredients:
1 small (about 240g) camembert in a wooden box
1 garlic clove, sliced
A handful of thyme sprigs
A splash of white wine
Warm, crusty bread and chicory leaves, to dip
Method:
1. Pre-heat the oven to 180°C, Gas Mark 4.
2. Unwrap the cheese, discarding any paper or plastic wrapping but keeping the box and lid.
3. Carefully slice off just the top rind, then make shallow cuts into the surface of the cheese and insert slices of garlic and tiny sprigs of thyme.
4. Return the cheese to its box, cut-side up.
5. Douse with a splash of white wine and bake, uncovered, for 10-15 minutes until the cheese is molten.
6. Serve with hunks of warm bread and a pile of crisp chicory leaves for dipping.
Black bean, Wensleydale & pumpkin tostadas with avocado salsa
Serves 4
The authentic little (naturally gluten-free) corn tortillas make this recipe so special to try.
Ingredients:
300g (prepared weight) pumpkin or butternut squash, peeled, deseeded and diced
2 tbsp olive oil
1 red onion, chopped
2 garlic cloves, finely chopped
1 tsp ground cumin
400g tin black beans, drained with liquid reserved
Lime juice75ml groundnut oil
12 small corn tortillas (or 4 large tortillas)
1⁄4 iceberg lettuce, finely shredded
60g Wensleydale cheese, crumbled
3 tbsp pumpkin seeds, toasted in a dry pan
Sour cream, quartered limes and hot sauce, to serve
For the salsa:
1 ripe avocado, stoned and diced
250g cherry tomatoes, roughly chopped
1⁄2 red onion, very finely chopped
A handful of coriander, roughly chopped
A squeeze of lime juice
Method:
1. Pre-heat the oven to 190°C, Gas Mark 5.
2. Toss the pumpkin or squash with 1 tablespoon olive oil, season and spread out in a roasting tin.
3. Roast for 25-30 minutes, until golden brown and soft. Set aside.
4. Heat the remaining oil in a frying pan. Add the onion and cook gently for 8 minutes until softened, but not highly coloured. Add the garlic and cumin and cook for 1 minute more.
5. Stir in the black beans along with a good glug of their liquid. Crush the beans slightly with the back of a spoon to thicken the mixture and cook, stirring, for 10 minutes.
6. Stir in the pumpkin, season well with salt, pepper and a squeeze of lime juice and set aside.
7. To make the salsa, combine all the ingredients in a bowl and season. Heat the groundnut oil in a small frying pan and fry the tortillas in batches for about 1 minute on each side, until golden and crisp.
8. Drain well on kitchen paper. Reheat the black bean mixture.
9. Top each tortilla with a couple of spoonfuls of the hot black bean mixture, a little shredded lettuce and Wensleydale cheese and a few pumpkin seeds.
10. Offer the salsa, sour cream, limes and hot sauce on the side for guests to serve themselves.
Pork & parmesan meatballs in a plum tomato sauce
Serves 4-6
This is comfort food fit for a dinner party. If you have large appetites, or teenagers in the house, this recipe will serve four generously. Otherwise, serve it up for six with peppery rocket.
Ingredients:
For the sauce:
4 tbsp olive oil
1 red onion, finely chopped
2 garlic cloves, finely chopped
3 x 400g tins plum tomatoes
100ml red wine
1 tsp caster sugar
A handful of basil leaves, torn
For the meatballs:
1kg pork mince
2 eggs, lightly beaten
100g fresh breadcrumbs
A large pinch of dried chilli flakes
1 garlic clove, crushed
A large handful of flat-leaf parsley, finely chopped
40g Parmesan, finely grated, plus extra to serve
2 tbsp olive oil
750g fresh pappardelle pasta
4 handfuls of fresh rocket, to serve
Method:
1. To make the sauce, heat the olive oil in a deep frying pan.
2. Add the onion and fry gently over a low to medium heat; it will take a good 10 minutes for the onion to turn sweet without browning.
3. Add the garlic and cook for 2 minutes more.
4. Turn up the heat and add the tomatoes, red wine and sugar, crushing the tomatoes with the back of a wooden spoon.
5. Cover and simmer the sauce gently for 40 minutes, stirring occasionally, until thickened. Add the torn basil, season to taste with salt and pepper and leave the sauce in the pan.
6. To make the meatballs, combine the pork mince, eggs, breadcrumbs, chilli, crushed garlic, parsley, Parmesan and salt and pepper in a bowl; it is easiest to use clean hands to do this.
7. Form the mixture into walnut-sized balls; it should make about 36.
8. Heat the olive oil in a large frying pan and brown the meatballs, turning often, until golden all over.
9. Tip into the pan of tomato sauce and simmer for 10 minutes, turning the meatballs occasionally.
10. Add the pasta to a pan of boiling, salted water and cook according to the instructions on the pack.
11. Drain, saving half a mugful of the cooking water. Add just enough cooking water to the sauce to loosen it slightly.
12. Arrange the meatballs on the pasta, pour over the sauce and sprinkle with grated Parmesan.
13. Serve with a generous helping of rocket on the side.
Roast sweet roots, lentil & fresh labne salad with pomegranate dressing
Serves 4
Labne is deliciously fresh tasting but if making it seems like a step too far, use spoonfuls of mild goat's cheese instead.
Ingredients:
For the labne:
1⁄4 tsp salt
500g Greek yogurt
4 tbsp chopped parsley
For the warm salad:
8 each baby parsnips, carrots and beetroots, scrubbed, trimmed and halved if thick
4 small banana shallots, peeled and halved
8 tbsp olive oil
1 tsp cumin seeds, lightly crushed
2 tbsp pomegranate molasses
A squeeze of lemon juice
250g ready to eat (cooked)
Puy lentils
2 tbsp blanched almonds, toasted
1⁄2 a pomegranate, seeds only
Method:
1. Stir the salt into the yoghurt and spoon into a large square of clean muslin, gathering up the excess cloth to form a parcel.
2. Place in a shallow bowl and weigh down with a small plate and an unopened tin.
3. Leave in a cool place for at least 8 hours and up to 15 hours to drain and firm up.
4. Drain and unwrap the cheese. Form into walnut-sized balls, then roll in the chopped parsley to cover. Keep any unused parsley to stir into the lentils when making the salad.
5. Pre-heat the oven to 190°C, Gas Mark 5.
6. Toss the parsnips, carrots, beetroots and shallots with 2 tablespoons olive oil. Spread out in a roasting tin, season and scatter with the cumin seeds.
7. Roast for about 50 minutes, until caramelised at the edges.
8. To make the dressing, whisk the remaining olive oil, pomegranate molasses and a squeeze of lemon juice together in a bowl and season.
9. Warm the lentils through in a small pan then combine with the roast vegetables and the leftover parsley, if any, in a bowl.
10. Spoon over a little of the dressing and divide between serving plates.
11. Top with the almonds, pomegranate seeds and labne and drizzle over more dressing.
Cheddar & apple scones
Makes about 10
Eat these buttered with soup, or add to a ploughman's plate with cheddar, chutney and a crunchy salad.
Ingredients:
350g self-raising flour, plus extra for rolling
A large pinch of salt
1 tsp baking powder
100g butter, softened
2 red apples, cored and diced
150g Cheddar cheese, coarsely grated
120ml milk, plus extra for brushing
Method:
1. Pre-heat the oven to 190°C, Gas Mark 5.
2. Line a baking tray with non-stick baking paper.
3. Sift the flour into a bowl with the salt and baking powder and rub in the butter.
4. Stir in the apples and 100g grated Cheddar.
5. Work in enough milk to give a soft, malleable dough, but don't overwork or the scones will be tough.
6. On a lightly floured surface, pat the dough out to a thickness of about 5cm and cut into rounds with a 4cm cutter. Space out on the baking tray, brush the tops with milk and sprinkle over the remaining cheese.
7. Bake for about 20 minutes, until lightly golden and well risen.
8. Remove and place on a wire rack to cool.
Cauliflower & Stilton gratin with a hazelnut topping
Serves 4, or 6 as a side
This easy recipe works well as a main meal with a peppery salad or as a side dish with a simple roast chicken.
Ingredients:
For the gratin:
1 large cauliflower, trimmed and cut into florets (keep any good leaves)
100g kale, coarse stalks trimmed
300ml crème fraîche
75g Stilton, crumbled
For the topping:
50g ciabatta bread, stale if possible
30g hazelnuts, toasted and chopped
2 tbsp olive oil
1 tsp thyme leaves
25g Stilton
Method:
1. Pre-heat the oven to 180°C, Gas Mark 4.
2. Bring a large pan of salted water to the boil and blanch the cauliflower and outer leaves for 3 minutes.
3. Add the kale and blanch for a further 2 minutes. Refresh under cool water and drain.
4. Spread out in a medium-sized gratin dish.
5. To make the topping, whizz the ciabatta bread in a small food processor to make coarse breadcrumbs. Combine with the hazelnuts, olive oil, thyme and seasoning to taste.
6. Stir in 25g crumbled Stilton and set aside.
7. Put the crème fraîche and 75g Stilton in a small pan and warm through until the cheese is all but melted.
8. Season, then pour the cheese mixture over the vegetables and scatter over the topping.
9. Bake for 30 minutes, until lightly golden and bubbling.
Baked pears with fresh ricotta, honey & pine nuts
Serves 4
The perfect light, not-too-sweet pudding for winter. You can use any type of pear for this, though plump red fruit looks particularly pretty once baked.
Ingredients:
4 ripe red pears
2 tbsp honey
25g butter
4 rosemary sprigs
A squeeze of lemon juice
100g fresh ricotta cheese
20g pine nuts, toasted in a dry pan
2 tbsp honey and rosemary, to serve
Method:
1. Pre-heat the oven to 180°C, Gas Mark 4.
2. Core the pears and cut a horizontal sliver from the bases, then stand them upright in a dish small enough to fit them snugly.
3. Drizzle with honey, dot with butter, then tuck the rosemary sprigs in and around them. Add a squeeze of lemon juice and a splash of water.
4. Cover with foil and bake for about 35 minutes until the pears are soft, but still holding their shape.
5. Serve with juices from the dish, spoonfuls of ricotta, a scattering of toasted pine nuts, a drizzle of honey and a rosemary sprig, if preferred.
Photography/ Jonathan Gregson Styling/ Tabitha Hawkins
Sign up to the Homes & Gardens newsletter
Decor Ideas. Project Inspiration. Expert Advice. Delivered to your inbox.
Alice Hart is a food writer and recipe developer, working across a wide variety of media, from magazines to books. Alice's recipe books are based on wholesome produce and seasonal eating, and while she takes a balanced approach, using wholefoods and vegetables wherever possible, she also finds joy in an excellent cake. Alice is also invested in sports nutrition and is a Level 3 personal trainer, a seasoned endurance sports competitor and a trained chef.