French recipes – conjure up the South of France with this summer menu
Whether you're in the south of France or your own garden, make the most of bright, warm days by entertaining in a beautiful setting with a deliciously light, fresh meal full of seasonal flavors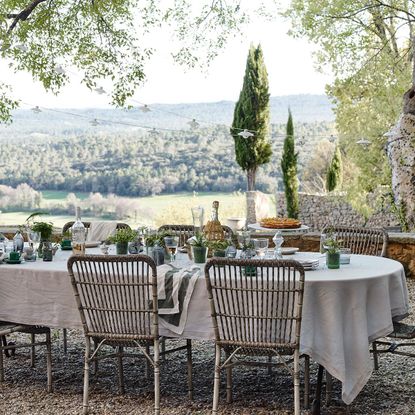 (Image credit: Emma Lee)
When creating French recipes, why not take the colors of the surroundings as your starting point? In the case of this Provencal terrace overlooking a glorious vista, we needed to do little more than echo the soft olive greens of the fields and hills beyond.
First, we strung pretty white enamel outdoor lights between the tree branches, then threw a generous cloth in palest grey over the dining table, teamed with napkins bordered in a bold forest green.
To perfectly go with these French recipes and beautiful setting, gorgeous cheese recipes are an appropriate choice for enjoying still more summer flavor.
Set the scene for these French recipes
For the table setting, layer up a mix of classic-style glassware and cutlery, unfussy contemporary pieces and hand-thrown dishes – there's no need to worry about everything matching.
Little bottles filled with jasmine and tumblers with potted ferns or herbs make great informal decorations dotted throughout, while raffia-bound carafes and linen bread bags and baskets enhance the laid-back elegance of the scheme. Comfortable chairs are a must, so that you can sit out long into the evening if you choose.
For relaxed summer dining, the best thing is to keep place settings simple –it helps guests feel like its time to relax. A loosely knotted napkin sits perfectly without the need for a more formal napkin ring, and smart place cards can be popped alongside, with a prettily colored fig or similar edible detail that can be nibbled between courses.
To tie in with our location, these dishes reference Provence, whether through the choice of ingredients or by offering a twist on regional classics. Nice's beloved socca, a crisp chickpea flour pancake, is elevated with chopped rosemary and a sprightly topping of frazzled artichoke halves, verdant parsley and preserved lemon peel, while the twice-baked watercress and Roquefort souffies are sure to impress yet are surprisingly easy to make. A main course of roast chicken is lightened with a crisp salad and served with salt-baked potatoes, while a show-stopping apricot frangipane tart and fragrant plum cooler round things off perfectly.
Radishes with herb and butter
Serves 6
A classic, with a summer twist of dill and lemon zest.
Ingredients:
150g good salted butter, soft
Handful fresh dill, chopped
2 tbsp sea salt
Finely grated zest of 1 lemon
2 bunches radishes
Small loaf of rye bread, sliced
Method:
1. Beat the butter and dill together. In a separate bowl, combine the salt and lemon zest.
2. Wash the radishes well and drain, removing any large or less than perky leaves.
3. Serve the radishes on a platter alongside the herb butter, lemon salt and sliced rye bread.
Twice-baked watercress and roquefort souffles
Makes 6 large or 8 small souffles
These can be made in advance and baked again before serving. Spinach leaves can be used in place of watercress, if you like.
Ingredients:
400ml whole milk
1 slice of onion
200g watercress
75g unsalted butter, plus extra for greasing
75g rye or plain flour
¼ tsp mustard powder
½ tsp freshly ground nutmeg
300g Roquefort, crumbled Salt and black pepper
6 eggs, separated
120ml double cream
6 slices prosciutto or thin-cut streaky bacon
For the salad:
50g lamb's lettuce
120g green beans, trimmed and blanched
200g podded peas and broad beans, blanched
Handful fresh mint
2 tbsp lemon juice
3-4 tbsp extra virgin olive oil
Method:
1. Heat the milk with the onion slice in a saucepan until almost boiling. Remove from the heat and set aside to infuse for 20 minutes.
2. Preheat the oven to 200°C, gas mark 6. Generously grease the insides of six 200ml or eight 150ml heatproof ramekins or cups. Have a large bowl of iced water ready.
3. Put the watercress in a colander or sieve and slowly pour boiling water over. Drain then plunge the wilted cress into the iced water. Drain again, then wring out in a clean tea towel. Chop finely.
4. Melt the butter in a medium saucepan over a low heat. Add the flour and stir for a minute or so to create a paste (roux). Remove the onion then reheat the milk. Gradually whisk the milk into the roux, a small ladleful at a time at first, to create a smooth sauce. Simmer for a couple of minutes, stirring continuously with a wooden spoon.
5. Remove from the heat and stir in the mustard powder, nutmeg and 250g of the Roquefort with a generous seasoning of black pepper and a little salt. Beat in the egg yolks and the chopped watercress. In a clean bowl, whisk the egg whites until stiff. Gently fold into the scuffle base using a spatula or large metal spoon.
6. Divide the mixture between the ramekins, filling them almost to the top. Put the ramekins in a deep baking tray and pour in enough boiling water to reach halfway up their sides. Bake for 25 minutes, until the scuffles are well risen and turning golden. Set aside to cool (they will sink). Run a knife around the edges and turn out, then transfer to a baking dish large enough to hold them in a single layer. At this point, the scuffles can be chilled for up to 48 hours.
7. When you are ready to serve, preheat the oven to 200°C, gas mark 6. Spoon a little cream over each scuffle and bake for 10 minutes or so, until puffed up and bubbling. Grill the prosciutto or bacon until crisp.
8. Toss the lamb's lettuce with the green beans, peas, broad beans, mint, lemon juice and olive oil. Scatter the remaining Roquefort over the hot scuffles, top with the crisp prosciutto or bacon and serve straightaway alongside the salad.
Socca with rosemary and artichokes
Serves 6
These crisp-edged chickpea pancakes are a favourite Nice street snack and are also tasty served plain with a little sea salt. A glass of chilled rose is the perfect accompaniment.
Ingredients:
200g chickpea flour
Salt and black pepper
4 tbsp extra virgin olive oil, plus extra for frying
1½ tbsp finely chopped rosemary
400g tin artichoke hearts, drained and dried thoroughly, halved
400g tin chickpeas, drained
Sliced peel of 2 preserved lemons
Juice of ½ lemon
Handful flat-leaf parsley leaves
Method:
1. Whisk 400ml water into the chickpea flour to make a smooth batter. Season very generously with salt and pepper and stir in 3 tablespoons of the olive oil and the rosemary. This amount of batter will make up to 12 socca.
2. Heat enough oil to form a film over the base of a frying pan and fry the artichokes until deeply golden. Remove from the heat, stir in the chickpeas and season well. Toss with the lemon peel. lemon juice. parsley and the remaining tablespoon of olive oil.
3. To make the socca, set the oven to a low temperature. Place a couple of small frying pans (around 12cm diameter) over a medium-high heat and add a generous tablespoon of oil to each. Once the pans are very hot, add a small ladleful of batter to each. Cook for 1-2 minutes until golden underneath and bubbling at the edges. Carefully turn over with a palette knife and cook until the second side is golden. Flip onto a plate and keep warm in the oven until all the batter is used.
4. Top each hot socca with a pile of the artichoke mixture and serve straightaway.
Herb-roast chicken with an apple, chicory and chive salad
Serves 6 generously
Roast chicken is given a fresh seasonal lift with plenty of fragrant herbs and a crisp sweet-sharp salad.
Ingredients:
Handful chopped soft herbs, such as chives, dill and flat-leaf parsley
1 garlic clove, peeled and crushed
75g salted butter
Salt and black pepper2 x small (1.2kg) chickens
3 garlic bulbs, halved
5 banana shallots, peeled and cut in half
5 thyme sprigs
200g ciabatta or rustic bread, roughly torn
7 tbsp extra virgin olive oil
2 tbsp cider vinegar
1 tbsp Dijon mustard
2tsp honey
1 bunch chives, a quarter finely chopped, the rest roughly chopped
3 chicory bulbs, trimmed and separated into leaves
3 red eating apples, cored and sliced into matchsticks
Method:
1. Preheat the oven to 200°C, gas mark 6. Combine the herbs and half the crushed garlic with the butter and season lightly.
2. Carefully loosen the chicken skin over the breasts and legs. Reserve 1 tablespoon of the herb butter and divide the rest between the chickens, spreading it evenly under the skin. Put half a garlic bulb in the cavity of each chicken and tie the legs loosely with string. Put the halved shallots, thyme sprigs and remaining garlic bulb halves in a medium roasting tin and snugly tuck in the chickens.
3. Roast the chickens for 1 hour 10 minutes, until golden, covering loosely with foil if the skin appears to be browning too much. Set aside to rest for 20 minutes, loosely tented with foil, before carving.
4. Meanwhile, make the croutons. Toss the torn ciabatta with 1 tablespoon of the olive oil and spread out on a baking tray. Dot with the reserved herb butter and bake for 8-10 minutes, stirring a couple of times, until golden and crisp. Set aside.
5. To make the dressing, whisk the vinegar, mustard, remaining crushed garlic, honey and finely chopped chives together. Whisk in the remaining 6 tablespoons of olive oil, then add a splash of water and plenty of seasoning.
6. Toss the chicory leaves, apple, croutons and dressing together with the roughly chopped chives. Serve the salad with the carved chicken pieces, shallots and roasting juices from the pan.
Salt-baked potatoes with herbs
Serves 6 as an accompaniment
A bed of herby salt intensifies the flavor of the potatoes.
Ingredients:
2.5kg rock salt
Handful fresh thyme and rosemary sprigs
Handful fresh bay leaves
1.5kg new potatoes
50-100g unsalted butter, cubed
Method:
1. Preheat the oven to 200°C, gas mark 6. Spread one-third of the salt over the base of a medium roasting tin and scatter over half the herbs. Nestle in the potatoes, top with most of the remaining herbs (reserve a few to garnish) and spread the rest of the salt on top to cover every potato. Bake for about 1 hour, until a skewer slides into the centre of the largest potato easily.
2. Remove the potatoes from the salt, brushing off as much as possible, then crush them slightly and put in a serving dish. Finish with as much butter as you dare and garnish with extra herbs.
Apricot tart
Serves 8-10
You can make this frangipane tart a day ahead if you like, adding the apricot topping up to an hour before serving.
Ingredients:
300g all-butter shortcrust pastry
12-14 large apricots, stoned and quartered
150ml elderflower cordial
250g soft unsalted French butter
125g golden caster sugar
250g ground almonds
1-2 tsp vanilla bean paste or extract
2 eggs, beaten
6 tbsp apricot jam icing sugar, to dust
Method:
1. Roll out the pastry to a 5mm thick circle and use to line a 23cm loose-bottom tart tin, so the edges overhang slightly. Prick the base all over and chill for 20 minutes; heat the oven to 180°C, gas mark 4. Blind bake the pastry case for 20 minutes, then remove the beans and paper and bake for 15-20 minutes, until very pale golden.
2. To poach the apricots, put them in a wide-based saucepan with the elderflower cordial and bring to a very gentle simmer over a low heat. Simmer for 8 minutes or until the apricots are tender but still holding their shape. Remove the pan from the heat and set aside to cool completely. Carefully remove the apricots using a slotted spoon then simmer the syrup until it is reduced by half.
3. To make the frangipane, beat the butter and sugar together, preferably in a stand mixer, until light in color. Add the ground almonds and vanilla and continue beating until evenly combined. Add the eggs, a little at a time, stopping to scrape down the sides now and then. If convenient, cover and chill the mixture overnight, but it is fine to move straight on with the recipe.
4. Spread 4 tablespoons of the apricot jam evenly over the base of the pastry case, then spoon the frangipane over the jam layer. Bake the tart at 180°C, gas mark 4, for about 40 minutes, until golden, risen and firm in the centre. Set aside to cool slightly then arrange the drained apricot quarters on top in closely packed, concentric circles.
5. Combine the remaining apricot jam with 1 tablespoon of the poaching syrup (the remainder can be used in gin-based cocktails or as a light cordial) and brush evenly over the apricots. Dust the top of the tart with icing sugar before serving warm or at room temperature, with cream or crème fraiche, if liked.
Plum, basil and black pepper cooler with borage flowers
Makes 1 large jug
Serve this neat with plenty of ice or mix with gin or vodka for an elegant cocktail.
Ingredients:
20 ripe but firm plums
450g unrefined caster sugar
1½ tbsp whole black peppercorns
2 large handfuls fresh basil leaves
1 handful fresh borage flowers, to serve (optional)
2 handfuls ice cubes
Chilled sparkling water, to top up
Method:
1. Halve, stone and roughly chop 10 of the plums and put them in a saucepan with the sugar, peppercorns and 500ml water. Slowly bring to the boil, stirring frequently, then simmer for 10 minutes. Remove from the heat and stir in a large handful of the basil leaves.
2. Set aside to steep for 30 minutes then strain through a fine sieve, giving the mixture time to drain thoroughly. Cover and chill for up to 3 days until needed (the syrup will keep for longer, but the flavors will start to dull after this time).
3. To serve, halve, stone and finely slice the remaining 10 plums and layer in a large glass jug with the remaining basil leaves, the borage flowers, if using, and ice cubes. Add the syrup and top up with chilled sparkling water to taste.
Photography/ Emma Lee
Jennifer is the Digital Editor at Homes & Gardens. Having worked in the interiors industry for a number of years, spanning many publications, she now hones her digital prowess on the 'best interiors website' in the world. Multi-skilled, Jennifer has worked in PR and marketing, and the occasional dabble in the social media, commercial and e-commerce space. Over the years, she has written about every area of the home, from compiling design houses from some of the best interior designers in the world to sourcing celebrity homes, reviewing appliances and even the odd news story or two.