Easter recipes – seasonal dishes to enjoy at Easter
These Easter recipes are perfect for family and friends to enjoy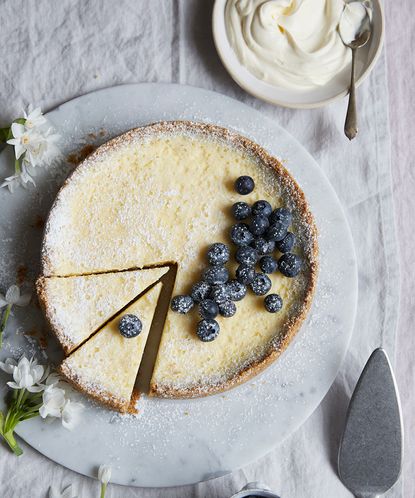 (Image credit: Helen Cathcart)
It's time to celebrate – even if you are outdoors – with these Easter recipes. Spring is such a lovely time of year to entertain. As the days get lighter and brighter, we've been inspired to create a delicious lunch menu bursting with the flavors of the new season and laced with lively citrus twists.
There is nothing in the rule book that says lamb is a must for your Easter recipes. Now that the days are longer and spring is in the air, it makes sense to pass on the big roasts and lighten up a little.
Using some of the best seasonal produce, this menu is full of green goodness and citrus zing. The floral apple and elderflower martini will have everyone in a celebratory mood from the moment they walk in. It's served with asparagus fried in a delicate temper-like batter, which becomes even more delicious when dipped in honey.
The tea-smoked salmon is served with roasted radishes and sting onions, and two salads. Each recipe has a hit of citrus, be it from a grating of orange or lemon zest, or a squeeze of lime. For a final sprightly flourish, the meal ends with a lusciously creamy lemon cheesecake tart with a lime-flavored biscuit case. Spring recipes, at their best.
The menu
TO DRINK
Apple & Elderflower Martini
TO START
Crispy Asparagus with Honey
MAINS
Tea-smoked Salmon with a Horseradish Dressing; Roasted Radishes and Spring Onions; Spelt, Almond & Rocket Salad; Raw Cauliflower, Pea & Herb Salad
DESSERT
Lemon Cheesecake Tart
See: Easter table decoration ideas – pretty ways to decorate an Easter table
Apple and elderflower
Serves 6
This fresh floral cocktail can be made ahead and kept chilled until guests arrive.
Ingredients:
300ml vodka
300ml pressed apple juice, chilled
5 tbsp elderflower cordial
3 limes
Crushed ice
1 granny smith apple, thinly sliced into rounds
Mint sprigs, to garnish
Method:
1. Combine the vodka, apple juice and elderflower cordial in a large jug. Squeeze in the lime juice then stir well. Add a handful of crushed ice and keep in the fridge if not using straight away.
2. To serve, put a little crushed ice into 6 cocktail glasses and add a slice of apple. Stir the cocktail, pour into the glasses and finish with a mint sprig.
Crispy asparagus with honey
Serves 6
Light golden batter flavoured with tarragon, lemon and coriander makes this nibble beautifully irresistible.
Ingredients:
100g plain flour
3 tbsp cornflour
Salt and freshly ground black pepper
Finely grated zest of 1 lemon
3 tbsp chopped tarragon
1 tbsp ground coriander
250ml chilled sparkling water
Vegetable oil, for deep frying
250g slim asparagus spears
Honey and lime wedges, to serve
Method:
1. To make the batter, mix the floors together in a rectangular dish a little longer than the asparagus. Add a little salt and pepper, then stir in the lemon zest, tarragon and corridor. Stir in the chilled water, leaving the mixture quite lumpy.
2. Half-fill a deep saucepan with oil and heat to 190°C (or until a drop of batter floats and sizzles as soon as it hits the oil).
3. Coat a few asparagus spears in batter, then lower them into the hot oil. Fry for 2-3 minutes until golden and crisp. Remove with a slotted spoon to kitchen pepper while you fry the rest.
4. Serve with a light scattering of salt, lime wedges and a small bowl of honey for dipping.
Raw cauliflower, pea and herb salad
Serves 6
We like to use two varieties of cauliflower for no other reason than it makes a prettier salad. You can opt for just one type, if you won't use up the surplus halves.
Ingredients:
½ small white cauliflower
½ Romanesco cauliflower
Salt and freshly ground black pepper
1 tsp fennel seeds
1 tsp caraway seeds
1 tbsp honey
1 orange
5 tbsp olive oil
1 green chilli, deseeded and finely chopped
150g peas, defrosted
3 spring onions, thinly sliced
2 large handfuls mixed fresh herb leaves, such as mint, flat-leaf parsley and dill sprigs
Method:
1. Break the cauliflowers into florets then slice them as thinly as you can. Put in a large bowl and season with salt and freshly ground black pepper.
2. Put the fennel and caraway seeds in a small frying pan over a low-medium heat and toast. stirring, for 30 seconds or until they start to release their aroma. Add the honey and stir for another 20-30 seconds as the honey sizzles.
3. Remove from the heat and grate in the orange zest, then squeeze in the juice . Stir in the olive oil and chilli. Pour over the cauliflower and toss to combine.
4. Just before serving, stir the peas, spring onions and mixed fresh herbs into the salad and adjust the seasoning to taste .
Roasted radishes and spring onions
Serves 6
The pepperiness of radishes mellows significantly when roasted, while the butter helps to bring out their sweetness.
Ingredients:
500g radishes, larger ones halved
12 spring onions
4 sprigs thyme, torn
Salt and freshly ground black pepper
1 tbsp olive oil
40g salted butter
Juice of ½ lemon
Method:
1. Preheat the oven to 220°C, gas mark 7. Mix the radishes, onions and thyme in a roasting tin. Season with salt and black pepper, then toss through the olive oil and dot with butter.
2. Roast for 12-15 minutes, until the radishes are just tender. Stir in the lemon juice and serve.
Spelt, almond and rocket salad
Serves 6
There's a lovely bite and nuttiness to this warm salad that pairs nicely with the smokiness of the salmon.
Ingredients:
1 bay leaf
2 garlic cloves
250g pearled spelt
4 tbsp olive oil
1 large red onion, peeled and finely sliced
125g almonds in skin, roughly chopped
150g wild rocket
1 lemon
Salt and freshly ground black pepper
Method:
1. Put the bay leaf and garlic in a large pan of water and bring to the boil. Add the spelt and cook for 20 minutes or until just tender. Drain, discarding the bay leaf and garlic, and return the spelt to the pan.
2. Meanwhile, heat 2 tablespoons of the oil in a frying pan and cook the onion over a low heat for 8 minutes until quite tender. Add the almonds and cook for 5 minutes, stirring, until golden.
3. Stir the onion mixture into the spelt, along with the rocket and remaining oil. Grate in the zest of the lemon, then squeeze in the juice. Season and serve warm.
Tea-smoked salmon with a horseradish dressing
Serves 6
Perfect for entertaining, this hot-smoked salmon is richly flavoured and luxurious. For the smoking process, you will need a large roasting tin with a wire rack that fits inside.
Ingredients:
3 tbsp sea salt
2 tbsp chopped dill
4 tbsp demerara sugar
6 salmon fillets, about 150g each
6 tbsp uncooked white rice
2 tbsp Earl Grey tea leaves (or the contents of 2 tea bags)
Sliced spring onions, to serve
For the dressing:
250ml creme fraiche
2 tbsp chives, finely snipped
2 tbsp horseradish sauce
Squeeze of lemon
Salt and freshly ground black pepper
Method:
1. Combine the sea salt, dill and 2 tablespoons sugar. Place the salmon fillets on a tray and rub all over with the mixture. Cover and refrigerate for 1 hour.
2. Meanwhile, combine all the dressing ingredients. Preheat the oven to 220°C, gas mark 7.
3. Rinse the salmon in cold water and pat dry with kitchen paper. Line a large roasting tin with foil. Add the rice, remaining sugar and tea leaves and mix well. Set a wire rack inside the tin, over the rice mixture.
4. Place the salmon fillets , skin side down, on the rack. Cover the whole tin with foil, sealing all around, except for one corner.
5. Put the tin on the hob over a high heat. Once you start to see smoke escaping from the open corner, seal the foil at the corner to trap the smoke.
6. Keep on the hob for 1 minute, then transfer to the oven for 10 minutes. Remove from the oven and set aside for 2 minutes before uncovering. Check the salmon: it is ready when it flakes easily with a fork. If it needs more cooking, return uncovered to the oven for 2 minutes.
7. Serve the salmon with a scattering of spring onions and the dressing on the side.
Lemon cheesecake tart
Serves 8-10
Cheesecake and lemon tarts are always crowd pleasers, so why not combine them into one delectable dessert?
Ingredients:
250g digestive biscuits
150g unsalted butter
Grated zest of 1 lime
400g cream cheese, at room temperature
150g caster sugar
Finely grated zest of 2 lemons
3 medium eggs
75ml lemon juice
Icing sugar and thick double cream, to serve
Blueberries, to serve (optional)
Method:
1. Preheat the oven to 160°C, gas mark 3. Grease a 6cm-deep, 20cm round springform tin.
2. In a food processor, chop the biscuits into crumbs. Add the butter and lime zest and process until combined. Press the mixture into the base and side of the tin. Refrigerate for 15 minutes.
3. Meanwhile, beat the cream cheese, sugar and lemon zest until smooth. Add the eggs, one at a time, beating until combined. Add the lemon juice , a little at a time, beating well until smooth.
4. Pour the mixture into the tin. Bake for 40-50 minutes or until just set: the tart may wobble slightly in the centre.
5. Cool in the oven with the door ajar, then refrigerate for 4 hours or until cold. Dust with icing sugar and top with blueberries, if liked, then serve with cream.
Photography/Helen Cathcart
Styling/Ali Brown
Sign up to the Homes & Gardens newsletter
Decor Ideas. Project Inspiration. Expert Advice. Delivered to your inbox.
Alice Hart is a food writer and recipe developer, working across a wide variety of media, from magazines to books. Alice's recipe books are based on wholesome produce and seasonal eating, and while she takes a balanced approach, using wholefoods and vegetables wherever possible, she also finds joy in an excellent cake. Alice is also invested in sports nutrition and is a Level 3 personal trainer, a seasoned endurance sports competitor and a trained chef.