Christmas gonks – the festive trend H&G is trying not to like...
The Marmite of the festive world, Christmas gonks were the must-have decoration for 2020, with top retailers selling out nationwide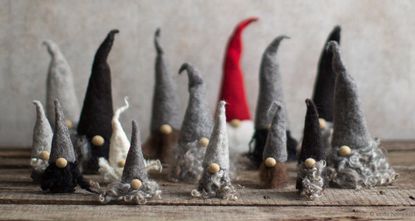 (Image credit: Etsy/VaidaPetreikis)
Ever heard of a Christmas gonk before? Us neither. These little chunky elves may have caught your eye in years past, possibly languishing in bargain corner at Ikea or for sale in a traditional Scandi homewares store, but did you know that they're a huge Nordic tradition – and one of this year's biggest Christmas trends?
The Scandis have long been decorating their homes with these quirky, stumpy gnomes, and this year, it appears the trend is reaching out shores now, too.
Steeped in centuries old tradition, gonks are said to protect homes throughout the Winter solstice and festive season. Called Tomte in Swedish, Nisse in Norway and Denmark and Tonttu in Finnish, gonks usually have short, squat bodies, pointy hats that cover their eyes, together with cute bulbous noses and long white beards.
Renamed by the Brits as gonks, after a troll doll popular in the 1970s, these festive decorations have an instant Marmite effect on most - you either love them or hate them. Kids, naturally, adore them but if you're not too fond of cutsey decor this trend may not be for you.
If however, you believe Christmas to be the one time of year you can add some kitsch humor into your scheme, then you're in luck, as they've suddenly become an enormous trend this season with many stores selling out of their stock already.
Jason Billings-Cray, Partner & Junior Buyer at John Lewis & Partners' Christmas Shop says: 'Room decorations are becoming increasingly popular with customers this year as Christmas festivities spread throughout the home.'
'Gonks,' he continues, 'are mythological creatures that are often now considered to be a Nordic version of Santa Claus, although technically this is untrue. They're fun, unique and have beautiful long beards that children will love to see by the tree.'
A brief history of the Christmas gonk
The first mention of a gonk dates as far back as 1600 in Norway, and possibly even as early as the 13th Century. A well-known motif of Nordic folklore, the gonk is part protector, part Elf on a Shelf (opens in new tab). He's said to safeguard a home from evil or harm, but tends to have a short temper and is known to be quite mischievous.
Scandi homeware store Skandium (opens in new tab) has been selling gonks since it opened well over 20 years ago and the gnome-like figures have become a festive recent feature in Ikea stores outside of the four Nordic countries.
Danish brand Søstrene Grene (opens in new tab) - now with seven stores across England and Northern Ireland - are naturally big fans and high street retailers like John Lewis (opens in new tab), Next (opens in new tab), Robert Dyas (opens in new tab) and Aldi are all selling out of their gonk ranges quickly.
Want to give a gonk a home? We've gathered our favorites from a wide range retailers, both big and small, to help you make your choice...
Ginevra Benedetti is Associate Editor on the Homes Content Team at Future. She has been writing about interiors for the past 16 years on the majority of Britain's monthly interiors titles, such as Ideal Home, Country Homes & Interiors and Style at Home, as well as Livingetc and of course, Homes & Gardens. This naturally lead her into writing for websites like HomesandGardens.com.