This futuristic washer-dryer might change the way we do laundry – and it's on sale with $900 off
GE release the GE Profile UltraFast Combo, a washer-dryer that actually lives up to the name and will save you those trips to the laundromat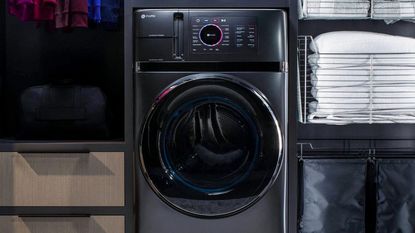 (Image credit: GE Profile)
Sign up to the Homes & Gardens newsletter
Decor Ideas. Project Inspiration. Expert Advice. Delivered to your inbox.
Thank you for signing up to Homes & Gardens. You will receive a verification email shortly.
There was a problem. Please refresh the page and try again.
If you live in an apartment, chances are you don't have in-unit laundry facilities. I have to lug my clothes to the laundromat every couple of weeks to do a load —between washing, drying, folding (and trying not to shrink my clothes) it can certainly be a chore.
Some buildings have a laundry room in the basement, but having to carry your washing down every time you need to use it is equally as inconvenient. And then there's making sure you have the correct number of quarters to both wash and dry.
Perhaps it's time to consider investing in your own washer-dryer combo that not only effectively washes and dries your garments but is also an innovative masterpiece that champions itself on its sustainability efforts and futuristic design.
GE Profile has released the new UltraFast Combo washer and dryer, which aims to change the way we look at laundry. Saving time, it can wash and dry a large load in around two hours, nearly four times faster than its competitors. Additionally, it automatically sets to dry once the clothes have been washed, saving precious hours if you're out and about and can't be there to manually set the dryer off. At first glance, it could easily work its way into our best washing machines list.
In addition to its game-changing time-saving capabilities, the combo machine uses a ventless heat pump and a high-airflow drying system to make it one of the most energy efficient machines on the market. Designed to fit into your everyday life, installation is a breeze as the machine can simply be plugged into anywhere that has a water hook-up and a 120v power outlet. This means you can place it right in your kitchen, bathroom, or spare room without needing any expensive installation charges.
'We continue to challenge the status quo of how everyday tasks are done and disrupt the conventional laundry room design to address consumer pain points head-on,' said Ken Rudolph, senior director of product management for clothes care at GE Appliances. 'We've created the ultimate powerhouse for laundry by bundling the power of cleaning and drying and matching that with energy-efficient features and a compact, flexible design.'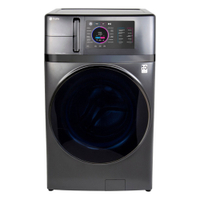 GE Profile UltraFast Combo | $1,999 at Best Buy
Reviewers across the internet love that this combo lives up to its claims to wash and dry in one. This exceptional washer-dryer is now $900 cheaper at Best Buy.
But is it actually any good? While I haven't had the chance to give it a full review, I was able to test out this futuristic machine before it hit the market, and I can safely say it is one of the most powerful yet easy-to-use machines I have ever seen. Long gone are the days when you need to line up the dial to match the settings; simply use the touchscreen panel to select your ideal wash or dry setting. Wash settings include the standard options found on all washing machines, in addition to pre-determined settings for specific items like bedding, activewear, and delicates.
When setting your washing to dry, there's also the option to de-wrinkle your clothing as it dries off, meaning there is less need for an iron or a steamer.
The sleek space-saving design and bright accent detailing make it an appliance that will seamlessly blend with any existing decor in the home.
Finally, my favorite part of the combo machine is how tech-savvy it is. You can connect the machine to your smartphone, allowing you to remotely set and turn off your laundry at the touch of a button. This added feature may entice the younger generation to begin to do their own laundry instead of seeing it as a chore that we all, at one time, dreaded.
The GE UltraFast Combo is available nationwide and is currently on sale for $1999.99 through July 12.
FAQ
Are washer-dryer combos worth buying?
Washer-dryers are great at doing both while saving space, but to get the best washer and dryer experience, it is usually best to buy separate machines. However, a combo machine is more cost-effective and work best for limited spaces.
Sign up to the Homes & Gardens newsletter
Decor Ideas. Project Inspiration. Expert Advice. Delivered to your inbox.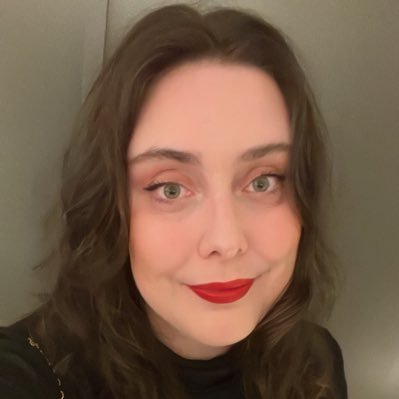 Emma Kershaw is a writer and editor who has written for BuzzFeed, PEOPLE, Apartment Therapy, Cosmopolitan, and more. From unique renovations to celebrity homeware lines, she enjoys writing about all the things that truly make a house a home. In her spare time, you'll find her reading the latest TikTok-trending novel, doing an at-home dance workout, or talking about her love for Dakota Johnson's green kitchen.