Marie Kondo says having a 'power spot' will make your home happier
Here's what it is and how to make one at home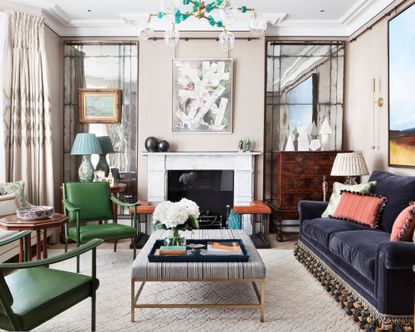 (Image credit: K&H Design)
We tend to associate Marie Kondo with ruthless decluttering – we'll simply never get over her 30-book rule. But the world-renowned organizer also has some great decor tips to make our homes feel happier.
The latest? The tidying guru recommends creating what she calls a 'power spot' in your home. The simple concept is certainly something to consider when brainstorming new living room ideas for the winter.
So, what is it and how do we make one?
'For me, creating a "power spot" and spending time in it is one of my favorite ways to relax,' says Marie. Speaking on the Netflix series Sparking Joy, she explains the idea, which is actually very easy to adopt, and it'll make your home feel more uplifting, too.
Essentially, it's about collating multiple beautiful decorative items that you adore, and displaying them in one area – coffee table styling is a great place to start. Be it vintage treasures, a luxury candle or a beautiful lamp, the home decor simply has to spark joy whenever you look at it.
Marie says your power spot could be a side table, a comfortable chair or even an entire room. 'The only requirement is that it be filled with objects that spark joy,' she says.
It's a very simple idea, but one that brings so much joy to our winter living room ideas during the darker, colder months. Taking the time and effort to create a power spot that feels just right is a lovely exercise.
Once you have curated a display of items that make your heart sing, you're bound to apply the same approach to the rest of the home. How often do you really put all your attention on one bookshelf, one side table or reading nook?
Spending time creating a power spot, and simply enjoying it, will dramatically increase the enjoyment you feel at home. The The Life-Changing Magic of Tidying Up (opens in new tab) author has a joy-sparking power spot as part of her bedroom ideas, which helps her to feel refreshed every morning.
On her bedside table, she has crystals and flowers, as well as a small notebook and pen. We think living room shelving ideas offer the perfect power spot – we're filling ours with books (more than 30), beautiful trailing house plants and home decor picked up on our travels.
Millie Hurst is a news writer across Future PLC's home brands. When she isn't writing about interiors trends and expert tips, she's finding ways to make her small London flat feel more spacious and luxurious. She also spends a lot of her time hunting down vintage bargains, trying out upcycling hacks, and advising friends on their renovations. Her personal style is modern rustic, and she leans towards an autumnal color palette of rich earth tones.