Meet the beekeeper who handles bees with her bare hands – her bee-saving videos have gone viral
Plus 5 expert tips for a bee-friendly garden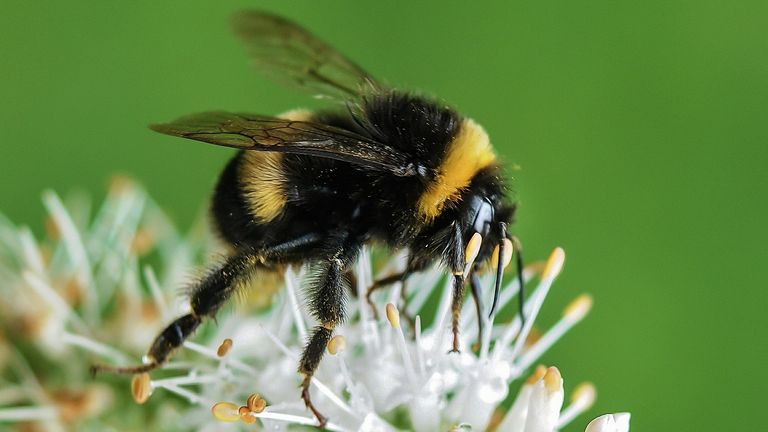 (Image credit: Gardening Express)
Creating a bee-friendly garden is top of our list of to-dos this spring. Firstly, because it's the time of year when bees return to our gardens, and secondly, because of the Erika Thompson effect – as we're calling it.
Erika Thompson, who is better known as @texasbeeworks on Instagram, has gained thousands of followers after sharing footage of her unorthodox bee colony-saving techniques in Austin, Texas. In these videos, Erika saves threatened bees, which are in danger of extermination, by transporting them to a safer new home.
While this is not unusual for a beekeeper, Erika's method is certainly unique, as she often removes the bees with her bare hands, wearing nothing but her signature denim outfits.
See: Small garden ideas – clever designs for maximizing a compact gardening space
Why do we need to save the bees?
Erika's success comes as we all grow increasingly aware of the bees' vital place in the eco-system – as they pollinate food crops and preserve an ecological balance that is crucial to our environment.
'It's been estimated that bees pollinate around a third of everything we eat, and they play a vital role in sustaining the planet's ecosystem,' shared Chris Bonnett, founder of Gardening Express.
'They're incredibly important for the environment and for humanity in general, so we should be doing all we can to help bees survive and thrive.'
5 easy steps to a bee-friendly garden
While we in no way encourage anyone to handle bees with their hands, we are nonetheless inspired by Erika's drive to save these important creatures. Therefore, we have rounded up five expert tips for creating a bee-friendly garden, so you can make a space in which they will thrive.
1. Choose bee-friendly plants
We're all guilty for falling for the double-headed beauty of roses; however, these plants are, unfortunately, not the best for pollination.
While the stamens on double-headed flowers have been designed as extra petals for a fuller bloom, they make it harder for bees to access pollen – so they're not bee-friendly plants.
Instead, experts suggest choosing a single-headed flower, such as a poppy, geranium, or daisy, which are best for bees and allow them to continue pollinating, just as nature intended.
See: Beginner beekeeping has surged during the pandemic – here's how to get into it
2. Plant bee-friendly shrubs
When creating a bee sanctuary in your garden, bee-friendly shrubs are often overlooked.
Chris suggests adding a Cotoneaster, which continues to bloom all year round. This eternally green plant is a favorite among bees, which are attracted to its small white flowers in the spring, while blackbirds flock to the bright red berries in the fall.
3. Purple = bee-friendly flowers
Purple is the most visible color for a bee, meaning; therefore, it is wise to plant an abundance of purple flowers – including catmint, lavender, and allium in your garden. However, this does not disregard other flowers which will still attract bees, so remember to keep a variety around your garden.
4. Get a bee hotel and a bee bath
Bee hotels give bees shelter, but one of the quickest and easiest ways to take care of a bee is by offering it clean water to drink. Chris instructs us to fill a container of pebbles and twigs, where bees can rest while drinking.
He also suggests filling the container with fresh water daily, so bees will know to return to your backyard whenever they are thirsty.
5. Consider all seasons
Despite bees hibernating between September and March, some overwintering queens and workers are known to make an appearance on warmer winter days too. Therefore, it is important to accommodate them all year round by ensuring you have 'at least two nectar- or pollen-rich plants in flower at any one time.'
This nectar fuels the adult bee, and the pollen is gathered to feed the younger bees.
Armed with Chris's tips, we're ready to follow Erika's lead and save the bees, one purple plant at a time.
Megan is a News Writer across Future Plc's Homes titles. She has a background in national newspapers in the UK and has experience in fashion and travel journalism, which she previously practised whilst living in Paris and New York City. Her adoration for these fashion capitals means she particularly enjoys writing about upcoming styles and trends for Homes & Gardens. Megan also loves discovering vintage pieces in her spare time, meaning her decor is largely influenced by the beauty of the jazz age.