Monty Don reveals his dahlia tuber planting tips – for a colorful display
The celebrity gardener shares his top tips on checking the condition of dahlia tubers, and planting them to get the most dazzling displays in the garden this year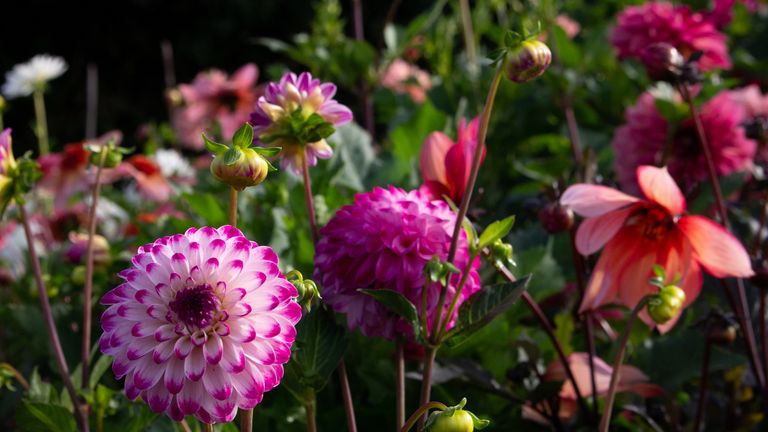 (Image credit: Pippa Blenkinsop)
By Rachel Crow
It's nearly time to awaken your dahlia tubers from their winter hibernation and get ready to kickstart them into action, advises Monty Don.
No garden would be complete without these fabulous flowers, and mid March, says the BBC Gardeners' World presenter, is when you should be checking over dahlia tubers ready for planting.
He shared his advice on how to check dahlia tubers on a Gardeners' World video last March, so now is the perfect time to remind ourselves of his top tips.
See: How to grow dahlias - a step by step guide to growing dahlias from tubers
March is the time to check on the condition of dahlia tubers that you dug up and stored away last winter in a dry, frost-free shed or greenhouse.
To inspect each tuber: 'first get rid of all the loose compost around it and check each dahlia is in good nick,' Monty Don explained.
The respected gardening broadcaster advised to look for the following to check if the dahlia tuber is good:
A nice plump dahlia tuber;
Check the tuber is firm;
If the dahlia tubers are too shriveled up they are too dry;
If they are rotten they are probably too wet;
Check for slug damage on the dahlia tuber;
A little bit of mould on a tuber is no problem;
Cut out bad or damaged tubers
See: Monty Don's secrets for getting rid of garden weeds
Once you have checked the condition of the dahlia tubers and cut out any bad bits, you can plant them in pots, advised the gardening guru.
'Use a plastic pot at this stage that is just big enough for them to grow. We want them to start to develop a root system,' the presenter advised.
Use a good quality, fresh compost as 'dahlias are greedy plants,' he added.
Water the potted dahlias, put them somewhere sheltered and warm to trigger the growth, such as in a cold frame, greenhouse or conservatory, and keep them moist by watering once a week.
'Do not let them dry out. You'll very quickly see new shoots,' encouraged Monty.
Keep an eye on the mercury levels outside, however, as if another cold snap sweeps in, you may need to cover them with protective fleece.
See: Tour Monty Don's beautiful Longmeadow garden in Herefordshire
See: Sarah Raven's favorite dahlias, and her tips for looking after them
The dahlias that have been potted under cover will be ready to plant out in the garden in about mid May, when the top growth is about a foot high.
'Dahlias are something that I'm going to be growing here at Longmeadow with a vengeance, because I love them,' added Monty.
I am the Content Editor on Homes & Garden's sister magazine, Period Living Magazine. I joined the team nine years ago, after freelancing for years on a range of titles, covering everything from homes and gardens, to history, arts and crafts. I have the joy of covering all of these areas of interest still - handily packaged together in the pages of Period Living Magazine and for the Country Channel of Homes & Gardens.
I love discovering how passionate gardeners have transformed often previously neglected plots into beautiful spaces brimming with blooms for our real garden stories; I feel privileged to meet and interview many artisans and craftspeople creating unique homeware, sharing their stories and the skills of their traditional crafts; and I find uncovering the background stories of historic properties and antiques endlessly fascinating.