This all-new Dyson cordless launch makes light work of bigger homes
Speed through your cleaning in double quick time thanks to with Dyson's brand new machine, designed for covering more square footage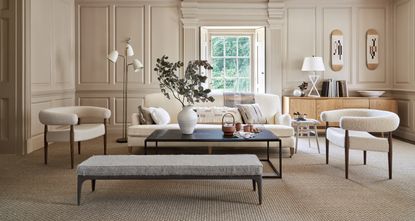 (Image credit: Future/Davide Lovatti)
Dyson's cordless vacuums are renowned for being some of the best machines on the market. Their compact size makes them easy to grab out of a cupboard for quick clear-ups around the home and their smooth manoeuvrability ensures the job is as effortless as possible.
But what if you want to tackle the whole house? Many homeowners tend to buy a cordless machine for speedy jobs and opt for a second, bigger machine for when they want to clean every room in the home.
To address this, Dyson has just launched a supersized version of one of its bestselling machines to help you tackle those big and small jobs, so you can vacuum as much or as little as you wish.
Named the V11 Outsize, this new Dyson cordless launch looks much like a standard Dyson machine does, yet this beauty has been redesigned to include a larger bin, a bigger cleaning head and a longer battery runtime.
The brand ran extensive research into their customer's homes and vacuuming habits and discovered that there was a demand for bigger machines - or at least machines that could handle larger vacuuming jobs.
'We found that people with larger homes needed a machine that could offer deep cleaning capability, covering larger surface areas, complete with increased run time and larger bins,' says John Churchill, VP of Floorcare at Dyson.
Their design team got to work immediately to create a cord-free machine that is powered by a motor that gives 20% more suction to produce '...a bigger and more powerful machine – engineered precisely for larger home owners,' adds John.
Read on to discover how the Dyson V11 Outsize is a better (and bigger) choice for cleaning larger homes.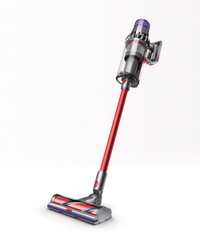 Now you can speed though your vacuuming using just one machine for the entire house thanks to Dyson's latest launch. Cord-free and easy to store thanks to the super convenient wall-hung docking station that can be easily hidden away a cupboard.
New Dyson cordless launch - check out its brilliant new features
IT GENERATES MORE SUCTION
As already mentioned, the V11 Outsize features Dyson's Hyperdymium motor, which generates 20% more suction than the brand's Cyclone V10 vacuum. The motor spins at 125,000rpm and features a triple diffuser to help reduce any turbulence and noise, too.
IT BOASTS A BIGGER BIN
It stands to reason that a machine that is designed to vacuum more square footage needs to have a larger bin to avoid having to empty it repeatedly. The new V11 Outsize has just that, with a bin measuring a whopping 150% bigger than the Dyson V11 Absolute cord-free vacuum.
THE FILTRATION SYSTEM IS SECOND TO NONE
Dust and allergens have met their match with the Dyson V11 Outsize. The machine features a fully sealed filtration system that captures up to 99.97% of particles while vacuuming, then expels clean air out again.
THE LCD SCREEN GIVES YOU COMPLETE CONTROL
The handy LCD screen on the handle displays the machine's selected power mode and remaining runtime, giving you complete control. Reminders will pop up whenever the filters need cleaning and it'll notify you of any blockages (and how to clear them, too).
IT COMES WITH BIGGER AND BETTER CLEANING TOOLS
The V11 Outsize comes with a high torque cleaner head and four separate tools, making it easy to use whether you're cleaning your sofa of pet hair, clearing your carpet of crumbs or dusting away cobwebs from the ceiling.
The high torque cleaner head features special sensors that detect any brush bar resistance, automatically adjusting the suction power when it moves between floor types for optimal performance.
It is also 25% wider than the Dyson V11 cordless vacuum cleaner, measuring 32cm in width so you can cover more floor space in each sweep.
EACH BATTERY LASTS UP TO 60 MINUTES
The battery pack on V11 Outsize offers up to 60 minutes of run time - just enough to whizz around every room in your home, quickly and easily. What's more, each model comes with two interchangeable battery packs, so if you do run out of power mid-clean, simply swap over the batteries to finish the job.
Available to buy now, the Dyson V11 Outsize is priced at $799 in the US and £649.99 in the UK.
CHECK OUT THE ENTIRE DYSON V11 FAMILY OF VACUUM CLEANERS HERE
BROWSE THE LATEST DYSON CORDLESS DEALS HERE
Ginevra Benedetti is Associate Editor on the Homes Content Team at Future. She has been writing about interiors for the past 16 years on the majority of Britain's monthly interiors titles, such as Ideal Home, Country Homes & Interiors and Style at Home, as well as Livingetc and of course, Homes & Gardens. This naturally lead her into writing for websites like HomesandGardens.com.