Enter the Period Living Home & Garden of the Year awards
If you feel proud of your period home or garden, enter Period Living's Home & Garden of the Year awards and you could win a cash prize of up to £2,000 – closing date extended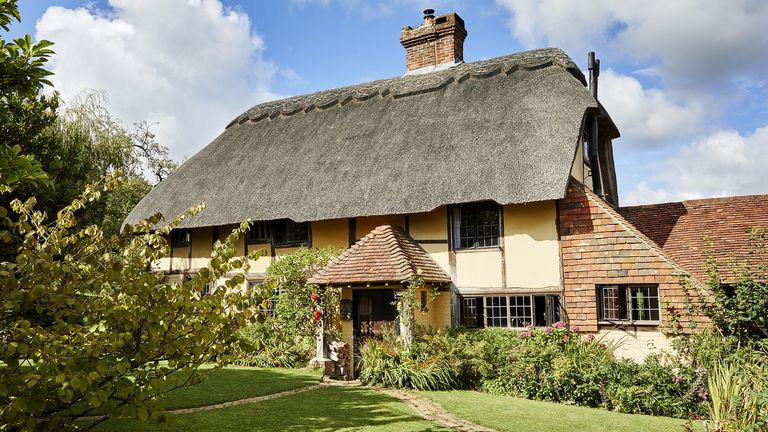 (Image credit: Future/Brent Darby)
By Karen Darlow
Homes & Gardens' sister magazine Period Living is inviting readers to enter their completed home improvements, garden, or interior decoration projects in the Home & Garden of the Year awards 2021. We can't wait to see the schemes you've come up with for all kinds of period properties, large and small, and to hear their unique stories. 
Enter the Home & Garden of the Year awards today for a chance to win a cash prize of up to £2,000. 
If you're not quite ready to enter your own home, then maybe a friend or family member has a stylish house or garden that's worth shouting about. Why not encourage them to enter our awards? Or maybe you'd like to say thank you to a craftsperson or tradesperson who helped you with your renovation or garden? Mention them in your entry and we'll make sure they get the plaudits they deserve if your home is selected as one of our winners.
Our previous award-winning period homes have come in all shapes and sizes: thatched country cottages and farmhouses, neat Victorian terraces, large manor houses, smart apartments, seaside boltholes, and townhouses – tall and small. Our winning gardens have been just as varied, from cottage garden classics to landscaped vistas and walled kitchen gardens. If you're proud of your home or garden, we're sure to love it too. 
We want to see…
Elegant townhouses and semis
Cosy cottages and terraces
Fabulous farmhouses
Intriguing listed buildings
Characterful conversions - barns, schools, chapels, pubs, windmills
Extended homes
First-time and DIY projects
And gorgeous gardens, large and small
How to enter
Enter using the form here and follow the instructions on the entry form. You will need to have the following information ready to complete your application: 
Tell us in up to 500 words why you think your home should win, giving us details of how it looked before you renovated, what you've achieved and how you've gone about it. Please also tell us what period or original features you've managed to restore or reinstate. Include the names of any stand-out craftspeople or tradespeople who you feel deserve a mention for their work on your project. 
Make sure you include photos of all the main rooms in the house, or main areas of the garden for a garden entry – quick snaps will do. 
Don't forget to include a photo of the exterior of the property, too, and any features of the house or garden that you are particularly proud of. 
The Period Living Home & Garden of the Year awards are open to residents of Great Britain only. Full terms and conditions can be found here. The closing date for all entries is 5pm on Monday 14 June 2021. 
The prizes
The winners will be announced in Period Living's November 2021 issue and all prizewinning entries will be featured in future issues of the magazine. 
The winner of Home of the Year will scoop a fabulous £2,000 cash prize, our Garden of the Year will win £1,000 in cash. Four category winners – Best Project, Best Listed Home, Best Vintage Style and Best Small Garden – will each receive a £500 cash prize. Winners will also receive a year's free subscription to Period Living magazine, worth over £50. For more details of the categories, see below. 
Categories and sponsors
Home of the Year – prize £2,000
One overall winner will win a fabulous £2,000 cash prize. All winning entries will also receive a free Period Living subscription. 
Sponsored by Thermafleece
Thermafleece is the leading brand of British sheep's wool and recycled insulation. Using the wool from British hill sheep, the insulation is manufactured in the UK to meet the highest quality and performance standards. For more details visit thermafleece.com.
Garden of the Year – prize £1,000 
Enter if you've worked hard on your garden design and planting. We're looking for harmonious schemes with year-round interest. 
Best Small Garden – prize £500
Enter this category if yours is a smaller outdoor space, perhaps a smart courtyard garden or even a front garden with kerb appeal.  
Best Project – prize £500
Recently completed an extension to a period home, added a new kitchen or reconfigured the inside space? This is the category for you. 
Sponsored by Shuttercraft
Shuttercraft is one of the UK's largest shutter and blind companies, expertly installing premium, made-to-measure products that transform people's homes across the country. With a huge range of materials, styles and colours, there's something for everyone. Visit shuttercraft.co.uk for more details. 
Best Listed Home – prize £500
If you've restored and preserved a listed home to an exceptional standard, enter this category.  
Sponsored by The Sash Window Workshop
The Sash Window Workshop specialises in manufacturing and installing high-quality, traditional timber windows and doors, which are designed to improve energy efficiency, while preserving the character of your home. For more details visit sashwindow.com.
Best Vintage Style – prize £500
In this category we want to see period homes furnished and decorated with a well-curated vintage style. Perhaps you have upcycled pieces you are proud of, or an eclectic collection.
Sponsored by Victorian Dreams
Victorian Dreams is a vintage bed specialist offering sales, restoration and widening of period metal, upholstered and wooden beds, plus bespoke mattresses, soft furnishings and interior design from its Hampshire showroom. Visit victorian-dreams.co.uk.
Enter today for your chance to win
The winning entries will be announced in Period Living's November 2021 issue, and winning homes and gardens will be featured in full in future issues. Fill in the entry form here.  
I'm the homes editor of Period Living magazine and an experienced writer on interiors and gardens. I've also moved house quite a few times – totting up 10 homes in 12 years during a particularly nomadic time in my life. I like to think that makes me quite the homes expert, or at least very experienced and with a clear idea of what I like and don't like in a home. 
I love visiting and writing about old houses for Homes & Gardens' sister magazine Period Living and working with photographers to capture all kinds of historic properties. It's inspiring to talk to people about their traditional homes and to hear the stories behind their furnishing and decorating choices. And by the time I've finished an interview with a homeowner I've always got a handful of new ideas to try in my own house, as well as plenty of good stories for the magazine. It's the perfect work-life balance.