The winners of Period Living's Home & Garden of the Year awards 2021
After a whirlwind tour visiting and photographing the beautiful homes and gardens shortlisted for Period Living magazine's awards, we're delighted to announce this year's winners…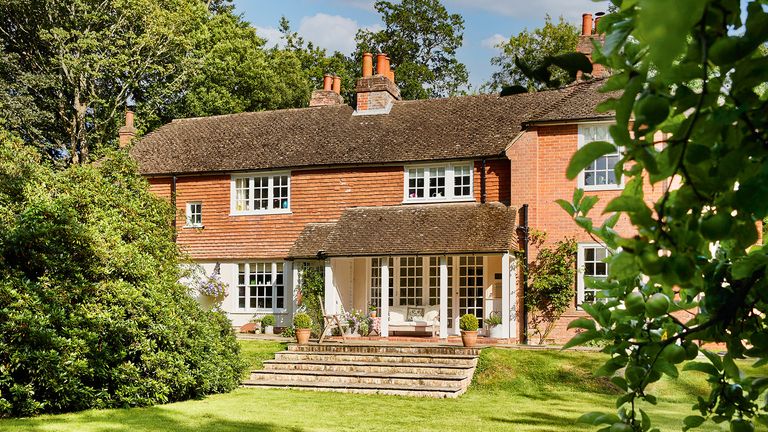 (Image credit: Darren Chung)
By Karen Darlow published
Homes & Gardens' sister magazine Period Living is delighted to announce the winners of the 2021 Home & Garden of the Year Awards
A renovated Berkshire farmhouse dating back to the 18th century has been named this year's Home of the Year, while the typical English country garden surrounding a former gamekeeper's cottage wins Garden of the Year.
Other category winners include a historic thatched cottage in the heart of Thomas Hardy country, a Victorian cottage with a secret garden, a converted granary in Oxfordshire, and the prettiest little courtyard garden belonging to a 16th-century home.
The winning projects will be featured in full in Period Living magazine over the coming months, but for now here's a sneak preview of the 2021 winners.
The overall winner – Home of the Year 2021
Scooping the top prize is a once-dilapidated 18th-century farmhouse in Berkshire, brought back from the brink of demolition.
The front section of the house had to be rebuilt completely as the two-storey bay had come adrift from the main building. The owners Tanya and James Greenham also had to reunite two sides of the house that had been divided over 60 years ago.
'We decided to keep two staircases, two front doors and two back doors as we felt these were part of the character of the farmhouse, along with the original sash windows, shutters and fireplaces,' says Tanya.
Editor Melanie Griffiths says: 'Tanya and James have carried out a radical renovation but have remained respectful of the home's origins, preserving and restoring period features and updating it in a way that works just as well with its history as it does with modern-day living. It is the well-deserved winner of our Home of the Year Awards.'
Garden of the Year
A disintegrating 18th-century gamekeeper's cottage and an acre of heavy clay – albeit in a picturesque spot – might not seem the most promising foundation for a beautiful family home and garden. Yet over the past 35 years, Erica and John Bibbings have gradually transformed this plot that was in desperate need of TLC, into the vision of beauty it is today.
Alongside repositioning and rebuilding the house, the couple have created blooming herbaceous borders, nurtured jewel-toned roses to clamber over the old brick walls; planted orchard trees and avenues of pleached hornbeam, Irish yew and clipped box; re-established an old pond; built a walled kitchen garden using reclaimed bricks from a Victorian hospital, and so much more.
'For years I have got up at 7am to spend an hour in the garden. I am completely addicted to it,' explains Erica.
Content editor Rachel Crow says: 'We loved the story behind the creation of this magical English country garden; how it has slowly evolved over the years through the owners' dedication and hard work, and how they also paid homage to its history.
It is a worthy winner.'
Best vintage style
Clare Pearne and her partner Steve were looking for a renovated character property with room for family to stay and a shop and pub nearby. 'The cottage we actually bought didn't tick any of those boxes!' says Clare. 'Our first glimpse of the cottage and its secret garden, behind the high wisteria-clad walls was all it took.'
Six years on, Clare and Steve have rejuvenated it, inside and out. Steve has converted an outbuilding into a self-contained two-storey guest annexe, and
in the main cottage he and Clare fitted a new kitchen and bathroom, and added a garden room. The additions and original spaces are all furnished in vintage style with artistic details that give the property character, and complement its setting and period features.
Homes editor Karen Darlow says: 'We were captivated by this Victorian cottage and by the work Clare and Steve have done to enhance its vintage charm. The cottage is at one with its peaceful surroundings, nestled in an idyllic garden,
with views across the fields.'
Best project
A converted granary, built of Cotswold stone near the Thames in Oxfordshire, became Alick and Julie Kitchin's home in 2017.
The farm building was listed in 1984 and had been converted into a home in 2011. But, as Alick explains, there was a lot of work to do. 'Behind the pretty façade, the interior was dark, with cramped rooms and modern, low-cost fittings, and the garden was mostly grass, wasting the potential of the outside space.'
Alick and Julie embarked on a series of projects to reconfigure the living space and bring the building back to life. The couple's lockdown project was to improve the outdoor space, and the sheltered walled garden has been divided into a series of 'garden rooms' with five separate seating areas.
Features writer Holly Reaney says: 'With creativity and hard graft, Alick and Julie have made this unusual space work for them, still keeping a sense of the granary's original purpose.'
Best listed home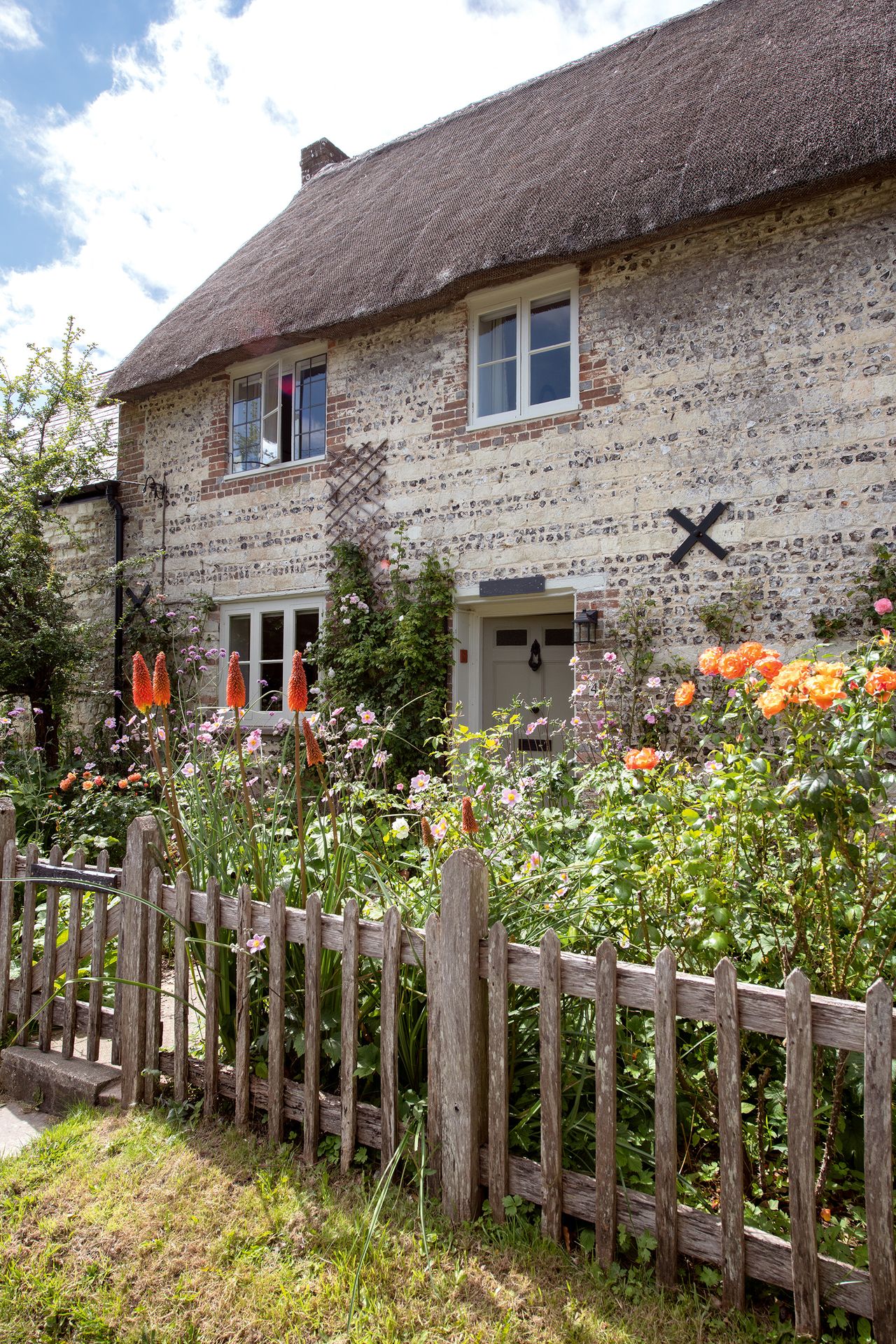 Beverley and Andy Brown's Grade II-listed flint and chalk cottage is set in the heart of West Dorset – Thomas Hardy country – and dates back to the mid-1700s. It is thatched, its walls are two-feet thick, and the floors slope, but the Browns fell in love with it, as did the Period Living team.
Since moving in, the couple have worked with the local conservation officer to carry out a sympathetic renovation, which has included removing the cement render that was suffocating the walls. 'It is not over-restored – you can still see the lumps and bumps, and the history and evolution of the house is clearly visible,' says Beverley.
Style editor Pippa Blenkinsop says: 'Owning a listed property is full of challenges and regulations, and with her light-touch approach to restoring this dreamy cottage, Beverley has risen to those admirably, creating a comfortable, relaxed home where the original features have been allowed to shine.'
Best small garden
When Sharron Pashley moved into her 16th-century home in 2017, the small courtyard garden was laid to gravel, with a rotten pergola and enormous shed taking up a large proportion of the 3.5 metres wide by 12 metres deep area. Undeterred by its size, her vision was to create an idyllic cottage garden feel.
Bradstone carpet stones now create a cobbled effect to complement the historic home, while a mix of cottage garden favorites planted in containers, including hydrangeas, lavender, clematis, roses and jasmine, fill the space with color and scent. Displays of vintage railway memorabilia and enamel signs add the finishing touches.
'Four years after moving in, our courtyard garden is now our pride and joy, and was an absolute sanctuary during lockdown,' says Sharron.
Content editor Rachel Crow says: 'We were inspired by how Sharron has proved that
the size of your outdoor space is no obstacle to creating a dream garden. She has achieved so much with her small plot, and her clever use of landscaping and garden features makes the space feel so much larger.'
Thank you to the sponsors
Home of the Year
Sponsored by Thermafleece
Thermafleece is the leading brand of British sheep's wool and recycled insulation. Using the wool from British hill sheep, the insulation is manufactured in the UK to meet the highest quality and performance standards. For more details visit Thermafleece.
Best Project
Sponsored by Shuttercraft
Shuttercraft is one of the UK's largest shutter and blind companies, expertly installing premium, made-to-measure products that transform people's homes across the country. With a huge range of materials, styles and colours, there's something for everyone. Visit Shuttercraft for more details.
Best Listed Home
Sponsored by The Sash Window Workshop
The Sash Window Workshop specialises in manufacturing and installing high-quality, traditional timber windows and doors, which are designed to improve energy efficiency, while preserving the character of your home. For more details visit The Sash Window Workshop.
Best Vintage Style
Sponsored by Victorian Dreams
Victorian Dreams is a vintage bed specialist offering sales, restoration and widening of period metal, upholstered and wooden beds, plus bespoke mattresses, soft furnishings and interior design from its Hampshire showroom. Visit Victorian Dreams for more information.
This feature was created by H&G sister brand, Period Living magazine
Subscribe to Period Living for more inspiration
Period Living is the UK's best-selling period homes magazine. A subscription provides you with all you need to know about caring for and improving a traditional house and garden
I'm the homes editor of Period Living magazine and an experienced writer on interiors and gardens. I've also moved house quite a few times – totting up 10 homes in 12 years during a particularly nomadic time in my life. I like to think that makes me quite the homes expert, or at least very experienced and with a clear idea of what I like and don't like in a home.
I love visiting and writing about old houses for Homes & Gardens' sister magazine Period Living and working with photographers to capture all kinds of historic properties. It's inspiring to talk to people about their traditional homes and to hear the stories behind their furnishing and decorating choices. And by the time I've finished an interview with a homeowner I've always got a handful of new ideas to try in my own house, as well as plenty of good stories for the magazine. It's the perfect work-life balance.