Why Shea McGee – and other interior designers – use heavy-feel napkins in powder rooms
The one detail you really need in your powder room if you are entertaining, according to interior design experts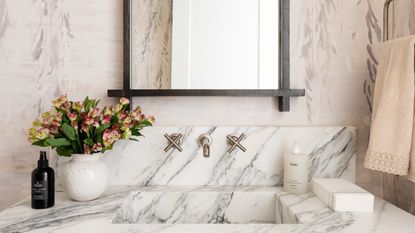 (Image credit: Design: Studio McGee/ Photography: Lucy Call )
A beautiful powder room is an instantly welcoming space for your guests. If you are planning on entertaining this fall and winter, then preparing your powder room will be an important task – it's the one room that definitely will be used by your guests.
Likewise, if you are selling your home, a powder room will be of interest to potential buyers, who always value these half-bathroom spaces highly.
Powder room ideas often focus on high-end sanitaryware, imaginative wall coverings, and luxurious toiletries. As it turns out, however, there is one small but important element that you may be overlooking, and that could make all the difference.
The detail we're talking about is... heavy-feel paper napkins. We are talking about the kind of paper napkins that feel as thick and smooth as linen or cotton, but are, in fact, made from paper and are disposable.
We first spotted a stack of pristine napkins in a powder room design by Shea McGee. In a Studio McGee blog post, the interior designers explained their choice: 'This year, we're styling soft paper napkins next to our handwashing station for the ultimate sanitary, hotel-like experience.'
It makes perfect sense. The Covid era has shifted our perspectives on hygiene. What was once perfectly acceptable – the guest towel – may be less so now that we are all more hygiene-conscious.
Marco Bizzley, a certified interior designer with 9 years of experience and consultant at House Grail, adds that 'it's always good to use heavy-feel napkins over guest towels' because 'most people don't want to reuse the hand towel all of the other people have been using, and it's even worse when it's still damp.'
If you're wondering about choosing paper napkins online, Marco's advice is to 'always go for two-ply and look for napkins that have patterns on them. They will be more absorbent than those that are flat. When choosing the color, white always looks crisp and clean.'
The napkins used in the Shea McGee powder room are from Amazon, which is probably your best bet for finding the high-quality stuff.
As for styling your paper napkins in your powder room, Marco recommends getting 'a holder of some sort, so they are easy to grab. You can use ones that hang from the wall, or they have a wide variety of ones that come as bathroom caddies.'
You want those napkins to lie in a perfect stack and not collapse and end up littering the floor.
We'll be honest: heavy-feel napkins aren't the most environmentally-friendly choice. However, if you're only using them when you have guests, they'll be much appreciated. As far as cloakroom ideas for entertaining go, you can't go wrong with this luxurious detail.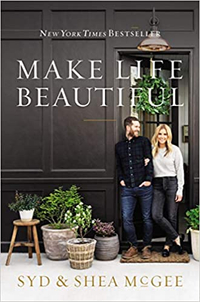 Make Life Beautiful by Shea and Syd McGee | from $13.95 on Amazon
In this New York Times bestseller, Shea and Syd McGee offer fans insight into how they started Studio McGee. The autobiography tracks the couple's journey as they built their business from the ground up.
Sign up to the Homes & Gardens newsletter
Decor Ideas. Project Inspiration. Expert Advice. Delivered to your inbox.
Anna K. Cottrell is now a freelance writer, having previously been a Content Editor for Future's homes titles. She writes about interior design, property, and gardening. On H&G, she specialized in writing about property – buying, selling, renting – sustainability and eco issues.