10 features a super-prime property has – what a post-pandemic home needs to top $10 million
These are the pre-requisites that big spenders are looking for when splashing out over $10 million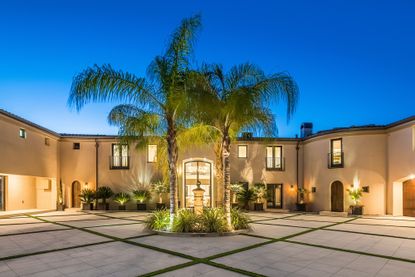 (Image credit: James Larieau Photography for Golden Gate Sotheby's International Realty)
You might expect a 30-car garage or a full team of staff to be pre-requisites for a 'super-prime property' but Sotheby's International Realty has discovered what really makes a $10 million-plus home in a new study.
The upscale real estate brand has just released its inaugural 2021 Luxury Outlook report, which examines the global luxury property market in light of the Covid-19 pandemic.
Part of this included a piece of research on the kinds of amenities realtors and buyers expect in a $10 million–plus home and how this has changed as a result of the pandemic.
See: World's best homes – tour the globe's most awe-inspiring houses
These included the need for privacy and security, defined rooms and a focus on sustainable features, as well as more glamorous asks like a home theater or basketball court.
A home is no longer just a place to sleep after long days in the office and long nights out in town. It's were we sleep, work, exercise, unwind, entertain and, sometimes, educate. While the Covid-19 vaccine marks the start of a gradual return to normalcy, the new features people desire are likely to remain.
See the 10 features that make a 'super-prime property' worth its eight digits below.
1. A large footprint
Superlative size was one of the most frequent reasons cited on the survey of what contributed to a $10 million–plus sale. This includes a 10,000-plus square-foot home on 62 acres outside of Telluride and villas in Zurich and St. Croix.
See: Obama house – tour Barack and Michelle's new Martha's Vineyard home
2. Lots of land
Many respondents to the survey, including those in Auckland, New Zealand, and New Delhi, cited 'large acreage' or 'sprawling retreat' as a key selling point for a US$10 million–plus property.
3. Proximity to natural beauty
Views are always in demand. But in the survey, both views and proximity to natural beauty factored into the equation, with respondents noting that closeness to parks, mountains, and beaches was often a major selling point
4. Defined rooms
While open floor plans still sell, some agents have noted that separate spaces for cooking, dining, and working were preferred during this extended time at home. There has also been a return of the dining room, which many had begun to count out in favour of sprawling great rooms, that could inspire some sellers to carve out more distinct living spaces before listing.
5. Focus on health and wellness
Features that target emotional and spiritual wellness, such as spaces for meditation and massage and outdoor gardens and areas where homeowners can find a sense of calm, also improve a home's value.
6. Privacy and security
Privacy and security frequently showed up as important factors in the survey. For instance, in Taiwan, a 'highly secured luxury apartment' recently sold for around US$10 million. Gated entry, privacy fences, or high-tech security systems are all ways to give a luxury home some added appeal.
7. Amenities galore
The decked-out home office, home gym, and pools are as in-demand as ever. But affluent buyers today also want a variety of recreation options, which might include a yoga studio, basketball or tennis court, and home theater. They want spacious entertainment areas to host their Covid-19 'bubble', and a kitchen that can produce restaurant-quality meals.
See: Paul Simon's home in Connecticut is on the market – take a tour of this elegant property
8. Sustainable features
In some markets, especially those driven by the tech industry or with high levels of education, adding 'green' elements instantly boosted a home's value and appeal. Buyers are looking for sustainable materials, such as bamboo, solar panels, geothermal heat, and greywater systems that divert some wastewater to watering the garden. Even simply adding an electric vehicle charging station may help get more eyes on a property.
9. Move-in ready
A near-universal trend among properties that sold for $10 million–plus was that they needed no updating. How do you get family members who have to work and learn from home out of the house so that renovations can be completed? Add to that the shortage of building materials and skilled workers, and a challenging process becomes impossible.
10. Outdoor space
Outdoor space, even in luxury condominiums, is now essential, and many wealthy buyers want more of it. For instance, they may want to exercise outdoors, and also have a place for their kids to play and another to host guests and entertain. All outdoor space should be attractive and well-maintained.
Visit Sotheby's International Realty to see a host of 'super-prime homes' for sale.
Sign up to the Homes & Gardens newsletter
Decor Ideas. Project Inspiration. Expert Advice. Delivered to your inbox.
Ruth Doherty is an experienced digital writer and editor specializing in interiors, travel and lifestyle. With 20 years of writing for national sites under her belt, she's worked for the likes of Livingetc.com, Standard, Ideal Home, Stylist and Marie Claire as well as Homes & Gardens.