Turn up the heat – and style – this winter
Adding radiators to old homes may seem a daunting task, but get it right and your home will be warm and cosy – and cheaper to run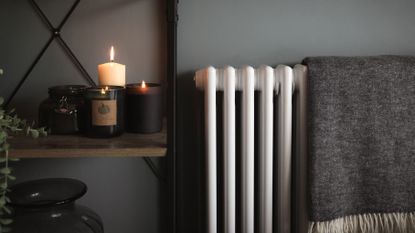 (Image credit: Radiator Outlet)
Period homes have a reputation for being cold, draughty and expensive to keep warm – but with some considered investment it needn't be that way. An often overlooked element of our interiors, radiators are a key part of a room, especially in an old home. Not just because they provide us with heat, though that's their most important job: they also need to blend in with our scheme and fit around our existing furniture and fittings. All of this makes choosing a new one, whether to replace an outdated existing model or to warm up a new room, a tricky job. There is a lot to think about, from the type of radiator – plumbed-in or electric? – to the style, size, and shape.
Luckily, you don't need to lose any sleep over it. So many options on the market mean that it's easier than it has ever been to choose a traditional model that's right for your space – and your budget. If you're looking at the cheaper end of the spectrum and replacing an existing radiator, you're going to want to stick with your current position. However, quality radiators need not cost the earth. Radiator Outlet makes its own products, ensuring high-quality home heating with no corners cut when it comes to materials used or the manufacturing process, all at affordable prices too.
Are radiators right for my home?
Central heating radiators were a late Victorian phenomenon, although they look good in almost every era of home. Authentic cast-iron column designs vary from the simple pillar radiators you may remember from school, which were inevitably covered in layer upon layer of gloss, to beautiful ornate versions, which may be polished or painted. For a contemporary twist, look at minimalist polished stainless-steel radiators, statement paint colours or industrial finishes, such as copper.
Which radiator is best?
Although invented in the mid-1800s, it wasn't until the end of the 19th century that radiators became commonplace in the home. Today, there are myriad designs and sizes. While interior design trends tend to focus on minimal and invisible forms of heating, there's still room for Victorian-style column designs in period homes. Thankfully, modern versions are far more effective and efficient than the originals.
New column radiator models are designed to work much more efficiently than earlier designs. Often made from steel, they boast fast heating times and are easily controllable. On the other hand, traditional cast-iron radiators are still very desirable features, particularly in Victorian homes. While they can take a while to warm up, are heavy and less sensitive to control, they can retain heat for a long time, and so smaller cast-iron models often have the same heat output as larger aluminium or steel designs.
Do I need valves?
Make sure you invest in quality valves in-keeping with the look of your radiators. Thermostatic radiator valves (TRVs) are self-regulating and control the temperature of a room by changing the flow of hot water to the radiator. This makes the system work more efficiently.
What size do I need?
If your radiator is too large then your home will overheat; if it's too small, you'll be cold. Size is not only affected by the size of the space and insulation levels but also by the heat output of the individual radiator – as measured in BTUs (British Thermal Units). A heating engineer can work this out for you.
To see more of Radiator Outlet's wide choice of radiators and to get details of its swift service, go to Radiator Outlet (opens in new tab).
As the UK's first-ever home interest magazine, Homes & Gardens has been shaping British style for 100 years. Our core pillars are inspirational interiors, stylish decorating, beautiful gardens and fascinating stories. With the values of timeless style and considered elegance at our heart, we show an affection for heritage whilst also championing the future, from emerging designers to latest trends. The Homes & Gardens website brings all our beautiful content online, with a focus on stunning room ideas, expert advice from interior designers, architects and design professionals, and more practical expertise, too, on caring for and improving your home. Our website is updated and added to daily and we're delighted to welcome more than 6 million readers monthly. Of course, we've assembled a cracking team of experts in their fields to deliver all this stunning inspiration to you, and we'd love to introduce them. Their contact details are below, too.