7 wellness tips to find inner peace – and the buys you need to achieve it
Feeling blue? Allow these wellness tips to guide you through all your pandemic-related anxieties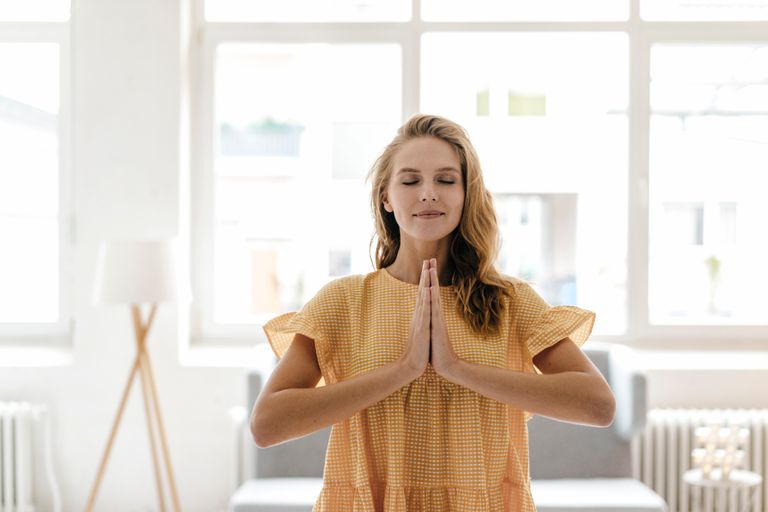 (Image credit: Getty Images)
We don't have a clue what the future holds, but the one thing we do know? That the only way to get over any hurdle or obstacle plaguing ourselves is by stepping back, removing ourselves from a situation, and treating ourselves to some much-needed TLC. 
So, while we can't say 2021 will be better and brighter (though we do hope!), what we can say is: the only way to move forward more positively (than we had in 2020) is finding wellness tips to lift our moods. 
If like Marie Kondo you find joy in restoring order in your life, the best wellness tip might be something as simple as investing in storage boxes to declutter; for others, perhaps lighting an aromatherapy candle at bathtime; for someone else, it might be finding the best tea kettle to brew up the perfect cup. 
Whatever wellness practices you decide to participate in, it all comes down to your personal preference. It's crucial to align yourself with items that spark joy, but if you're struggling to find your je ne sais quoi, we, of course, can help you along the way. 
From calming candles to arm weights, we've found seven of the best wellness buys to aid you in finding your inner peace.  
1. Make your morning brew a ritual with a new tea kettle
Numerous studies have shown that a handful of different teas can boost your immune system and even fight off inflammation, putting the need for a tea kettle at the top of our lists. Whether you're looking to improve your overall health or hoping to add a little normalcy back into your morning, tea kettles are an excellent way to impact your wellness positively. 
2. Allow yourself to unwind after a long, stressful day courtesy of this super soak
When treating mental and physical ailments, bath soaks are often a staple in most households. Many formulas include magnesium sulfate (Epsom salt) or sea salt, which easily dissolve in warm water and are known for their stress relieving benefits with ache and pains. 
3. A rejuvenation wand that will brighten up your mood in more ways than one
We're all confined to our homes and, as a result, season affective disorder (SAD) is at an all-time high. Light therapy is an excellent way to help brighten up your mood – we're big fans of it here at H&G. However, most spas offering these light therapy treatments are currently closed, meaning we're left to get a bit creative. 
Enter: rejuvenation wands. 
Not only will they improve your mood, but they'll simultaneously work to fight off a variety of skin issues.
4. A calming candle to help you find your center
Aromatherapy candles can help you relax, feel calm, energized, and allow your brain to become more productive. While every scent offers its own healing powers, lavender is amongst one of the most highly-coveted. Lavender is known for its ability to ease your mind and relieve stress. 
5. A weighted accessory that can be worn during your Zoom sessions
Regular exercise can also help you sleep better, reduce stress, control your weight, brighten your mood, as well as sharpen your mental functioning. While there are various programs and equipment that are all exceptional to use, we recommend turning your attention to one accessory. Let's take a weighted band, for example: whether you're sitting in on a Zoom call, running up and down your stairs, or embracing a HIIT class, this easy-to-wear piece will bring peace of mind all day long. 
6. A cordless vacuum to restore order in your home and life
Cleaning your home when stressed is actually something health experts recommend doing. A clean home can strengthen your immune system and help you avoid illnesses. Additionally, it can reduce stress and depression while restoring order. We think Marie Kondo would approve.
7. A diffuser that can be pre-scheduled on your smartphone
A diffuser does not just elevates mood, but many use it to reduce anxiety. It creates a calming effect in your home that is essential when you're depressed or feeling burned out. Plus, it promotes an atmosphere to inspire your highest spirit (and that's something we all need right about now).