How to fredagsmys: 5 top tips for embracing the new must-do Swedish lifestyle trend
This is the ultimate Friday night in...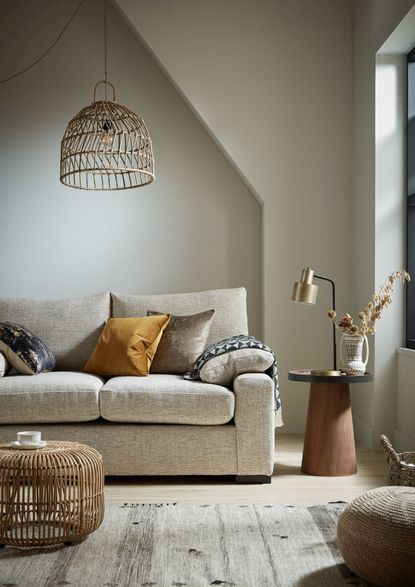 (Image credit: Sofology)
Sign up to the Homes & Gardens newsletter
Decor Ideas. Project Inspiration. Expert Advice. Delivered to your inbox.
Thank you for signing up to Homes & Gardens. You will receive a verification email shortly.
There was a problem. Please refresh the page and try again.
If there's one thing that Scandinavians can teach us, it's how to get through those long winter evenings spent at home. The new lifestyle trend you need to know? The art of fredagsmys.
People in the Nordic region of Denmark, Norway, Sweden, Finland and Iceland are used to long, dark and cold winters, and the climate they face has brought us soothing lifestyle trends, including the now universally-known hygge.
Luckily for those of us who are all hygge-d out, there's a new alternative. Fredagsmys (pronounced frey-dags-mees) is the weekly Swedish ritual that can help all of us through 2021's winter lockdown.


The 'mys' part of fredagsmys is the Swedish word for coziness, but it encompasses much more than that for Swedes. This term is almost a frame of mind, and all kinds of words can be constructed out of it: myskväll (cosy evening), höstmys (autumn cosiness), vintermys (winter cosiness), mystofflor (cosy slippers) or, last but not least, the weekly tradition of fredagsmys (Friday cosiness).
This is when you gather in front of the TV with your whole family and eat kebabpizza — a Swedish fusion of kebab and pizza, with iceberg lettuce and yogurt sauce on top. Fredagsmys turns 'staying in' into something fun and eventful, which could be just what's needed to make lockdown more interesting. 


So, how do you fredagsmys? It's time to find out. Here are the top tips from resident Swedish expert Hedda Carleson, from the language learning app Babbel on how to create a truly cosy Friday.
How to fredagsmys
It's all about kicking back...
1. Comfort is key
You can't be cosy if you're not comfortable. A key part of fredagsmys is wearing your loungewear with pride whilst you relax and unwind on the sofa: It's time to go all out. Find your warmest, softest clothes, get out the blankets, make a den and find someone (or something) to cuddle with. You won't be moving for a while. Candles, fairy lights and dim lighting are also encouraged for that ultimate super-snug feeling.
2. Gather your favorite people
It's unsurprising that a proper fredagsmys requires good company. The good news is that fredagsmys doesn't discriminate: whether you want to spend it with family, friends or just a partner is entirely up to you.
Given the current circumstances, you may have to settle for bringing others to fredagsmys via video calls, but the concept is still the same. Gather your loved ones in a judgement-free zone and get ready to enjoy a very languid evening.
See: Friluftsliv is the ultimate lifestyle trend we're embracing for 2021
3. Enjoy a snack attack
Interestingly, fredagsmys started out as quite a successful marketing campaign for crisps in the 1990s, and this is where the famous song comes from. However, don't let this deter you - it's the spirit of fredagsmys that's lived on for the last two decades, and that spirit is all about snacking and sharing all kinds of food.
A popular dinner choice for Swedes practising this would be pizza or tacos, because a Swedish Friday evening is all about messy, comforting fare; the sloppier the better. Grab your favourite treats and settle down for the evening, because fredagsmys is a time for indulgence.
4. Sing a song
Get into the groove with the official Fredagsmys song. Fredagsmys is such an event that it comes with its own theme tune. Even though it aired 20 years ago, most Swedes will recognise the crisp commercial's signature tune. Watch it here - time to practise your Swedish!
See: Marie Kondo reveals her top 5 tidying tips
5. Pick your TV indulgence
The final important component to a successful fredagsmys is that it's spent in front of the television. Whether you choose a Netflix binge, trashy programme, or a high-brow film is up to you entirely, as everyone will have their own idea of what cosy television is.
With that said, the beating heart of a fredagsmys is guilt-free indulgence, so watching cheesy programs without feeling bad about it is highly recommended. Now is the time to switch off, relax, and forget about the harsh world outside. Find something that helps you escape and unwind, and melt into a wonderfully placid night.
Sign up to the Homes & Gardens newsletter
Decor Ideas. Project Inspiration. Expert Advice. Delivered to your inbox.
Ruth Doherty is an experienced digital writer and editor specializing in interiors, travel and lifestyle. With 20 years of writing for national sites under her belt, she's worked for the likes of Livingetc.com, Standard, Ideal Home, Stylist and Marie Claire as well as Homes & Gardens.