5 ways to happy-proof your home for 2021 – from color therapy to display tricks
Don't worry, be happy... How to ensure your home boosts your mood and your wellbeing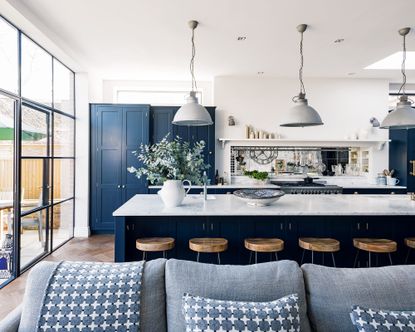 (Image credit: Future)
A new year is a great time to focus on ourselves and our wellbeing. This past year we have spent more time at home than ever before, so it's never been more important to ensure our homes are making us happy.
Your home's interior can significantly affect your mood, with a whole host of things including colour, lighting and furnishings impacting how we feel every day.
Nima Ghasri, Director at Good Move, says: 'Our interior choices can drastically impact our mood, so it's important to be choosing the right decor to help contribute to a happy outlook.'
From choosing the right colours to decluttering your space, these expert tips will happy-proof your home, ready for the year ahead.
1. Color me happy
Choosing the right color is is one of the easiest ways to happy-proof your home. Colors can enhance your emotion and completely change the way we feel. So, which color is best for a mood-boost?
NEUTRALS
Black: Makes a statement but should be used sparingly as it can make us feel sad.
White: Clean and crisp, great for smaller spaces to make them look larger.
Grey: Evokes feelings of relaxation and tranquillity; good for bathrooms and bedrooms.
COOLS
Blue: Fresh and calm, ideal for kitchens and bathrooms.
Purple: Evokes feelings of sophistication and luxury, great for bedrooms.
Brown: A neutral and natural shade, best for hallways and dining rooms.
Green: Soothing and fresh, ideal for living spaces and kitchens.
BRIGHTS
Yellow: Makes us feel happy and cheerful. Great for kitchens or home offices.
Orange: Helps us feel energised – great for a home office.
Red: A bold statement, it symbolises passion but can evoke anger. Use sparingly.
Pink: A calmer alternative to red. Ideal for bedrooms and living areas.
2. Declutter your color scheme
We all know by now what Marie Kondo has to say about decluttering: keep only the things that spark joy and get rid of anything that doesn't.
See: Marie Kondo reveals her top 5 tidying tips
But it's not just physical clutter that can add to stress – a cluttered color scheme can have the same effect. So, using the time we are spending at home now to rethink how your rooms could feel calmer with clever color tricks.
This might mean rethinking wall colors – taking color therapy tips from above – or simply swapping out cushions, throws or pieces of furniture that make your decorative scheme feel busy. Doing so will make your rooms feel more restful – and surprisingly bigger, too. Boost the effect by hanging a mirror strategically – more light in your rooms can help with wellbeing, too.
3. Bring the outside in
Another great way of making yourself feel happy while at home is to bring the outside in. Keeping blinds and curtains open to allow natural light into your home is a great way of doing this. And, as we continue to spend a lot of time at home this year, positioning your home office space in a room that has a view to your garden or the outside can really help boost productivity and focus.
If you don't have that luxury, use house plants help to clean the air, improve concentration, and reduce anxiety.
4. Get the lighting right
Lighting influences our moods, with dim lighting making us feel sleepy and unproductive, and bright, natural lighting helping to increase focus and productivity. A lack of natural light can lead to low mood, so try boost natural light as much as you can throughout your home.
5. Make it personal (and treat yourself)
It's always a good idea to fill your home with things that make you happy. And, as we spend time away from our loved ones, stocking up with pictures of family and friends will instantly cheer you up.
Create a space to display fresh flowers, books, ceramics, pretty pots and any of your treasured objects for an instant pick-me-up.
Many of us have bought new things for our homes this year, and a brand new home accessory, whether that be a new cushion or a print for the wall, will help transform your space and breathe a new lease of life into the area. If you've had your eye on something for a while, now's the perfect time to treat yourself.
Thanks to Good Move for their help with this feature
Sign up to the Homes & Gardens newsletter
Decor Ideas. Project Inspiration. Expert Advice. Delivered to your inbox.
Ruth Doherty is an experienced digital writer and editor specializing in interiors, travel and lifestyle. With 20 years of writing for national sites under her belt, she's worked for the likes of Livingetc.com, Standard, Ideal Home, Stylist and Marie Claire as well as Homes & Gardens.