KitchenAid Cordless 5 Cup Food Chopper review
The KitchenAid Cordless 5 Cup Food Chopper is ideal for ingredient prep, and its battery-powered design can be used anywhere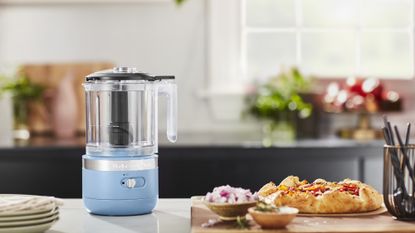 (Image credit: KitchenAid)
With a range of attachments and portable design, the KitchenAid Cordless 5 Cup Food Chopper could persuade you to go cordless.
Reasons to buy
+

Lightweight

+

Cordless operation

+

Whisking attachment

+

In-bowl storage

+

Easy to clean

+

Multiple colors
Reasons to avoid
-

Uneven chopping

-

On the smaller side
You can trust Homes & Gardens. Our expert reviewers spend hours testing and comparing the latest products, helping you choose the best for you. Find out more about how we test.
If you don't want (or need) a full-size food processor, a "chopper" might be a better addition to your kitchen. These gadgets are basically mini food processors, featuring a smaller capacity and pared-down features. However, the KitchenAid Cordless 5 Cup Food Chopper is still an extremely valuable tool in the kitchen, as it can make ingredient prep much faster and easier.
The KitchenAid Cordless Food Chopper has a modest 5-cup capacity and comes with a stainless steel blade, as well as a whisk accessory, but the appliance's major selling point is that it's battery-operated. After charging up the food chopper, you can use it virtually anywhere thanks to its cord-free design, and the battery can chop up to 40 onions before needing to be recharged. It's certainly a unique design, and we wanted to see how this product stacked up against the best food processors we've tested.
Over the course of a week or so, I used the KitchenAid Cordless Food Chopper for a variety of tasks, including both chopping and whisking ingredients. Some of its features take getting used to, but overall, I thought it was an incredibly convenient device that's easy to operate and makes meal prep much faster.
KitchenAid Cordless 5 Cup Food Chopper specs
Power: 12-volt lithium battery
Capacity: 5 cups
Size: 6.61 x 5.51 x 10.39 inches
Weight: 2.79 pounds
Included: Multi-purpose stainless steel blade, whisk accessory, charger
Unboxing
The KitchenAid Cordless Food Chopper comes in a fairly compact box, and the whole unit weighs less than 3 pounds. In the package, I found the base of the chopper, the work bowl with the two attachments inside, and the unit's charger. The pieces were packaged in styrofoam and wrapped in a thin layer of padding for protection.
It took me a few tries to put the work bowl onto the base—I was tripped by by the fact that it locks into place counter-clockwise (most food processors lock into place clockwise).
The lid operates the same way. From here, it was a matter of charging the unit before use. The charger plugs into the front of the base, and a green light flashes as it charges. After around two hours, the green light turned solid, and it was ready to use.
Making salad
The first recipe I made with the KitchenAid Food Chopper was a delicious summertime salad. In addition to lettuce, grilled chicken, avocado, and mango, the recipe called for diced red onion – a perfect task to delegate to the chopper. The onion I had was fairly large, so I sliced off about a third of it and put the pieces into the chopper, along with the slicing blade.
Once I put the lid back on, I slid the control dial to the 1 setting, but nothing happened. I had to consult the instruction manual to see why the chopper wasn't working (something I probably should have done in the first place), and it explained that you have to hold down the button on top of the handle to turn on the machine.
On one hand, this is a good thing, as it helps to keep the lightweight unit stable while in use, but it also means that you can't operate the unit hands-free.
With the dial on 1, I was able to pulse the handle button to chop up the onion to my desired level of fineness. Overall, the chopper did a decent job dicing the onion into uniform pieces. I stopped at one point to scrape down the sides and push a few larger pieces down, and the task was completed in around a minute.
This salad recipe also contained homemade dressing that included balsamic vinegar and olive oil whisked together. I rinsed out the chopper's work bowl and outfitted it with the whisk attachment, then added in the ingredients.
All I had to do was let the machine run for about 20 seconds, and it had mixed up the dressing perfectly. It was much faster than trying to whisk by hand, and the results were more consistent, too!
Making fruit salsa
Later that week, I had an excess of ripe fruit and leftover tortillas from taco night, so you know I had to make some fruit salsa with cinnamon-sugar tortilla chips. Instead of chopping all the fruit by hand, I decided to just use the KitchenAid to cut up everything.
First, I de-stemmed a cup or so of strawberries and put them into the work bowl. However, when I went to attach the bowl onto the base, the blade attachment got pushed upward and wouldn't go back down because the berries were in the way. I had to take it off, empty the bowl, attach the bowl to the base, put the blade in, then put the berries in. Lesson learned. After that, it just took a few pulses on the lower setting to get the berries chopped up.
After emptying the berries out of the work bowl, I cut up a mango and put those pieces into the chopper. For some reason, this didn't work well at all – maybe because the mango was so juicy. Several larger pieces weren't being cut up by the blades, and by the time they did get chopped up, the rest of the mango was basically a puree. I was fairly disappointed and tried to scoop out as many of the larger pieces as I could to use in the salsa.
Finally, I quartered an apple to round out my salsa. (I wasn't following a recipe – just using what I had in the fridge.) The chopper did better with this fruit since it was denser than the mango, but there were still several large chunks that didn't get chopped up with the rest.
It seems like the chopper does a better job with certain ingredients, like onions and strawberries, than others. While it wasn't the prettiest fruit salsa I've ever made, it still tasted great.
Making whipped cream
The marketing materials for the KitchenAid Cordless Food Chopper claim the whisk attachment can be used to make homemade whipped cream, and to be honest, I didn't really believe it and as such, wanted to try it out for myself.
I poured some heavy cream into the work bowl and added a spoonful of sugar, then I put the machine on power level 2. I held the pulse button down, and the whisking attachment started spinning at top speed.
I was shocked to find that within 20 seconds or so, the cream had stiffened up to a scoopable consistency! It wasn't as fluffy as whipped cream made in one of the best stand mixers, but it formed unbelievably quickly and tasted great. I think this might be my new go-to method of making homemade whipped cream.
Making pesto
As you may have noticed, this little chopper doesn't have a chute like a full-size food processor. However, it does have a circular indent on top of the lid, which the manual explained is for drizzling oil. To test this feature, I decided to make some pesto for pizza night – chicken pesto pizza with artichoke hearts is my absolute favorite!
I loaded a few cups of basil into the work bowl along with the chopping blade, then added in pine nuts and garlic. I ran the appliance on setting 1 for around 30 seconds to chop the ingredients into smaller pieces, and from there, I started adding oil into the drizzle basin.
True to its name, the little dispenser released a slow, steady stream of oil into the basil mixture. However, the recipe called for ¼ cup of olive oil, so I had to refill the basin five or six times, as it only holds around a tablespoon. Keep this in mind if you have a recipe that requires a large amount of oil.
It's worth mentioning that I only needed to charge the food chopper once to make all these recipes over the course of a week. The battery does seem to be quite long-lasting, and I was impressed at the amount of power it delivered.
Cleaning the KitchenAid Cordless 5 Cup Food Chopper
The KitchenAid Cordless 5 Cup Food Chopper is extremely easy to clean. All of the detachable components, including the work bowl and attachments, are dishwasher-safe, but I also found that they're quite easy to wash/rinse by hand, as there aren't too many nooks and crannies to get into.
Once everything is clean, you can easily store both attachments right inside the work bowl. There's even room for the charger in there, if you wanted to keep everything together.
Should you buy the KitchenAid Cordless 5 Cup Food Chopper?
At first, I wasn't convinced that a cordless food chopper was a necessary innovation –after all, I've used many corded food processors and choppers and never had a problem – but after spending time testing the KitchenAid Cordless Food Chopper, I understand the appeal. It's extremely convenient to place the appliance wherever I want, including right on my cutting board, without having to worry about it reaching an electrical outlet. Plus, the device delivers strong processing power that can handle most tasks, though it doesn't do as good a job creating uniform pieces as larger food processors.
At $90, this device is fairly pricey for its size – you can find small food choppers for as little as $20 – but it does offer a variety of useful features that compensate for the higher price tag. In addition to its cordless operation, it includes an awesome whisk attachment, as well as an oil drizzle basin that will come in handy for recipes like pesto or hummus.
About this review, and the reviewer
Camryn Rabideau is a freelance writer and product reviewer who has been testing small kitchen appliances (as well as other home goods) for several years. She's tested everything from toasters to oil infusion machines, and as an avid baker, she loves trying out any gadgets that promise to make her creations more delicious or easier to bake.
Camryn does her product testing from her small homestead in beautiful Rhode Island. When she's not tinkering around with the latest home gadgets, she spends her time tending to her animals, working in her garden, or crafting.