Tempur-Pedic TEMPUR-Ergo Smart Base powered by Sleeptracker-AI review
We tested the Tempur-Pedic Tempur-Ergo Smart Base, an adjustable base loaded with SmartTracking AI tech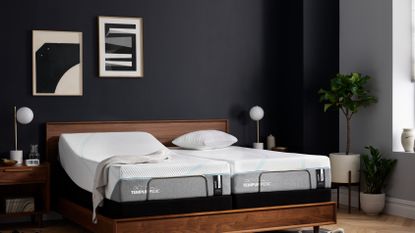 (Image credit: Tempur-Pedic)
The smartest complement to your bed: customize your position for your needs and track your sleep with detailed insight into your habits
Reasons to buy
+

TV-watching, zero-gravity, and anti-snore settings

+

Modern design

+

Integrates sleep tracking software for snore response

+

Controllable via a remote or through phone app

+

In-home delivery and set up
Reasons to avoid
-

Not returnable

-

Will need to consider your mattress protector/bedding

-
You can trust Homes & Gardens. Our expert reviewers spend hours testing and comparing the latest products, helping you choose the best for you. Find out more about how we test.
An adjustable base is the latest frontier in customizing your sleep, and at Tempur-Pedic, the bases are the ultimate accessory for better sleep. Alongside our trials of the Tempur-Pedic Pro-Adapt Medium Hybrid Mattress, we put the TEMPUR-Ergo Smart Base powered by Sleeptracker-AI through the paces.
Adjustable bed frames are typically selected based on functionality, and in upfront transparency, not everyone will need one. But for those who do, well your sleep is in for a big adjustment, for the better.
Adjustable bases are recommended for those with various sleep or medical issues, minimizing snoring, preventing acid reflux, increasing circulation, and increasing mobility. In our instance, considering the premium design and modern styling of the Tempur-Pedic ERGO Smart Base, but we also couldn't resist trying the sophisticated sleep tracking features.
So yes, once you've decided if the Tempur-ERGO Smart Base is the adjustable base right for you, it pairs perfectly with the majority of the best mattresses out there.
Tempur-Ergo Smart Base At A Glance
Sizes: Twin XL, Full, Queen, King, Cal King, Split King, Split Cal King
Weight limit: Up to 650 lb.
Leg Height: adjustable 3"-12"
Compatibility: Google Assistant, Amazon Alexa
MSRP: $1,799- $3,598
Who will the Tempur-Ergo Smart Base suit?
Those who deal with sleep issues like snoring, sleep apnea, acid reflux, restless legs, and more: sleeping elevated can help alleviate these sleep issues
Couples: Both sleepers can get their own sleep insights, but if you opt for the split models, both sleepers can control how their bed adjusts, too.
Those looking for a premium adjustable base: Maybe you're ready to upgrade from a design that simply lifted up and down, or planning to go straight to the bells and whistles of sleep products.
Tempur-Ergo Smart Base: Design
Though designed for Tempur-Pedic mattresses, you can use any mattress that is adjustable base compliant.
From an appearance standpoint, the ERGO Base has a sleek, modern design with charcoal-gray upholstery and black peg legs. These options are not customizable. A bar at the center edge of the bed helps keep it in place and is undetectable once covered with your blankets.
If their utilitarian design is not your cup of tea, the power bases have been known to fit within standard modern bed frames. Measure the inside of the bed frame and compare it to the measurements to ensure it will fit.
The leg attachments come in 3-inch increments that screw together, with the ability to add up to 12 inches of height between you and the floor. The base was installed with the 12", which lifted the bed a little higher off the ground. It has left plenty of room for storage, or for my dog to have a new hiding place/ running path.
According to the manual, the queen size can accommodate a weight of up to 600 pounds, but that weight should ideally be distributed across the bed with an ideal weight of up to 275 pounds. The lift motors are also not designed to operate continuously for more than two minutes in an 18-minute time period to not overwhelm the power supply.
The base lifts at the head and at the feet with the ability to go into pre-set positions like Zero-Gravity, Anti-Snore, or TV Watching as well as to adjust the heights to your own liking. The Zero Gravity position subtly elevates your head and feet to closely simulate weightlessness and help take the pressure off of your back, while Anti-Snore will tilt the mattress at the optimal position to reduce snoring. You can also save your favorite position for quick access. These settings can also all be reprogrammed as to what is most comfortable for you.
Both sides of the bed will elevate in tandem with the Queen, King and Cal versions, but if you opt for a split design, available in King and Cal King only and comprised to two Twin or Twin XL beds, each sleeper can modify their bed settings according to their particular needs independently.
Other convenient and truly premium, design features include its QuietMode motor, under-bed lighting and two USB ports on each side of the bed. There is also a 2-Zone massage that vibrates at your head and feet, but we do not imagine using it for prolonged use. The massage feature is helpful if using the gentle wake or as a pulse in response to snore detection. All is controlled through a wireless remote, or via the Tempur-Pedic Sleeptracker app.
The smart details
Now, what set the ERGO Smart Base apart from the ERGO Power Base? Well, the integration with Sleeptracker AI. The unobtrusive technology sits tucked away at the head of the bed and offers detailed insights into your sleep. A built-in sensor also monitors air purity, temperature, humidity, and carbon dioxide. Each "side of the bed" gets a tracker.
Sleep Tracking
I've used a lot of sleep trackers, but few seem to collate the data of the Sleeptracker AI. For the queen, two sensors are attached on either side of the bed. Within the app, you can designate who sleeps on what side. As I sleep alone I, unfortunately, can't confirm how it gets accurate info for both sleepers, but I did notice that if I only had one side of the bed designated, it still captured everything if I was on the other side. No wearable is required, and it knows when you're in bed sleeping, versus in bed, watching TV, so you don't even have to turn on sleep tracking.
In addition to common metrics like breath rate and heart rate and tracking the amount of time that you're awake or in Light, Deep, or REM Sleep, it also takes into account your bedroom environment with a graph that signifies if the carbon dioxide, air purity, humidity, and temperature are appropriate for sleeping. Combining this info, you'll get a sleep quality score.
It'll also give your comparisons to the previous night, and I like how a calendar makes it easy to track and see your sleep quality ratings over a period of time.
Within the app, you can also choose to listen to white noise, and create sleep goals and a schedule. You can also connect to your Amazon Alexa or Google Assistant to receive an audible summary.
Snore Response
So, your tracker identified you snored, now what? Well, when deep snoring is detected, the bed can gently raise itself into the Anti-Snore position or give you a little vibration or do both. For this feature, these settings need to be toggled on in the app. The vibration would also be felt on another side of the bed unless you had a split model as well.
Sleep Cycle Alarm
The sleep cycle alarm wakes you up based on your sleep cycle, within a window of time you need to get up. It can wake you with a gentle vibration or with music on your phone, but not both. Your phone is also required to turn off the alarm. The vibration from asleep was too jarring for me, so I'll be sticking to my typical alarm, but for others, it could truly be a gamechanger for those who are looking for different ways to wake up.
What's the Tempur-Ergo Smart Base like to sleep on?
The base itself is stable and pretty intuitive to use and each setting does exactly as performed. Though, from my experience, I did notice two things about the experience, and a wish to be developed:
The remote: The remote buttons light up once you press a feature, but if you're not familiar with the button placement, it's hard to see the buttons in the dark.
Consider your mattress protector and sheets. Since the bed will continuously be changing positions, you will want to seek out stretchy mattress protectors and perhaps sheets that can handle being stretched.
A wish: My father actually brought this idea up, and I had to commend him on the good idea. He suggested the ability to schedule the repositioning of the base, ideally through the app. His bedroom habits entail watching TV and then likely falling asleep in that position, so the ability for the base to automatically go into his ideal sleeping position at say, 11 p.m. would be a very useful feature.
Ordering, delivery, and set up
Our experience was directly through Tempur-Pedic's website, but you're also able to find Tempur-Pedic at major mattress stores like Mattress Firm and Macy's, which may have slightly different policies.
We ordered the Tempur-Ergo Smart Base alongside the Tempur-ProAdapt Medium Hybrid Mattress. They arrived together via white glove delivery.
Two delivery workers quickly assembled the bed, installed the SmartTracker. They recommended I download the Tempur-Pedic Sleeptracking app and to connect the bed to wifi.
Tempur-Pedic warranty and trial period
Bases purchased through Tempur-Pedic are not returnable, which was a key reason that I had to dock them half a star.
They come with a 25-year limited warranty that needs a closer inspection. Within the first three years, all parts and labor are covered, including supplied electronics, electrical components, Sleeptracker® components, drive motors, and power supply components. For years four and five, only replacement parts will be offered. After the fifth year, only the bed frame is covered by the warranty. The bed frame consists of the metal structure of the base and excludes the cover, side rails, decking and legs, actuator lift and massage motors, control box, remote controls, power supply, and Sleeptracker components.
How does the Tempur-Ergo Smart Base rate online?
It's a fairly new product from Tempur-Pedic so reviews are sparse, but early users love all the bells and whistles like the zero gravity mode for a weightless sleep feeling.
Is the Tempur-Ergo Smart Base worth it?
If there is a product that will transform your sleep, it is a smart base, specifically the TEMPUR-Ergo Smart Base powered by Sleeptracker-AI. Combining essential adjustable base functions, thoughtful convenient integrations like floor lights and USB plugs with smart features like sleep tracking and snore detection, it's truly a sleep coach that will change the way you view your rest.
Where to buy
About our review – and our reviewer
Jaclyn is the sleep eCommerce editor across the homes titles at Future, including Homes & Gardens, where she spends her days evaluating the best mattresses to seeking out the best ways to make the bedroom your oasis. But because she could literally nap anywhere, anytime, and really needs a full eight hours of sleep to function, the opportunity to test out mattresses for our readers brings a new definition to the title of a dream job! In what other world would she get the chance to sleep on the job!
All our reviews, as in the case of the Tempur-Pedic ERGO Smart Base, are based on the real-life experience of using these products at home. This particular base was tested alongside the Tempur-Pedic Pro Adapt Medium Hybrid Mattress. The products are given to us free of charge and in most instances, we are able to keep them. This means that we can continue to use the product which gives us the opportunity to return to our reviews for updating, so you can keep up-to-date with how it's fared over a period of time.
Jaclyn is H&G's eCommerce editor and oversees all things shopping. She's also a bonafide sleep expert, and previously managed all sleep content on Homes & Gardens and Real Homes– in fact, she has passed our five-step certification process to become a verified customer advisor on mattresses. She regularly scouts out the best of the best for buying guides to help you fill your home with only the best. She joined the team in January 2021. She has previously worked with Apartment Therapy, The Kitchn, The Spruce, The Spruce Eats, and MyDomaine. When Jaclyn's not working, she loves browsing real estate listings, unwinding with a chilled glass of Rosé, and entertaining her Cavapoo, Reese.