I gave the Worx WG779E 40V cordless lawn mower 5 stars – and it's still on sale for Prime Day
Worx should be a household name in affordable battery-powered tools, and the WG779E cordless mower is a prime example why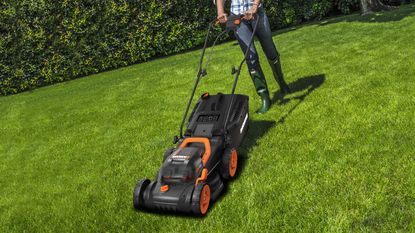 (Image credit: Worx)
With a generous battery life, turbo boost, and full-width cutting, we really can't fault this affordable mower. It represents brilliant value for money, and while compact, there are zero compromises on performance. If you have a smaller yard, you certainly won't be disappointed if you buy this cordless machine.
Reasons to buy
+

Edge-to-edge cutting

+

Great battery life

+

Can cope with longer grass thanks to turbo setting

+

Compact, yet powerful

+

Roller gives pleasing striped finish

+

Mulching and non-mulching settings
Reasons to avoid
-

Weak instructions

-

Not self-propelling
You can trust Homes & Gardens. Our expert reviewers spend hours testing and comparing the latest products, helping you choose the best for you. Find out more about how we test.
Sign up to the Homes & Gardens newsletter
Decor Ideas. Project Inspiration. Expert Advice. Delivered to your inbox.
Thank you for signing up to Homes & Gardens. You will receive a verification email shortly.
There was a problem. Please refresh the page and try again.
The Worx WG779E is one of the brand's smaller lawn mowers, but has been designed to deal with yards up to an eighth of an acre. Like all cordless models, the lawn size limit is not only set by the cutting width — which is 14 inches in this case — but also the battery life. And, the advertised battery life here is certainly not disappointing. With two 20V, 4.0 Ah batteries in use, the mower can work for nearly an hour if set to eco-mode.
As well as the usual advantages of a cordless mower over noisy and smelly (and polluting) gas, the Worx WG779E positions itself as the best lawn mower for those with small to medium gardens, wanting something that is simple to use. At the same time, it includes features that lawncare enthusiasts love, like a mulching plug to fertilize your lawn and a roller at the back for those eye-pleasing stripes. It sounded like my kind of mow, so if it could also do all this on one charge, I was keen to get to know it better.
With its mid-range price point in mind, I gave it an initial test over three weeks in the summer of 2020 to see if it really did offer a convenient mow for amateur gardeners like myself. Having now used it constantly through each growing season for nearly three years, I wanted to share my thoughts on this mower as a long-term investment.
You can find the Worx WG779E on sale for Amazon Prime Day with over $50 off at time of writing.
Product specifications
Swipe to scroll horizontally
| | |
| --- | --- |
| Power source: | 2 x 20V 4.0 Ah batteries (40V total) |
| Type: | Push lawn mower |
| Battery life: | 8.0 Ah (up to 55 mins in eco mode) |
| Dimensions (assembled): | 52.99 x 14.50 x 39.00 in |
| Weight: | 24.89 lb |
| Deck size: | 14.5 in |
| Cutting width: | 14 in |
| Cutting height: | .75–2.75 in |
| Grass collection capacity: | .85 bushel / 30L |
| Max lawn size: | 1/8 acre / 5445ft² |
| Warranty: | 3 years |
Unboxing the Worx WG779e
The mower comes partially constructed — you just have to fit the handle. Luckily, as the mower is compact and lightweight, it is easy to remove from the box and most people should be able to set it up alone. No tools are needed for construction and though the instructions are not particularly helpful (being visuals only) the set up was pretty intuitive. The grass box slots onto the back when you lift the rear flap, though you can forgo this by leaving the mulching plug in place if you want to mulch your lawn.
It took less than five minutes to build.
I got the kit version which included two 20V batteries and a charger. As this cordless mower is part of a powershare scheme with Worx's other tools, make sure you don't opt for the battery-free model which is cheaper. That is unless you have the batteries already, of course.
The batteries can take up to four hours to charge, so I had readied them the night before. The final part of setup, is lifting the battery lid on the mower, and clicking them both into place. Easy!
From a packaging perspective, everything came in cardboard apart from a few plastic bags for the battery, charger, and other delicate parts like the handle.
Worx has an iconic black and orange color scheme for all of its tools, and in this case most of the mower is black so it looks pretty slick. Nearly all of the parts are plastic or powder-coated metal, but everything feels very robust.
What's it like to use?
Electric mowers tend to be very easy to use and the Worx WG779E is no different, with its simple two-button start. There is a 'key' you have to place and press before pressing the lever for operation. Families will appreciate this safety feature and it makes it near impossible to start the mower unintentionally.
The cutting performance of this mower really can't be questioned. Eco mode is fine for regular trims, and there is a turbo option for those gnarlier patches of couch grass or overgrown lawn. You just turn a knob on the deck of the mower (near the batteries) to activate this.
I have had the mower for nearly three years now and find I need to use turbo mode whenever I let the lawn get too long, but eco is sufficient for regular trims. The Worx WG779E has a feature called 'Intellicut' so it optimizes its power when it needs to, reducing on lighter patches to conserve battery. This works well and I have never run out of battery mid-job, though am yet to push it to the limit of a continuous 50+ minute use.
In turbo mode, you can easily take grass from about half a foot to an inch — though if you know how to mow a lawn you will realize it is a big lawncare mistake to cut so much in one go.
The height settings are really easy to change using a lever on the side. I find it best to start off on a higher setting as a precut, then work down a few notches to my desired height. This prevents the mower from jamming and cutting out, which it will do if the grass is too long or wet. This is very rare though and often switching up to turbo mode gives it enough oomph to cope with light overgrowth.
If you want the clippings to disperse onto your lawn, you can use the mulching plug which is a piece of plastic that sits in the grass shoot. The instructions were very vague on the use of the mulching plug, leading me to leave it in on first try and not understand why the grass wasn't collecting. An easy to solve problem (and it should be noted that mulching is not standard on many mowers, so a good freebie), but slightly annoying when I had left grass everywhere, uncollected.
When I intentionally used the mulch plug I was happy with how fine the clippings were and how well scattered. I have used mulchers in the past that dump bits here and there, that you then need to rake evenly into the lawn. But this did a good job of clipping and flinging as it went.
The final feature to call out is the roller which I have spotted is less common on cordless mowers, especially those of this price point. If that tennis-court-style stripe is your lawn dream, the roller helps achieve it.
In terms of maneuverability, this mower is lightweight and easy to turn, with a comfy padded handle. It also has full-width cutting and the front is angled to guide grass into the path of the blade. I occasionally have to do a second pass on scrubby grass, but I have noted how much closer it gets to my fence and borders than other mowers I have used. The plastic wheels aren't particularly shock-absorbent, so I do find it fails to leave those picture-perfect stripes on the bumpier areas of my lawn. Nothing a bit of leveling and reseeding won't help remedy though.
Cleaning the Worx WG779E
The mower is light and easy to turn on its side for cleaning. I just use a stiff hand brush to sweep leftover grass from the blade area, base and wheels before I put it away.
The grass box is also easy to empty and clean. It could be hosed down if needed, but a quick shake over the compost bin tends to empty it well. A tiny drawback is that some grass does fall from the front of the bag as you remove it, even when it isn't full. This is pretty common with mowers (I would love to find a design that has sussed it out ) and is usually only a handful or two that can be easily picked up. When in use I like that the grass bag has an indicator flap to tell you when it is full.
Storage and maintenance
This Worx WG779E cordless lawn mower is on the smaller side, so it won't take up much space at all in your shed or garage. The handle folds at two points, so it can be packed completely flat if needed. And it is light enough that you could lift it onto a heavy-duty shelf. One thing to note is that you have to manipulate the wire to the on button a bit to keep it clear of the handle screws to prevent damage.
The grass bag has a plastic top and soft sides. This means it can be flattened for easier storage, too.
Most lawn mower manufacturers recommend replacing the blade every year. That means mine is well overdue, so I am very impressed with the cutting results I am getting with that considered.
How does it rate online?
Buyers seem to love the Worx WG779E, giving it 4.2 stars on Amazon and 4.5 on Walmart (from over 550 reviews). Many reviewers had swapped from gas and were pleasantly surprised by how well it coped with longer grass. The consensus was that it is best suited for small spaces. Interestingly, although it is advertised as being for small and medium lawns, there were a few negative reviews from people who said it was too small for them.
Other negatives included a few people saying the battery did not last beyond 20 minutes. I have never had an issue with battery life, and Worx has a diagnostic button on the battery so you can check for faults and return to the manufacturer if needed. A couple of users found it too light, making for a bumpy drive. I am inclined to agree that on very uneven spots of my lawn, the mower doesn't have quite enough weight for a close crop.
How does the Worx WG779E compare to similar models and predecessors?
If you are looking for a mower of a similar size, and at a similar price point, your options are the Einhell 36V 15 inch (4.3 stars on Walmart) and the Tacklife 40V 16 inch mower (four stars on Walmart). I have used a similar model from Einhell and was very impressed by the cutting power and battery life which is around an hour. They both cost slightly less than the Worx, and the Tacklife has a brushless motor which should be more efficient, though the site only claims 30 minutes of battery life. It also wasn't clear if these models had the option of mulching or a roller which are both included on the Worx.
For around $100 less you can get the Litheli 13 inch cordless mower on Walmart, but the battery life is around half that of the Worx. With a narrower cutting width, it will take longer to mow your lawn, too, so the shorter running time won't be in your favor. It still gets a 4.4 star rating though, with lots of people using it as a second mower for regular trimming when they can't get their ride-on, or larger model out.
When compared to Worx's own range of cordless mowers, it sits below the WG743 which is their biggest mower with a 16-inch base. This has an extra cutting height so can leave your lawn slightly longer and with the wider cutting width, it can tackle a bigger lawn. Below these models is the WG730 which is just 12 inches. For over three times the price of the WG779E, you can get a self-propelled model (the WG761) with an even bigger base and more battery life. It can cover a quarter of an acre, so if you need that range, it is worth considering — though it is pricier than similar models.
We are yet to test many other small lawn mowers on Homes & Gardens, but if you wanted something self-propelled with a wider cutting base, check out our review of the Ego LM2130E which we gave four stars. It is considerably more expensive, but makes very light work of mowing larger spaces.
Should I buy the Worx WG779E?
I had to look hard to find faults with this lawn mower, so I would definitely recommend buying the Worx WG779E and this is why I have given it five stars. The battery life is great and it has more than enough power for the job. When you consider its size and price point, that is no mean feat.
Granted, it is not the cheapest cordless lawn mower in the small to medium yard game. But it is still budget-friendly and you get extras like the mulching option, roller and wider range of cutting heights, that aren't on the most affordable models.
It is easy to store, use and maintain. So, unless you have a big yard, this mower is a must-buy.
How we tested this mower
The Worx WG779 was sent to me in the summer of 2020 and I initially tested it for our sister sites. I have a long, wild yard with flower gardens and a small lawn, so plenty of room for reviewing garden tools. While I am by no means a gardening expert, I have a keen interest in growing plants to get that cottage garden look and I am always on the lookout for products to make yard maintenance easier.
I was able to keep the mower, meaning I have now been using it regularly for nearly three years. This allowed me to not just get a view on it out of the box, but also over time, seeing how durable its parts are and how the battery fares.
When we test mowers we like to try all of the features. I have tested the full range of cutting heights, and used it both with and without the mulching plug. I have tested on both wet and dry grass, and used it for frequent trimming versus that first mow of spring when the lawn is a little unruly.
To learn more on our reviewing policies, see how we test.
Sign up to the Homes & Gardens newsletter
Decor Ideas. Project Inspiration. Expert Advice. Delivered to your inbox.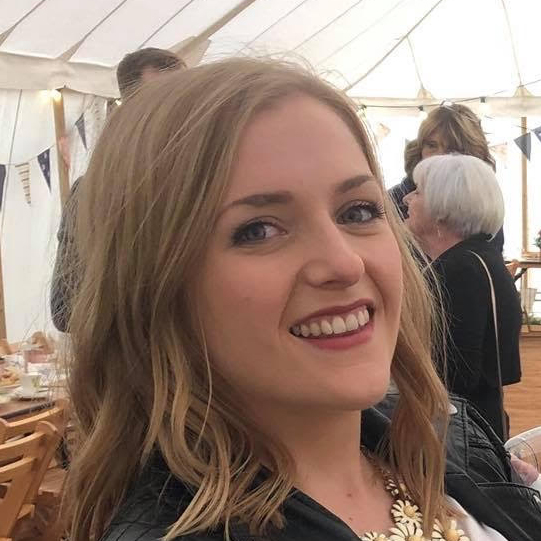 Ecommerce Content Director
Lindsey Davis has been writing about homes for most of the last decade. After a brief stint in children's publishing, she cut her teeth working on the website for UK brand Homebuilding & Renovating, writing about unique self build homes. She has since worked on the websites of other Future homes brands including Real Homes, Livingetc, Gardeningetc and Ideal Home where she helps readers find the best products for their properties. She lives in a British Victorian cottage which lacks in space, but makes up for it with period features aplenty. And, if she isn't busy redecorating her own home, she loves using the inspiration she finds in her working day to help her friends and family with their own projects.