Best bathtubs 2023 - bubble bliss, selected by experts
The best bathtubs are a dream. Whether you're looking for full massage jets and luxury or something a little more modest, our shopping experts have found the best.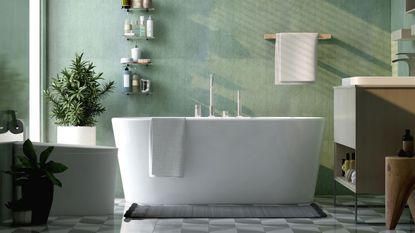 (Image credit: Getty Images)
Whether you're remodelling your bathroom on a quiet luxury style or looking for a minimalist design, the type of bath you choose is integral to the feel of your space. Some baths are deep and angular, some have sloping sides and a roll top, some even have hot tub style jets.
Our interiors experts love bathtubs and we've got lots of help if for choosing the perfect style of bathtub. We'll help you navigate the size, shape, and extra features on offer, so that you don't waste money on extra faucets and features if you don't need to.
I've looked at thousands of bathtubs and read through thousands of reviews for each bathtub type so you don't have to. I can promise that these are the best investments you'll make.
Best bathtubs 2023
Bathtime essentials
Although a bathtub is a central feature for any bathroom, it's really made by the accessories. There are no end of little extras that you can treat yourself to in the bathroom, but if you want to fully enjoy your bathing experience, here are a few of my non-negotiable essentials:
FAQs
How do I choose a good bathtub?
There's a lot to consider when buying a bathtub, which is why we have a dedicated page offering you expert advice. Our experts say there are a few main categories to consider:
Type
There's a range of bathtubs on the market, from built-in to freestanding and your space and preference will largely determine which you choose.
Shape
If you can name a shape, there's probably a bathtub to match it. Curvaceous bathtubs look great in a boxy room, whilst square designs can look contemporary. The shape will also change how it feels to lie in.
Size
If you plan on having children or another person in the bat, investing in a bigger size will make all the difference. There's nothing less relaxing than a crowded bath.
Material
There are a range of bathtub materials which will weigh and cost different amounts. It's important to consider these factors alongside appearance, especially with how it looks against your bathroom floor.
Do I need jets in my bathtub?
Jets always mean an added expense to your bathtub, but they do have some brilliant benefits. Soaking in a jetted bathtub can provide a massage, making the experience even more relaxing. However, jets require extra cleaning, so you'll want to weigh up the pros and cons.
Which bathtubs don't crack?
Most bathtub materials are prone to some scratching, cheap materials might stain and crack. Porcelain enamelled iron tubs are the least likely to crack, but these can rust. The perfect in-between material for cost, durability, and weight is acrylic.
How we test
At Homes & Gardens, we pride ourselves on testing as many products as possible. We like to have personal experience before we recommend something to you. Much as I would have loved testing out bathtubs for a year, it was not possible. In place of in-person tests, I spent hours researching the best bathtubs on the market. I read through hundreds of customer reviews in search of the best on the market and found these. I found out everything there is to know about bathtubs, so you won't have any nasty surprises when you find the one of your bathing dreams. If you would like to find out more about the process, you can visit our dedicated how we test page.
Final thoughts
There are plenty of dreamy baths on the market, suited to a range of bathroom décors. You'll want to make sure that you've considered the space you have before falling in love with any specific tub type. Personally, I love the concrete baths. Industrial chic is a beautiful aesthetic and, if polished perfectly, there's a marble-like look to it as well. Whatever you choose, it's always worth investing in a good bathtub, even if it's expensive; these are home features which will last an incredibly long time.
Sign up to the Homes & Gardens newsletter
Decor Ideas. Project Inspiration. Expert Advice. Delivered to your inbox.