How to choose the perfect bathtub – bathroom experts offer these 7 essential tips
Explore our helpful bathtub buying guide with expert advice and guidance from the bathroom designers in the know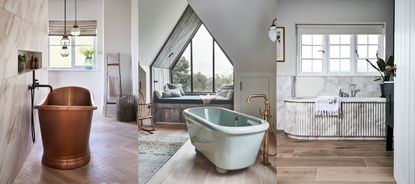 (Image credit: Ripples |822 MM photography | Devizes)
A beautiful bathtub often sits at the center of a bathroom's design, creating a magnificent statement in your space, and introducing the opportunity for a luxurious material, silhouette and even color.
Standout bathtub ideas will create a stunning focal point and deliver true luxury for your bathroom ideas, but as one of the most expensive and most important fixtures you will buy for your bathroom space, there is much to plan and consider before you make a purchase, from material to size and positioning.
We have spoken with a collection of bathroom experts and designers who share with us the six most important factors to consider before buying a bathtub.
How to choose the perfect bathtub for your home
Your bathtub should perfectly fit in with the aesthetics of your bathroom scheme, but there are, of course, many other practical considerations to factor in too, so let us help you with your decision-making.
1. Which bathtub type?
The three main types of bathtubs include: freestanding, built-in and back-to-wall.
Freestanding bathtubs
'As freestanding bathtubs are designed to be the sculptural focal point of a bathroom, they tend to work best in large bathrooms, where there can be a feeling of space all around,' advises Yousef Mansuri, director of design, C.P. Hart.
'Compact freestanding designs are also popular, but I would still avoid shoehorning one into a small bathroom, as there needs to be sufficient space surrounding it for cleaning purposes at least.'
Director of Design at bathroom brand, C.P Hart, Yousef Mansuri has been with brand since 2010, and has a history of working in the luxury bathroom and home spa retail industry.
Built-in bathtubs
They may make less of a statement, but built-in bathtubs can be very practical, space-saving and cost effective, often slotting into a corner or niche. They typically have a rim for toiletries, unlike many freestanding designs which may require a side table or stool.
'Some built-in bathtubs are designed to be undermounted below a stone or marble top, creating a greater sense of luxury,' says Yousef Mansuri.
Back-to-wall bathtubs
While many manufacturers have introduced compact freestanding bathtubs in recent years, there is another option for smaller rooms requiring a dose of luxury and impact.
'If you want the appearance of a freestanding bathtub with the space-saving advantages of a built-in version, there are designs such as the Duravit Luv back-to-wall, which curves away from the wall as if freestanding,' says Martin Carroll, managing director, Duravit UK.
These hybrid models are also useful if you wish to install an overhead shower, as with a built-in bathtub, where there is no space for an enclosure.
Martin Caroll is the managing director of Duravit, a brand that specializes in selling beautiful bathroom products. Carroll has been with Duravit since 2012, and has extensive knowledge of the bathroom industry.
2. Which bathtub shape?
Bathtubs come in a vast variety of shapes, all of which will have a different impact on the room. Curvaceous baths offer a lovely contrast to the straight lines of a boxy room, and are a good choice for a small bathroom as they take up less space visually, as do those that sit off the floor on feet.
Squarer designs, meanwhile offer contrast to, for example, arched windows, and bring a more contemporary feel to a room; however, they are visually bulkier, so are more suited to larger spaces, generally.
As well as considering the effect of the bathtub's silhouette in the room, consider how it feels to lie in.
Oval and round shaped baths are often viewed as the most comfortable to luxuriate in as they provide more room, but of course the bath's size and your height need to be factored in, too.
3. Consider bathtub size
The typical standard length for a bathtub is 5ft/60in long or 2½ft/30in wide and 1ft+ tall; compact sizes – in both freestanding and built-in designs – are generally just under 5ft, with even smaller sizes, just over 4ft, available.
'Choosing the right bathtub is a very personal thing,' says Yousef Mansuri from C.P. Hart. 'Some people like to sit up to read a book, while others prefer to recline.'
There are larger options, up to around 6½ft in length, so it is well worth slipping off your shoes in the showroom and trying out the bath for size and comfort. It is also crucial to factor in the available space in your room and the ease of maneuvering the tub into position if your bathroom is at the top of a winding staircase, for example.
4. Choose a bathtub material
There are around eight common bathtub materials to choose from, all of which differ in appearance, weight and cost.
'Acrylic is the cheapest choice, but not the most durable, while steel is good value for money, and sturdy,' explains Howard Birch, director, Aston Matthews. 'The manufacturing process for solid surface bathtubs allows for more unusual, contemporary shapes, while cast iron and copper make a strong design statement.'
Some people worry that a heavy bathtub, such as those made of stone or cast iron, may mean that the bathroom floor needs to be reinforced, but this is usually not necessary,' Howard adds. 'A bathtub full of water and a bather is the equivalent weight of around four people – so, if you are happy for four people to stand in your bathroom without worrying they might crash through the floor, then you can have a cast-iron bathtub.'
5. Think: finish
Whatever the material of the actual tub, consider the finish of its exterior as a way of adding extra glamor. From DIY options, such as tiling a bathtub, right through to bespoke cladding, the options are (almost) endless.
These are some of our favorites.
The bath above is clad in richly veined white marble for a striking contrast to the black marble cladding of the arch. Despite the compact dimensions of the space, the natural striations of the stones introduce inviting tactility and create an instant sense of opulence.
The brass bathtub (above, under Choose A Bathtub Material) offers pure glamor: 'It needed to complement the gold shower, as both are a central focus of this room,' says Mitch Crook, Creative Director at Hotel Creative.
The copper bath (above, under Consider The Bathtub's Size) adds warmth to a muted space: 'With its rich tone and elegant shape, the double-ended bathtub takes center stage in this space,' says bathroom designer Gurnaam Sharma of Ripples. 'Copper is a superconductor, meaning the water says a lovely warm temperature for longer, perfect for indulgent soaks.'
The fluted bathtub (above, under Built-in Bathtubs) has wonderful decorative interest thanks to being clad in bespoke fluted Calacatta Oceana marble. 'The surround has been milled from a single slab, cut into individual fluted sections and vein-matched for a seamless finish,' says Hamish Smith, Creative Director of Artisans of Devizes.
6. Contemplate color options
While white baths are the norm, colorful bathtubs are more popular than ever. 'I would urge you to consider the bathtub color for as long as you would the color of a new sofa: it's an expensive purchase that sets the tone for the rest of the room, so don't be swayed by bathroom trends,' says Lucy Searle, Editor in Chief, Homes & Gardens. Know that the bath color is one you really love and that it really suits the room. There's no moving it once it's in, without great expense.'
'Setting the bathe at this jaunty angle directs the eye towards the statement window and out to the greenery beyond,' says Sophie Chapman, associate, The Vawdrey House, who specified a gentle shade of green for the tub to echo the color of the treetops beyond.
Of course, the choice of your bath material, finish and color must be taken into account when buying bathroom faucets, too – which should be done in tandem.
7. Consider the position of the bathtub in the room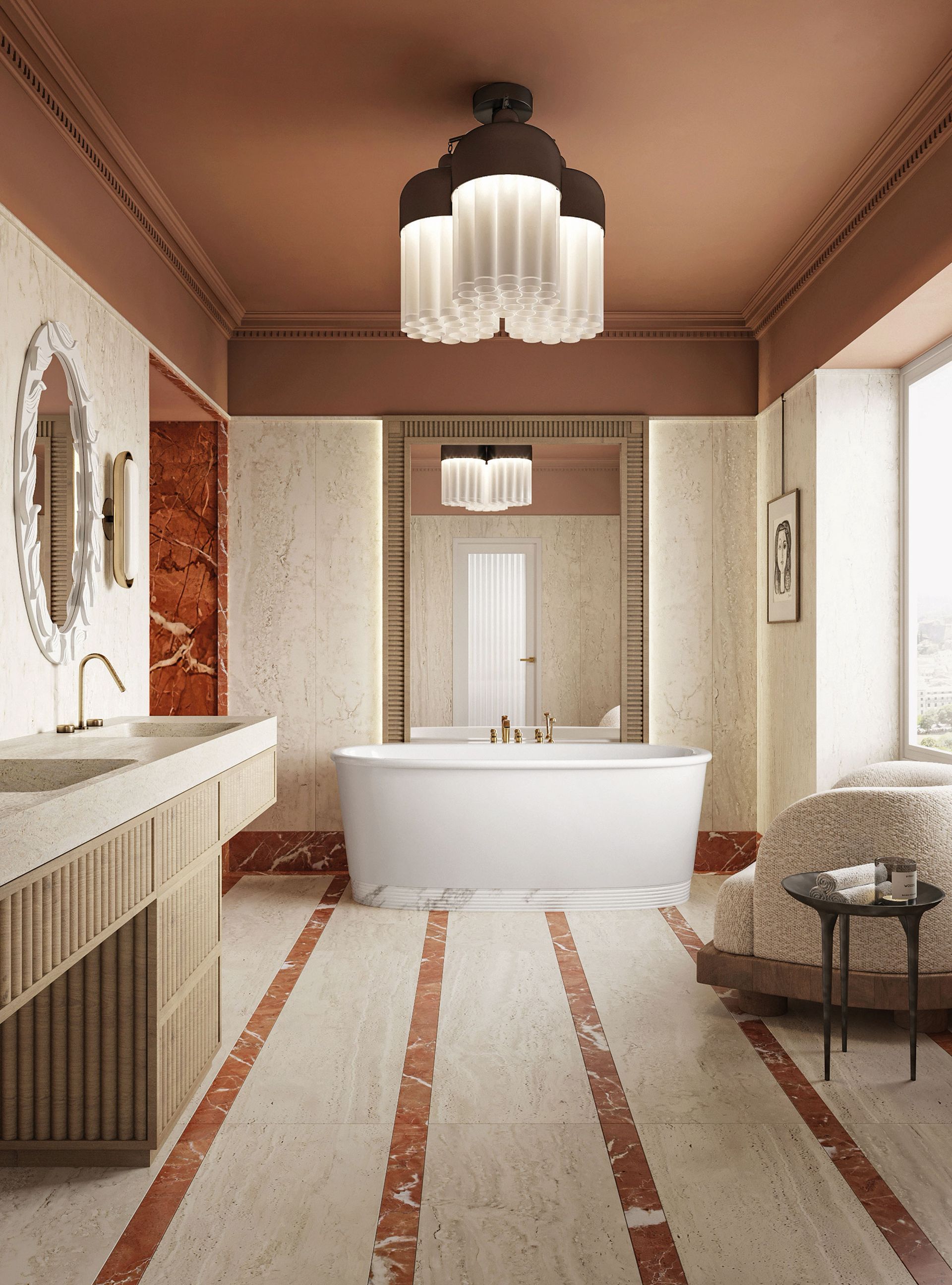 Bringing all of these considerations together, lastly, think about your bathtub's position, and if the shape, material, size and so on suits its placement.
The size and shape of your bathroom and your chosen bathroom layout ideas may mean that there is only one sensible location for the bath, or there may be several.
Before you buy, other than taking measurements, make a paper template of the bathtub you like and, if possible, lay it on the floor of the bathroom. This will give you a good representation of whether its position will work, and will help you to decide if it's right for you.
'Take a look at the window in your bathroom,' says Barrie Cutchie, design director, BC Designs. 'Often, this is an awkward place to fit wash basins or WCs, while a bathtub may fit well.'
It can be very relaxing to enjoy a long soak while gazing out at the sky or treetops.
'If you have an alcove, corner or feature wall, positioning your bathtub here can set off the space beautifully, while centering it in a large bathroom will create plenty of wow,' he adds.
It is always a good idea to consult your installer to check how the drainage runs. 'You may be envisaging a statement freestanding bathtub taking center stage in your bathroom, but what's under the floorboards may tell a different story,' cautions Adam Teal, head of sales UK, Kaldewei.
Barrie Cutchie founded British bathroom brand, BC Designs in 1999. Barrie is an award-winning designer who has been at the forefront of bathroom design for over 30 years.
Adam Teal is head of sales at German luxury bathroom brand, Kaldewei. Founded in 1918, Kaldewei is now represented in more than 80 countries around the world. Teal has been with the brand since 2008.
FAQs
Which is better: an acrylic or porcelain bathtub?
If you are asking about durability, you are likely to find that an acrylic bath will last longer, since porcelain can chip, crack and scratch. However, in terms of looks, we prefer porcelain. If you can buy a really good quality acrylic, however, it can look convincingly elegant.
What is the most durable material for a bathtub?
Cast iron bathtubs are the most durable; however they are extremely heavy and tend to take a while to heat up even when full of hot water. That said, they are very hardwearing and unlikely to scratch or chip.
---
How to buy the best bathtub? While we would always urge you to pick one that's a beautiful shape, you should never prioritize form over function. Ideally, you want a bath made from a durable material that won't scratch, dent, crack, or chip. So if that means you have to compromise on style just a little, we would advise you to do that: you want your bath to last at least 10 years.
Amelia Thorpe is a specialist interiors and design journalist, covering every topic to do with homes from fabrics, furniture and lighting to surfaces, kitchens and bathrooms.
As the daughter of an antique dealer and a lifelong collector of old cookery books and vintage graphics herself, she also has a particular expertise in antiques, mid-century and decorative arts of all kinds.
Drawn to homes because of their importance in the happiness of our lives and the enjoyment they can bring, Amelia has been writing about the topic for more than fifteen years. She has interviewed some of the most influential designers of our time, from Piero Lissoni, Antonio Citterio, Jaime Hayon and Arik Levy to Nina Campbell and Robert Kime.