How I use a window vac every morning to beat condensation – and my Black Friday bargain
What I learned from using a window vacuum every day, plus other tips to dehumidify my home
(Image credit: Alamy)
I live by the sea in a house that was built 120 years ago. That makes for great views, beautiful room proportions – and condensation. The moisture-rich air of my coastal location plays a part, as does the cool temperature of our house (it's a period property so pretty drafty and hard to heat), and the fact is built from a material known locally as 'bungaroosh' – basically, stones, pebbles, flint and wood set in a lime mortar, which is a magnet for damp.
The moisture gathering on my windows isn't a problem for most of the year. But as soon as the weather turns colder and the rates of rainfall, snow, and fog increase, I start to notice the condensation collecting on the glazing.
While the weather is still relatively warm, the condensation will evaporate as the sun rises and hits the glass. But as fall and winter set in, and temperatures drop, the condensation worsens. On a really cold and wet day, it can drip from the window onto the windowsill, where it collects in little pools of water.
I've tried various measures to get rid of condensation inside windows. But I needed a serious solution to the problem, and I found it in a window vacuum. Mine is the Karcher WV 1 Plus Window Vacuum Squeegee – currently on sale at Amazon (details below), which I really recommend, but these are great buys on Amazon, too, from Eave, Kiato and Karcher. It's made a massive difference to our house's moisture problem, and this is why.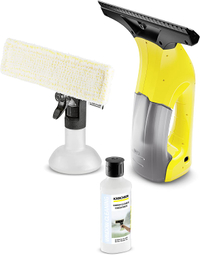 Karcher WV 1 Plus Window Vacuum Squeegee | Was $79.99, now $49.99
My window vacuum/squeegee won't just help you vacuum away condensation, it can also be used to clean windows, eliminating streaks speedily.
Why I vacuum my windows to cure condensation
Condensation happens when water vapor in the air comes into contact with a colder surface, then condenses into water droplets. It happens frequently with windows, as the glazing is generally cooler than the room itself. Opening windows and drapes, fitting vents, and installing double glazing all helps reduce condensation.
We have double glazing downstairs, in our sitting room, and the extra insulation means that condensation isn't a problem in this space. It's also not an issue at the back of the house, which faces east and so gets the light first thing. Even a weak winter sun seems to warm the windows enough to cause any overnight condensation to evaporate. It has to be really cold before the condensation here becomes a problem.
Our bedroom and bathroom, which are at the cooler front of the house, are where the problem lies. I needed an effective remedy to cure the condensation on the windows here. All that water pooling on the sills of our sash windows was putting them at risk of water damage and rot, which would need expensive repairs.
I was using an absorbent cloth to wipe the condensation from the windows each morning, but this was time-consuming and a lot of effort – not the best way to start the day. So on the recommendation of my sister-in-law, I bought a vacuum window cleaner.
Tips and tricks for using a window vacuum cleaner
A window vacuum cleaner is a motorized suction-squeegee. You stroke down the glass of the window with the head of the vacuum cleaner, and water is sucked into a collection cup that you unclip to empty. My version is cordless, so I leave it in its charging base so it's powered up and ready when I need to use it.
It's simple and quick to use – and really effective on removing window condensation – but through trial and error, I've identified a few tips to get the best results.
First, start at the top of the windows and work downwards, making sure to get into the corners of the windows and right to the edges of the frames.
Most window vacuums can be used horizontally as well as vertically, so you can get into those tricky edges. However, if the water tank is full, or nearly at capacity, this can cause the collected water to be released from the vents, undoing some of your good work. So my tip is to empty the water tank frequently.
As you work down the window, you may need to change the angle at which you hold the head of the vacuum in order to maintain contact with the surface of the window. A model with a flexible neck makes this easier.
To collect any water that's pooled at the bottom of the frame, flatten the head of the vacuum against the frame. That way it can suck up the moisture directly.
My final tip is to use the window vacuum regularly in cold and wet weather, even if the condensation doesn't seem particularly bad. I've found that there's less water to remove from the windows when I use the vacuum cleaner daily. It makes the job even quicker, and I also think it means there's less moisture in the air in my home, which improves damp and mold problems.
Using a window vacuum cleaner on walls
Condensation can also gather on cold walls – a factor in my home, where some of the external walls can feel cold to the touch in the winter months. Although I can't see water collecting on the walls, as some people report, patches of mold do appear in the winter months if I'm not on top of the condensation and humidity issues.
I've written about how to get rid of black mold, but I find I need to do this less if I vacuum my windows regularly. Some people also use a window vacuum to clear condensation from their bathroom walls after a bath or shower.
My dehumidifer and window vacuum cleaner combo
A window vacuum can help you remove condensation from windows, but the best trick to minimize the problem is to stop moisture reaching your glazing in the first place. That's why I investigated the best dehumidifer and picked the ideal option for our home, based on its size and which rooms are affected by condensation.
I wanted to know how much a dehumidifier costs to run, and decided on a smart model that only powers up when needed to reduce our energy usage. Like my colleague Chiana, I bought a dehumidifier, and I now wouldn't want to live without it.
Having the dehumidifier running on our second-floor landing, where it can draw moisture from the air bedrooms and bathrooms, has dramatically reduced the amount of condensation – especially as I can switch it to laundry mode when drying clothes.
The result, I still use my window vacuum cleaner to remove condensation from my windows but there's less moisture to collect and I need to use it less frequently. I think I've found my ultimate condensation cure.
Sign up to the Homes & Gardens newsletter
Decor Ideas. Project Inspiration. Expert Advice. Delivered to your inbox.
Andrea has been immersed in the world of homes, interiors and lifestyle since her first job in journalism, on Ideal Home. She went from women's magazine Options to Frank. From there it was on to the launch of Red magazine, where she stayed for 10 years and became Assistant Editor. She then shifted into freelancing, and spent 14 years writing for everyone from The Telegraph to The Sunday Times, Livingetc, Stylist and Woman & Home. She was then offered the job as Editor on Country Homes & Interiors, and now combines that role with writing for sister title homesandgardens.com.