What a food processor can do – and what you should never use one for?
They claim to be all-singing and all-dancing, but when it comes down to it, what can a food processor actually do?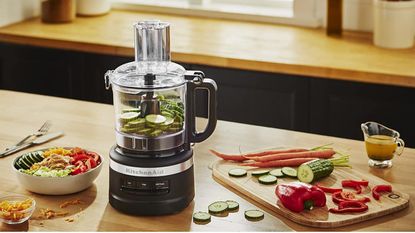 (Image credit: KitchenAid)
Though they're handy machines, 'food processor' is a pretty vague name. 'Processing' food is all you're ever doing in a kitchen – chopping, slicing, mixing and dicing are all processes. Unlike other appliances, you might be scratching your head and wondering what a food processor can do.
What's more, you'll have seen brands claim multiple functions that might not live up to scrutiny. It seems almost laughable that you can make cookie dough, chopped vegetables, whipped cream and ground beef in the same machine.
Thankfully, we've tested lots of different food processors, so we know precisely what you can – and what you can't – make with a food processor. I have first-hand experience experimenting with these machines and testing their limits, and I'll combine this knowledge with reviews from our expert testers to show you exactly what can be achieved with a food processor. For more detail, our picks of the best food processors, gives you machine-by-machine information on what each can do.
As Head of eCommerce, Alex makes sure our readers find the right information to help them make the best purchase. After graduating from Cambridge University, Alex got his start in reviewing at the iconic Good Housekeeping Institute, testing a wide range of household products and appliances. He then moved to BBC Gardeners' World Magazine, assessing gardening tools, machinery, and wildlife products. Helping people find true quality and genuine value is a real passion.
Can a food processor chop vegetables?
You can trust Homes & Gardens. Our expert reviewers spend hours testing and comparing the latest products, helping you choose the best for you. Find out more about how we test.
Chopping vegetables is the most basic function a food processor can do. The best models will turn out chopped vegetables in seconds, saving you time and effort. It's a lifesaver for preparing stocks, soups and sauces – I use one whenever I'm making jerk. Almost every food processor on the market will also come with a slicing disc that will create uniform roundels of carrots and courgettes in a couple of seconds.
Can a food processor grate cheese?
Yes, and grating is usually one of the best functions on a food processor. A good processor will save you the tedium of standing over a grater by powering through entire blocks of cheese in seconds. Grating functions really shine on vegetables, so homemade coleslaw is a breeze. It's effective for a wide range of dishes — as just one example, grating potatoes in a food processor takes a lot of effort out of latkes. My favorite thing to test with a food processor is grating chocolate, because the resulting curls of chocolate make a fantastic topping for cupcakes.
Can a food processor grind coffee?
Yes, a food processor can grind coffee – but we wouldn't recommend it. Some processors offer coffee grinding attachments, but you could still grind coffee with the basic blade. You'll certainly get ground coffee, but it will be far coarser than what you'd get in a coffee grinder, so it might not work for an espresso machine.
Can a food processor grind meat?
Yes, food processors can grind meat. It's an underrated function that means you can grind your meat exactly as you like it without having to invest in a hand-turn meat grinder.
However, bear in mind that smaller food processors – also called mini choppers – won't be able to handle meat. I've tried grinding meat in small choppers before, and it's unsafe. Chunks of meat are too simply heavy for processors of around 3-5 cups, and cause them to shake all over the place. Meat can even destabilise large food processors if the base isn't stable enough.
My personal favorite food processor for grinding meat is the Breville Sous Chef 12. I tested it a couple of years ago and found that it has a a wide, heavy base that keeps it sturdy and safe when blasting through chunks of beef.
Our expert tester Camryn has also given it a look – there's more detail in her full Breville Sous Chef 12 review.
Reasons to buy
+
Large capacity
+
Extremely consistent results
+
Sealed work bowl
+
Variable slicing disc
+
Three chute sizes
Reasons to avoid
-
Hand-washing recommended
Can a food processor shred chicken?
A food processor can shred chicken, but be careful as you do it. Use the pulse function in quick bursts to gently separate out the strands of meat. If you leave the processor to do its thing, it will turn your chicken into an unappetizing meaty mush.
Can a food processor make baby food?
Yes, food processors can make baby food – it's one of the things they're best at. If you want to give your baby some of the freshest food you can get, a food processor can whizz strawberries and bananas into a nutritious fruit purée. The only ingredients are fruit, so you know it's free of additives and processed ingredients. Some of the best food processors have purée functions built in, like the Ninja Professional Plus Food Processor.
Camryn's full review of the Ninja Professional Plus Food Processor has more detail.
Reasons to buy
+
Reasonably priced
+
Excels at basic tasks
+
Includes standard accessories
+
Sealed, locking work bowl
+
Easy to clean
Reasons to avoid
-
Not ideal for hard ingredients
-
Accessories don't store neatly
Can a food processor whip cream?
Yes, food processors can whip cream. The best results come from processors with whisk attachments, but the basic metal blade will do a good job too. The only downside is portion size – you need to make sure your cream fully covers the blades to make whipped cream, but this can result in a lot of extra cream you may not need.
Can a food processor make dough?
I've used a food processor to knead bread and pastry doughs. Of the two, short-crust pastry dough turns out best. The blades create a fantastic fine crumb that's perfect for pies and tarts. Because pastry dough is lighter than bread dough, you can make it safely in any large food processor.
Bread dough, however, is a little trickier. While most food processors come with hook blade attachments for kneading bread dough, these heavier doughs can make some processors wobble, so make sure your processor is sturdy enough to handle it.
If you're a keen baker, however, food processors simply won't be up to the task. Stand mixers do a faster, more thorough result, and you can taste the difference in the results. For the odd loaf every couple of months, a food processor will do the job. If you love baking like we do, then invest in a stand mixer.
Can a food processor make cake mix?
Yes, food processors can make cake batter. They're fantastic for quick, unfussy mixes - it was one of my go-to tests when I first started out as a reviewer. I've made hundreds of mini cupcakes with a food processor and each time they come out light and airy, with less of the hassle of breaking out a full-size stand mixer.
If you've been strong-armed into a bake sale at the kids' school and then completely forgotten about it, you can mix dozens of cupcakes in a processor and have them ready to go in under 40 minutes.
Food processors are also great for cookie dough, as you can make chocolate chips and then mix the dough in one machine, saving on the washing up. Our reviewer Camryn made classic chocolate chip cookies in the Ninja Professional Plus food processor. While not as good as a stand mixer, making cookies in a food processor is a fantastic option if you're short on space.
Can a food processor make mayonnaise?
Food processors can make mayonnaise. It's an exact science – I can't tell you how many hours I've spent slowly adding oil to eggs – but it results in fresh, homemade mayo that beats store-bought every time. The same principle applies to other sauces like aioli.
Can a food processor beat eggs?
Cakes and mayo need eggs, so it follows that if you can make mayo and cake mix in a food processor, you can beat eggs. My usual test back in the day was preparing egg whites for meringue - the results aren't as good as a stand mixer but it will save you the hassle of setting out such a big appliance.
Can a food processor make dips?
Food processors are great for dips. They really excel with Mediterranean and Middle Eastern dishes like hummus, tzatziki, and taramasalata. If you make a lot of Mexican food, a food processor is your new best friend. It'll save you a lot of chopping when you're prepping pico de gallo, salsa verde, and guacamole. Expert tester Camryn loved the KitchenAid mini chopper for this, because it's compact and cordless, perfect for whipping up quick salsas when you're on the grill.
Camryn's full review of the KitchenAid Cordless 5 Cup Food Chopper has more detail.
Reasons to buy
+
Lightweight
+
Cordless operation
+
Whisking attachment
+
In-bowl storage
+
Easy to clean
+
Multiple colors
Reasons to avoid
-
Uneven chopping
-
On the smaller side
Can you make butter in a food processor?
You can make butter in a food processor – just add heavy cream and mix it for a couple of minutes. However, the results aren't amazing, and it likely won't save you much money. You're better off buying store-bought, and if you really like homemade butter, a proper churn will give you better results.
Can you spiralize in a food processor?
Yes, but you need the right attachment. It's not standard in every food processor, but with the right attachment you can make perfect curls of carrot for a low-carb replacement for pasta or noodles.
What can't I make in a food processor?
After all of those functions, it seems like there's nothing a food processor can't do. However, we've hit the limit: you can't make smoothies, shakes, or juice in a food processor.
The golden rule is that food processors are for food, blenders are for drinks. Food processors aren't designed to handle liquid ingredients. I used to fill food processors with water to test if they were watertight. Even top models would leak – they simply aren't designed for liquid. If you try to make a smoothie or juice in a food processor it will turn into a messy waste of food. Blending and juicing are separate functions that need a blender or a juicer.
That said, you can find combination blender/food processors, which have the same base but different jug attachments for the two functions. The best on test was the Ninja Professional Plus Kitchen System.
Reasons to buy
+
Very powerful
+
Attachments are dishwasher-safe
+
On-board countdown timer
+
A range of food processor blades and discs
Reasons to avoid
-
The lids won't close when not on the attachments
-
It's a lot to store
So there you have it – you can prepare pretty much any solid food in a food processor, but liquids are best left to blenders.
Millie Fender is Head of Reviews on the Homes & Gardens Ecommerce team. Before this, she was our Small appliances editor, and a lot of her time was spent reviewing new and exciting launches in the small appliance space, especially food processors, stand mixers, and blenders.
Camryn Rabideau is a writer and product reviewer specializing in home, kitchen, and pet products. In her five years as a product tester, she's tested hundreds of items first-hand, including many, many kitchen appliances for Homes & Gardens. Camryn does her product testing from her small homestead in beautiful Rhode Island.