3 ways my organizing style has changed through the years
As she turns 40, Homes & Gardens' pro organizer Caroline Roberts shares the organizing habits that no longer work for her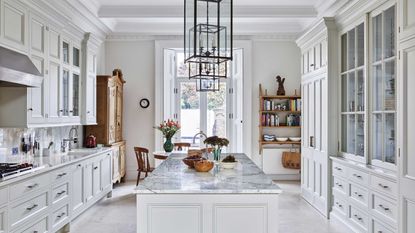 (Image credit: Future PLC)
Sign up to the Homes & Gardens newsletter
Decor Ideas. Project Inspiration. Expert Advice. Delivered to your inbox.
Thank you for signing up to Homes & Gardens. You will receive a verification email shortly.
There was a problem. Please refresh the page and try again.
No matter how you feel about birthdays, they tend to bring a level of reflection on where you are in life and how things have changed through the years. I turn 40 in just a few days, and I'll be honest, I'm pretty excited.
While I agree with many people that age is just a number, I'm excited to start a new chapter of life with my older and wiser self. (I'll be wiser, right?)
My organizing style has changed significantly over the years. Some tactics worked for me in my younger days, and others buried me in guilt and inadequacy. I encourage you to keep reading to see if you identify with these changes.
3 ways my organizing style has changed
Just as your taste in home décor, fashion, and music evolves, how you organize your home evolves, too.
1. I no longer organize for aesthetics over function
Before kids and my organizing business (and even Instagram), organizing my home was my hobby. I loved to try new products, move things around, and declutter different spaces. I wanted the spaces to be beautiful, so everything needed to be just right. Nothing felt better than the beauty of a symmetrical, streamlined area with the perfect blend of products. My husband worked long hours and often came home to me head-first in a closet or by the door, waiting to show him my latest project.
As my life expands with kids and additional responsibilities, I'm much less motivated by the appearance of organization. Now, it's the function that lights my soul. I get tingles when my kids replace batteries in a toy by themselves because they know where the batteries and the tiny screwdriver are. I love how simple it is to make a grocery list because my pantry is tidy, and the clear canisters show me when high-use items are running low. I can truly rest on weekends because I'm not shuffling clutter and overwhelmed with chores.
The organization in my home isn't always apparent. A lot of it isn't 'Insta-worthy.' But my home is more functional even with more people, animals, and projects than ever, and that's what's important to me at this age.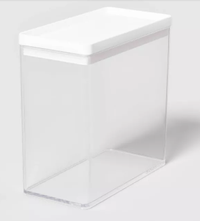 Clear food storage container | $10 at Target
These modular, transparent storage containers seal tightly and make pantry organization easy.
2. I no longer buy seasonal organizing products
During my organizing-as-a-hobby days, I loved browsing discount stores for kitchen organizers and living room organizing products. They often had bins and baskets on end caps or displays at the front of the store. I enjoyed trying organizing products that felt trendy or unique.
The problem with buying seasonal inventory though is that you won't be able to purchase more of something in a few days or weeks, leaving you with little flexibility in how you use them. It always happened to me. I would buy a few bins for a project, and when I wanted to rearrange the space and needed just one more, they would be discontinued. It was so frustrating.
While I still think it's fun to browse the seasonal section of stores, I generally don't purchase anything for myself or clients unless it's a focal-point product.
Now, I stick with tried-and-true product lines from The Container Store, Target, and a few other brands. I know the products like the back of my hand, and most importantly, I know I can get more if I ever need them.
3. I no longer keep unused aspirational items
Aspirational items are often connected to who you think you 'should' be or the person you want to be. Aspirational items I often see in clients' homes are expensive exercise gear, hobby-related items, fancy cooking ingredients or gadgets, and books. There is nothing inherently wrong with them, but they can weigh us down if we aren't careful.
I could fill this page with all the aspirational items I've purchased. I've had an excess of exercise equipment, hoping to be the person who exercised regularly. In my last article on keeping a clutter-free kitchen, I shared that I used to purchase kitchen gadgets hoping to be a better cook.
It's hard to declutter aspirational items because it feels like failing to become the person you thought you should be. Because aspirational items are often expensive, it can also feel like a massive waste of money.
These days, I've become much gentler with myself, making it easier to part with an aspirational item. When I want to sell a piece of exercise equipment because I never use it, instead of telling myself that I failed to become a fitness goddess, I tell myself that it wasn't my season for that type of exercise. I can always try another time – no big deal.
4. I hold off on big purchases
To avoid accumulating aspirational items in the first place, I've created a rule for myself. Before I buy something I think will be a 'game-changer' for whatever hobby or activity I'm trying, I consistently do the activity or something similar without that object and see how it goes. I'll give you a few examples.
You think a new fitness watch is precisely what you need to get into a running habit. You have researched them and know exactly what you want. It will tell you your distance and pace and even connect with friends. Before you spend hundreds on a new watch, start running without it! Tell yourself that if you run consistently for three weeks, then you'll buy yourself the watch. The watch may enhance your running, but it won't make you a runner. Prove to yourself that this is important to you by running first. Then add the watch.
Here's another example. A few years ago, I got the urge to sew. My mom taught me to make a few simple things as a kid, and I thought it would be fun to get back into it. I immediately researched sewing machines and was blown away by all the features! You don't even have to thread the needle yourself anymore! Before making the purchase, I borrowed my mom's vintage sewing machine to see if I would get into it. Sure enough, I did! I made a few things on her machine and bought an entry-level one a few months later. Years later, I'm about to start my fifth quilt on the same machine.
I love how my organizing style has evolved over the years. I hold onto things with a looser grip and focus on what's important in my season of life. I'm so thankful for whoever first talked about life in terms of seasons because it's so true. What works for you in one season may not work in another.
So many times, people want to know the best way to organize a space, but the answer is that there isn't a 'best' way. There may be the best way for your season of life, but don't get too comfortable because that will change in a matter of time.
---
What used to work in your home that feels clunky and ineffective now? How has your style changed through your seasons of life? Be prepared to make changes to ensure your home supports the life you want to live. I hope I've encouraged you to reflect on how you've changed through the years.
Sign up to the Homes & Gardens newsletter
Decor Ideas. Project Inspiration. Expert Advice. Delivered to your inbox.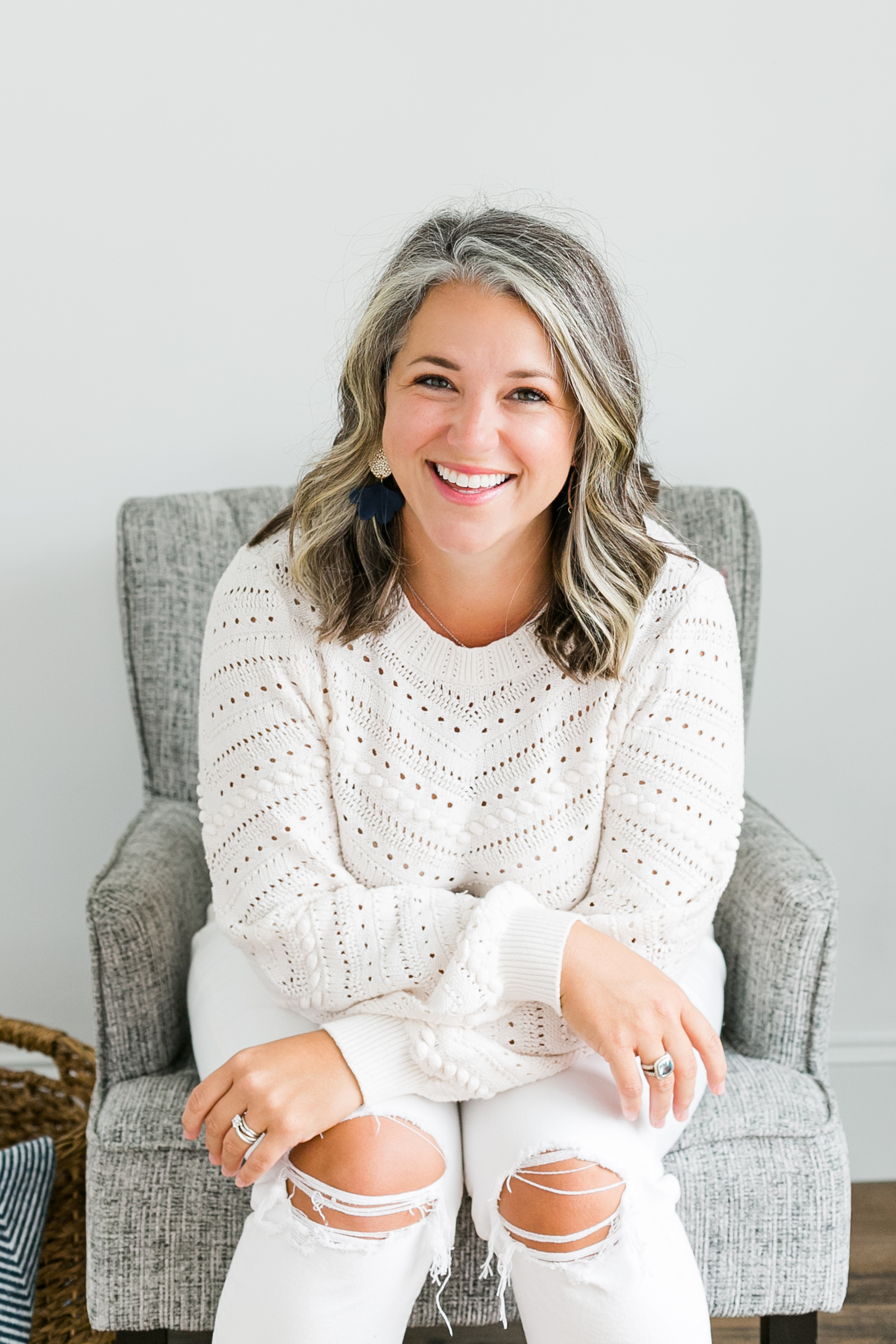 Caroline Roberts, a certified KonMari Consultant and professional organizer, founded the organizing agency The Simplified Island in 2019. Caroline believes being organized goes much deeper than pretty bins and can be life-changing. She recognized her organizing and streamlining skills were unique as she ran her marketing agency, Coastal Connections Marketing, and raised her two sons.