How to get organized for Christmas – 9 ways to take the stress out of the season
Festive to-do list getting out of control? Get organized for Christmas ahead of time with these insider tips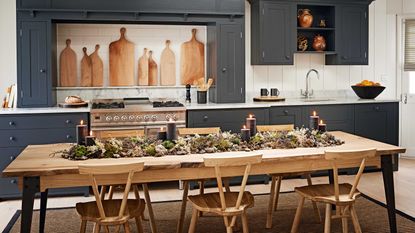 (Image credit: Future PLC)
It may be the season of merriment, but the amount of work that goes into making Christmas magical is not quite so merry, particularly if you leave it all to the last minute. Despite what some (scrooges) might say, it's never too soon to get organized for Christmas.
From sorting food, drinks and Christmas decor to gift wrapping ideas and prepping for guests, there's a lot to think about. It's pretty overwhelming, we admit, but rather than panicking, start planning. According to the experts, advance organization is the key to a stress-free season.
'Start by creating an ongoing to-do list or calendar of sorts. Write down everything you need to accomplish week by week, such as sending out cards, shopping for gifts, and setting up decorations – you can always add to it as you go along. By breaking down tasks like this, the holiday prep becomes manageable and less overwhelming,' says professional organizer Camilla Frederico, founder of The Personal Helpers.
We've put together some top tips from the experts on how to get organized for Christmas. The more you can get done now, the less you'll have to worry about as the big day approaches. Let the countdown commence!
The Personal Helpers is a proud member of NAPO — The National Association of Productivity and Organizing Professionals, based in New York City.
How to get organized for Christmas
'It's perfectly possible to enjoy a well-organized holiday season without sacrificing your wellbeing, so give yourself permission to focus on the things that really matter and give yourself a break. I've halved my Christmas to-do list by doing this, and I enjoy the build-up so much more as a result,' says Millie Hurst, Solved section editor, Homes & Gardens.
Before you start on the lists and spreadsheets, take a moment to reflect on what you really want from Christmas this year. If prepping as you've always done leaves you feeling frazzled, it might be time to change things up.
Millie Hurst is Section Editor at Homes & Gardens, overseeing the Solved section, which provides readers with practical advice for their homes. Millie has written about and tried out countless cleaning and DIY hacks in the six years since she became a journalist, and has worked in both London and New York.
1. Have a pre-season sort out
A good declutter should take the number one spot on your pre-holiday prep list, and it's a job you can (and should) start well ahead of the festive season. Tackle priority areas first; toys, decorations, pantry shelves and kitchen cabinets are all hotspots professional organizers declutter for the holidays. Don't forget the less-obvious holiday clutter spots either, such as gift-wrapping supplies and guest linens. Organizing your entryway means guests have somewhere to put shoes and coats, too.
Ridding yourself of items you don't need not only makes for a more relaxed Christmas build-up, it allows you – and Father Christmas, of course – to make sensible decisions on new items coming into your home.
'Decluttering before the holidays can give you some great gift ideas for family members, especially younger ones. Off the back of decluttering toys, filter wish lists a little to focus on items they don't already have, and include practical items as well – a new coat to replace the one they've grown out of, or a new set of coloring pens, for example,' says cleaning and organization expert Michelle Hansen, owner of Practical Perfection.
Michelle Hansen is a cleaning and organizing expert, and owner of Practical Perfection. She has been a professional organizer for four years and has organized for Instagram influencers such as @jordanpage and @modestshopping. Michelle loves to help others see (and feel) the life-changing difference that having an organized home can make in their lives.
2. Accommodate for extra guests
As you're decluttering, make an inventory of crockery, silverware, glassware, cookware etc. Do you have enough for your dinner guests? If not, don't rush to the shops, consider borrowing or renting items instead. You won't need them in the long run, and they'll likely wind up as clutter. The same goes for tables and chairs, too.
'If you've got friends and family staying for a few days, check that you have enough bedding and towels and get it all washed and ironed in preparation. Leaving a little festive trinket on their pillow is a lovely way of getting your home guest-ready for the holiday season!', says Jennifer Ebert, editor of Homes & Gardens.
Jen is the Editor of Homes & Gardens online. Before starting this position, she had completed various interior design courses at KLC Design School, as well as working across Ideal Home, LivingEtc, 25 Beautiful Homes and Country Homes & Interiors as an interiors writer.
3. Create space in the kitchen for seasonal essentials
Chances are you're hosting a soiree or two over the festive season. Organizing a kitchen in readiness for entertaining can make a big difference to how smoothly they go, and ensures you're not left with overflowing pantry shelves and cluttered countertops.
Start by decluttering cabinets and drawers then position hosting essentials within easy reach – baking trays, turkey platters, seasonal crockery and the like. Temporary kitchen organizers, such as over-the-door racks and undershelf baskets are handy for storing surplus food items, while stackable containers make great use of vertical space. We like these easy-clean plastic bins from Amazon, perfect for organizing a refrigerator.
When it comes to organizing a pantry, make a note of all the things you need to replace and do so in advance – the last thing you want is to run out of essentials. 'We also like to empty a shelf or two in readiness for any treats that will make their way in over the holiday season,' adds Shannon Krause, chief organizer at Tidy Nest.
Free up shelf space by removing any unopened jars, tins, and bags of foods you haven't used (that are still within date), and keep an eye out in supermarkets for charity boxes where you can donate to those in need.
Shannon Krause is a Certified Professional Organizer who holds a specialist certificate in Brain-Based Conditions from the National Association of Productivity and Organizing Professionals (NAPO) and is a Certified Reiki Master which she incorporates into her work with clients. Tidy Nest has helped dozens of clients bring order into their lives and has won local awards recognizing their work.
4. Stock up on food supplies – and prep ahead where you can
Christmas foods are already lining supermarket shelves, so get ahead and buy items with a long shelf life – tins of biscuits, boxes of chocolates, puddings and drinks. Stash them in a sealed container and store them outside of the kitchen for now, in the garage or loft perhaps.
You can also plan your freeze-ahead menu for things like stuffing, gravy and sauces and start cooking ahead of time. Snacks and canapes freeze well too, and are handy if you have unexpected guests popping in. Organize your chest freezer so it can accommodate, and be sure to label everything properly.
5. Give some thought to gift-giving…
Panic-buying gifts on Christmas Eve might make the movies, but it's not the way to go – you run the risk of missing out and you're much more likely to overspend. Instead, gather wishlists from your loved ones and keep ears finely tuned for any subtle suggestions. Have a budget for each person in mind, and tick off purchases as you go.
'As well as being able to take advantage of offers and discounts, planning ahead like this gives you the opportunity to put a little more thought into your Christmas gifts. Perhaps you could club together with others to get something more meaningful, or take the time to hand-make gifts for your loved ones for a more personal touch', says professional organizer Stephanie Rough, founder of The Organized Zone.
6. … and wrap as you go
Rather than leave it all to the last minute, wrap your gifts as you buy them. Not only will this prevent prying eyes, it allows you to enjoy the experience and spend a little more time on the finishing touches – think handmade embellishments and personal messages.
If you're planning to send gifts abroad, remember the last date for posting parcels guaranteed for Christmas delivery to Canada and most of Europe is in November!
7. Discard holiday decor that no longer suits
More isn't always merrier when it comes to Christmas decorations. A curated collection can have just as much of an impact and makes for easier organization. As you're unboxing baubles, have a think about which ones bring you that festive feeling – and which don't.
'Maybe they no longer fit well in your home, maybe you have a few redundancies, or broken items etc. Remove the items you no longer require so you're only storing items you truly need for next year,' advises Shannon Krause.
As tempting as it is to shove everything into one box, take the time to put your decorations away properly. Wrap fairy lights and garlands neatly and invest in sturdy organizers (compartmentalized designs like this one from Target are great for fragile decorations) – you'll thank yourself next year!
8. Lighten the load by involving others
Don't be afraid to get family and friends involved in Christmas organization and prep, particularly if you're hosting on the big day itself. Delegate specific tasks to your guests well in advance (taking their preferences and skills into account) so they've got time to plan ahead if they need to.
'A guest who enjoys cooking could bring a favorite dessert, while others could be in charge of doing the dishes. Creatives could help with setting and decorating the table, or wrapping gifts while children could craft some pretty decorations perhaps. Inviting loved ones to help in a structured way like this will lighten your load and create space for meaningful conversations to happen and memories to be made,' says happiness psychologist Katarina Blom.
Katarina Blom is a happiness psychologist, death cleaning enthusiast and passionate advocate of Remembering A Life. She is best known for being one of the stars on Peacock's hit show, "The Gentle Art of Swedish Death Cleaning," as well as being an acclaimed TEDx speaker and the author of books on mental wellbeing.
9. Create a schedule for the big day
It's easy to get distracted by present-opening and socializing… putting together a schedule is sensible if you want to ensure Christmas dinner actually makes it to the table! Be sure to allow yourself some time out of the kitchen to enjoy the day with your family, that's what it's all about, after all.
FAQs
When should I start planning for Christmas?
Given how much there is to do, there really is no such thing as too early when it comes to planning Christmas. Spreading tasks across several months means you're a step ahead when it comes to December, so you can sit back and enjoy the festivities knowing everything is in hand.
Consider buying gifts as and when you see them throughout the year, so you're not scratching your head for ideas nearer the time – you could even wrap them if you want to be super organized. This helps spread the cost a little, too. You can also set aside some money each month, so you've got a budget ready to go.
September sees most venues release tickets for festive activities – think pantomimes, light shows, and shopping events, so book in there and then to ensure a spot. Supermarkets will start to stock Christmassy treats as early as October, so you can stock up on long-shelf-life treats. Organize your kitchen around November time to free up space for extra food and cooking equipment, and run through crockery, glassware and serveware to assess what you might need for extra guests, too. Do the same for linens and towels if you've got visitors staying over.
When December rolls around, you should be well ahead with your Christmas organization – just a few lists and schedules to deal with, but other than that, you can relax and enjoy the build-up to the big day!
---
'Amid the hustle and bustle of the holidays, remember to take care of yourself. Get enough rest, eat well, and make time for relaxation and enjoyment. Ultimately, the holiday season is about creating precious memories with loved ones, organizing ahead of Christmas allows you the time to savor these moments,' says Hashi Mohamed, president of Minneapolis-based cleaning service, Ivy Cleans.
Sign up to the Homes & Gardens newsletter
Decor Ideas. Project Inspiration. Expert Advice. Delivered to your inbox.
For 10 years, Tara King worked as a Content Editor in the magazine industry, before leaving to become freelance, covering interior design, wellbeing, craft and homemaking. As well as writing for Ideal Home, Style at Home, Country Homes & Interiors, Tara's keen eye for styling combined with a passion for creating a happy – and functional – family home has led to a series of organization and cleaning features for H&G.