I use this simple method to get the right-sized drawer organizers – and it works every time
I would never shop for new organizers without this handy trick for getting the right size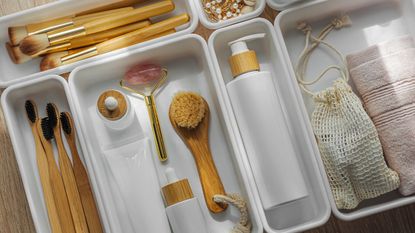 (Image credit: Getty Images)
I am terrible at measuring things correctly with a tape measure. Don't ask how I manage it, but I always end up getting it wrong. So, when it came to getting the right-sized drawer organizers, I knew I had to find a different solution.
To nail my home organization, I needed organizers that would fit my dresser snuggly without gaps to avoid losing things or ruining my Pinterest-perfect organization goals.
Enter, an old cut-off of wallpaper, a pencil, and some scissors – here's why they were so useful.
How to measure for drawer organizers
Instead of measuring out my home storage and then measuring each individual organizer at the store, I empty the dresser drawer and pressed the leftover wallpaper snippet into the base, using the pencil to mark out the shape and size.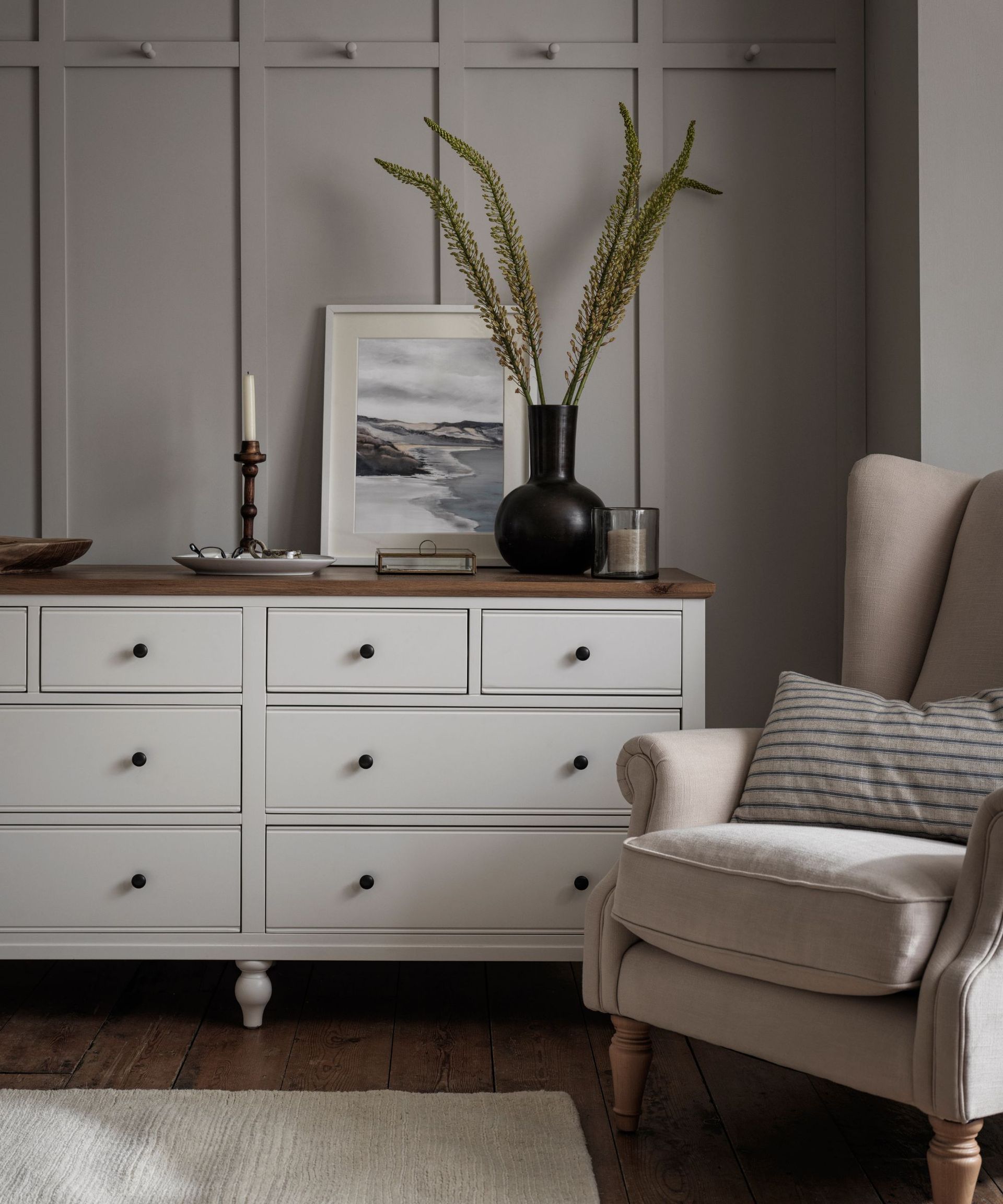 The resulting cut-out is a perfect map of the interior of my dresser drawers, which I could then fold up, pop in my bag, and take to the store with me. The only thing I have to measure iss the depth of the drawers themselves, to make sure I didn't buy any organizers too tall for the space, which would stop the drawer from closing.
With just one number to note down, I can then look at the product labels on the store shelves to make sure I only pick up options at the right height – with no math needed.
If you don't want to use a tape measure at all, you could leave some overhang on the side of your paper cut out, making a line where the paper sits in the base of the drawer and trimming the overhang to the height of your drawer sides.
You can then fold along that line to have a somewhat 3D model of your drawer that you can compare organizers against before purchasing.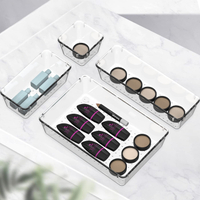 25 PCS Drawer Organizer Set Clear Plastic | $17.99, Amazon
These organizer trays fit a wide range of drawers. One set includes 25 storage bins in four different sizes so you can customize your drawer layout.
When I get to the store, I can lay the cut-out down on the floor and place the different dividers on top, allowing me to visualize not only how they would look in the drawer when organizing a dresser but, most importantly, if they will all fit in together.
Of course, this method does rely a little on you not being too awkward to start planning out your drawers in the middle of a store aisle, and the store being quiet enough to not get in the way – but I received a compliment from a passing shopper who thought it was a fantastic idea, so it wasn't too bad in the end.
I've used the method to pick out organizers for my bedroom dressers to help with my file-folding habit, but the same logic can be used for organizing kitchen drawers too, or even working out the best pantry organizers for a shelf.
FAQs
How do I choose a drawer organizer?
When picking drawer organizers, it helps to select items based on how you fold or sort the items going in the drawers. If you are organizing a clothing drawer, for instance, you might want to use long wide bins or divider barriers to help create uniform sections to keep clothes folded neatly together.
If you are organizing an underwear drawer, on the other hand, you'll likely want an organizer with lots of little compartments to pop things in without folding but still keep them neat. Assessing your needs first is essential to avoid buying organizers you won't use, or will make your life more difficult.
How do you accurately measure a drawer size?
If you are measuring the inside of a drawer with a tape measure, it helps to work at the edges of the drawer to help you get a straight-line measurement. Measure from the front to back first for the drawer depth, using the left or right-hand side of the drawer for accuracy.
Then do the same left to right, again placing the tape measure inside the drawer and using the front of the drawer basin to get a straight measurement. Don't forget to also measure the drawer depth to ensure you are not adding in anything too tall.
---
If you don't have any leftover paper lying around, then you could also use a piece of wrapping paper, or even some cardboard from a package that is large enough and not too awkward to carry. In a pinch, you can also usually get yourself some wallpaper samples from your local hardware store, perfect for quickly measuring out awkward areas for organizers, or even for measuring picture frames when spacing out a gallery wall and hanging a picture.
Sign up to the Homes & Gardens newsletter
Decor Ideas. Project Inspiration. Expert Advice. Delivered to your inbox.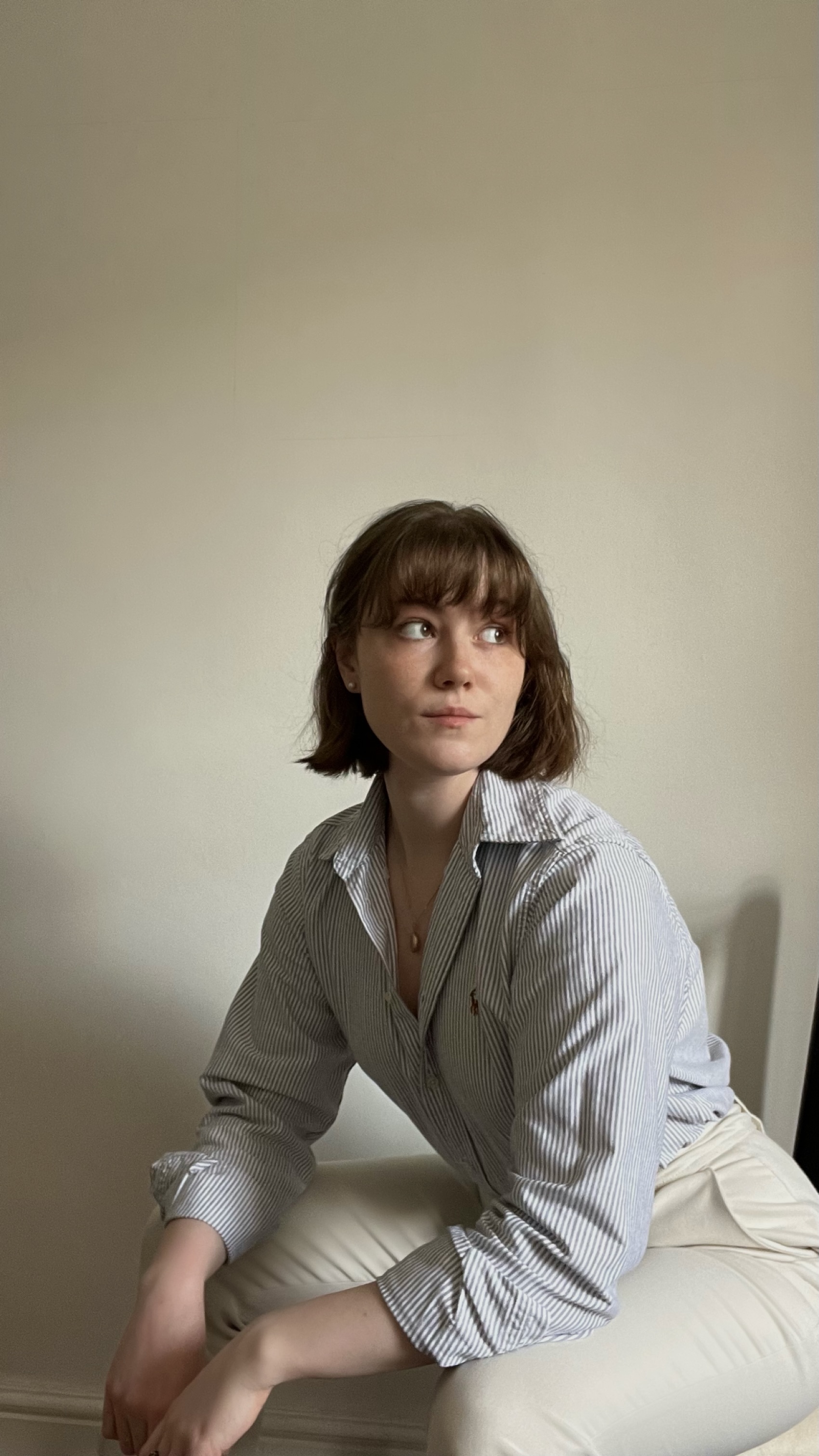 Chiana has been at Homes & Gardens for a year, having started her journey in interior journalism as part of the graduate program. She spends most of her time producing content for the Solved section of the website, helping readers get the most out of their homes through clever decluttering, cleaning, and tidying tips – many of which she tests and reviews herself in her home in Lancaster to ensure they will consistently deliver for her readers and dabbles in the latest design trends. She also has a first-class degree in Literature from Lancaster University.