Organizing a dresser – 10 ways to sort drawers in style
These expert ways of organizing a dresser will keep drawers neat and tidy, and ensure clothing stays wrinkle-free, too – bonus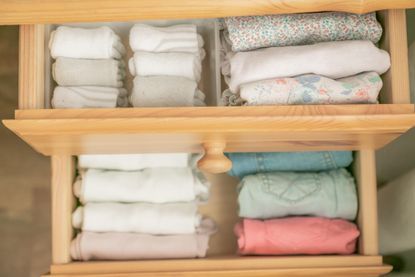 (Image credit: Alamy)
Organizing a dresser, particularly one with drawers overflowing, can feel like a daunting task, not to mention the wrinkled clothing and odd socks you know you'll have to deal with. We can see why you'd put it off, however, creating a stylish organizational system is easier than you might think.
By keeping your dresser drawers in an orderly state, you're organizing your bedroom to great effect, and ensuring your morning routine runs as smoothly as possible. Putting in the effort now will see your drawers go from chaos to clutter-free (saving you from wasted time and unnecessary stress, not to mention extra ironing) and with a little care and upkeep, they'll stay that way, too.
We've compiled our own step-by-step guide – including tips from the experts, to ensure you're organizing a dresser in the easiest, most effective way possible.
Organizing a dresser
When organizing drawers of any kind, it's a good idea to start by removing everything. This will give you a clear idea of the space you're working with. You'll also be able to measure up efficiently for any clothes storage ideas or organizers you're planning on using. Take the opportunity to give them a good wipe down and replace drawer liners if you use them.
1. Clear clutter
Before you start putting items back into a dresser, assess each item and work out what you want to do with it. If you find yourself always pulling out the same four or five pairs of socks – but you own 20 – that's a sign you need to declutter your dresser drawers. The same logic applies to all clothing items in fact, something worth bearing in mind when organizing a closet, too.
'Create four separate piles; "keep", "discard", "recycle" and "donate"', advises Kelly Hemingway, professional organizer at Simply Organised. 'To decide if an item is worth holding onto, ask yourself the following: do you use it? Do you love it? Does it add value to your life? If the answer is yes, pop it into the "keep" pile'.
2. Group like-with-like items
Once you've compiled your 'keep' pile, you're able to start categorizing. This is an invaluable organizing tool in any situation, but particularly when it comes to areas that are expected to hold such a varied array of items, like dresser drawers.
How you categorize is up to you; think about what will suit you and your lifestyle best. The most popular categorizing technique is by garment type – undergarments, nightwear, t-shirts etc. However, it might make more sense to establish drawers by purpose, work, workout, casual, dressy and so on. If you're struggling, think about what items you reach for at the same time and group them together in the same drawer.
'If you're left with any odd socks once you've sorted your sock category, store the odd ones in a box next to the dryer. This way, you can pair them up as you find them, or if they're still missing after a few weeks, you can discard', says Kelly Hemingway.
3. Designate a purpose to each drawer
Depending on how you like to organize your clothing, it's a good idea to assign a single category to each drawer. Not only does this make things easier to find, but items tend to sit more neatly – and space-savingly –alongside their counterparts.
If you're limited on space, it's okay to combine categories within the same drawer. However, to make it as efficient as possible, think about categories that naturally go together, or that you'd use / put on at the same time – underwear, bras and socks for example, or jewelry and make up. That way you're not having to constantly open and shut different drawers.
4. Assign drawers by frequency of use
When deciding what belongs in which drawer, think about your go-to items, and ensure they're within easy reach. A good rule of thumb is to keep higher drawers for items used most. Items not used so often can be relegated to less accessible positions, such as the back of the bottom drawer, or even relocated elsewhere altogether.
'Do you have under-utilized storage in other areas of your bedroom or dressing room? Drawers in a nightstand or underbed storage are good options', says Alexandra, co-founder and interior designer at Clairrow.
5. Work out what to fold
It's true that most clothes are better suited to folding than hanging, however, bulky items do not do well in drawers – pullovers, sweaters, jeans and the like are best organized on shelves. With that in mind, it's best to reserve a dresser for smaller items of clothing if you can: t-shirts, underwear, socks and the like. Taking this approach means you'll save on space overall, something to consider if you're organizing a small bedroom.
6. Stick to single layers
While it may feel like a good idea to cram as much into your drawers as possible, multiple layers are not conducive when it comes to organizing clothes. Even the neatest drawer won't stay that way for long if you're having to rifle through to find what you need. Chances are you'll forget what's there too – 'out of sight, out of mind', and all that.
This can be easily avoided by implementing the Marie Kondo-approved 'file and fold' method. This involves placing folded items vertically, a bit like how you would keep papers in a filing cabinet. 'It's not only space-saving, but also ensures you can see your items at a glance', says professional organizer Emma George of Declutter with Emma.
Keep similar items together with dividers, T-shirts, pajamas, sportswear and so on. You could even take it one step further and group by color, too.
7. Sort your drawers – literally
Underwear is notoriously tricky to store, but dresser drawers are the best place. The secret to success is to combine organizational techniques with the right clothes storage ideas. Some bedroom organizers even come with designated compartments for undies, bras, socks, tights etc. Alternatively, use standard drawer dividers or containers – cloth versions are ideal for garments.
'Roll the undies Marie Kondo style', says professional organizer Brenda Scott of Tidy My Space. 'For the bras, if you have room, you can open them up and stack them horizontally, back to front. Alternatively, fold them in half and stack them. For the socks, roll them like cinnamon rolls placed tightly on a baking sheet. This allows them to keep their shape without getting the bands stretched when you fold over the top to hold the pair together.'
To maintain an orderly system, store your everyday items at the front of the drawer, and put your lesser-used items (sports bras, swimwear, specialty pieces etc) towards the back.
8. Divide and conquer
You can be as organized as you like, but if you're not using drawer dividers of some kind, it won't last. Having designated spots for items will mean you can identify and access what you need without having to rummage through, and you know where to replace it.
Store-bought dividers are a less pricey alternative to built-in fittings and can be adapted over time if your needs change. They come in many shapes and sizes, so measure up first to ensure you're making the best use of space. The same goes for cloth containers. They're just as efficient but be sure to use the file and fold method when storing clothing as it can be tricky to access what's at the bottom otherwise.
'If you're organizing jewelry within drawers, use dividers, compartments or bespoke jewelry organizers to help you keep your pieces separated into categories – this makes it easier to find what you need in a hurry', says Emma George.
The same goes for organizing makeup, too.
9. Keep the dresser top neat and stylish
When considering home organizing ideas, on-show surface space should be kept clear of clutter, and a dresser top is no different. That's not to say it can't be used for storage but restrict it only to essentials only and use stylish baskets or containers to corral smaller or less sightly items.
'Keep it simple by adding elements of décor such as books or a candle and have a system in place for items you naturally put down at the end of the day; a small dish corrals small everyday items such as jewelry or makeup, for example', says Christina Giaquinto, professional organizer and brand ambassador of Modular Closets.
10. Maintain dresser organization
Whatever organization system you've decided upon, make sure it's one you can stick to going forwards. There's no point expending time and effort now if you're back at square one in a week's time, so ensure it fits with your lifestyle.
As tempting as it is to just haphazardly shove clothes back into the drawer, take the extra 30 seconds to refold an item properly and put it back in the right spot. You'll thank yourself later when you're not having to hunt down an iron at the last minute!
What should go in each dresser drawer?
How you decide what goes in each dresser drawer ultimately depends on what you're storing. This is different for everyone, so start by organizing your items into categories. Ideally, you'd then assign each drawer its own category – one for t-shirts, one for pants, one for make-up etc.
If you don't have the drawer space for this, it's okay to group categories within the same drawer – just be sure to keep them separate using dividers or containers. For efficiency, think about categories that naturally go together, or that you'd use / put on at the same time – underwear, bras and socks for example, or jewelry and makeup.
When deciding what goes in which drawer, think about your go-to items, and ensure they're within easy reach. A good rule of thumb is to reserve higher drawers for items used most.
How do you organize clothes in a dresser drawer?
When you're organizing clothes in a dresser, the main thing is to ensure everything is easily accessible – the less rummaging around you do the neater your dresser will stay, and you'll save yourself time, too.
According to professional organizer Sonja Meehan, owner of Simply Thriving Organization, the file folding method is the best way to achieve this. 'It makes finding the item you want a snap, allows you to see everything you have at a glance and is so much easier to maintain than piles of clothes', she says.
Start by categorizing your clothing to suit your lifestyle. Popular methods include by type (t-shirts, leggings, pajamas, etc) or by use (sportswear, casual, nightwear, etc). Next, place folded items vertically, as you would store papers in a filing cabinet, keeping them separate with drawer dividers or containers – cloth versions are best for storing garments. For undergarments, consider investing in bespoke organizers with individual sections for each.
To maintain an orderly system, position your frequently used items at the front of the drawer, and lesser-used items towards the back.
Sign up to the Homes & Gardens newsletter
Decor Ideas. Project Inspiration. Expert Advice. Delivered to your inbox.
For 10 years, Tara King worked as a Content Editor in the magazine industry, before leaving to become freelance, covering interior design, wellbeing, craft and homemaking. As well as writing for Ideal Home, Style at Home, Country Homes & Interiors, Tara's keen eye for styling combined with a passion for creating a happy – and functional – family home has led to a series of organization and cleaning features for H&G.