How to elevate your teen's former bedroom into a beautiful home office
The first step is to remove any items that scream 'teenager'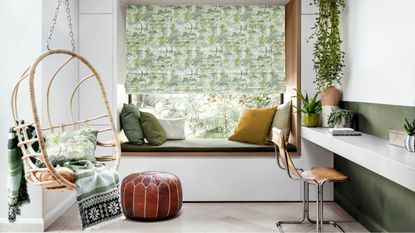 (Image credit: Thomas Sanderson)
Sign up to the Homes & Gardens newsletter
Decor Ideas. Project Inspiration. Expert Advice. Delivered to your inbox.
Thank you for signing up to Homes & Gardens. You will receive a verification email shortly.
There was a problem. Please refresh the page and try again.
Watching your teen or young adult move out of their childhood bedroom can spark a lot of emotions. Sure, you might be sad to see them go – but it's ok if a small part of you is excited about the possibilities of a new space to decorate.
One great option for repurposing their former bedroom is to turn it into a home office.
With this idea in mind, we turned to a few design and organization pros to ask for their advice.
How to turn your teen's former bedroom into a home office
While a home office can easily double as a guest bedroom, we were eager to find out their suggestions for how to make it a room you can use regularly, once your grown children have officially spread their wings and left the nest.
1. Start by decluttering
Amanda Wiss, founder of NYC-based home organizing company Urban Clarity, says the first step is to sort through all of your teen's items, ideally by category –clothes, books, memories, toys, and awards. Then, toss or donate anything they definitely won't need anymore, and label and organize everything else into storage bins.
'Clear, weathertight bins protect your teen's belongings from moisture, dirt, and anything that can damage them,' says Wiss. 'A variety of clear storage boxes at (The Container Store) are also great, or vacuum-sealed storage bags (Amazon) in a variety of sizes are great storage solutions.'
These large weathertight bins are available in a range of sizes to fit your space.
This pack of 20 vacuum storage bags will save space when storing away blankets and clothes, and comes with a hand pump.
Amanda Wiss is the founder of Urban Clarity, a home organizing company awarded NY Magazine's Best of NY 2023. She is also the founder of home staging studio Urban Staging, whose design-savvy team gets homes market ready, to intrigue brokers and buyers alike. The two companies work in conjunction to do full move management, getting their clients completely unpacked and beautifully settled, while minimizing stress.
Artem Kropovinsky, founder and principal designer of Arsight, agrees that decluttering your teen's bedroom is the first key to ensuring it's both more elevated and more neutral as a home office.
'Remove any posters, stickers, or personal items that scream "teenager," says Kropovinsky. 'Replace them with more mature and timeless pieces, such as abstract art or a stylish clock.'
The same goes for larger pieces. 'Consider swapping out any juvenile furniture for pieces with clean lines and neutral tones,' says Kropovinsky. 'A fresh coat of paint can also do wonders in transforming the room's vibe.'
Artem Kropovinsky, an interior design expert with a decade of experience, is the founder of Arsight, a New York City-based design firm specializing in residential and commercial interior design. Known for his award-winning work, Artem's projects range from new construction and extensive residential renovations to restaurants and retail stores. His design philosophy revolves around the celebration of authenticity and originality, skillfully incorporating natural materials and handcrafted elements to create a distinctive and harmonious aesthetic.
2. Prioritize storage
Once you've sorted through your teen's former bedroom and cleared out the things that aren't needed anytime soon, it's time to start thinking about your own needs. Wiss says home office storage is imperative.
'Storage drawers, at The Container Store, that are easy to move around the office and keep important documents safe are great,' she says. Wiss recommends pairing them with drawer organizers, at The Container Store to make everything easily accessible.'
It's possible, as you combine your own office materials with your teen's former homework space, you find that some office supplies or paperwork can stay. Wiss recommends sorting things into bins for a clean look. But be careful – it's easy to accumulate things that aren't actually useful.
'Toss out dried-out pens, unusable paper, old notes, or documents that are no longer needed,' says Wiss. 'For supplies you no longer need, consider donating them to a school or charity nearby.'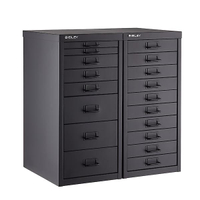 3. Blend your work and sleep space
If you're confident your teen will still need or use their room when they're back to visit, then a home office is the perfect option for creating a room that can function as both. The key, says Kropovinsky, is to create zones.
'This doesn't necessarily mean building walls or partitions, but rather using furniture and decor to subtly define different areas,' Kropovinsky explains. 'For instance, a strategically placed bookshelf or a rug can delineate the workspace from the rest of the room.'
Along with creating zones, Kropovinsky tells us it's also important to maintain a tidy, organized desk space. 'Clutter can easily spill over into the sleeping area, disrupting the tranquility needed for rest,' he says.
4. Invest in the right furniture
Aesthetics are of course important, but one of the most important elements of a great office – at home or not – is ergonomics.
'Invest in a good chair and ensure your desk is at the right height,' says Kropovinsky. This is the best way to ensure both your own productivity and your own physical comfort and safety.
5. Avoid overly dark or bright colors
Your home office should inspire focus and creativity, and Kropovinsky says the best way to do this is with color. So, what color should you paint a home office?
'Soft blues, greens, and grays are excellent choices as they are calming yet stimulating,' he says. 'However, I tend to avoid overly bright or dark colors. While they might seem exciting or cozy, they can be distracting or induce feelings of fatigue over time.'
Whether you paint anything green or not, Kropovinsky says it's a key color for any home office – and can be added with live plants. 'A touch of nature can boost mood and productivity, making your home office a more pleasant place to work,' he says.
6. Craft a lighting plan
A well-lit office is the best for your personal productivity, and Kropovinsky says home office lighting is often overlooked.
'Natural light is best, so if possible, position your desk near a window,' he says. 'However, ensure you also have adequate task lighting for those late nights or cloudy days.'
FAQs
How do I turn a small bedroom into a home office?
Converting a small bedroom into a home office is all about maximizing the space and making the most of your storage options. Choose a smaller desk and an ergonomic chair, and consider moveable storage. Most pro organizers suggest rolling racks, because they can easily be tucked away when not in use.
---
Of course, while these are all key elements to consider as you plan your home office, your own sense of style should also take priority. That's the best way to ensure you create a space that you love to be in – and one your teen will love to visit, too.
Sign up to the Homes & Gardens newsletter
Decor Ideas. Project Inspiration. Expert Advice. Delivered to your inbox.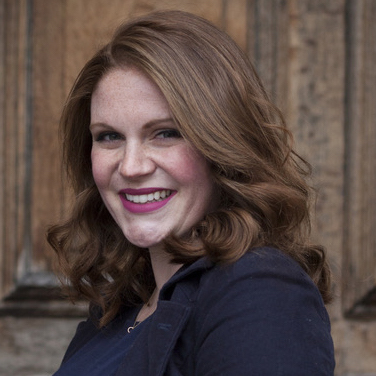 Ashley Chalmers is a freelance writer for Homes & Gardens with over 10 years' experience as a digital writer and content creator. Ashley started her career in entertainment and fashion PR in New York, before moving to the French countryside and taking up travel blogging. Now, Ashley lives in London. Her passion for travelling is only matched by her love of making her house feel like a home, and she loves to include her finds from around the world in her decor.