How to decorate a guest bedroom – make your spare room feel special
Get inspiration for how to decorate a guest bedroom these expert styling tips for the perfect guest space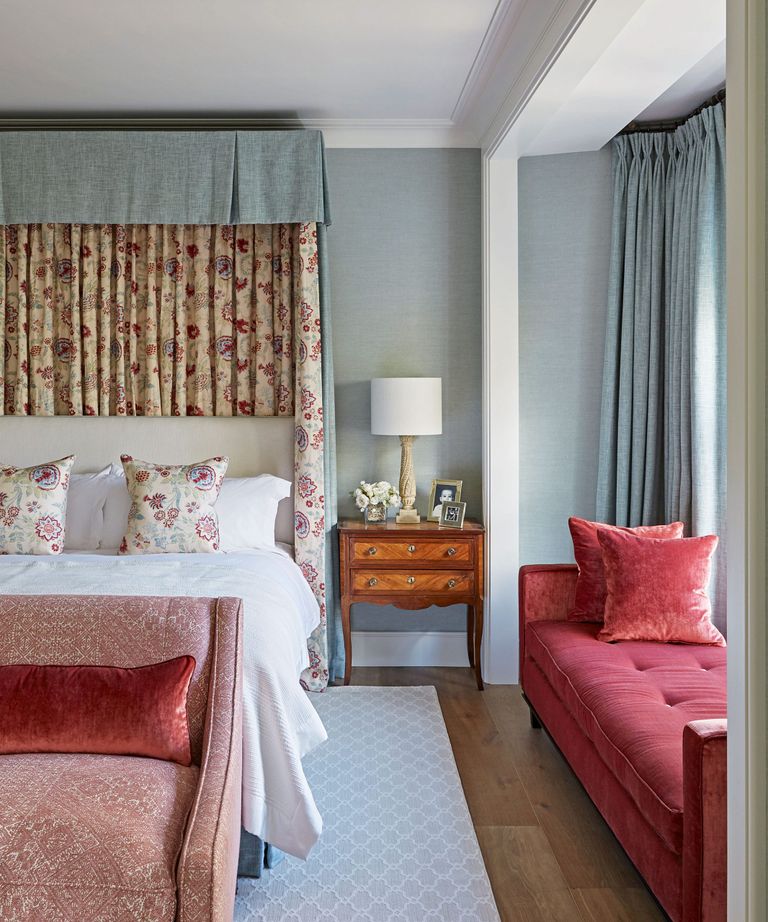 (Image credit: Todhunter Earle)
Learn how to decorate a guest bedroom with these expert tips and design ideas.
Whether you have a tiny nook available or a spacious guest suite to fill, these beautiful bedroom ideas will help you decorate a space that guests will want to stay in again and again.
HOW TO DECORATE A GUEST BEDROOM
In your zeal to be creative in every other area of your home, don't forget the guest bedroom, says Irene Gunter, founder of Gunter & Co.
'To make it inviting, think about texture. Fabric walling doesn't have to cost a fortune and will transform the space, making it look sophisticated while feeling cosy and warm.' By the same token, use proper Roman blinds or curtains. Also be a bit punchier with pattern or colour. 'You can risk it here,' says Irene.
Make sure the guest room doesn't have a neglected ambience, by hanging as many pictures as you'd have in your own bedroom. Details such as fresh flowers – or even superior quality faux flowers – will make the spare room look ready for action if any last-minute guests arrive.
Thoughtful furniture additions will make all the difference, too.
Above, Emily Todhunter of Todhunter Earle has placed a vintage daybed in the window alcove, while a sofa stands at the foot of the bed. 'When staying with someone, it's a bonus if there is a comfortable armchair or sofa,' says Emily. 'It creates a lovely place to read, nap or take in a beautiful view.'
HOW DO YOU DECORATE A SMALL GUEST BEDROOM?
If you're limited for space in your guest room and are looking for small bedroom ideas, a daybed is a good way to make rooms of limited dimensions seem bigger. They also provide a little extra small bedroom storage - ensuring that the room is working harder, too. In this scheme , interior designer Natalia Miyar has used an elegant palette accented with vibrant pattern to bring energy and freshness to the room.
The linens you choose can make a difference, too. 'In small guest rooms, dispense with a substantial bedspread. Use a thin pique design instead, which doubles up as a blanket. It means you don't have to find somewhere to store a spare quilt,' recommends interior designer Nina Campbell.
WHAT DO YOU PUT IN A GUEST BEDROOM?
No one enjoys living out of a suitcase, so guests will welcome somewhere convenient to hang clothes alongside plenty of shelf space. Here, a built-in wardrobe and dressing table neatly make use of the space under a pitched roof, and mirrored doors have the effect of extending the space.
To make the space feel more luxurious, incorporate beautiful pieces of furniture, like an antique bureau or writing desk. Visitors will appreciate thoughtful guest bedroom ideas like this and gestures that make their stay seem like being at home.
WHAT IS THE BEST COLOR FOR A GUEST BEDROOM?
It's all too easy to stick with neutrals when considering how to decorate a guest bedroom, but this space is actually the perfect opportunity to step a little outside of your comfort zone.
'Guests are likely to only be visiting for a relatively short amount of time, so we like to approach a guest space just as we would an eccentric boutique hotel,' says Tiffany Duggan, director of Studio Duggan. 'A patterned wallpaper with a feature headboard in a bold color always works particularly well.'
However, a guest bedroom is primarily a relaxing zone, so consider sticking to soothing bedroom color ideas with a calming palette; some of our favourite choices are pale pink, lavender, soft greys, warm taupes and sage greens.
HOW DO YOU PREPARE A ROOM FOR A GUEST?
Most decorators agree that twin beds give greater flexibility, or invest in divans that can zip together. Comfort is key, believe Sarah Vanrenen and Louisa Greville Williams of Vanrenen GW Designs. 'Starting with the mattress, topper, pillows and bedlinen, everything should feel as luxurious as a top hotel.'
If working to a budget, a mattress with at least 1,000 pocket springs should be good enough.
Think about the details: ensure there is somewhere to hang clothes – more convenient than drawers for a short stay; leave a phone charger or install a USB wall socket; place a pretty luggage rack for those who aren't staying long enough to unpack, and add a bowl of miniature bottles of creams and toothpaste in case anything has been forgotten.
For everyone's sanity, especially at Christmas, it's a good idea to make a comfortable sitting area – a sofa, armchair or chaise – within a spare bedroom.
It allows guests to retire for a nap or to read, and for the hosts to do the same or get ready for the evening. Also, leave books to keep them entertained. If there's no room for a bedside table, one idea for box bedrooms and small spaces that Nina Campbell employs is to carve out a shallow niche, about 20cm deep, on each side of the bed to house a glass of water, a clock and books. Don't forget to add good task lighting, or other practical bedroom lighting ideas, too.
HOW DO I MAKE MY GUEST ROOM COMFORTABLE?
The constant social interaction between host and guest can be exhausting for both parties. By designating areas to relax in the bedroom, everyone can enjoy time apart. Where possible, use upholstered furniture to create different seating zones, so guests can have their own separate space to relieve the feeling that they're living on top of each other.
HOW DO YOU MAKE A GUEST ROOM COZY?
A trick often missed when revamping a spare room is to make it feel as comfortable as other rooms in the house. Add cushions and layer fabrics, or carve out a snug sleeping area and decorate with dark, cosseting tones. If the room layout is narrow and you need small bedroom layout ideas, a single bed might slide in horizontally under a window. Then one option is to hang a curtain at each end of the bed, creating an alcove.
Copy Beata Heuman's scheme, shown above, which boxes in the bed area with a theatrical frame. To ramp up the coziness, paint the interior of the alcove a different colour from the exterior. Use the same treatment for the drapes by interlining them with a shade that matches the bed nook.
WHAT DO YOU DO IF YOU DON'T HAVE A GUEST ROOM?
In a room used for anything from watching television to studying and sleeping, a single bed flush against the wall with a fitted cover to the floor can be transformed from day to night with the judicious use of cushions.
The multipurpose study-meets-spare-room is a typical solution in a smaller home, and a daybed is a good option for such a space. Decorative choices will depend on which direction you want to go, either opting for a neutral backdrop and then adding pattern and colour, or taking a bolder step.
'Dark lacquered walls are smart in a study, and pictures stand out well against them,' says interior designer Penny Morrison. 'When the room turns into a guest bedroom, bright lampshades can be introduced to add color accents, alongside boldly patterned cushions and throws for extra coziness.'