Design house: Spacious riverside apartment in London
Stylish furnishings, statement art and views of the Thames give this impressive series of rooms the feel of a luxury hotel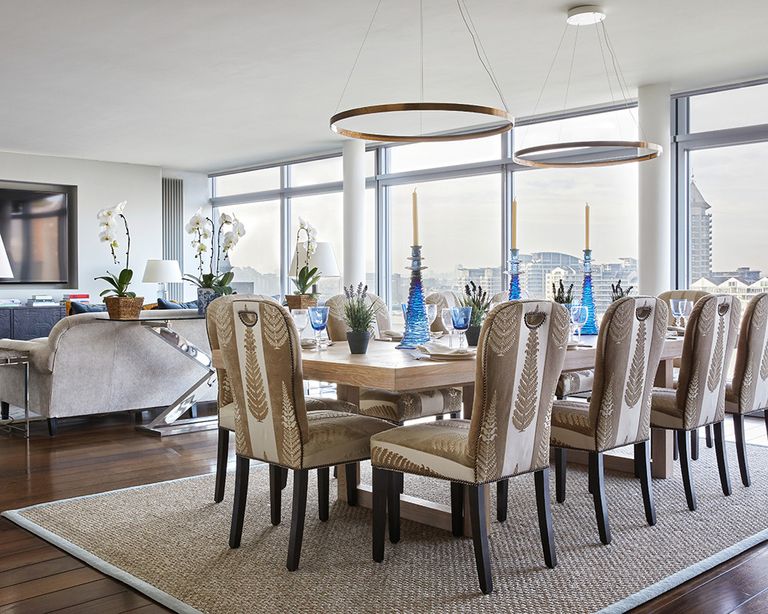 (Image credit: Davide Lovatti)
'The ideal Thameside apartment should have unobstructed views, an excellent concierge service and a decent-sized terrace,' says the homeowner who, when searching for a new home, found all of this in London's Battersea.
The property
The situation is made better still by the fact that the building, designed by architect Richard Rogers, is not densely packed with apartments, meaning the rooms offer plenty of space to breathe and allow for a free hand with decorating, which was done for the homeowner by interior designer Jane Churchill.
'I have often joked that many of the London homes I viewed that fell within my price range, in the areas I prefer, were like ladders with rooms coming off at each rung. I felt as if I would be missing out on a lot of house, while with an apartment on one floor, you really do feel as if you're using all the space, all of the time. This place offers the whole package - the concierge staff are wonderful - so that for me, it's like having a taste of America in London,' muses the homeowner.
See: our spaces section for more inspiring featured homes
Entrance hall
The mirrored wall adds a note of glamour and enhances this light-filled space, while an earthy-hued artwork helps to anchor the scheme and provides a warmer detail.
Living area
A simple palette of pale greys and soft blues, inspired by the changing colors of the river, blends the seating area with the rest of the room.
Dining area
'I thought that these tall candlesticks were masculine enough for the apartment,' says Jane Churchill.
Kitchen
Jane lined the vertical edge of the newly opened up wall with the mirror glass to help blur the boundary between the kitchen and dining area. 'It also emphasis the lovely effect made by the uprights in the floor in the evenings,' she says.
Dressing room
The elegant, tailored look of the bedroom is continued in this spare, with built-in cupboards on all three walls, the door panels of which are lined with striped fabric.
Guest bedroom
In this comfortable and inviting scheme, ornamentation has been kept to a minimum so guests feel that it is their spare during their stay.
Bathroom
The combination of strikingly veined marble, wood-effect parquet pattern floor tiles and a vanity unit made to suit Stefan's height fulfil the brief for hotel-style luxury.
Main bedroom
The set of photographs above the bed records the construction of the Eiffel Tower over a period of two years, two months and five days. There was debate about which carpet to have in this room, with Jane persuading the homeowner to opt for a gentle stripe for added interest, despite his preference for plain. 'She was right, of course,' he concedes.
Photography/ Davide Lovatti