How to force bulbs
Find out about forcing bulbs indoors so that you can have scented floral displays before spring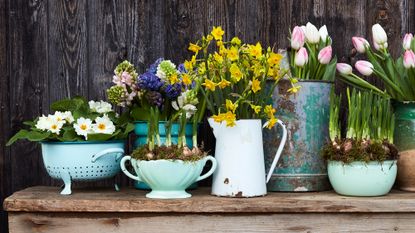 (Image credit: Kasia Fiszer Styling Pippa Blenkinsop)
Sign up to the Homes & Gardens newsletter
Decor Ideas. Project Inspiration. Expert Advice. Delivered to your inbox.
Thank you for signing up to Homes & Gardens. You will receive a verification email shortly.
There was a problem. Please refresh the page and try again.
Forcing bulbs means that you can enjoy pretty spring planters in the dead of winter. Spring bulbs are a cheery reminder that spring is on the way just when you're beginning to tire of those dark, cold winter months. Displayed indoors, arranged singularly or as a group, spring bulb planters will add uplifting pops of color, along with the promise of warmer weather and the reawakening of nature from its winter slumber.
Hyacinths, grape hyacinths, narcissus, anemones, crocus, iris are all perfect bulbs for forcing. If you plant up spring bulbs in fall, you can force them to bloom inside as early as Christmas time and into the New Year – winter garden ideas brought indoors couldn't be prettier.
Many spring bulbs (besides amaryllis) require prolonged cold temperatures to spur them to bloom – forcing them involves chilling the bulbs to mimic the conditions of winter which encourages them to bloom earlier.
You can buy forced or 'prepared' bulbs in containers, usually from December onwards, which you can repot into your own planters to create a pretty indoor displays.
How to force bulbs – indoors
If you're looking to force bulbs ready for an indoor display here's how.
1. Prep your container
First get a container with drainage holes such as a terracotta pot and fill the bottom with grit.
Bulbs require good drainage so ideally the container you use will have drainage holes. However, if the container does not contain drainage holes you can put a layer of bulb fibre at the bottom of your pot before planting your bulbs.
For an easier option consider planting bulbs into containers with holes such as plastic pots and placing them inside more attractive planters for display – this is a good option if you are worried about the container getting damaged. Displaying bulbs this way means that the bulbs can be taken out, watered, and left to drain completely before being put back in the planter. This will prevent the bulbs sitting in a pool of water which can cause damage to the plants.
Wrapping pots of bulbs in paper and tying them with twine, as above, is a brilliant way to create a pretty display but is also a lovely gift idea. If you buy potted bulbs, they usually come in plastic containers – covering them with paper is a quick and easy way to make them look more attractive.
2. Fill the container
Fill the pot with a mix of soil mix of 1 part grit to 3 parts soil – compost can be used but gardening expert Sarah Raven suggests loam or garden soil is preferable. With the pointed tips facing upwards, place the bulbs around 2-3 inches (5-8cm) apart on top of the soil and cover over with more soil mix so that the bulbs sit just below the surface.
A large pot of spring bulbs makes a beautiful focal point for a celebratory dinner table. For a stylish, contemporary look why not display them in a deep ceramic dish, as above?
3. Cover the bulbs with moss
At this stage you can lay moss over surface and around the tips of the bulbs to cover the exposed soil and make the final planter more rustic and attractive.
Spring bulb planters can make a beautiful addition to a styled seasonal display. Why not create one in a hallway as a beautiful welcome for visitors and guests? Vintage terracotta pots with beautiful warn patinas are a beautiful way to display bulbs and will give a rustic farmhouse feel. Try arranging them pretty spring prints, vintage china and enamel jugs of seasonal blooms for a fresh spring feel.
4. Place the bulbs in a cold, dark place
Place the potted bulbs in a cold, dark place for 10-15 weeks. Ideally they need to be kept at a temperature of between 35-48ºF. After this period they can be moved inside into the warmth – indoors or out – where they will soon begin to sprout and bloom.
For a quirky, unique display why not think outside the box and plant bulbs up into vintage containers? Opt for an array of vessels with sculptural shapes and time-worn patinas, such as vintage enamel pots, urn-shaped Dartmouth vases, weathered watering cans, and even l colanders for a quirky feel. Keep your eyes peeled at fleamarkets and car-boot sales for items to repurpose.
How can I force a bulb without soil?
If you haven't got the time to plant up bulbs, bulbs such as hyacinths can also be grown without soil in water using glass containers known as bulb forcers which can bring a fresh botanical feel to a display. To do this you must buy bulbs which are described as prepared or treated and suitable for forcing.
What to do with bulbs after forcing?
After bulbs have been forced, remove the dead flowers, but be careful to keep the foliage attached to the bulb. Place the container in a sunny, sheltered spot – on a windowsill indoors or the corner of a patio outdoors – and continue to water. Once the foliage has died back, stop watering, allow the soil to dry out then put the containers and bulbs in a cook, dry place, such as a shed, ready for planting out again in fall.
Sign up to the Homes & Gardens newsletter
Decor Ideas. Project Inspiration. Expert Advice. Delivered to your inbox.
Pippa is Content Editor on Homes & Gardens online contributing to Period Living and Country Homes & Interiors print issues. A graduate of Art History and formerly Style Editor at Period Living, she is passionate about architecture, creating decorating content, interior styling and writing about craft and historic homes. She enjoys searching out beautiful images and the latest trends to share with the Homes & Gardens audience. A keen gardener, when she's not writing you'll find her growing flowers on her village allotment for styling projects.