How to overwinter fuchsias – with expert advice
Keep fuchsia plants alive through the winter and enjoy their flowers again next year – here's how the experts overwinter fuchsias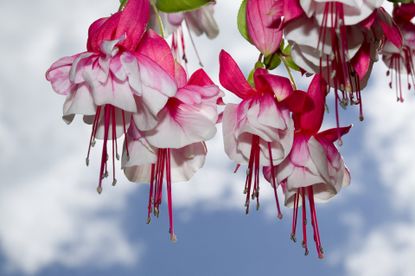 (Image credit: Getty Images)
Knowing how to overwinter fuchsias means you can enjoy their dancing blooms all over again next year.
So, don't discard your hanging basket and container fuchsias at the end of the growing season, as many people do. Instead, keep them alive through the winter by putting them into a dormant state during the colder months.
It's easy to do and if you get it right your fuchsias will reward you in a delightfully flowery way. Maximum blooms next summer, minimal effort for the gardener – win win.
Ensuring caring for fuchsias is on your list of winter garden ideas will give you a beautiful outdoor space all year around.
How to overwinter fuchsias
While you might be more focused on the best winter flowers to plant – or the best winter plants for pots and borders to bring color outdoors nearer to the house – getting many of your summer and fall plants through the winter is a must-do. Below, we investigate how to overwinter fuchsias, from hardy to tender varieties.
Identifying hardy or tender fuchsias
There are two types of fuchsia to consider here. Hardy fuchsias and tender fuchsias. Strictly speaking, both types are classified as half-hardy perennial shrubs.
Hardy fuchsias, also known as bush fuchsias, have an upright habit with delicate, small flowers (less than the diameter of a pencil) on long, arching stems. These shrubs are usually planted directly in the ground and can grow to around 2ft high with a similar spread.
Tender or hanging fuchsias have larger, showy, often double or many-layered blooms on a more compact plant. Upright varieties or standard types are perfect for containers while trailing types are ideal for hanging baskets or taller pots.
When you're planning a winter garden and considering how to overwinter fuchsias, identifying the type is important. With the right treatment, hardy and tender fuchsias can survive the winter provided temperatures don't drop below 40°F (5°C). The winter regime is different for each type, however.
How to overwinter hardy or bush fuchsias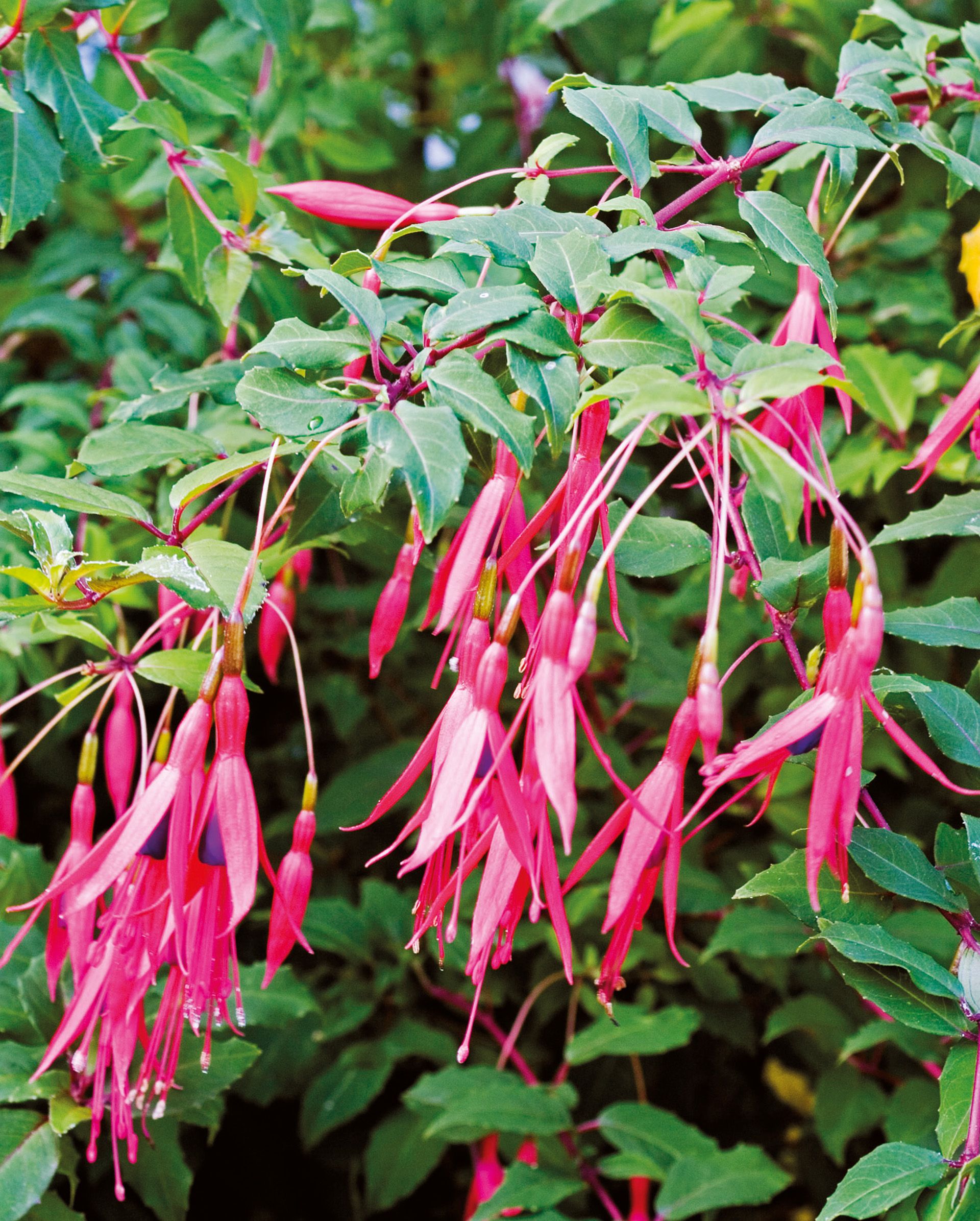 The clue is in the name. In US hardiness zones 6-10, and in most areas of the UK, many varieties of hardy fuchsias, also known as bush fuchsias, can be left where they are in the garden for winter, provided they are planted in a sheltered spot in well-draining soil.
When you're overwintering hardy fuchsias outside, it's a good idea to mulch around the crown and roots of the plants with compost, bark or straw to give extra frost protection. From late fall, the plant will lose its leaves and die back to the ground, leaving very brittle-looking twiggy stems but you should start to see signs of new growth in spring.
How to overwinter tender container-grown fuchsias
Unless you live in a warm climate zone (10-11 USDA) tender fuchsias need a little more care and consideration to keep them alive over winter.
To overwinter fuchsias in cooler environments you need to put them into a dormant state for the colder months. It's a simple and methodical process that even those new to growing fuchsias will be able to master. Choose a cool, frost-free place with a minimum temperature of 40-45°F (5-7°C). Keep the fuchsia plants in dark or low-light conditions for the winter. A garage, shed, basement or under a greenhouse bench all work well.
Portland-based fuchsia expert Theo Margelony of The Fuchsietum, likens this winter dormancy period to providing a little necessary rest and recuperation for the fuchsia plants. He believes potted fuchsias are well worth saving over winter, especially if you have an unusual cultivar that's served you well in your summer containers.
He says that if you ask 10 different growers, they'll all offer different advice on how to overwinter fuchsias. 'Techniques can vary from coddled royal treatments to a minimalist bare-bones approach. Much depends on location, set-up, and how much work you want to invest.'
To keep things simple and as trouble-free as possible, we've summed up the advice from gardening experts in our step-by-step guide to how to overwinter fuchsias.
How to overwinter fuchsias in 6 easy steps
1. Gradually ease off on watering tender fuchsias in fall.
2. Keep an eye on the weather forecast and before the first frost (usually in November) bring tender fuchsias into a frost-free space - a greenhouse, garage, shed or basement is ideal. They don't need light when they're overwintering.
3. Remove all leaves from the plant.
4. Water sparingly, once a month should be fine, but check them from time to time and don't allow them to dry out completely.
5. Tender fuchsias can go back outside in spring, after the last frost.
6. Cut them back, repot them with fresh compost, feed them and watch them come back to life and bloom.
Water fuchsias sparingly in winter
While fuchsias aren't suitable for winter hanging basket ideas, you don't need to dig them out of summer baskets during winter. Portland-based fuchsia expert Theo Margelony says: 'With regular hanging baskets, I start withholding water late in the season and then hang them in my dark, frost-free garage. They won't need light while dormant and ideally they stay at about 40°F (5°C) in there.
'Leaves start to fall. I clean those up and physically remove the rest from the plant. This really helps minimize pests and diseases. I only give the baskets a cup of water on the four holidays – Thanksgiving, Christmas, New Year, and Valentine's Day – to keep them from drying out while asleep.'
Keeping fuchsias pest-free indoors
Karen Musgrave of Hicks Nurseries overwinters tender fuchsias in her New York basement and says, 'There are really no special tricks for fuchsias, the important thing is to just keep them pest-free and sporadically watered so they stay dormant until spring arrives.
'I move them into my garage for about two weeks once the weather drops below 50ºF (10°C). This gives the plants a chance to acclimate to the lower light conditions they will encounter in the basement. I spray them twice with insecticidal soap – once when I first move them into the garage and again the day before I move them into the house for the winter. This kills any bugs lurking around in the soil.'
Like Theo Margelony, she waters sporadically throughout the winter. 'Just enough so they don't die. The plants drop a bunch of leaves in this dormant state but will hang on until spring when I move them outdoors again,' she says.
Bringing fuchsias back out of hibernation
Emilly Barbosa Fernandes, a small space gardener from California and consultant at HouseGrail, has some good advice on how to bring fuchsias out of their winter dormancy.
'When spring starts and you know the last hard frost is done, bring your fuchsias back into a warmer, sunny area and clip the branches about halfway back. This will help with flowering during the spring and summer. Place the plant in the partial sun, so you don't overwhelm it with the change. Now that it's coming out of dormancy, you want to start watering it normally again.'
Theo Margelony also cuts back the plants in late spring, 'When I take the baskets out of storage when the days lengthen enough for good growth, the weather improves, and it's time to repot.'
Follow the advice from our garden experts and your hardy and tender fuchsias should be happy come rain or shine, frost or snow, and you can look forward to summer flowering fuchsias all over again.
Sign up to the Homes & Gardens newsletter
Decor Ideas. Project Inspiration. Expert Advice. Delivered to your inbox.
Karen is the houses editor for homesandgardens.com and homes editor for the brand's sister titles, Period Living and Country Homes & Interiors, and an experienced writer on interiors and gardens. She loves visiting historic houses for Period Living and writing about rural properties for Country Homes & Interiors, and working with photographers to capture all shapes and sizes of properties. Karen began her career as a sub editor at Hi-Fi News and Record Review magazine. Her move to women's magazines came soon after, in the shape of Living magazine, which covered cookery, fashion, beauty, homes and gardening. From Living Karen moved to Ideal Home magazine, where as deputy chief sub, then chief sub, she started to really take an interest in properties, architecture, interior design and gardening.