Kitchen cabinet refinishing costs – a guide
Remodeling your room? These are the kitchen cabinet refinishing costs you need to know about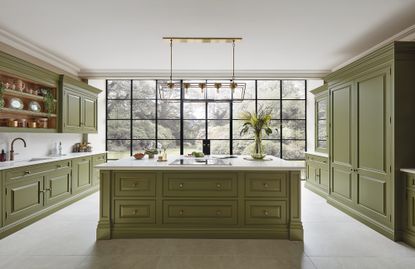 (Image credit: Tom Howley)
Kitchen cabinet refinishing costs are crucial to know if you want to give your room an update. And if the layout works perfectly for everyone, and the cabinets themselves are quality designs, refinishing is by far the best way to achieve a fresh look without waste and unnecessary expenditure.
The process of refinishing cabinets will depend on what they're made from, their style, and the new finish envisaged for them, and it influences the cost, too. Their number, of course, will also affect what you might expect to pay.
We've called on an expert to provide the lowdown on kitchen cabinet refinishing costs so you can budget to make your kitchen ideas a reality.
Kitchen cabinet refinishing costs
It might be a case of a new stain for wood cabinets, or it could be that painting them is desirable to revamp the room, but kitchen cabinet refinishing costs make this a worthwhile project if the design of your room is otherwise ideal. This is what you need to know to give your kitchen cabinet ideas a fresh new face.
How much does refinishing wood cabinets cost?
A new stain or wood finish can make high quality kitchen cabinets look like new, according to Mallory Micetich, home care expert at Angi.
As for the kitchen cabinet refinishing costs, count on an average of $4 to $10 per square foot (£32 to £80 per square metre), she says.
'Refinishing kitchen cabinets involves sanding them down or chemically stripping their existing finish, making them look more natural,' she explains.
'If you hire a pro for the staining, which we recommend, labor will likely cost between $35 and $75 (£35 and £56) per hour. The average total labor costs are between $500 to $1,000 (£375 to £750) per project.'
Of course, it is possible to do the work on a DIY basis, but Mallory doesn't recommend it. 'You could save money by doing this project yourself, but for a high-quality finish that will last, it's best to call in a pro,' she says. 'What often takes DIYers weeks to complete can be done by a pro in two or three days.'
How much does painting kitchen cabinets cost?
Once again, the cost of painting kitchen cabinets will be lower if you paint them yourself, but for a look equal to the one you achieved when investing in a quality painted kitchen originally, calling in a pro is preferable.
'Painting kitchen cabinets tends to cost between $1,200 and $6,000 (£900 and £4,500) when done by a pro,' explains Mallory.
If you were to do it yourself, you would take on a multi-stage job. 'You will need to strip the cabinets to remove old paint, sand them and apply the new paint carefully,' says Mallory. 'Make sure to research the process and to select the right paint for your cabinets' material and your climate.'
How does cabinet material influence cost?
What they're made from does have an influence on kitchen cabinet refinishing costs. 'When painting or refinishing your cabinets, the type of paint, stain or finish – and its cost – will depend on the cabinets' original material,' explains Mallory.
'Some materials are also easier to stain than others. For example, refinishing and staining solid wood is easier than doing the same to veneers or laminates, meaning the latter will require more labor and a higher cost to stain.'
Which factors make kitchen cabinet refinishing more costly?
There are a number of factors that could push up the bill for refinishing kitchen cabinets.
'The number and material of your cabinets, cost of labor and complexity of the cabinets' design will all impact the cost to refinish your kitchen cabinets,' explains Mallory.
Size is, as you'd expect, crucial. 'A larger kitchen with more cabinets will cost more to refinish than a small, galley kitchen or a kitchenette,' she says.
Where you live will also come into play. 'The cost of labor will depend somewhat on local demand,' she says.
The style of the cabinets also plays a part. 'Trim, detailing or carvings make it more difficult and will increase the labor time and skill required to complete the project,' she says.
Is it expensive to resurface kitchen cabinets?
If a new wood or paint finish isn't sufficient but the layout of the kitchen is a functional one, there are other possibilities.
'If your cabinets are outdated or beyond repair, another option is to reface or replace them,' says Mallory. 'The national average for refacing kitchen cabinets is around $7,135 (£5,340) and can range from $90 per square foot (£725 per square metre) for laminate to $450 per square foot (£3,625 per square metre) for real wood veneer.
'This cost will vary based on your location, kitchen size, cabinet style and labor costs at the time. Refacing your kitchen cabinets can be well worth it with a potential return on investment of between 65 and 75 per cent.'
'Wood veneer cabinet doors cost between $2,500 and $6,000 (£1,870 and £4,490), while solid wood or plywood will come in higher, ranging from $5,000 to $10,000 (£3,742 to £7,484). Plastic laminate or rigid thermofoil laminate are more budget-friendly options, costing an average of around $1,000 to $3,000 (£748 to £2,245).'
Is it cheaper to refinish or replace cabinets?
Refinishing kitchen cabinets is a less expensive option than replacing cabinets. It also makes everyday life easier, as replacing the cabinets will mean the kitchen is out of action for longer, and they'll be more mess and disruption.
'What's crucial when making the decision is whether the existing design of the kitchen works well,' says Homes & Gardens global editor in chief, Lucy Searle. 'If the current layout isn't functional for all the kitchen's users and functions, replacing cabinets provides the opportunity to tackle this.
'But if it's simply a question of updating its look, refinishing is all that's necessary.'
Sarah is a freelance journalist and editor. Previously executive editor of Ideal Home, she's specialized in interiors, property and gardens for over 20 years, and covers interior design, house design, gardens, and cleaning and organizing a home for H&G. She's written for websites, including Houzz, Channel 4's flagship website, 4Homes, and Future's T3; national newspapers, including The Guardian; and magazines including Future's Country Homes & Interiors, Homebuilding & Renovating, Period Living, and Style at Home, as well as House Beautiful, Good Homes, Grand Designs, Homes & Antiques, LandLove and The English Home among others. It's no big surprise that she likes to put what she writes about into practice, and is a serial house renovator.