Best plants to help with sleep – the houseplants experts say you have to bring into your bedroom
Wind down well with this list of the best plants to help with sleep, according to sleep specialists and our plant experts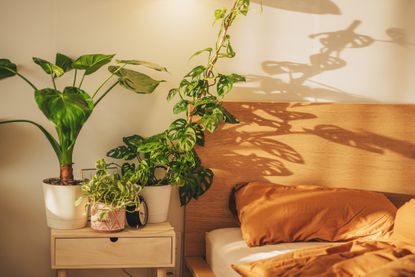 (Image credit: Getty Images )
Several factors go into a good night's sleep, but forget the obvious. Put mattresses, comforters, and calm colors to one side, because there's a new way to wind down well: with houseplants.
Bringing plants into your bedroom has huge benefits for sleep. Plants clean the air and release soothing scents to help you relax. There was once a myth that plants by your bed weren't good for your respiratory system, but experts have since confirmed indoor plants have the ability to remove toxins from the air and release aromas that can have a positive impact on health and well-being.
So before you even think about dropping a few hundred dollars on one of the best mattresses to imrpove your sleep, consider bringing a couple of houseplants into your bedroom. These are the six indoor plants that sleep specialists and H&G's garden experts approve for improved sleep.
Bedroom plants for better sleep
You can trust Homes & Gardens. Our expert reviewers spend hours testing and comparing the latest products, helping you choose the best for you. Find out more about how we test.
Bringing plants into the bedroom has proven advantages for sleep. As Dr. Katherine Hall, sleep psychologist at Happy Beds confirms, 'Many studies have shown plants has sleep-inducing benefits. Firstly, they can help lower a person's cortisol levels (stress hormones) by emitting oxygen at night that clears the mind and relaxes the body.' There are air-cleaning plants that also act as natural air purifiers, releasing water vapor through their leaves and stems to maintain humidity levels in the home. 'This is especially helpful in hotter months when indoor spaces become drier than normal' adds Hall.
Dr. Katherine Hall is a Sleep Psychologist who specializes in treating insomnia. She holds degrees with specializations in Acceptance and Commitment Therapy and Cognitive Behavioural Therapy for Insomnia. With over 13 years of clinical experience working in the public and private sectors, Katherine is dedicated to improving sleep health.
Best plants to help with sleep
How to choose the best sleep-inducing plant for you
Size: 'It's important to think about the eventual size of your houseplants' says Beth Murton, head of gardens at Homes & Gardens. 'Some varieties may grow too big for your space, especially if you have a small bedroom. Snake plants and spider plants are good options as they won't dominate your bedroom and can easily sit on the top of a set of drawers or a bedside table.
Beth has worked in interiors and gardens magazines for 20 years. Previously the Editor in Chief at Gardeningetc.com, Beth is now the Head of Gardens at Homes & Gardens.
Style: Houseplants come in various shapes, styles, and colors. Some may suit bedroom schemes more than others. 'Trailing houseplants, such as a pothos (Devil's Ivy), are ideal for adding greenery to a bedroom shelf or bookcase, and their cascading leaves will add interest to a blank bedroom wall,' says Murton.
Sleep needs: 'You may need to give your houseplant choices a little extra thought if you have allergies, as you'll want to avoid sleeping next to ones that aggravate symptoms.' adds Holly Crossley, senior content editor, and plant expert. 'Be especially mindful of this with flowering plants that produce pollen, such as orchids. I'd also suggest keeping your houseplants clean, simply by wiping the leaves with a damp cloth, to prevent dust build up which can also cause allergic reactions.'
The garden was always a big part of Holly's life growing up, as was the surrounding New Forest where she lived. Her appreciation for the great outdoors has only grown since then; over the years, she's been an allotment keeper, a professional gardener, and a botanical illustrator. Having worked for Gardeningetc.com for two years, Holly now writes about plants and outdoor living for Homes & Gardens.
FAQs
Is it good to sleep in a room with plants?
Despite the myth that sleeping with plants in your bedroom is bad, having plants in the space you sleep in can help to absorb any harmful gases, filtering and purifying the air. Not only does sleeping in a room with plants have health benefits, but 'introducing more greenery to your bedroom can help to create a calmer space,' says Beth Murton, Head of Gardens at Homes & Gardens. 'Most people feel more relaxed in natural surroundings, so it makes sense that houseplants can help to recreate those same feelings of relaxation, which are essential to getting a good night's sleep.'
What is the best plant for a bedroom?
Our garden expert Beth Murton says a peace lily is the best plant for a bedroom. 'Peace lilies are a really easy houseplant to care for and therefore work well in a bedroom. I have one in my bedroom and other than regular watering there's very little else that it needs. I have mine on the opposite side of the room to the window so that it benefits from indirect light, and it seems to thrive there.
'If you notice it starting to droop slightly, however, give it a good drink of water and it should soon perk up. I love how it contributes to the overall feeling of calm.'
---
If you're new to the plant world, and don't have a garden, balcony, or outdoor space then having houseplants is a great way of developing your green thumb. Ideal for beginners, indoor plants require little care and are generally quite low maintenance, so you can get back to snoozing.
Louise is your eCommerce Editor and sleep specialist to help you wind down well. A connoisseur of the mattress world, Louise previously covered sleep and wellness (as well as the occasional organizational buy) at Real Homes, and has tried, tested, and reviewed some of the buys for your bedroom. With an MA in International Journalism and PR experience, Louise brings bags of bedding expertise and enjoys nothing more than helping readers find solutions and products that best suit their sleep needs.