Summer lunch recipes – for family, friends and celebrations
These summer lunch recipes are perfect for family gatherings, long lunches with friends – and they're good-looking enough to serve up for special occasions too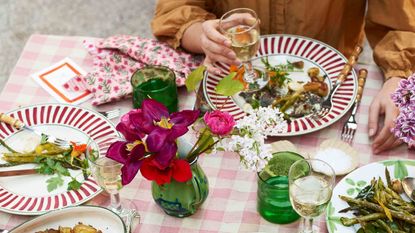 (Image credit: Future/Emma Lee)
Sign up to the Homes & Gardens newsletter
Decor Ideas. Project Inspiration. Expert Advice. Delivered to your inbox.
Thank you for signing up to Homes & Gardens. You will receive a verification email shortly.
There was a problem. Please refresh the page and try again.
The warmer weather has inspired us to bring you these summer lunch recipes. The timing is perfect – and no doubt many of us will be getting together this weekend to enjoy a long, lazy meal in the garden.
When gathering loved ones together for a meal, the desire is always to spend time with our guests and not stuck in the kitchen. So our aim is to keep it all as easy and straightforward as possible with our healthy celebration menu for eight. Let the ingredients, which are plentiful at this time of year, do the talking!
Healthier than our yummy summer pasta recipes, these are perfect for light suppers, too.
All these recipes serve four to six.
Summer lunch recipes you'll love
These summer lunch recipes are easy to make and make the most of fresh seasonal ingredients.
Asparagus with bay, garlic and lemon
This dish can be also prepared in advance. It can be served in a tray straight from oven.
Ingredients:
4 bunches asparagus
8 bay leaves
6 cloves garlic; skin on, smashed
1 lemon; zest and juice
2 tbsp rapeseed oil
Method:
1. Place all ingredients together in roasting tray.
2. Cook in a hot preheated oven (around 180-200ºC) for 8 mins.
3. Allow to cool if preferred, combine with the dressing. Done!
Pickled vegetables with ricotta
One can use many different seasonal vegetables for this dish; just make sure they are hard to maintain their crunch. It is all about the textures here. Thin slices of pickled vegetables paired with creamed homemade ricotta. Decorate with lots of pea shoots or any other herbs that are handy.
Ingredients:
For the pickling liquor:
Apple or cider vinegar
100g caster sugar
2 x star anise
1tsp each cumin, fennel, mustard seeds
Zest of half an orange
1 small red chilli1tsp salt
For the pickled vegetables:
8 of each: baby beetroot, carrots, fennel
For the ricotta:
2 litres full fat milk
1tsp salt
60ml apple or cider vinegar
Juice half a lemon
Method:
1. The pickling liquor recipe is all about the balance of sugar, vinegar and salt. The spices used can be played with. Add all dry ingredients to pan over medium heat. When spices start to release aroma add sugar and vinegar. Reduce until syrupy, about 30 mins.
2. Peel the carrots and beetroot. Slice all vegetables as thinly as possible, with a mandolin if you have one. Add to warm pickling liquor. Let steep for 30 mins before use.
3. Making ricotta is ridiculously simple. The trick is full fat milk of the best quality you can find, definitely organic if possible. Bring milk to boil. Be sure to stir as can easily catch on bottom of pan. Add vinegar, salt and lemon and turn off heat. It should start to separate immediately.
4. Allow to cool for about 20 minutes, before scooping out the curds into a muslin lined sieve (any clean thin fabric will do). Gather the edges of the material and bring together to help the curds to drain and form a ball. Should be ready in at about an hour.
5. Serve the vegetables and ricotta scattered over a large platter… try not to toss as the beetroot will end up staining everything!
Charred stone bass with anchovies, rosemary and lemon
You can use many different fish for this recipe, such as trout, mackerel, sea bass. However, stone bass, with its firm flesh and oiliness works really well.
Ingredients:
2 small stone bass or 1 large (best to talk to fishmonger re weights), cleaned and scaled
1 large bunch rosemary
2 tins salted anchovies
4 unwaxed lemons; zest and juice
2 tbsp olive oil
Method:
1. Score the fish with a sharp knife on both sides. Very roughly chop half the rosemary and lemon zest plus all the anchovies, reserving some of their oil. Mix with lemon juice and olive oil. Push this mix into each of your scores. Use the remaining ingredients to stuff the fish.
2. Place under a hot grill for about 8 minutes on either side. The skin should blister and the flesh easily come away from the bone. Let rest for at least 15 minutes. This can easily be eaten at room temperature.
New potatoes with cumin and mustard seeds
Ingredients:
1kg new potatoes; jersey royals would be ideal
1tsp each cumin and mustard seeds
Rapeseed or other cooking oil
Method:
1. Bring large pan of salted water to the boil; add potatoes and cook gently for 20 minutes or until just cooked. Drain and leave to cool.
2. Squidge them into a frying pan with the heal of your hand. Add 1tbsp oil and cook on a medium heat until they start to turn golden. Add seeds for the final couple of minutes. You can do all of this in advance and heat up in the oven; more time with friends, less time in the kitchen!
Brown sugar meringue with rhubarb and pistachios
The most perfect English spring and summer pudding, making the most of any fresh seasonal fruits available.
Ingredients:
For the rhubarb:
8 stalks rhubarb
150g caster sugar
For the meringues:
200g egg whites
40g dark brown muscovado sugar
260g caster sugar
For the pistachios:
150g pistachios
100g caster sugar
Method:
1. Clean and slice rhubarb. Cut pieces on an angle, about 5cm long. Place with sugar in the oven or on the hob; both medium heat. Cook for 12 mins or until soft. It is nice if they keep their shape. Leave to cool.
2. Unlike white meringues these do not keep for ages; the moisture in the brown sugar means they go soft quite quickly. It pays to make them on the same day they will be eaten.
3. Add all the ingredients together in a large metal bowl over a pan of hot water on the hob. Keep whisking the mix; you are dissolving the sugars in the egg whites. After about 5 mins you will be able to feel that the sugars have melted and the mix is no longer grainy. Now you can whisk as one would with normal meringues. Either with a hand whisk or in a machine. Whisk until firm caramel peaks are formed.
4. Use a piping bag to pipe your meringue for a neat finish or go free-form by putting heaped tablespoons of mixture onto a baking tray.
5. Place in preheated oven, 120c/Gas 1, for at least an hour, more like 1 hour and 30 mins. They need to be crisp on the outside and gorgeously chewy on the inside.
6. Place sugar in a pan over medium-hot heat. Add a couple of tablespoons of water.
7. Leave to cook down for 2 minutes and then add pistachios. The trick is to stir the nuts which will then candy, opposed to leaving them to caramelize. Add a good pinch of salt at the end.
8. Serve meringues with rhubarb, whipped cream and chopped candied pistachios.
G&T with lemon and rosemary
Elevate a gin and tonic with a syrup infused with strips of lemon zest and sprigs of rosemary. It keeps for ages and can be added to sparkling water as well as gin and vodka.
Ingredients:
Six unwaxed lemons, juiced and peeled
250g golden caster sugar
2 large rosemary sprigs
Gin or vodka with tonic – or sparkling water
Method:
1. Place the lemon juice and zest (use a vegetable peeler) in a pan with the sugar.
2. Reduce on a medium heat until syrupy – this will take around 30 minutes.
3. Store in a bottle with the rosemary.
4. Serve a slug of the syrup with gin and tonic, vodka and tonic or sparkling water, to taste.
Sign up to the Homes & Gardens newsletter
Decor Ideas. Project Inspiration. Expert Advice. Delivered to your inbox.
Alice Hart is a food writer and recipe developer, working across a wide variety of media, from magazines to books. Alice's recipe books are based on wholesome produce and seasonal eating, and while she takes a balanced approach, using wholefoods and vegetables wherever possible, she also finds joy in an excellent cake. Alice is also invested in sports nutrition and is a Level 3 personal trainer, a seasoned endurance sports competitor and a trained chef.